Home

Paperless Post
About this Vendor
Easy and beautiful
Details
Custom Invitations, Thank You Cards, Save-The-Dates, Shower + Party Invitations, Wedding Invitations, Invitations + Paper Goods
Contact Info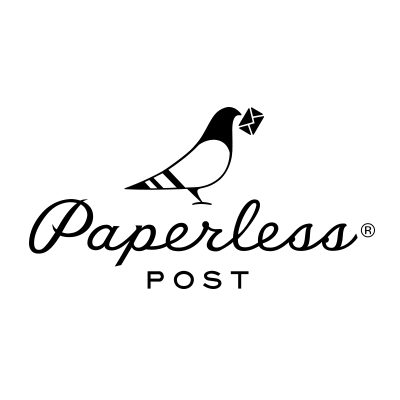 New York, NY
Serving Nationwide
FABULOUS
Reviewed on

10/28/2015
Amanda B
My Hubby and I had decided that we didn't want to kill trees, and also that we wanted to be able to quickly access RSVPs and more easily communicate with our guests. Paperless post was classy, had plenty of options, and left us with the ability to add our own personal touches... Read More throughout. Also made sending thank you cards SO EASY!! And then we moved and were able to send WE MOVED cards to everyone SO QUICKLY!! Couldn't recommend this site more!
---
Awesome!
Reviewed on

10/13/2015
Marisa R
We used Paperless Post for our wedding invitations and rehearsal dinner invites. The paper quality is AMAZING and customer service is great. We went with the extra thick paper for our wedding invitations which gave them a more expensive feel even though we got a great deal. I... Read More was able to make a custom rehearsal dinner invitation using their clip art and fonts, we loved them and got many compliments on both invites. Highly recommend!
---
Perfect!
Reviewed on

9/01/2015
Halley S
Used them to send invitations to people who were on the internet- which is almost everyone these days. Still send invitations via mail to grandparents but used Paperless Post for all the rest. Great ability to track who opened the invite and good designs that made it my own!
---
Easy to customize
Reviewed on

8/21/2015
Julia M
We made or wedding invitations with them because we were not sending paper invitations and they have a large selection of digital designs. They have a beautiful selection, and you can customize them any way you want. We managed the guest list through their portal and shared our... Read More wedding registry through them too. It was super practical, and inexpensive. We ended up ordering a printed version of our invitations, for around $36 for 10 sets of invitation and envelopes. The quality of the prints and envelopes was very good too.
---
Satisfied Customer
Reviewed on

8/03/2015
Judy N
Great selection, quality invitations at an affordable price.
---
Innovative!
Reviewed on

7/21/2015
Michele K
We met online, my husband is a web developer, we needed invitations to reflect us. We were looking for an electronic way of doing classy invites and landed here. They were prefect! Not only were the invites superb, with their fancy animations, but the tracking for RSVPs was... Read More amazing! I felt so much luckier than my friends who sent paper ones, because my RSVPs were all organized for me. I could log in from anywhere and see who had opened it, who hadn't, who was coming, who wasn't. And I could add to the invite at anytime and it would automatically change in our guests emails. I could resend invites that were lost in inboxes- it was great! All these perks came at a fraction of the stress and the cost, and saved paper too! I highly recommend!
---
Reviewed on

7/12/2015
Molly S
I used Paperless Post for my Save the Dates and Thank You cards. I was delighted with the quality of their products, their designs, and their excellent service. I would not hesitate to use them again!
---
Easy to Use and Affordable
Reviewed on

7/07/2015
Westley R
I used Paperless Post for my engagement party invitations and for planning my friend's bachelorette party. It's easy to use, free (for the most part), and has really beautiful designs.
---
Quick and Easy
Reviewed on

2/11/2015
Tiffany K
These are very convenient if you are planning a last minute wedding and are not allowed the time for paper invitations. It was nice to have everything organized online also.
---
Electronic invitations
Reviewed on

11/14/2014
Lauren S
We did electronic invitations since we planned our wedding on shorter notice. They worked out great and people had their invitations electronically so they could check for details. Worked out especially well since we had a bit of a destination wedding and almost everyone was... Read More from out of town.
---
Perfect and better quality than expected!
Reviewed on

10/18/2014
Abbie D
This website was very easy to work with to design and customize my invitation suite. I would highly recommend. I thought that I needed the most expensive paper weight to get a card stock invitation. Instead I ended up with almost a cardboard quality. So just know that you don't... Read More have to go with the most expensive to get GREAT invitations. This website was also VERY affordable.
---
Satisfied Customer
Reviewed on

9/22/2014
Emily A
We were very happy with the way our Paperless Post wedding invitations turned out. They were delivered so quickly and they were much more affordable than other online wedding stationary sites. Beautiful, unique designs to choose from with the right flexibility for... Read More customization.
---
Amazing quality
Reviewed on

9/13/2014
Concetta L
We used Paperless Post for online invitations for our more tech-savvy guests to save paper at our sustainable wedding. I actually liked it better than the print we had done elsewhere. The invitations were beautiful; but the thing I liked best was the TRACKING system. It was so... Read More easy to keep track of who responded, who didn't, who was coming, and who wasn't. And I could keep that list on my account (I didn't need to download it), so it was ridiculously easy to send out thank you cards afterward! We had a guest who lost their card, and this system made it easy to re-send a link to it, without having to pay to send another. It was VERY cost-effective, too. I hardly spent any money on it (maybe $60-70 tops) with all of my save-the-dates and invitations. I spent extra on paper thank you cards with photos from my wedding, for the few people who were given paper invitations. I liked it THAT much---I didn't go back to my original stationer! Definitely try them out!
---
Probably the new trend for invitations
Reviewed on

9/05/2014
Alysha G
Paperless post is great. You can send your invitations by email, so it's way cheaper than sending them all by mail. They have lots of free designs, so we were able to send our save the dates entirely for free. For the invitations, the prettier designs have a small cost per... Read More invitation you send, but we were still able to send all of ours for less than what the cost of postage alone would have been. Another great feature is the ability to communicate with all your guests with one click (for free) if you need to send out any updates. There's also a place to collect addresses or RSVPs or to send private messages. And if you have some guests who don't prefer email, you can pay to have copies of the invitation you designed printed to send out. Overall we were very pleased with paperless post and will probably use it for other things in the future.
---