Home

Pa-py-ri
Details
Signs, Custom Invitations, Escort + Place Cards, Menus, Programs, Save-The-Dates, Wedding Invitations, Invitations + Paper Goods
Contact Info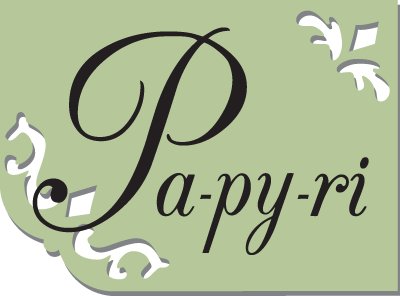 Address
Chester County, PA
Berks Delaware Lancaster Maryland Montgomery Philadelphia.
(610) 613-0852
WEBSITE
AMAZING!
Reviewed on

7/27/2015
Katie B
I have had so many compliments on my custom wedding invitations. Becca was super accommodating and was always quick to respond to all of my neurotic questions and updates.
---
Designed for Me
Reviewed on

11/24/2014
Rebecca S
I had a fantastic experience working with Pa-py-ri and would recommend them to all brides seeking truly unique and personalized wedding invitations and stationary. I selected Pa-py-ri because I wanted something personalized that fit my wedding theme, but I didn't want to spend... Read More hours or even days searching through stationary books or web-pages to find it. With Pa-py-ri I had a consultation appointment where I explained my vision, requirements and discussed budget. They then came back with several beautiful custom designs that not only captured my vision, but were extremely well thought-out and included perfect details I would have never considered. With continuous collaboration between Pa-py-ri and myself, they created stunning invitations, programs, signage and table numbers for my wedding that wowed me and my guests. What impressed me most about Pa-py-ri is not only their creativity in the space, but their expertise and attention to detail that made my invitations stand out.
---
Received just what I wanted!
Reviewed on

7/23/2014
Nicole P
When I first met with Becca I knew the direction I wanted to go with the invitations but I did not have an image of the final product in my head. Becca really helped transform my ideas on to paper. Becca is very personable and extremely creative. I'm not sure that there is much... Read More she cannot help you accomplish. Once I provided her with the "ok" to print, my entire order was at my doorstep in a matter of three days! I love my invitations and hand carved table numbers/head table centerpiece. I would and will definitely recommend Becca to others.
---
Janice Lehman
Reviewed on

5/05/2014
I asked for personalized toasting flutes which were beautifully done when received. I also ordered a memory box in which to keep the flutes and when the bride-to-be opened the gift, she loved it so much, she filled up with tears. It was beautifully done and will be a cherished... Read More remembrance of her wedding. Thank you so much to Pa-py-ri for designing such a memorable and elegant bridal shower gift.
---
Cannot Recommend Strongly Enough
Reviewed on

11/07/2013
Meg
Becca created the invitations, the table numbers and place cards for my wedding. I went into our first meeting together with a vague idea of what I wanted. I told her I wanted a whimsical, woodland theme. Becca sat down with me and sketched ideas, looked through paper samples... Read More and font styles. Without her, I would have had boring white invitations with standard font. What she created was above and beyond what I wanted. She came up with the idea to have a magnet tear-off portion of our invitation so people could have the date and the RSVP information to put up on their refrigerator. Throughout the creation process, Becca got back to me quickly and was so helpful and willing to answer any questions I had. If you go to her website (http://www.pa-py-ri.com/) and look at samples of what she's done, my invitations are the ones with the bluish purple hydrangeas on them. I would recommend Pa-py-ri to any and everyone!
---
Custom Invitations
Reviewed on

10/29/2013
Kate S
I had this idea from the start that my invitation would have a gate...just like entering a garden. I was so frustrated that I could not find what I envisioned. Pa-py-ri created my invite from scratch and let me make detailed tweeks to the design. The invitation set the tone for... Read More the entire event and had all my guests talking and excited!
---
English County Table Names – Brilliant!
Reviewed on

10/29/2013
Kate B
As with most grooms, I only had control over a limited number of items for the wedding. One of these was the table number designs. Our wedding theme was an English garden party, so I thought it would be a cool idea to have the tables named after English counties, adding a... Read More touch of class and creativity to an otherwise mundane accessory. My idea was just a vision at first, but like all other aspects of the planning process, Becca worked with me to fine tune it. She suggested several possible options, created mock-ups so we could visualize them, and always brought enthusiasm and a "can do" attitude with her. As you can see from the pictures, my idea was transformed into a smashing success – all thanks to Becca! My initial plan was to create signs from paper and have them laminated, but she blew my expectations away by creating actual wooden signs with engraved county names and coats of arms. The cherry on top was that the counties on our tables actually aligned geographically with the real counties of England! After this experience, I can confidently say we made the right call choosing to work with Becca. She not only gave us the feeling that whatever we envisioned could be done, she actually delivered on that and then some! Her work gave our wedding the extra personalization and couture look that made it truly special. I highly recommend her and assure you will be happy with her work!
---
Happy Bride!
Reviewed on

10/28/2013
Emily C
I am having a woodsy-themed wedding this upcoming winter, and I have been working with Pa-Py-Ri on my invitations, thank you cards, and other special table designs. Becca (the face of Pa-Py-Ri) has played a very large role in making my wedding extra unique! The work she does... Read More takes "customization" to the extreme. She was able to use my wordy explanations and messy sketches to create beautiful designs that exceeded my hopes and expectations. I cannot emphasize enough what a great experience it has been. Becca's genuine positivity, approachability, and engaged responsiveness has made the whole process so fun and rewarding. Equally, her professionalism, attention to detail, and uniquely creative ideas have led to amazing results- invitations and various decorations that I'm so excited for my friends and family to see! I'm sure if you meet with Becca you will understand pretty quickly why I'm so pleased and eager to recommend her!
---
Elegant personal designs
Reviewed on

10/25/2013
Hi asked for Pa-py-ri's help on my sister's wedding invitations. It was a surprise for my sister and very short notice before the wedding. My sister let me know she had paper and needed invitations printed in late August, with the wedding Nov 2nd. Becca was able to use the paper... Read More we had, and incorporate some of her own designs to make the invitations one of a kind!! She was able to get the invitations back to me in about 1 month, and they looked amazing.
---
So many great unique ideas!!
Reviewed on

8/19/2013
Kelly K
She can do anything for you! Has great ideas and go in any direction you are thinking. She created our programs, place cards, and table numbers. I loved every single little detail! I wish I had used her for my invitations!!
---