Home

Park 31 ~Opening April 2018!
About this Vendor
Industrial Elegance & Old World Charm
Nestled on 33 picturesque acres in the heart of the Texas Hill Country, only a stone's throw from the Guadalupe River, and only minutes from San Antonio, Boerne, Bulverde and Austin. Experience impeccable ambiance for your wedding day with a variety of exquisite indoor and outdoor spaces for cherished moments with those you love most. Call/text 210-526-0310 to schedule your private tour!
Amenities + Details
Amenities
Bridal Suite

Handicap Accessible

Liability Insurance

On-Site Accommodations

Indoor

Outdoor - Covered

Outdoor - Not Covered

Reception Area

Wireless Internet
For more details about amenities, please message the Venue.
Interfaith Ceremony, Religious Ceremony, Second Wedding , Vow Renewal Ceremony
Ballroom, Waterfront, Historic Venue, Park
Destination Weddings, Rentals + Equipment
Contact Info
Reviewed on

1/31/2018
Dannan C
Park 31 is like nothing you have ever seen before! From the beautiful Texas hill country to the dynamic, historic, industrial yet modern feel of the design itself, there is no other venue that can even compare. From the moment i came across the enchanting concept i knew there... Read More was no other place that could make me as happy! Walking the property i could not help but imagine every step of my wedding and how incredible it will be in such a unique place. Not only is this venue AMAZING, Mary and Kelly are over the top helpful and just all around great people. They take the time to listen to your own specific wedding dreams while providing tons of options for ceremony and reception layout. Unlike so many other venues Park 31 gives YOU the choice of how your wedding day will play out. From the man cave to the bridal suite, the dramatic floor to ceiling windows, the roomy lounge with the double sided fireplace (MY FAVE!!!) and even a loft are with a gorgeous view of the outdoor ceremony spaces Park 31 has SO MUCH to offer. I cannot stress enough how Mary and Kelly really make Park 31 stand out from the crowd. I could not hope to work with a more caring, creative, experienced team. Their hard work is evident in the effort they put forth when working with prospective clients! Park 31 will quickly become the most notable venue around! I am so blessed to say that i get to be one of the first to experience a venue that is truly unlike any other! September couldn't come any faster!
---
Reviewed on

1/11/2018
Alyssa G
This venue had my heart from the moment I saw the renderings! The unique style and vision behind Park 31 truly makes it stand out amongst the rest of the wedding venues in this area and in general. My fiancé and I couldn't be more excited to celebrate our big day in this... Read More gorgeous building. Thank you, Mary and Kelly for being a dream to work with and just having the sweetest hearts. Park 31 is going places and I'm so glad to be able to watch it's growth from the beginning!
---
Reviewed on

11/29/2017
Kathryn L
I do not have enough great things to say about my experience with Park 31 so far! My fiancé and I are getting married here next July, and we could not be more excited. Working with Mary & Kelly has been such a dream, they are so sweet & helpful. We are so excited to be a part of... Read More Park 31's first year & watch this beautiful venue come to life!
---
Reviewed on

2/03/2018
Malerie H
If I could give Park 31 a 10 star review I would! From the moment my fiance' and I stepped onto the property we fell in love. It literally has everything we were wanting in a venue and more! I literally daydream about this place and do not regret booking with Park 31 for a... Read More second. If you like exposed brick and industrial-vibes this place is for you! Mary and Kelly are wonderfully accommodating and genuinely care about your big day. December 8, 2018 cannot come soon enough!
---
Reviewed on

1/31/2018
Tracy S
Mary and Kelly have been simply wonderful and Park 31 is absolutely enchanting. The gorgeous setting draws you in and Mary and Kelly make you feel like family. They stay in constant contact and answer any and all questions very promptly.
---
Reviewed on

1/31/2018
Sarah H
This location is AMAZING! Mary & Kelly go above and beyond and I'm so thrilled to be able to work with them both! This is my dream location and I'm so excited to get married here next summer!! Absolutely stunning!!
---
Reviewed on

1/31/2018
Paul B
This is Part II of II, although it can be enjoyed on its own. Please see "Brittani L" the Bride's review for Part I. And so the end came like this: On the 19th we were at an agreement with Park 31, they promised us our date and the we had to wait for 3 days before receiving... Read More a contract with multiple obvious errors(see Part I's cleaning example). We promptly (within 24 hours) responded with the oversights needing to be addressed, they replied addressing these points and the very same day we confirmed that we were still on-board and awaiting an updated contract. Then, 2 days later: "Hi! We are honored that you were interested in our venue but we have already booked that date. I hope you have a wonderful wedding! Thank you for contacting us." What? Surely that email must have been meant for another couple, and sent to us by mistake, right? Surely common decency (and standard legal business practice) would dictate that if another couple became interested in our date Kelly and Mary would notify us because we were supposed to have "first right of refusal" (after all, we are waiting for Park 31 to revise the proposal). Surely after 3 weeks of correspondence Kelly and Mary wouldn't just send us some generic email, without any explanation, lacking the decency to even address us by name, right? So we waited, for them to confirm, yes, they had completely pulled the rug from under us. Absolutely heartless, positively dishonest, completely unprofessional and quite possibly illegal. We don't usually make it a point to write reviews after a bad experience, however, we do think people should know what they're getting into with this venue because couples who actually have made it through their booking gauntlet may not share their own horror stories for fear of LEGAL RECOURSE because the CONTRACT SPECIFICALLY PROHIBITS BAD ONLINE REVIEWS: "If any disputes arise, all parties agree that no negative publicity will be posted at any time on any public or social media sites such as Facebook, Instagram, Wedding Wire, Google, Snapchat, Yelp, The Knot, or Others." This sounds to us like they've always planned to play dirty and this venue has a lot to hide. We were warned by other couples that planning a wedding can be surprisingly vicious but we never expected to be treated like this. So after a lot of precious time wasted, at this vital stage of our wedding planning, we are back at square one with no venue; worried we won't even be able to have our wedding this year. We should have heeded the numerous warning signs but "they just seemed so friendly..." and when your focus is completely on the event space it's difficult to watch your back. So, now that we have been unscrupulously screwed we strongly encourage you not to make the same mistakes we have. Do NOT fall prey to the siren song of the architectural detail of this building!! Ask yourself what you are willing to endure for the background of a single occasion, and are you willing to risk the occasion itself? But if the wedding delusions take strong hold of you too, above all else watch your back. Kelly and Mary seemed like such genuine friendly people in the beginning, but things aren't always what they seem. As of now we still await an explanation as to why they have done this to us.
---
Reviewed on

1/31/2018
Brittani L
Due to character limitations we cannot go into full detail regarding all of the things found to be fundamentally wrong with Park 31's management and representatives in our attempt to book a wedding venue between January 4th and 28th. That is a shame in and of itself, because it... Read More was truly an extraordinarily exasperating ordeal. Long story, short: In addition to being consistently thoughtless, unprepared, difficult to contact and unreliable - They promised us our date, kept us in contract limbo for 9 days and then gave it to another couple with absolutely no indication or warning. Now you must be thinking "Really, but they just seemed so friendly..?" Yeah, I know, I didn't see it coming from Kelly and Mary either. If you're interested in learning the juicy details of the depths of their depravity and lack of common decency, including suspicious excerpts from the Park 31 contract which we received please read on. Firstly, probably your wondering "Why did you even try to book with them if they're so awful?" For the same reason you're considering it; those great photos of that building. Deluded bride brain; busy daydreaming about exposed brick when we should have been making note of how Kelly and Mary claim to bend over backwards for couples yet somehow seem to be struggling to perform the most basic of functions pertaining to their job. Once the friendly chats are over are they really doing what they say they will, or just making excuses? So, without further ado, the final straw where we had to step back and look at things rationally: We were told by Park 31, that Park 31 handles the cleaning after events, however, in the contract it read: "...All trash must be collected, properly bagged, and removed by the Client or the vendor. Within one (1) hour following the event, you are required to return the space to the same clean condition in which it was found...The Client acknowledges a $300 per hour charge for each hour after the scheduled Wrap Time agreed to in this contract…" So...they expect YOU to find a cleaner who will agree to working ONE time, for ONE hour, in the middle of the night. Also, let's hope they can get it done within exactly one hour or you will be charged $300 for each subsequent hour? Who in their right mind would agree to that? When we pointed it out they assured me that cleaning was included. Even though that is clearly not what the contract says. So, naturally, we requested a revised contract. They wouldn't send it. This concludes Part I of II, please see "Paul B" the Groom's review for the conclusion of our story including another interesting contract excerpt.
---
Reviewed on

1/07/2018
Heidi H
We will be getting married here in November... I am so excited to have Park 31 as our venue... we will have the gorgeous hill country as the backdrop for the ceremony and then the amazing old world, industrial building with all of its charming architecture and uniquely curated... Read More decor for our reception. The girls that run the place make it extra special! They are all wonderful to work with, they really make you feel like family and as if the venue were not enough, they truly won us over with their kind hearts! We feel so blessed and look forward to our wedding at Park 31!
---
Reviewed on

12/06/2017
Crystal E
My fiancé, Marco, and I visited Park 31 and were welcomed with open arms. Mary and Kelly took the time to get to know us, our story, and our vision. Mary and Kelly took us on a tour of the property and simply through their explanation I could picture my fiancé and I celebrating... Read More our special day there... even if was only a cement slab (and I am NOT the type of person who can envision the intangible)! A HUGE plus for us is they allow fireworks! I cannot wait to see the finished product! Blessed to have found Park 31, Mary and Kelly! Cheers to the next chapter in our life!
---
Reviewed on

11/30/2017
Mitzi P
This venue is going to be gorgeous! When we first went to see the location there was concern about it not being completed , but when we saw the office/business center we were sold. Mary and Kelly have amazing taste and gave us in full detail of what we were to expect and how... Read More they were able to help if we became overwhelmed. They were able to show us pictures and designs of the venue, we know it will be breathtaking. We were taken out to where the venue is being built and they explained everything in such great detail that between the pictures, floor plans and physical location we knew we were in love with it... They walked us through where the flowing water would be, the entire layout of the venue (actually walked the foundation of the venue and were very patient with us) the two outdoor ceremony options could be. The layout shows a spacious yet intimate location for our friends and family. We can't wait to take advantage of the fire pits and hopefully have fireworks to end our night.
---
Meet The Owner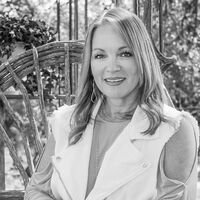 Mary Perlitz
From childhood, to graduating from Texas A&M, I have always gravitated to community events and hosting memories. After years of volunteer decorating for various celebrations and fundraisers, I decided to pursue my passion and launched Cherished Design & Décor in 2012. Designing and decorating for weddings lead me to my vision to design a new unique venue, here in the gorgeous hill country near the Guadalupe River. God put it on my heart to create a place to host and design events so others may share in this piece of heaven. Now this vision has become a reality in Park 31!