Home

Pattengale Photography
About this Vendor
Boho Wedding Photographer - St Louis, Missouri
While there are fun wedding trends and personality types to geek out over, we believe that there's no cookie-cutter bride and groom, and therefore wedding. It's not a situation where you're happily engaged and we're happily photographers that makes us a match made in heaven. We work very, very closely with each bride & groom treasuring and caring for that relationship immensely! Because of this, the Pattengale Couple understands that they need more than just pictures. They need an unforgettable experience. An experience that makes them feel even more in love than when they first began.  That's what we're about. We're a traveling, husband & wife wedding photography team servicing adventurous, fun-loving, boho couples. Currently based in St Louis.
Details
Artistic, Dramatic, Lifestyle, Modern, Vintage
Bridal Portraits, Day After Session, Engagement
Getting Engaged, After Party, Wedding
Destination Wedding Packages, Destination Weddings, Digital Files, Photo, Printed Enlargements, Second Shooter Available, Social Media Sharing, Wedding Albums

Reviewed on

10/31/2017
Taylor T
My wife and I had a wonderful experience working with Tara and her team. I don't have a tone of experience with wedding photographers, but I couldn't image having a better one for our wedding day. Tara made sure to keep in touch with us and sent friendly reminders to keep us... Read More in track for our wedding. She made sure we included all of the pictures we wanted, and the ones we didn't know we wanted. Tara also went above any beyond helping us setup our timeline before the wedding. Our wedding planner got off track from our timeline once during our wedding day and Tara was quick to fix the hiccup. I can't say enough about Tara, Stephen and their team. We have recommended them to friends and everyone has had glowing reviews.
---
Reviewed on

10/31/2017
James B
Tara was the best photographer I could have ever hoped for. She made the least photogenic guy look awesome and was there when my soon to be wife had a million questions. She has a knack for capturing the moments you never want to forget while also making you feel comfortable.... Read More She also worked wonders photographing our dog.
---
Reviewed on

10/31/2017
Lisa B
There are not enough kind words to express how amazing Tara Pattengle is!! She was our photographer for our December 2016 wedding and with her, our wedding was a dream come true! She is easy to talk to, understands a bride's vision, gives excellent expertise, loves to tell your... Read More love story, generally cares, and loves what she does. Her vison for photography is truly a gift and I am so happy we picked her to be our photographer! Our engagement shoot was so fun, with ease Tara had us laughing and comfortable in front of the camera…she made 'being us' so easy! Throughout wedding planning she was there for all the crazyyyy random bridal questions! On our wedding day, Tara got all the special and beautiful moments…and beyond…more than I ever could have imagined! Our wedding pictures are the bomb.com and we owe it all to Tara!!
---
Reviewed on

12/27/2017
Julia L
Tara and Stephen were (and still are!) incredible to work with. We got such great vibes from our first emails and Skype session that sealed the deal for us! We think it was the best choice we made on any vendor (all of whom were fantastic) in our wedding!! They really helped... Read More pull our vision together - with their advice on stylistic touches - and then documented exactly as we imagined!!! It looked even better in photos than it did in person ;) They captured so many sweet moments that bring a tear to my eye each time I see the photos. They are such a sweet, personable, and professional husband and wife team that I will recommend to anyone and everyone!!!!!
---
Reviewed on

11/07/2017
Jess C
Tara and Stephen did a bridal session for us, and it made us feel even more in love (and let me tell you, the photos show it)! They kept us so comfortable and helped our session feel like it was about celebrating our relationship, and now I'm just drooling over the timeless... Read More photos we have to enjoy. Thank you, Pattengale Photography! <3
---
Reviewed on

10/31/2017
Anna M
Tara is a fantastic photographer. She paid attention to my thoughts and ideas and made sure that I had photos that surpassed my dreamed of vision. She made me and my husband feel comfortable in front of the camera (something not easily done) and filled out day with joy and... Read More humor. She is kind and thoughtful and I would wholeheartedly reccomend her photography.
---
Reviewed on

10/31/2017
Beth B
Tara does an exceptional job of telling the story and capturing the emotions of the wedding day. For her it is more than a mere collection of pictures. You feel of the emotions of the day again when you see the pictures. Tara helps the bride and groom plan the day's schedule... Read More ahead of time so important pictures are included and everyone is in the right place at the right time. That is very helpful! Both photographers enjoy celebrating the special day with the bride and groom.
---
Reviewed on

10/31/2017
William B
I am impressed with how well Tara is in the right place at the right time. At a recent wedding, when the groom surprised us by flipping the bride in their "first dance" Tara caught the flip with a face shot of the bride half-way through the flip.
---
Reviewed on

10/31/2017
Brandon N
Pattengale photography did an amazing job capturing our wedding. They were extremely organized and made us and our family feel very comfortable during the wedding photos. The photos allowed family and friends who were not at our ceremony to feel like they were there.
---
Reviewed on

10/31/2017
Rachel W
Tara Pattengale of Pattengale Photography is an outstanding wedding photographer who's artistic eye and exceptional attention to detail left us speechless at the stunning pictures she captured of our wedding! Her talent just keeps developing and she's worth the investment... Read More you'll make in hiring her to capture the most important day of your life!!
---
Reviewed on

10/31/2017
David G
EPICALLY B-E-A-UTIFUL! Couldn't ask for a more personable, kind, hardworking photographer who knows how to capture natural beauty in everything from the surroundings to the expression on grandma's face. Love how everyone turned out on the photos, especially my beautiful wife.... Read More Much love...
---
Reviewed on

10/31/2017
Cody B
Tara did an amazing job as the photographer at my wedding. I don't think my wife and I would have been able to plan things out and have a perfect night without Tara and her husband's help and guidance. Everything from the planning, engagement, and of course to the wedding... Read More photos, Tara and Stephen were there doing a phenomenal job. Their skills go way beyond the camera and the photos they take, they're just all around amazing people. I wouldn't think twice about hiring them again if I had to do it all over again.
---
Reviewed on

10/31/2017
Christine N
Tara and Stephen have a creative eye and helped me feel relaxed and enjoy the day. Tara's blog helped me relive the day and share special memories with friends as though they had been there.
---
Reviewed on

10/31/2017
Ashley S
Pattengale Photography is the BEST! What a godsend Tara was. My now husband and I have said it time and time again, Pattengle Photography was by far the best money we spent on our wedding and the most wonderful vendor to work with. So organized, friendly, professional and... Read More beyond talented. I would have been lost without Pattengale Photography founder/photographer Tara. She and her husband, Stephen, were a DREAM to work with throughout the process and especially on our big day. If you're looking for a fantastic photographer you've found it in Pattengale Photography!
---
Reviewed on

10/31/2017
Andrea G
Tara is the absolute best! Besides the fact that she is an amazing photographer she is also an amazing person. Tara was Able to capture our love story through the proposal, engagement, and wedding day. She was a a great vendor because of her calming presence but also confidence... Read More in her work. Being in front of the camera with her came naturally because she captured you as you and not a portrayal of something. Lastly but also just as important her deadlines are reasonable and she is on time always which is so nice when you're waiting on pictures of the best day ever!
---
Reviewed on

10/30/2017
Alyssa T
Hands down the best!! From the start she was sweet, organized and attentive. THEN to top it off her style is on point! She makes you feel comfortable in front of the camera and takes the most amazing shots. Her pictures and way with words makes her blog post breathtaking. Worth... Read More every penny spent!! It's been 6 months and I am constantly being complemented on my wedding photos. Those people make a point to say, " who was your photographer? Her work is great!"
---
Reviewed on

10/30/2017
Laura H
I am especially thankful for the Pattengale Photography for their help in our wedding. Tara and Stephen's hard work, attention to detail, perspective, and contributions to the organization of the wedding allowed the whole process to go smoothly, without any stress for my wife... Read More and I. I am also thankful for how diligent they have been to partner with us, especially towards the legacy that our wedding will bring to our family and future children. This dynamic duo is top notch, and I couldn't imagine anyone else taking such good care of us.
---
Reviewed on

10/30/2017
Kaitlyn B
Tara, and her husband Stephen, we're wonderful! They really got to know my (now) husband and I, and understood what exactly we wanted in our photos on our big day, and they turned out even better we ever could've imagined! They have such talent, and take pride in there work, and... Read More they are also the nicest people ever! Thank you Tara for capturing the most beautiful day of our lives!
---
Meet The Owner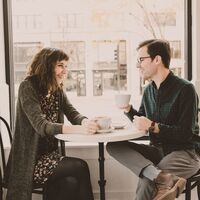 Tara & Stephen
We're newlyweds who met in high school at summer camp. For three years, we traveled 1100 miles every 6 weeks just to see each other. Our wedding theme song? Uptown Funk. Tara quit her desk job to road trip across America - launching Pattengale Photography. And Stephen, with degrees in Economics & Political Science, is just as comfortable with the WSJ as he is with a camera. To really get him going, mention anything about sports. We love to cook gourmet comfort food - Mac & cheese anyone? Also, we're big travelers. Our goal is to shoot a wedding on every continent. What about you?