Home

Pearl Snap Hall
Book Your Wedding with Pearl Snap Hall
---
A BACKYARD IN GEORGETOWN, TX
About Us
When it comes to the perfect wedding venue, some couples prefer a blank slate. Located less than 30 miles from Austin, Texas in the little town of Georgetown, Pearl Snap Hall fills the bill for to-be-wed Texans. A historic church converted into a spacious empty hall invites decorative creativity while providing character and charm.
Indoor and Outdoor Features. Pearl Snap Hall's exterior is reminiscent of a white country chapel and the interior boasts polished wood floors, eight elegant chandeliers, and light, airy windows. The facility also features updated restrooms, energy efficient heating & air, indoor and outdoor catering prep space and an outdoor courtyard, bar, lawn and ceremonial site. The venue accommodates up to 150 wedding guests for a seated dinner and dancing and even more for an indoor/outdoor event.
What You Should Know
Because of the popularity of the venue, all reservations of the facility require a signed contract, a deposit of 50 percent of the rental fee and a refundable security deposit. A wedding rental comes with a 10-hour time window on weekends and a 6-hour time window on weekdays and includes exclusive use of the venue. The site recommends that couples hire a professional wedding coordinator to help with design and vendor management. An on-site property manager is available to answer any questions about the hall and to provide any necessary maintenance.
Rental parties hire their own caterer and the site provides tables and chairs for 150 guests for an additional fee. Caterers must be licensed and hold liability insurance. An insurance certificate listing Pearl Snap Hall as an additionally insured entity must be provided by caterers prior to the event. Couples are able to bring in their own alcohol, but it must be served by licensed bartenders. Guests enjoy ample parking in a contracted restaurant lot located near the venue.
Extra Perks
To-be-weds always welcome a few special perks when considering a wedding venue. Unique amenities offered by Pearl Snap Hall include:
An option for an outdoor tent and a recommended vendor

Room for a food truck adjacent to the venue lawn

String lights throughout the courtyard

Energy Efficient Air conditioning & Heat

Use of the hall's existing vintage tables for cakes, guest book, and gifts

An indoor kitchen prep space which can be used as a bar

An outdoor bar with storage and vintage bar tables

Outdoor courtyard seating throughout property

An outdoor catering are with sink, prep tables, lighting & electrical outlets and rain coverage

Discounted pricing for weekday events

A complimentary one-hour wedding rehearsal the day before the event for weekend rentals

A charming bridal suite for wedding preparation with a private restroom

A fun groom's shed with mini-fridge and record player

ADA accessibility

An award-winning town square within walking distance

Sheraton Hotel lodging within one mile of the venue

From the Vendor
A charming vintage wedding venue in Georgetown, TX
Pearl Snap Hall & Grounds is a charming wedding and event venue in Georgetown, Texas. This venue, a restored 1910 church has been lovingly restored to its beautiful, simple bones. The vintage beadboard has been whitewashed, the original long leaf pine floors have been polished, and the classic windows let the ample sunlight flow in. An updated prep space in the back of the hall gives you the modern amenities you are looking for in a venue. With 3 distinct ceremony spaces, Pearl Snap Hall's grounds cover half of a city block. A heritage tree with vintage strings lights and a nearby bar is a perfect place for cocktails or a smaller ceremony. The large field, with designated ceremony site, holds more of a crowd. Less than 30 miles from Austin, Pearl Snap Hall delivers vintage charm.
Amenities + Details
Amenities
Bridal Suite

Handicap Accessible

Liability Insurance

Indoor

Outdoor - Covered

Outdoor - Not Covered

Reception Area

Wireless Internet
For more details about amenities, please message the Venue.
Backyard, Ballroom, Farm + Ranch, Garden, Historic Venue, Park, Church, Tented
Tents, Rentals + Equipment, Service Staff, Shuttle Service
Contact Info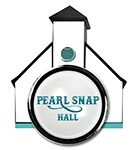 Reviewed on

11/25/2017
Chelsey C
I had my wedding at Pearl Snap Hall this past October and I could not have been happier with the outcome. Sarah has an eye for detail which is reflected in the venue's aesthetic. Starting with the communication, Sarah was responsive and easy to reach throughout the wedding... Read More planning process. She kept us up to date with landscape changes, additions to the groom's shed, and the new furniture. The venue itself is stunning. The best part was that I didn't even need decorations! The ceremony took place in the chapel and the natural light results in beautiful photos. The outdoor space is large and accommodated two food trucks and 130 guests. This venue is amazing, the owner is amazing, and the day-of coordinator Maggie is amazing. I highly recommend!
---
Reviewed on

4/10/2018
Kara M
We had our wedding this weekend and before I go any further I have to implore that if you are looking for a coordinator, hiring Maggie (the woman who works with Pearl Snap Hall) was the BEST DECISION I ever made. It was so hard for me to justify adding another expense to our... Read More budget but let me tell you, she absolutely MADE my wedding day what it was: absolutely flawless and perfect. She took away all of my stress, she knows the venue inside and out and gave us the wedding we always wanted. The Hall is beautiful, the settings serene, very intimate and great for kid friendly weddings because the yard is enclosed. The guests enjoyed the space, especially the kids who spent most of the day playing in the yard. The vendors they recommended to me were also absolutely phenomenal. Maggie, thank you for everything!
---
Reviewed on

3/08/2018
Jocelyn C
Pearl Snap Hall is perfect in every way! The moment we walked in we knew we would get married there. It catered to our elegant guests with a relaxed and very fun vibe. We got married on February 17th not knowing if the 70% chance of rain would hold off. So it was nice to have a... Read More flexible indoor and outdoor option - both beautiful! (We literally made the call to get married outdoors 2 hours before the ceremony!) Sarah and Maggie are both *so* fun to work with - on top of that, they are very composed, professional, offer great suggestions, and are very gracious people. If you are on the fence about this venue, visit one of their vendor fairs to get a feel for the space and visit with their awesome vendors. We met musician Avery Logan through the vendor fair at Pearl Snap Hall and her musical style filled the space perfectly. Our guests have had nothing but wonderful things to say about our wedding. Thank you, Pearl Snap Hall, for being the perfect venue for our unforgettable day! <3
---
Reviewed on

12/05/2017
Lara G
We booked the Pearl Snap for our 11/11 wedding and though we're about a month after our wedding, I am STILL getting comments from guests about how INCREDIBLE the Pearl Snap was. My reply to guests has been they missed out on an even bigger part of the beauty of the Pearl Snap-... Read More getting to work with Sarah (the owner) and Maggie (optional add on day of coordinator, though we used someone else). Every bit of working with Sarah and Maggie was so easy- from booking the venue the afternoon of our engagement (not kidding) to post-wedding communication, Sarah and Maggie are poised, professional, and just a ton of fun! I particularly loved having all of our communication in one place, as Pearl Snap uses Honeybook to track correspondence, which came in handy closer to the big day when I lost my mind/forgot details/asked for some advice when I hit my own planning roadblocks. Like everyone else has said, the venue itself is ABSOLUTELY gorgeous- beautiful grounds, great facilities, easy access to so much, but the real pearl was working with the people. Can't wait for our photos to come in to see more of the magic from the day, including shots of our guests enjoying themselves at the Pearl Snap!
---
Reviewed on

9/22/2017
I had a photo shoot at this venue and it had such wonderful light. It also has amazing acoustics, they did a wonderful job with the styling inside and out. I highly recommend the Peal Snap Hall!
---
Reviewed on

9/20/2017
Heather V
Pearl Snap Hall is one of the most charming wedding venues I have ever seen! My daughter is a musician, and she has done photo shoots and music video shoots in this venue because the vintage charm is so beautiful and welcoming, and the acoustics in this place are AMAZING!! The... Read More owner, Sarah, is great to work with, and she has an amazing list of wedding vendors. Pearl Snap Hall is truly a gem! LOVE this place!
---
Reviewed on

9/20/2017
Haylee G
Pearl Snap Hall has so much character and charm! We have it booked for our wedding in April and the entire process went/is going so smoothly! The owner Sarah, and manager Maggie are both very responsive and willing to help. Booking Pearl Snap was by far the easiest and best... Read More wedding planning decision I've made! Check this place out, you won't be disappointed!
---
Reviewed on

9/20/2017
Eliza L
Love this venue and have recommended it to many friends and colleagues. It is spacious and beautifully decorated and great for all different kinds of events. Highly recommend!
---
Reviewed on

6/22/2017
In April, my daughter's high school held its prom at Pearl Snap Hall. We were charmed by the hall, and working with Sarah Reed was so easy. The hall was beautiful and few decorations were needed. We were allowed to hang strings of lights using removable hooks, and since the... Read More overhead lights were on a dimmer, the ambience was perfect. Driving by Pearl Snap one would never guess that there is a large yard behind the building. The space provides plenty of room for an outdoor wedding or ceremony. Our students enjoyed sitting at tables in this outside space between periods of dancing inside. The best thing about using Pearl Snap was that we could customize the contract for our needs. We were not required to use a specific caterer or to pay for services we did not need. We were able to rent tables and chairs directly from Sarah according to our size event which was convenient. The time for which we rented the hall gave us enough time to decorate, have the prom, and to clean up in a comfortable manner. Sarah was most patient with our students and met with groups a few times for them to see the facility. What I appreciated most was Sarah's willingness to work with our group to satisfy us. She was flexible and reasonable. We were very pleased with our experience at Pearl Snap Hall. Thank you, Sarah!
---
Reviewed on

6/09/2017
Margaret S
We just got married here and we are so glad we chose the Pearl Snap Hall!! Our ceremony was outside in the beautifully landscaped backyard and reception was inside. The building is gorgeous and hardly needed any decorating! Even in the heat, there was plenty of shade for our... Read More guests and everyone raved about the venue. Highly recommend this gem! Their on site coordinator Maggie Flemister, was extremely helpful during the planning stages and on the day of. We loved her! This is a great venue if you have children as well because the backyard is fenced in and we brought hula hoops for the kids to play with.
---
Reviewed on

5/16/2017
Emily M
Snag this place now! Choosing Pearl Snap Hall for my wedding and reception was one of the best decisions I made in the whole wedding planning process. The venue is beautiful and charming, indoors and out. We barely decorated it, it's lovely on its own. The staff are great to... Read More work with; professional and warm at the same time. (Pro tip: book Maggie as your day-of coordinator for the small additional fee, she's great.) And finally, the price can't be beaten. Booking Pearl Snap opened up room in our budget and saved a lot of stress. I couldn't be happier with the way our wedding went!
---
Reviewed on

12/14/2016
Rachel S
My client recently hosted her rehearsal dinner at Pearl Snap and everything was spectacular. The hall looked beautiful with minimal decor, the guests had a wonderful time, and Sarah went above and beyond. My client forgot bar cups and Sarah came to the rescue with some... Read Moreauyfcbefvrafaxtfuutwwtrufxwrzdburayxxw disposables for them to use. She rescued us again when my bartender didn't bring a wine opener. You're good hands at Pearl Snap and your guests are sure to be pleased!
---
Reviewed on

12/13/2016
Stunning and stylish new venue in Georgetown! It's truly a most have wedding venue in Georgetown. Beautiful hall, big open space for outdoor event, kitchen and very spacious bathroom with private bridal suite. Recently work an event for one of our clients and everything look... Read More fabulous on the beautiful white hall space! Thank you Sarah. Definitely recommend it for any type of event!
---
Reviewed on

10/11/2016
K M
What a gem in Georgetown! I went to an amazing event here a few weeks ago. The chapel has been lovingly restored. The outdoor space is full of beautiful heritage trees and plenty of room for large events. Sarah and Chris have attended to every detail and are terrific hosts.... Read More Definitely recommend Pearl Snap Hall.
---
Reviewed on

10/05/2016
Meredith W
Like your favorite Pearl Snap shirt, Pearl Snap Hall is light, charming, warm and endearing. The Snap is flooded with light on the inside, and swathed in original, whitewashed bead board and hardwoods, creating the perfect canvas for many different expressions of style at an... Read More event. We particularly loved the high ceilings and the evocative sense of wonder and grace that they conjure. In the dressing and private areas of the Snap, the designer has curated a collection of distinctive artwork that is simultaneously Tex-Mex and and rockabilly elegance. Is that possible? Tex-Mex-abilly-gance? They play together beautifully. The Snap's outdoor space has a number of terraced areas for gathering as it slopes down to the main outdoor event space. The air moves easily across the yard, and there was dappled light through the trees in mid afternoon, which was perfect for photos. We absolutely fell in love with the Snap; it's clear that this is a labor of love for the owners who have made this place a thoroughly delightful place to hang your hat for a few hours.
---
Reviewed on

10/04/2016
David P
I'm a clergyperson/minister who has done lots of weddings, so I probably look at wedding venues a little differently. First, this space is amazing. Pearl Snap Hall has the simplicity of a country parish church with genuine Texas charm. Furthermore, the facilities, restrooms,... Read More yard, and other rooms speak to a wild, creative spirit that inhabits the place. This was the kind of place my wife and I were looking for years ago when we married here in Central Texas. Its truly beautiful and Sarah and Chris are truly a joy to work with. They are inspirational people in their own right, and their involvement in anyone's wedding would be a true blessing.
---
Meet The Owner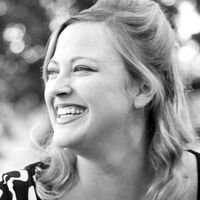 Sarah Reed
Sarah Reed took a very long and winding path to get to this point. Over the years, she's been an artist, photographer, graphic designer, children's book illustrator, prop stylist, vintage housewares buyer, event planner, store manager, gallerist, exhibitions coordinator, non-profit operations manager, creative recruiter, talent coordinator, model, assistant to a fashion designer, drummer in a band, Photoshop artist, tour guide, yoga teacher, wife, and mom! All of these experiences bring something unique to her toolbox, and all of them have come into play at her venue, Pearl Snap Hall!