Home

Perfect Beginnings Destination Weddings
Details
Destination Wedding Planning, Destination Weddings, Honeymoon Planning, Planning
Contact Info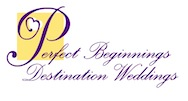 Honeymoon Getaway
Reviewed on

1/12/2015
Elaine H
We had the privilege of having Brandy as our honeymoon specialist. She helped us from choosing our destination to getting everything organized. She kept us informed along the way, even with a huge setback with our original choice in Cabo, she took it upon herself to make sure we... Read More were worry free. When you're planning your wedding this was one thing we felt we didn't have to worry about at all. She handled everything with perfection and we'd recommend her to anyone in need of assistance.
---
Brandy is the best!!!
Reviewed on

11/07/2014
Kelly M
I hired Brandy to handle all of my travel and my guests' travel for my wedding in Playa del Carmen, Mexico. She first helped me select a hotel which she works with and that was a HUGE help. There were so many to choose from, so I was sort of overwhelmed. Then she took charge of... Read More everything, from working with the hotel for our rates, doing our block of rooms, having our guests contact her to book their rooms (and flights if requested). She was really helpful in that process because I didn't have time to handle any of it. She was organized and even made it easy for people to contact her because she had a form for them to complete online. She even was able to get the hotel to upgrade my room at no additional cost, which was awesome. For the travel, Brandy was amazing. I highly recommend her. I also hired Brandy to come to the property a few days before my wedding and help me with coordination, making sure people got checked in, distributing their welcome bags, helping me the day of the wedding. All I have to say is this was THE BEST DECISION I EVER MADE. I seriously could not have done it without Brandy. She made sure everyone was happy. She even got the chef to go to his home to get my now mother-in-law a measuring cup that wasn't commercial sized. She got a wheelchair for my husband's grandmother. She made sure all of my events were perfect. She met with the on-site wedding coordinators with me and made sure every aspect of everything was perfect. I cannot say enough about her and what all she did for my wedding. I didn't even notice if anyone had a small problem because she was already on top of it. She definitely made my wedding so easy and I didn't have any stress, which was exactly what I needed. My husband was hesitant about spending more money to bring her down to the resort (paid for her flight, hotel and a small daily fee), but even he said it was the best money we could have spent. It was worth every cent. All in all, I can't recommend Brandy enough. Whether it's for your travel accommodations for your guests or her assistance with your wedding, she is awesome. Book her for sure.
---
A Review for a family vacation taken in June 2014...
Reviewed on

10/31/2014
Pamela R
Brandy assisted our family with our vacation plans to Disney World in Florida this past summer. Brandy was a wonderful resource of information guiding us on our options! She was patient with all of my questions (and I had a lot) about the parks! I did not have the time to plan... Read More all of the logistics so Brandy saved me and did all the leg work for us! I just told her when we wanted to go, where we wanted to stay and she took care of the rest. We could not of planned it with out her assistance! I highly recommend Brandy to plan your next vacation or honeymoon. You will not regret it!
---
Mother of the bride
Reviewed on

10/28/2014
I had the best time at my daughters wedding. I felt very comfortable with Brandy and her services, she was with us every step of the way. She knew how to make my daughter happy on her big day! My daughter was stress free on that day, which made me happy! Thank you so much... Read More Brandy for all your hard work!
---
Wedding planner turned friend
Reviewed on

10/28/2014
It was stressful enough having to think about doing a destination wedding, but with the help of Brandy I never worried if things would be taken care of! I am so glad we have become friends through this whole thing, she def makes it worth hiring a wedding planner! She is amazing... Read More at what she does & made my dream come true! Our trip & wedding was great and smooth sailing because of her!
---
Weddingmoon
Reviewed on

10/23/2014
Brandy is the best, couldn't have done it without her!
---
Destination wedding
Reviewed on

10/23/2014
We had the most amazing wedding and time on our wedding moon!! Brandy was with us evey step of the way and is greatly appreciate!!! Sandels Royel carribian Jamaica was best resort ever!!!!!!
---
Brandy is the BEST
Reviewed on

10/06/2014
Jackie H
We first got in contact with Brandy almost 2 years ago to help us book a cruise (she was recommended by a family friend). She helped us find the ship that we wanted, and answered every possible question we had regarding the rooms, food, ports, etc. Once we were back from the... Read More cruise, Brandy sent us a follow up email just asking how everything went (she had no idea, but we actually got engaged on the cruise!) I told her how perfect everything was and that it was all because of her help. Before we set a date, we told Brandy that we needed her assistance again, but this time for booking a honeymoon! We threw out different islands that we had thought about and she gave us a write up on each of them - like this island is good for adventure, this island is good for relaxing, etc. She helped us get booked and even delivered our itinerary to our rehearsal venue the day before the weeding. Due to some issues with the airline, we missed our connecting flight in Miami to St. Lucia (heads up, there is only one flight from Miami to St. Lucia a day!). As we stood in the rebooking line with tons of angry passengers, the first thing we did was call Brandy. While we were stuck in Miami trying to get rebooked for the following day, Brandy handled everything with the resort and our private transportation. She called me back and said "don't worry, everything is fixed at the island. Talk between the two of you and let me know if you want to stay an extra day or leave on the original day." We talked it over for a few days, and we decided that we wanted to stay one more day, so we called Brandy and she handled everything! She even called a few days after our return to see how the honeymoon went. I whole heartedly think that if we had not used Brandy, I would have had a complete meltdown in the Miami airport, but I knew that we were in good hands with her. Brandy went above and beyond to help us have the perfect vacation and the perfect honeymoon. I would highly recommend Brandy to anyone looking to travel - quick getaways, destination weddings, honeymoons - I guarantee she is the best in the business and we will continue to use her for years to come!
---
Perfect Honeymoon! (First Time Cruisers)
Reviewed on

9/18/2014
Lindsay
My fiancé (now husband) and I worked with Brandy from Perfect Beginnings and she was absolutely amazing! We had no idea where we wanted to go for our honeymoon, what to do, or how to start. Brandy met with us and she learned more about our personalities and what we liked and... Read More came back with great recommendations and different options. We chose to go on a 7-Day Caribbean Cruise and Brandy helped us plan our excursions, helped find travelers insurance, organized all of our documents and tickets. I was stressed out with planning our wedding, but planning our honeymoon with Brandy was stress-free and a ton of fun! We are already asking her to plan our anniversary trip. I highly recommend Perfect Beginnings - and what an appropriate name for a business because our honeymoon truly was perfect!
---
The Nicest Honeymoon!!!
Reviewed on

11/08/2013
Tamarra M
Brandy Burriesci was friendly and helpful and we are glad that she advised us on where to go for our honeymoon. We were extremely satisfied with her recommendation of Secrets Maroma Beach. The room was absolutely stunning and that was one of the most important things for us. The... Read More resort was fun, luxurious and above all romantic! We travel a lot, but this was definitely on our top 3 vacations of all time. We will definitely be using Brandy's services for future trips and vacations.
---
Perfect Beginnings Destination Weddings
Reviewed on

10/22/2013
Marnie F
I am so lucky that we ran into Brandy with Perfect Beginnings Destination Weddings at a bridal extravaganza. She worked so hard to make sure that everything was perfect for my wedding in the Riviera Maya, and it was perfect! She also helped me pick the right resort for my... Read More guests and us. She also made sure that our honeymoon was spectacular, and it was! Planning a destination wedding at first seemed overwhelming. Then we met Brandy with Perfect Beginnings Destination Weddings, and planning became enjoyable and exciting. She is so knowledgeable, about destination weddings and traveling that it was a relief. She even pointed us in the right direction in picking the resort, she made sure that my dress was placed in the captains area on the plane to making sure my grandmother had wheelchair service at the airport and resort, she helped me find pictures of flowers to send to wedding resort coordinator, she even helped me find ideas for gift bags for my guests, to even helping me get in contact with resort wedding coordinator with a conference call and she kept in contact with the resort wedding coordinator to make sure all the amenities that were offered in my wedding package were honored. She also made it so easy for all of my guest to travel. She offers email, website, and guests can also coordinate any travel with her personally by phone. Some of my guests were elderly and did not use internet. My guest's were raving about her. Many of them want her help them with any future travel plans. I can not say enough about how great the experience was. I am so happy that we met Brandy.
---
Perfect Beginning Indeed!
Reviewed on

9/24/2013
Veronica E
We happened upon Brandy with Sea Blue Cruise and Travel at a bridal show and we are so glad we did! She immediately gathered info about our interests, hobbies, etc. and based upon that, made a recommendation on what she felt would be the perfect honeymoon destination for us. She... Read More was on point with everything, from the resort to the activities and food; however, the thing that stood out the most, aside from her impeccable attention to detail, were the little touches that made our amazing honeymoon that much more special: Arranging for a couples massage, sending us off with a gift basket and e-card, driving across town at our convenience for the initial meeting, and again to personally hand deliver our tickets & itinerary, not to mention she was always accessible, even checking in with me during her own vacation to attend her father's wedding! That's going above and beyond and we cannot thank her enough for exceeding our expectations and giving us the honeymoon of our dreams. Upon our arrival, they already knew what we wanted in our room and stocked up on it, and prearranged our dinners for us. In the hustle and bustle of planning a wedding, it's nice to have someone take care of every little honeymoon detail for you. From this point forward, we will utilize her services when booking ALL future vacation getaways.
---