Home

Petalena
Details
Centerpieces, Decorations + Accents, Bouquets, Boutonnieres, Corsages, Flower Arrangements


Contact Info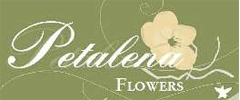 Apryl was a dream to work with!
Reviewed on

9/28/2013
Meaghan O
Apryl was one of my all-time favorite people to work with in planning our wedding. I swear she could read my mind! Our flowers were to die for! She also went above all of my expectations with helping decorate our venue. Our cherry blossom trees where stunning.
---
My flowers were stunning!
Reviewed on

2/09/2013
Laura C
We used Petalena for the flowers at our wedding last fall and Apryl did a wonderful job! We felt like she listened to our preferences and was extremely easy to work with. We wanted to use some of our own personal vases, and Apryl was very accommodating. Our reception was... Read More in a library and she did a wonderful job arranging the tables with a variety of small flower arrangements and books. The flowers looked absolutely stunning and exceeded our expectations! I would highly recommend her!
---
A WARNING TO BRIDES!
Reviewed on

1/21/2013
Virginia P
My daughter and I recently were in the process of booking Petalena for her July 2013 wedding. We met with Apryl this past fall for our initial consultation. At that time we made an agreement with April to use our own containers. We recevieved a proposal and it said we could not... Read More use our own containers ( we had already purchased them!) when We reminded her of our agreement, she recinded that. We then received our second proposal. It included two large containers provided by Petalena. This was fine with us, but emailed her to ask to SEE when we could see the actual containers ( this is not an odd request, is it?) A week went by with no response, then her email came telling us that her partner was leaving the business, so she couldn't do the wedding and we should look for another florist. We just WASTED 5 months with this woman. We have an awful feeling that this is a big lie. We never had a bad word between us, or haggled over pricing. We now will start the floral designer search all over again. Just a warning to those looking as well!
---
The BEST florist--you're crazy not to use Petalena
Reviewed on

10/23/2012
Andrea Y
I had the most fantastic experience with Apryl at Petalena. She was a pleasure to work with and listened to all of my ideas for the wedding. The arrangements were beautiful, and exactly what I was hoping for. She went out of her way to ensure every detail was perfect with our... Read More flowers. She is a total value--as she did amazing work, with class and style, at a fraction of the cost of other bigger Boston florists. You won't get nearly as much personal attention and quality from any of those larger florists in the area. Do yourself a favor and book Petalena now! You won't regret it!
---
Incredible!
Reviewed on

9/16/2012
Anna K
I am so, so, so pleased with Petalena's work for our wedding! April was a joy to work with, and she just pulled out all the stops for us while remaining within our budget. She visited us at our hotel before the wedding to help with flowers for my hair, and created the most... Read More beautiful bouquets, table arrangements, and decorations for the cake and venue. I asked for an elegant, freshly picked from the garden look, and she blew me away. Highly recommended!
---
Simply amazing
Reviewed on

11/09/2011
Julia P
I cannot say enough good things about Petalena. Julie worked with us every step of the way to design a look that perfectly fit what we were aiming for, from table arrangements to dressing up the tent with original but not over the top ideas. She gives you a lot of options and... Read More choices without making the process overwhelming, and adds little touches that make everything just wonderful. We had so many people commenting how amazing it all looked and would recommend Petalena to anyone whole-heartedly!
---
Highly Recommend Petalena to All Brides!
Reviewed on

12/03/2010
Glen S
I had a great experience with Petalena! From our first meeting until the wedding Julie and Apryl were easy to work with, professional, and full of great ideas. I only had a vague idea of what I wanted but they took it and made it better than I could have imagined. Our flowers... Read More were fun, festive, and modern and really reflected the overall tone were trying to have at our wedding! Our guests were actually coming up to us and asking if they could take home the centerpieces!!! When we got our original proposal the total was a little more than we wanted to spend. Apryl immediately came up with many suggestions to lower the price while keeping the same overall look and gave us a new proposal. Also, both versions of the proposal came with very detailed descriptions as well as actual photos of the flowers and vases to be used at our wedding. Petalena was one of my favorite vendors at my wedding and I would highly recommend them to all other brides!
---
More than just "ordinary" flowers
Reviewed on

12/02/2010
Joyce S
To say that I adore Julie and Apryl of Petalena is an understatement. With a few random parameters (a couple of specific flowers that I liked, including some fruit, wedding colors and a request for lots of different textures), they delivered literally jaw-dropping flowers.... Read More Gorgeous, memorable and not your standard run of the mill flowers. My wedding party was raving about them, my guests were raving about them, and even the serving people at our venue were raving about them and wanted permission to take some of the centerpieces home. My bouquet was delivered right in the moment as I was counting down the final minutes before I got in my wedding dress. I was stressing over the details of the day, wondering if everything would be OK. Once I saw my bouquet, I was ecstatic. It totally surpassed my high expectations and in an odd way, it put me at ease because I knew if my bouquet looked this good, Julie and Apryl would be doing an equally good job transforming the rest of our venue. They provided my bouquet, a maid of honor bouquet, bridesmaids bouquets, boutonnières for the groom, groomsmen, fathers, grandfather, ushers and officiant, magnetic corsages for the mothers and grandmother, a tablescape (I'm talking tree stumps, moss and orchids) for my place cards and table centerpieces. I loved how each piece was original but at the same time, matched our overall theme of colors and types of flowers/plants, which gave everything a cohesive look. I found Julie and Apryl to be extremely responsive to all my inquiries. In addition, in both the initial meeting and the meeting we had in the month leading up to the wedding, they took the time to go over all the details and clarify my vision for the wedding. I felt like they really cared about what I wanted, and it showed in their beautiful execution of all the floral elements of the day. I highly recommend them for a wedding or any event where you want to make a statement with flowers.
---
Beautiful beyond words
Reviewed on

12/02/2010
Meredith S
The lovely ladies of Petalena are not only pure pleasure to work with but they are also incredibly talented. They did an absolutely amazing job on the flowers for my wedding. They were better than anything I could have envisioned. Apryl and Julie spend as much time as it... Read More takes to understand their client's vision and - most importantly for those of us who are not very "florally literate" - they are terrific at taking abstract ideas and adjectives (e.g. whimsical, romantic) and transforming them into reality through their gorgeous designs. They offered endless ideas and it was fun to watch them work together to form a vision based on my input and their know-how. Hands-down my favorite wedding vendor!
---
Creative, unique and stunning!
Reviewed on

12/01/2010
Lisa B
I hired Petalena because they demonstrated the level of creativity, uniqueness and beauty I was looking for. The work of other florists started to look the same and they certainly stood out. Their blog, filled with photos of their work, was an absolute delight to go... Read More through--every one of their arrangements was beautiful. I was truly awestruck by their choices. I had the utmost confidence in them after our first meeting and was happy they worked within my budget. They were terrific to work with, they took my vision for my wedding to a new height, exceeding my expectations. If you want stunning florals, hire them!
---
one of our fave wedding vendors!
Reviewed on

12/01/2010
Sylvia L
we LOVED working with julie & apryl. they are incredibly talented, lovely and really fun to work with. they totally understood our (ok, my) vision for our wedding flowers and everything was more than beautiful. everyone was blown away by how amazing everything looked -- it... Read More was my peony & garden rose dream come true. i also really appreciated that julie & apryl worked with me to keep things within our budget! i highly, highly recommend Petalena! : )
---
Petalena - absolutely delightful!
Reviewed on

11/02/2010
Kathleen W
Of all my wedding vendors, Petalena was one of the most delightfu with which to work. They were incredibly creative with their floral suggestions for the wedding and were flexible about working with my budget. I received numerous compliments on the church and reception... Read More flowers. I wouldn't hesitate to recommend Petalena to any other person looking for beautiful flowers that will make them proud on their special day.
---
Great Florist
Reviewed on

8/13/2010
Sara C
I thought it would be hard to choose a florist because in my opinion any professional should be able to make pretty flower arrangements! I met with 3 and really felt that Petalena was a step above the rest. In my first meeting with Julie, I could tell her passion for her... Read More work. She seemed genuinely excited to do flowers for weddings. Since I don't really know one type of flower from the next, she was very helpful getting my general ideas into specifics. I also liked that they use some unusal plants in their arrangements such as mint - a pretty and fragrant herb that really added a beautiful and unique touch to the bouquets. Finally - price and size really sealed the deal. They only will do ONE wedding a day. To me that is huge because you know they are working to make your flowers look great on that day and not thinking of having to get across town for another delivery. And I probably would have picked them given all of hte above but their estimate was lower than the other two florists I met with! Bonus! All the flowers at our wedding turned out beautifully from the bouquets, boutonnieres and center pieces. I would recommend Petalena to anyone planning a wedding
---