Home

Piazza Events - Two Locations: Mckinney & Colleyville
Book Your Wedding with Piazza Events - Two Locations: Mckinney & Colleyville
---
A BALLROOM IN COLLEYVILLE, TX
About Us
If you want a wedding celebration that takes elegance to unbelievably breathtaking heights, then The Piazza could very well be the locale of your dreams. This award-winning venue actually has two locations: The Piazza in the Village and The Piazza on the Green. Located in Colleyville and McKinney, Texas, both settings emphasize intricate beauty and spectacular backdrops.
Wedding photos look amazing, thanks to high ceilings, premier construction and numerous locales. Capture the bride's exquisite beauty among Mediterranean-style columns or use the open-air courtyard for romantic and humorous photographs. Each location offers a magnificent chapel for wedding ceremonies, two ballrooms for unforgettable receptions and outdoor spaces for cocktails and hors d'oeuvres.
The chapel. This space seats 275 guests in traditional pews made of solid ebony oak. It's hard to describe the overwhelming grace and style of this space without seeing it in person, but the more than 200,000 glass crystals that make up the space's immense chandeliers and light fixtures should give you an idea. Add to that vaulted ceilings, vintage columns and cracked-glass windows and it isn't hard to imagine why newlyweds rave about this place.
Rows of candles light the way to the altar, creating a regal ambiance. Church bells ring to commemorate the joyful occasion and balconies provide a place for the married couple to wave to friends and family and pose for unforgettable photos.
The grand ballroom. This area is the larger of the two ballrooms and has space for 275 seated guests for the wedding reception. This room is a ballroom in every sense of the word, with exquisite beauty and a touch of mystique. A large wood dance floor completes it perfectly. Professional lighting brings the entire space to life in the color of your choice. Curved crystal chandeliers adorn the ceiling throughout, while monogrammed letters float across the walls. Large circular tables accommodate about 10 guests per table, allowing for animated conversation throughout the evening.
The Village Ballroom. This space has a distinctive ambiance that takes the traditional flair of the ceremony and mixes it with a chic vibe that lets both newlyweds and guests start to relax and get ready for a night of dancing and entertainment. Cascading chandeliers and soft draping delight the senses and the dance floor gives everyone a place to get their groove on in style. This space can hold up to 150 guests for a seated reception and for added comfort, a separate bridal suite lets the bride touch up makeup or change into a stunning evening dress. There is even a lounge where guests can sink down into a soft leather couch to rest their tired feet. Professional lighting personalizes this room as well.
The courtyard. The courtyard is a pleasant open-air space at The Piazza in the Village, reminiscent of an actual Italian village. Beautiful architecture, soft lighting and a classic fountain create a soothing atmosphere ideal for conversation and playfulness. Outdoor photos also shine in this space.
The outdoor areas. These spaces at The Piazza on the Green offer the couple a verdant landscape for photographs and peaceful strolls. They also make an excellent backdrop for cocktails and hors d'oeuvres. Lush trees and views of the golf course and the sunset are a bonus to any wedding celebration.
What You Should Know
The Piazza's locations are beyond exquisite. The goal of the staff is to make everything happen exactly how you expect. Their service extends beyond just providing you with a venue, as they also help with the planning. The Piazza handles reception catering and create custom menus, depending on your personal tastes. Food allergies and similar dietary restrictions are no problem.
Outside catering is permitted. To coordinate your decorations, floral arrangements, DJ services and live entertainment, it's important to speak with the events coordinator for a list of do's and don'ts, as well as unique recommendations.
Extra Perks
The Piazza offers the bride and groom a ton of technological amenities, both in the chapel itself and in the ballrooms.
Three live cameras capture the ceremony
Two large screens in the chapel for guests
Live streaming across Internet
Digital black baby grand piano in chapel
Large screens in ballrooms
Disco ball
From the Vendor
Ceremony and Reception Venue
The Piazza boasts two exquisite wedding venues, Piazza in the Village, Colleyville TX and Piazza on the Green, Mckinney, TX. Each location has a beautiful chapel, two unique ballrooms and spacious Bride and Groom's suites. Live web broadcasting of your ceremony is perfect for your out of town family. Book your tour today! Piazza on the Green, 214.383.2500. 6200 TPC Drive, Mckinney, TX or Piazza in the Village, 817.520.0026 77 PIazza Lane, Colleyville, TX, See featured Venues for more details.
Amenities + Details
Amenities
Handicap Accessible

Indoor

Reception Area
For more details about amenities, please message the Venue.
Food + Catering, Planning
Contact Info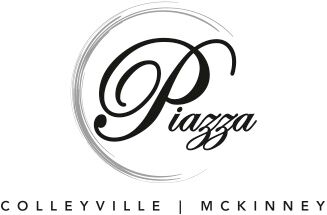 Reviewed on

4/06/2016
Bianca J
The Piazza in the Village was beyond amazing. Our wedding coordinator, Mckenzie, was extrnemely detailed and helped us with every situation that arose. Our wedding day was seamless and breathtaking. The venue was affordable and the food was delicious. We tried something... Read More different and had a morning wedding with Brunch and Mimosas. I could not have asked for a better wedding and venue. Thank you Piazza!!!
---
Reviewed on

10/11/2016
Bindu J
We had our wedding here on 9/9/2016 and it was wonderful! From the day I went and visited the venue it was a very easy process. My coordinator Debbie was the best! She was so nice and patient with me and helped me every step of the way. I never had to wait for a reply on an... Read More email or a phone call. All of my guests have complimented everything from the gorgeous venue, the lighting, and especially the food. I have a couple of people that want to host their weddings there now! I could go on and on about how wonderful and seamless the evening was. I would recommend this venue to anybody who wants a stress free wedding done with elegant and class.
---
Reviewed on

7/24/2016
Jenise M
We had our wedding at Piazza in the Village on July 3, 2016. The chapel and ballroom is stunning, the owner was very helpful in helping us to select our beverage option, and the chef did a fantastic job in customizing our menu. We received so many compliments on the food and... Read More everyone was asking us who was the chef! The video we received from Piazza of the ceremony was of high quality! Our bridal captain was also very sweet and helpful! My husband and I are very happy that we chose the Piazza. I was able to live out my fairytale wedding!
---
Reviewed on

10/30/2017
Luz L
I had the wedding of my dreams and the Piazza. My wedding coordinator was Nicole Garcia and she was a pleasure to work with. She answered all my questions in a timely manner and made sure I had the most perfect day! The food was amazing, the staff was so attentive and... Read More grateful. I honestly couldn't have picked a better venue and better staff to handle all my needs. I truly recommend the Piazza vents for all future brides.
---
Reviewed on

10/15/2017
Monica M
We were 100% satisfied with everything this venue had to offer. Right from the get go we fell in love with this place! We didn't even bother to check any other venues! They make it so easy by having practically everything you need there. Our coordinator was Monica and we... Read More absolutely loved her! She was the sweetest person and she was always very responsive to any questions we had! The day of, the entire team of people at the Piazza were AMAZING! We had an amazing time and so did our guests! Would recommend this venue to any couple!
---
Reviewed on

10/10/2017
Stephanie C
What an amazing and smooth experience! Beautiful new venue with so much to offer. Piazza was professional from the day we signed the contract and they truly care about making your day special. The open houses are the best way to see what they have to offer! Sheri was our 3 month... Read More out coordinator and was such a blessing to our wedding. She kept me on top of my organization and reminded me of so many little things that make a big difference. Everything was planned out well thanks to her and her patience (since we changed everything about a million times due to cancelations/weather/etc) I can say I had the perfect wedding and Piazza was the best venue we could have picked. I thank God for them and recommend everyone to check out this venue since I know the standards they hold on how they treat their guest. I cannot put in words how amazing my wedding day and am so thankful Sheri and Piazza on the Green.
---
Reviewed on

10/10/2017
Pamela N
Everything at the venue was great specially the chapel which has really good decoration with big chandeliers and live-stream video. The video was really good quality and everyone in my home country (Ecuador) was able to enjoy the wedding with us. The reception ballroom is good... Read More but has limited options on how to arrange it, it also seems they have the name of the venue everywhere trying to market themselves. Food was great.
---
Reviewed on

8/24/2017
Stacey O
I love love loved my Piazza experience. The venue is gorgeous and Lorna was beyond the best person I could of worked with. She was so sweet patient and kind. I love her personality and she even would clean up other peoples trash around the venue. So sweet! Debbie was also very... Read More patient and kind! The food was amazing and everyone had only amazing things to say about the wedding! The venue the staff the bartenders the servers the coordinator was all so amazing. Even the billing was a smooth transition! They worked with me financially as well which I am forever grateful! I would highly recommend them to anyone and only have amazing words to say about this venue! Also, everything was included in a single payment which was important to me because I didn't have to worry about all the little things and even if I had questions I could contact Debbie at any time.
---
Reviewed on

7/08/2017
Katie M
We had our wedding at the Piazza in the Village in Colleyville on 6/9/17 and it was absolutely perfect!! The venue is gorgeous. The staff at the Piazza is fabulous. We worked with Lorna for our tour and booking and she is wonderful. Debbie was our day of coordinator and she was... Read More amazing!!! Debbie made planning all of the details so easy and made the day of run seamlessly. We had the BEST time at our wedding thanks to her hard work. The food was wonderful, everybody really enjoyed it. The venue has several unique options- I tossed my bouquet from a balcony in the courtyard. We loved the Piazza and working with them every step of the way from booking to wedding day was wonderful. Our guests had nothing but complimentary things to say about the Piazza. Thanks for the best day ever Piazza in the village!!!
---
Reviewed on

7/04/2017
Djenane N
Let me start off by saying that Piazza in the Village communicates promptly! I had contacted other venues who would wait days and up to one week before getting back to me. Lorna was very helpful and greeted us with a big smile even though we were a bit early. She did not make... Read More us wait and was more than happy to get us started with our tour. She took her time to show us the chapel, the reception space, and did not mind my many, many questions. I look forward to working with our coordinator. The venue is very pretty and I cannot wait for our big day.
---
Reviewed on

6/14/2017
Jessica W
I am so excited to have my wedding here in September! The venue is absolutely beautiful and everything my fiancé and I have been looking for! Thank you so much to Lorna who was extremely helpful in reserving this special day for us!
---
Reviewed on

6/04/2017
Kristen R
We had our reception at Piazza on the Green on 05.13.2017 and it was such a beautiful event! The sales department helped us pick the right reception package for our budget and were always very friendly. We worked most closely with Robyn and she often went above and beyond to... Read More help us in any way we needed. Kim, our coordinator, was also very helpful and sweet. She made our day so special and and ensured that it ran very smoothly. The only reason I give Piazza on the Green 4 stars instead of 5 is that I feel the venue is overpriced and they have very strict time policies. If you would like to add additional time for vendors or for clean up, or even use of the groom's suite, for example, their fees seem to be steep.
---
Reviewed on

5/23/2017
Michelle R
We had our wedding at Piazza in the Village and it could not have been a more perfect day! We received so many compliments on our choice of venues for our wedding! All our guests were so impressed with how organized and structured everything was and how beautiful everything... Read More looked and how amazing all the food tasted. Thank you Piazza and your wonderful team for making our day truly special!
---
Reviewed on

9/12/2016
Damien D
We visited many venues (standalones, large hotels, church and etc.) and we always came back to the same 2 Piazza venues (McKinney & Colleyville) because we never experienced the same level of attentiveness, professionalism and guidance elsewhere! Plus, the amenities are amazing... Read More and they really thought of every small detail for the wedding. The flow of the whole wedding from start to finish would be flawless with everything, every activity in the same area. We showed our parents pictures we took of the places, and they all loved how elegant and refined Piazza in the Village and Piazza on the Green both are. The pricing is also so reasonable because of the all-inclusive nature of the venue. It would normally take my fiance a long time to calculate and decide on a big purchase, but he was sold the first day! We ended up choosing to go with the McKinney location (Piazza on the Green), and Robin has been the most supportive, responsive, kind, professional and collaborative since the start. We feel so lucky to find Robin and Piazza on the Green! We would recommend her and the Piazza enthusiastically and wholeheartedly to anyone who are looking for a venue that has a chapel and 2 ball rooms to choose from. We just locked in our date, any we look forward to working with the company for the next many months!
---
Reviewed on

8/26/2016
Kristie D
We had our wedding at the Colleyville location on 7/24/2016, and we were very pleased. We worked with Lorna in our initial tour and signing of the contract, and she was absolutely wonderful and made everything as easy as she could and was very flexible in getting our rehearsal... Read More scheduled. Terrie, our wedding coordinator, was absolutely AMAZING and made sure that my husband and I were well taken care of. It is a beautiful venue in all areas and your guests will think you spent a lot more than you really did because they have thought of every little detail you can imagine. They are flexible with the menus and will work with you on special meals when there is a need. The only reason I did not give them 5 stars is because our wedding was delayed 20 minutes due to a staffing mess up, which definitely added some stress, but they did what they could to make up for it. You will not be disappointed if you chose this venue.
---
Reviewed on

7/06/2016
Madeline D
Piazza in the village is a beautiful venue! I love how they make everything so easy. After we signed the contracts I wanted to change something's around and Lorna was so sweet about everything. I highly recommend this venue if you want a stress-free wedding!
---