Home

Piece of Cake Consulting, LLC
Details
Engagement Party, Honeymoon, After Party, Bachelorette Party, Bridal Luncheon, Bridal Shower, Rehearsal Dinner, Rehearsals + Parties, Ceremony, Cocktail Hour, Day After Brunch, Reception, Rehearsal, Wedding
Destination Wedding Planning, Destination Weddings, A la Carte Wedding Planning, Budgeting, Day-Of Coordination, Full Service Wedding Planning, Honeymoon Planning, Planning
Contact Info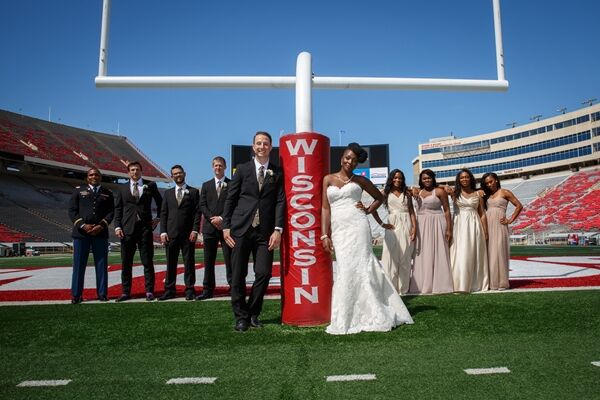 Reviewed on

10/06/2017
Maria S
Betsy was incredible for our day of wedding planner. She walked us through the rehearsal the day before the wedding w/ speed and directed the crowd for efficiency. No one wants a 2 hour ceremony rehearsal. Throughout the wedding she was there when we needed her and was sure to... Read More give us space to when it was needed. She was a crucial asset to our wedding in all shapes and forms and I would highly recommend her for ANY bride and groom who wants piece of mind on their wedding day!
---
Reviewed on

7/10/2017
Marie M
We hired Betsy for my daughter's wedding and it was one of the best decisions we made for the day! Betsy was a total pro and took care of everything we needed. It took so much stress out of the day knowing she was handling everything. It made it possible for me to truly enjoy... Read More all aspects of my daughter's wedding knowing that everything was in her capable hands.
---
Reviewed on

6/17/2017
Lindsay R
Besty was a AMAZING! I was planning my Madison wedding from Louisiana, which even with the help of my mom and sister was difficult at times. Her recommendations of vendors were a huge help and we were not disappointed in any of them. Betsy has a great personality, when you talk... Read More to her you feel like you've known her for years. She keeps it fun, but make sure everything is on schedule and it gets done. The day of the wedding she really helped to keep things running smoothly. It was a stress free wedding day thanks to her. If you're looking for a wedding planner she is your girl! You will not be disappointed.
---
Reviewed on

5/29/2017
Michelle U
We just returned from our honeymoon (we left the Monday after the wedding) and one of the first things we had to do was to review Piece of Cake Consulting and its owner, Betsy. Our wedding was exactly what we wanted, in no small part because of Betsy's hard work. From our... Read More first meeting, Betsy really listened to what we wanted in our wedding and inspired confidence that she could make it happen. We both liked Betsy's style – a nice balance of flexibility but also asking good questions about our ideas to make sure we had really thought things through. Betsy took it from ideas to reality. She provided recommendations and references for vendors, but was not pushy about it. She worked well with everyone involved. The week of the wedding, Betsy really took over, confirming (and re-confirming!) all of the details with the venue, vendors, etc. By the time the wedding came, everything was in place and it went so smoothly. (We suspect many thing were going on behind the scenes, but Betsy and her assistant took care of everything and we never saw any snags or issues.) Betsy is organized, detail-oriented and can take control when needed, but also super easy to work with and, not unimportantly, she made wedding planning actually low stress and fun! We HIGHLY recommend Piece of Cake.
---
Reviewed on

10/27/2016
I cannot possibly say enough about Betsy and Piece of Cake Consulting. The #1 thing I kept reading when I was recently engaged was to "hire a day of planner" and I could not agree more. Best money spent! From the moment I met with Betsy, I knew she was the perfect person. She... Read More was very personable and professional listing to all my concerns and answering all of my questions. She provided me with a budget breakdown and vendor recommendations, which was wonderful, but what makes this a 5-star rating is Betsy's day of coordination. I did not have to fret or be bothered with anything on the day of my wedding. Betsy and her assistant made sure everything was set up perfectly, she worked with the vendors, kept events moving smoothly and on-time and most of all, everything (and I mean everything) was packed up at the end of the night including decorations, gifts, etc. You plan for months and years for your wedding day and it is over in an instant. The last thing you need to do is worry about the details on your day. I was able to thoroughly enjoy my wedding day knowing that Betsy would handle everything...and she did! She is definitely worth every penny! Thanks Betsy!
---
Reviewed on

10/03/2016
Justin L
Betsy was AMAZING! She executed our wedding FLAWLESSLY, and even when we found out later that pieces got delayed unexpectedly, Betsy handled all issues with finesse and we didn't even notice any problems during the whole day! She is fantastic to work with, providing great advice... Read More along the way on etiquette and proper protocol, assisting us with ideas wherever possible. Because of her, all our family + guests were able to have a great night free of responsibilities, and she so efficiently completed all her duties early to make sure everything that needed to be done got accomplished. We will HIGHLY recommend her as someone to manage the wedding/large events, her professionalism and skill are unmatched. This is the ONLY wedding I have ever been a part of where EVERYTHING was ON TIME!!! This never happens at weddings!!! People still keep complimenting our wedding on how perfectly executed it was, and Betsy deserves all the credit!
---
Reviewed on

9/17/2016
Stacey G
Me and my husband hired Betsy to be our day of planner and I couldn't imagine not having her there. We were planning our Wisconsin wedding from California so the logistics became tricky. Betsy was very flexible with skyping with us for our meetings. She was always prepared and... Read More responded to all my questions in a very timely manner. She was exactly what I wanted in a wedding planner, organized, personable, had good connections with vendors, and was ready to take charge. The day of the wedding, I had a few random things that I forgot to do, like get firewood for the campfire so we could use our smore's bar. Without hesitation, Betsy ran out and bought it. We didn't have any major issues at our wedding but I was so thankful she was there just in case and to help with all the little details of that day. I highly recommend using Piece of Cake Consulting for all of your wedding planning needs.
---
Reviewed on

9/06/2016
Mary L
Betsy was great to work with. We were from out of town and relied on her vendor recommendations , which all turned out great. She is organized and has excellent follow up. We supplied her with lots of decorations and she did a very nice job getting them placed in the venue. The... Read More wedding went off flawlessly, and Betsy was a big part of that.
---
Phenominal Wedding Planner!
Reviewed on

10/29/2015
Andrea R
I hired Piece of Cake Consulting to plan and coordinate my wedding. I was pleased to find that the owner, Betsy, is also who I worked with throughout my experience. She was on top of every detail, which really helped me with my stress level. At times I felt she had a better grip... Read More of what was going on than I did! Betsy was helpful, organized, caring and professional from my first consultation with her until after my wedding, when she followed up to make sure I was pleased with her services. I would HIGHLY recommend Piece of Cake Consulting for wedding and event planning! The price is well worth it as Betsy's services provide peace of mind and allow you to have an amazing wedding experience!
---
Best wedding decision!
Reviewed on

10/27/2015
Brooke L
Betsy is incredible! Do yourself a favor now and hire her. She made our day amazing - she's kind, fun, and gets things done. I can't imagine our wedding without her, honestly. Our friends and family adored her, and she navigates tough situations really well. We love her!
---
Thankful
Reviewed on

10/27/2015
Jessica S
As a bride I am very thankful that I found Betsy at Piece of Cake Consulting. Betsy assured me that my day would be perfect and it was just that perfect :) Betsy helped me find the best vendors to fit my budget which was a big concern of mine. She offered her expertise on lots... Read More of parts of the wedding process which made things less stressful for me. I highly suggest Piece of Cake Consulting!!
---
Top Notch Wedding Planner
Reviewed on

10/22/2015
Amy K
Betsy at piece of cake consulting is defiantly amazing. I am so blessed to have hired her as our wedding planner. She made our wedding rehearsal and wedding day stress free. She is very detailed, was always there to offer any advice and answered any questions that I asked. Our... Read More wedding was beautiful. She really understood my vision for my special day and helped me pull it altogether. I would highly recommend her to any engaged couple!
---