Home

Platinum Bridal Boutique
About this Vendor
Personalized service in a luxurious setting!
Details
Bridesmaid Dresses, Flower Girl Dresses, Mother of the Bride Dresses, Wedding Dresses
Contact Info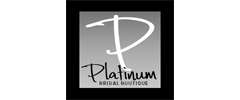 106 Southville Rd, Southborough, MA
Simply perfect!
Reviewed on

12/23/2014
Bethany I
As a bride who is not a sample size, wedding dress shopping was not the part of planning and preparation I was most excited for. I happened upon Platinum Bridals website while looking for places to shop and loved their statement regarding catering to brides of all different shapes and sizes. I was not disappointed in my experience at Platinum. In fact, choosing and buying my dress at Platinum was one of the easiest decisions I made during wedding planning. Dawn quickly picked up on what I was looking for in a dress and I ended up purchasing the first dress I tried on; though there were many other lovely options to choose from. Alterations were also a wonderful experience. Kathi and her team have an eye for detail and I was always confident that I was in good hands. The end result was nothing short of amazing. My dress fit perfectly and all the elements, including a lace bolero jacket they designed and made for me, were absolutely perfect! I loved my dress and am incredibly thankful to everyone at Platinum for providing me with the best possible experience!!
---
Sad to see it closing
Reviewed on

11/11/2014
Kamila M
I ordered my dress at Platinum back in June and I was so happy that they were having a trunk show for Allure and they had my dress! I had been looking for a particular allure dress that I had tried on at a different boutique but that boutique switched owners and no longer carried Allure. Platinum was in a more convenient location for me anyways however last week I got really sad and disappointing news that they are being forced out of their lease and will be closing. I am sad for them but I am also really disappointed and disheartened because now I have to pick up my dress which just came in thankfully and find a place to store it and alter it for my wedding which for another year. I have tried calling other boutiques but they all will not help me because of liability and insurance unfortunately
---
Beautiful!!!
Reviewed on

11/05/2014
Jenn S
I loved my wedding dress so much and i think i fell in love with it a million times more the day i put it on for my wedding. Kathi & Dawn at Platinum Bridal were an absolute pleasure to work with! I had gone to Platinum Bridal first and then had went to another salon in MA afterwards just to keep my options open. The 2nd place i went to did not even compare to Platinum. It was dirty and the sales person was very pushy on selling me a dress. It was the complete opposite of Platinum Bridal!! Platinum Bridal was CLEAN and had a great selection. The salesperson i worked with made me feel extremely comfortable and was not pushy at all! I ended up purchasing a beautiful ball gown from Platinum Bridal by Allure Bridal. I also decided to purchase my earrings from Platinum as well. I was able to get my alterations done right at the salon and their seamstress was amazing. She really made my dress look like it was made especially for me! I was also able to hold my dress at Platinum up until the day before my wedding which i know a lot of salons don't let you do! I can't recommend Platinum Bridal enough to all of my bride to be friends! i had the best experience there!
---
Excellent
Reviewed on

9/11/2014
Kate F
Platinum Bridal was recommended to me by a couple friends and I took interested immediately! It is designed perfectly and everything has a place which makes it easy for viewing. Kathi (the owner) made it smooth and exciting for me to find the dress of my dreams. She was at every fitting and was extremely hands one which made me feel very comfortable. I will recommend Platinum Bridal in the future.
---
Simply Put- A Wonderful Experience
Reviewed on

7/29/2014
Stacey C
My goal for a wedding dress was something plain and simple- no lace, no beading, and a big bow. I had searched and searched at four different bridal salons closer to me on the south shore with no luck until one of my bridesmaids said "Enough is enough, we are going to see Kathi". Her sister, sister in law, and turns out my friend had all been and had great success. Low and behold the experience was just perfect. The salon first of all is gorgeous, absolutely spotless, and is warm and inviting. I met Kathi (who is so sweet) and within 10 minutes she had pulled 5 dresses that fit exactly what I was looking for. After trying them on, I had found my dream dress within half an hour. Alterations were a great experience as well- each time I came in the dress just looked better and better. I also purchased a hair accessory for the day as well. I can't say enough great things and will tell any bride to come look here. They have a gorgeous selection-even for those who do want lace and beading :) Thank you so much Platinum for having my dream dress!
---
I cannot say enough about how amazing Platinum Bridal is
Reviewed on

7/23/2014
Felicia B
I had the most incredible experience with Platinum Bridal, especially with Kathi, who owns the boutique, but the entire experience was incredible. I live and got married in New York, but am from the Boston area and my Mom and I wanted to find a boutique near my parents. This boutique was the first and only place we shopped because of how amazing the entire staff was and what a wonderful experience shopping here was! We first walked in, and the physical location is beautiful; impeccably clean and so lovely and classic inside with such a beautiful style. When we met with Kathi and her staff the first time, it was the first time I was trying on gowns and wasn't really sure what I wanted or what would look best on me. Kathi was incredibly patient and kind and very attune to our budget. We gave her a top range, and everything Kathi showed us was below that, not even all that close to the top range. The selection of dresses was incredible and I was able to try on a little of everything that I was interested int. I was given plenty of time to try different things on and really decide what style I liked best on me. There was no pressure to purchase at all, no time pressure, and I was able to even come back a second time with my maid of honor, working totally around my schedule before I left town again. The amazing customer service and personal attention, plus the amazing selection of dresses made the decision to purchase from Platinum easy! Once I had purchased my dress, the process of the fittings continued to be a great experience. Each fitting appointment was scheduled around my trips in from New York. I had all of my alterations done on site and the seamstress did an amazing job. Kathi has an incredible eye for detail and was with me for at least a portion of each of my fittings. Kathi noticed and looked for the tiniest details in the alterations, even at one point asking the seamstress to alter the way one flower in the lace at the bottom of the dress was laying because she didn't like the way it was folding. By the time of the wedding, the dress looked amazing and fit perfectly, I felt so comfortable in it! After the wedding, I contacted Kathi to see if she had suggestions for cleaning and preserving the dress and they were even able to help with that. I cannot recommend this boutique highly enough!
---
Outstanding Service Wonderful Experience
Reviewed on

6/28/2014
Mary Hunter C
I cannot say enough wonderful things about Platinum Bridal! Kathi, the owner, helped me to find my perfect dress. It was such a wonderful experience, the boutique was beautiful and the service was outstanding. We didn't feel rushed and you could tell she really just wanted to help me figure out what I wanted. After choosing the dress we did all the alterations in house which was extremely convenient and Kathi was there to provide advice and help when needed. Platinum Bridal was a wonderful experience and I would recommend them to anyone!
---
Saved the day!!
Reviewed on

3/02/2014
Bill R
My accessories consultant listened to the needs of my bride and she quickly gathered the perfect styles of jewelry and accessories for our wedding. We had the right colors and fashions for a perfect and unique look. Thanks!!!
---
Lovely!
Reviewed on

1/23/2014
Lindsey C
I bought my wedding dress from Platinum Bridal and I couldn't be happier with my selection. The designer of my dress had a trunk show here so I was able to get my dream dress at a little bit of a discount. The bridal consultants were very helpful and always pleasant. I can't say enough about the alterations, they were simply amazing!! The boutique itself is beautiful and they have an amazing jewelry selection as well. I highly recommend checking this place out.
---
Great selection, wonderful staff
Reviewed on

10/07/2013
Renee L
Without a doubt my dress was meant to be, the one downfall was it was just a bit too tight in my rib cage when it arrived. I was pretty devastated but they were able to let it out just enough so it fit perfectly! Kathy and Donna are amazing, you'll feel like you should be inviting them to your wedding. There are plenty of dresses to choose from and you will be very happy with your experience.
---
Pleasantly Pleased
Reviewed on

10/04/2013
Jaclyn P
I heard about Platinum from a family member who had a friend that went there - and she raved about it. I have to say, they have a wonderful selection of gowns, and Kathi (the owner) was able to figure out what I was looking for before I even knew! I bought the 3rd dress I tried on! Kathi also oversaw all my alterations - they did a wonderful job on them. She is extremely detail-oriented, which is exactly what you want in someone in charge of your wedding gown. My dress fit perfectly the day of my wedding, and I couldn't have been happier with it. My only complaint is that when you choose your wedding dress, it's a big life moment, and I was not offered champagne. Other reviews I've read mention how nice it was to get champagne at this salon, and my family member's friend also commented on how getting champagne made her "moment" feel that much more special, but it was never offered to me. It was actually kind of disappointing, especially since I'm not sure why I'm the only one who didn't get offered that "little extra."
---
Lovely bridal shop!
Reviewed on

9/17/2013
Sue B
Platinum Bridal Boutique is a beautiful dress shop with a spacious dressing room and family/friend seating area. This shop displays the dresses along the walls of the shop, allowing brides to browse through the inventory. This shop also carries a large selection of belts, hairpieces, and other accessories. The staff at this shop are very friendly and helpful. My only complaint is that the fit of the bust of my dress was not perfect during my wedding, although it fit well during my fitting at the shop (however, it is possible that I popped some stitches when I bent over shortly after putting the dress on).
---
Dress Fit Like A Glove!
Reviewed on

9/11/2013
Joey R
I am so happy I found my dress at Platinum Bridal. Kathi and her team were so great from the very beginning. I looked at a few placed before and I never got that 'bride' feeling.. My mom heard of Platinum Bridal from a friend and although it was a little further away than desired, we decided to take the trip. From the moment I walked into the boutique, I was treated like I was the only bride there (we even got champagne!). Dawn went above and beyond to help me find the perfect dress. I moved to Texas before my wedding, so it was always tight to setup dress fittings into my schedule, but Kahti always made sure I was taken care of. During the appointments they always made sure I felt comfortable with the alterations. When I came home a few days before my wedding, I was a little nervous that it wouldn't fit and I'd be too tight on time, but it fit like a glove and I was able to take it home with me that day. I couldn't have asked for a better experience with Platinum Bridal. I HIGHLY recommend you getting your dress there, you won't be disappointed!
---
Best Dress(ed)!
Reviewed on

8/18/2013
Jen S
I am so glad that I purchased my wedding dress here. The experience was excellent, and Kathi and her team are second to none when it comes to customer service. The shop is immaculate, has an excellent selection, and we received personalized attention when shopping. My dress was altered perfectly, and Kathi was involved throughout the process. It is so obvious that she loves what she does, and that she wants all her customers to be satisfied with their purchase. Thanks, Kathi!
---
Great experience!!
Reviewed on

8/13/2013
Cory K
The shop itself makes you feel like a million bucks when you walk in. There are a lot of dresses in different price ranges and knowledgeable staff. The owner, Kathi, helped me feel confident that my dress would fit like a glove when I was concerned about how alterations were going and she knew exactly how to fix what was wrong. Great bridal experience here!
---
Best place to buy a wedding dress!!
Reviewed on

7/21/2013
Jennifer D
I looked at several bridal stores in the Metrowest/central MA area and I knew when I walked into this store that I would find my dress here. The store is beautiful with large dressing rooms with huge mirrors and plenty of space to bring large parties! The staff are incredibly helpful and never pushy. They are professional, kind, and honest and have a great sense of what you are looking for in a dress. Their selection of dresses is the best I saw by far… they have great taste! And they are reasonably priced too! My mom and all of my bridesmaids found their dresses here too. The bridesmaids/mother dresses here are the best too. They do alterations right at the shop for the moms and bride and they did a fabulous job making mine fit just perfectly and they are very flexible with appointments. Their accessories are gorgeous too (bought my jewelry, sash, and veil here too after looking elsewhere). The experience overall was superb and I am so happy that I found the dress of my dreams at such a great store. These ladies are the best!
---
Lace Dress with amazing success!
Reviewed on

6/04/2013
Jamie L
I went to Platinum and was able to find exactly what I wanted. I tried on 5 dresses and ended up choosing mine within the five. I had spoken to the owner before I went, Kathy. It was there I was able to tell what I was looking for and how much I wanted to spend. With this she not only made me look amazing, she also helped with my mom. I highly recommend this classy place for your wedding dress boutique.
---
AMAZING bridal salon
Reviewed on

5/24/2013
Deirdre W
Platinum Bridal is FANTASTIC! I chose to buy my dress by my parents house even though I got married in a different state. Platinum packed it up for me to take on the plane and it transported without any issue. This is a true gem. The environment in the store makes you feel pampered and realxed...a nice treat! My mother also bought her dress here and had alterations done here. She raved and raved about her experienece. I HIGHLY recommend Platinum Bridal!
---
Review of Platinum Bridal Boutique - MA
Reviewed on

3/26/2013
Kayla P
Kathi and her crew are absolutely amazing! I would recommend her boutique to any bride, bridesmaid or mother of the bride/groom.
---
Great Experience!!!
Reviewed on

1/24/2013
Meghan D
Platinum was a great boutique. I loved how you could actually see and touch all of their dresses. The staff was very knowledgeable about what they had in stock and was never pushy. The dress I actually chose wasn't one that I picked out originally, it was one that Kathy the boutique owner pulled for me on a whim. I had all of my tailoring done there as well and would recommend Platinum to any bride getting married. If your a bride on a budget like i was you would be very happy with the large amount of dresses they had for under $1,500.
---
A perfect fit!
Reviewed on

12/05/2012
Colleen G
Platinum Bridal is nothing short of an elegant bridal boutique. Kathi and her staff made me feel at ease, and at home. This store was recommended to me by a friend and was not at all close to my home but I made the commute up there and instantly fell in love with the shop, Kathi, the gowns and the quality. Kathi worked with me to make my wedding gown be exactly what I wanted. Her seamstress was amazing and created a whole new look for my gown. I recommend this salon to every bride I know getting married. They know how to treat brides and their families here. I always felt like I was being taken care of. Kathi and her staff are so knowledgeable about the gowns and can really offer great advice and feedback. I absolutely LOVED my gown and my experience here! I highly recommend Platinum.
---
Most gorgeous gown ever!
Reviewed on

11/14/2012
Dara G
The best experience compared to all Massachusetts bridal shops! This was the last place to look for my wedding dress on my list and it should have been my first! From the moment I walked in until the last moment on my wedding night I couldn't have been happier. They stuck to my budget and made me look GORGEOUS! The fittings and all correspondences with them was effortless! They really know how to make a brides experience top priority! I have been recommending everyone I know to go there first and last!
---
Peerless Service and Quality
Reviewed on

11/10/2012
Pamela S
From beginning to end, owner Kathi and assistant Dawn were helpful, pleasant, and professional. I went for my first visit knowing which dress I wanted, but Kathi encouraged me to try a few other dresses so that I would be sure of my selection. Throughout the fittings, Kathi was enthusiastic and helpful. Beyond the dress itself, she also offered her expert advice on shoes, jewelry, etc. Dawn gave my Maid of Honor clear instructions about how to bustle the dress. When it came time to bring the dress home, Kathi even helped me bring it to my car! The thing that struck me most about Platinum was the degree of individual attention. When I went for my appointments, the focus was entirely on me for that hour. It was clear that Kathi wasn't interested in simply "making a sale": she and Dawn truly seemed to want me to look my best on my wedding day. Incidentally, Platinum carries more than wedding dresses. They also sell accessories (veils, clutches, hair combs) as well as lovely dresses for bridesmaids, flower girls, and Mother-of-the-Bride/Groom. Overall, the personal attention and attentiveness to detail made buying my dress at Platinum an amazing and memorable experience.
---
Unfortunate
Reviewed on

11/06/2012
Jess K
My first impression of PBB was amazing, great service, great selection, reasonable pricing but after I purchased my dress it was a different story, glad I held my breath before giving them a rave review! Paying an upcharge to go from a one strap dress to a straight across NON-sweetheart (something I made very clear multiple times), I was obviously dissapointed when a sweetheart dress hung in the changing area during my first fitting. Brushing it off as a manufacturing miscommunication, and ensure I wouldn't be charged again for the alteration to fix it, i remained optomistic since it pretty much fit perfectly. If it wasn't for the rude old blonde who told me I ordered a sweetheart dress I would have probably given a better rating on service. The owner ensured it would be fixed and she worked closely with the seamstress during my fitting to make sure it was. Fitting #2 (2.5 weeks before my wedding) dress wouldnt zipper, no other alterations (hem, neckline) had been made from the prior pinnings. Fitting #3 (1.5 weeks before wedding) FINALLY! a dress that fit an was close to what I imagine, but still not perfect. A few pleats needed to be tacked, but nothing major so I opted out of a 4th fitting. Bad move. I'm not sure if they were tacked badly or not at all, but to look at wedding photos and be upset with the way your dress looks because its poofing out in awkward places is a huge disappointing. Not to mention spending $375 on alterations, especially when I asked for an estimate ahead of time (to make sure I wanted to go with them and not bring it elsewhere -- wish I had) and was told $250 max. WOULD NOT recommend PBB, definitely not to for alterations. I should have asked for my upcharge refunded for their error and brought it for alterations elsewhere, maybe I would have had better luck.
---
highly recommended!!
Reviewed on

10/31/2012
Jillian T
Platinum bridal is a gorgeous boutique with a great selection of wedding dresses, bridesmaids dress, and mother of bride/groom dresses. I searched high and low for the perfect eggplant colored bridesmaids dress and it wasn't until we met Kathy at Platinum bridal that I found the perfect match! Kathy, the shop owner, is the sweetest, most helpful vendor I worked with throughout the wedding planning process. She welcomed by 5 bridesmaids into her shop, fit them for their dress, and promptly notified us as soon as they arrived. Also, during the process I was pretty concerned that the color I ordered the dresses in would not match up to the color I had been imagining for the last year. Kathy worked hard to provide me with samples of the fabric and the color in different style dresses so I could confidently make my final selection. When the dresses arrived, I was beyond obsessed! Not only did she help me find the perfect bridesmaids dress, but she worked with my mother on finding the perfect mother of the bride dress. Going into the first appointment, my mom was apprehensive about trying on dresses. Kathy made the situation very comfortable and relaxing and provided her expertise opinion on what dresses my mom should try on. My mom instantly picked out one dress but was convinced it would look terrible on her. Kathy however, explained that the fit of the dress would be beyond flattering my mom, and sure enough it ended up the dress she purchased, and she looked stunning! I did not buy my wedding gown at Platinum bridal merely because we came across the boutique after I had made the purchase. However, every time I walked into the shop for an appointment, I was always quick to go over to the wedding gowns and point out options that I would totally have tried on. I will definitely be taking my future engaged friends back to Kathy's shop!
---
Send Message