Home

Platinum Hotel & Spa, Las Vegas
About this Vendor
Your Special Day
Your wedding is one of the most memorable days of your life... Celebrate it at the Platinum Hotel & Spa! From small intimate receptions to more grand occasions, we will tailor our service to you. Our experienced wedding team will help you to organize every aspect of your day.
Amenities + Details
Amenities
Handicap Accessible

Liability Insurance

On-Site Accommodations

Reception Area
For more details about amenities, please message the Venue.
Ballroom, Hotel, Restaurant
Food + Catering, Planning
Contact Info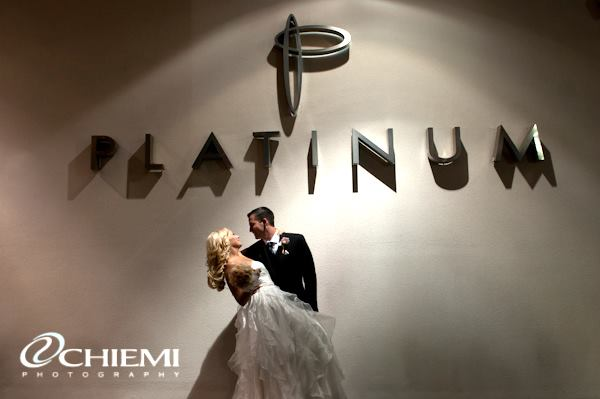 211 E. Flamingo Road, Las Vegas, NV
Amazing venue with a beautiful view of the strip
Reviewed on

4/10/2013
Jessica F
We chose The Platinum because it was a budget friendly venue with an amazing view. We got married on the Misoura Rooftop that overlooks the Las Vegas Strip. We had the ceremony outside, the dinner inside the terrace ballroom, and the reception back outside on the rooftop. The service was friendly and professional, the view was amazing and my guests are still raving about their food. I can't wait to go back to Vegas just so I can stay in their hotel suites again. All in all, this is a classy, beautiful place.. I would recommend this venue to any bride on a budget who is looking for a dream wedding.
---
An Awesome Place for a Wedding
Reviewed on

11/24/2012
Summer G
I couldn't say enough kind words about the Platinum. They made us and my guests feel welcomed. Everything was perfect; from our arrival to the Big Day. Jamie was also the best wedding planner. She kept me focused the entire time. I can't thank her and her team enough.
---
Best Planning Decision
Reviewed on

10/17/2012
Jeannie C
When researching our destination wedding - the venue was the biggest and scariest decision to make. This was by far the best decision we made - the space was perfect, exactly as we pictured it to be, the staff was amazing, the value was great - we did an all inclusive package that made planning easier and gave us exactly what we wanted within our budget. Our guests really weren't sure what to expect from a Vegas wedding, and they were shown an amazing fun time that was classy and Vegas all at once. Our thanks go out to Miya and her staff for taking such good care of us. It was an absolutely perfect night!
---
Hotel and block rooms
Reviewed on

7/21/2015
Rick A
This hotel is fabulous. They catered to my every whim. Our room (Princess Suite) was beautiful. This is an all suite hotel. All the rooms are beautiful. From full kitchens to balconys to giant jacuzzi tubs! We had a postcard view of the strip that I will never forget.
---
Reviewed on

7/07/2015
Shadora H
I had my wedding at The Platinum Hotel on June 21, 2015. I was on a very tight budget and Kimberly reassured me that we could make my wedding beautiful with my budget, and we did. I provided her with my decorations and trusted her to work her magic.She was so attentive to me and my guest. Kimberly went above and beyond to make sure my day was special. She responded to all my many calls and texts. I can't leave out Steven O. who made sure my guests were comfortable and well taken care of. He personally took care of all over my guest booking. The rooftop view was breath taking and was everything I dreamed my day would be. Kimberly and Steve, you guys are Angels!!
---
Reviewed on

6/24/2015
Heidi G
Words cannot describe how AMAZING this venue is for a wedding. First, the service is EXCEPTIONAL. Have and Kimberly were quick to respond to my millions of questions. They went out of their way to ensure I felt comfortable and knew all my options. This didn't stop once I gave my deposit. They followed up with every step of the way and were VERY involved the days leading up to the big day. Second, the venue is STUNNING! My guests still can't stop talking about the food, service, and AWESOME views of the strip. Being that they offer all-inclusive packages, you really can't go wrong with this venue. The venue and coordinators help to take ALL the pressure of planning off your shoulders.
---
Wedding Day Mishaps
Reviewed on

4/14/2015
Natasha R
We had our wedding at The Platinum Hotel on March 22, 2015, and unfortunately, we were very disappointed. About 50 individuals from all over Canada and USA came to share in our special day and too many things went wrong. I was a very organized bride and felt everything was all set until the day arrived. I will say that the view was absolutely gorgeous at this venue; it is just unfortunate that there are more negative things I recall from that day as opposed to positive ones. Our biggest issue was with the DJ, when he left an hour earlier than what was scheduled. This was such a disappointment, as we paid a lot of money for this ceremony and the last hour was stolen from us. The microphone was in and out of working during speeches and he completely forgot about the bouquet toss. It was such a sad situation about the DJ leaving early, as when I went to complain, my wedding planner had left for the night and the wait-staff could not do anything. It left such a sour taste in my mouth and I was so embarrassed as I felt there was nothing more I could do. There were a few other things that I thought about after our day that I was not happy with: - My Mom did not get her corsage until after the ceremony (she was to get it before) - Dessert was not served until well after dinner, when the reception started, and we ran out of cutlery so people simply went without having dessert - I was not asked how the beef was to be cooked; it ended up being close to medium rare, and many people found it too rare to eat - When my husband and I got back to our room there was champagne and a card, and the card was addressed to the wrong couple (There was no personal message, and we did not even know who Kimberly was; one of the individuals who signed the card). Our families and friends came from all over North America to spend this one evening together and it was cut short. Beware of this establishment for your wedding. I can honestly say I feel like an hour was stolen from the most important day in our lives. I did indeed email the hotel and they reimbursed me for the hour the DJ left early (which is the proper thing to do). However, when I requested that I be refunded the entire amount of the DJ services, they said it was not possible and offered us 2 complimentary nights in the future. I feel like seeing we paid $20,000 CAD, we certainly should have been refunded the full DJ cost. We paid a lot of money to ensure everything went well on our special day, and quite frankly, it did not. It is frustrating to think about all the communication which took place prior to the day regarding specific details that just got left out. Makes me wonder what all that planning was for. I cannot tell you how disappointed everyone was with the DJ; we lost an hour of our wedding (music, drinks, venue). This is simply not right, and I am writing to let people know who may be considering the Platinum Hotel as a wedding venue to be cautious in their choice.
---
Perfect Place for a Destination Wedding
Reviewed on

2/11/2015
CARLY G
From the first moment we dealt with the Platinum Hotel, my husband and I's experience has been a fantastic one. Our Wedding Coordinator provided by the Platinum Hotel; Kimberly Campbell, was an absolute pleasure to work with - she's professional, prompt, flexible, dependable, fun, approachable, etc etc and never failed to go the extra mile to ensure every detail was taken care of for our wedding the entire time we were at the Platinum (and all of the months leading up to our stay). The Welcome Party, Ceremony and Reception were all absolutely fantastic and exactly what we wanted thanks to Kim. We are truly grateful to have had her and the rest of the Platinum team ensure that our wedding was as great as it could have possibly been (despite the rain!!). She truly listened to what we were wanting and somehow made it all happen down to the very last detail. In addition to Kim, everyone at the Platinum Hotel went that extra step for my husband and I and all of our guests - from Hava in the early planning stages to the front desk personnel, to the drivers, to the bartender, to the awesome hotel employee that helped us to our room after our wedding reception when our hands were overflowing with items. Not to mention all of the fantastic vendors we worked with as well. The wedding cake was insanely delicious, photos are unbelievably gorgeous and exactly what we were wanting, DJ was perfect, food was amazing, everything was a 10 out of 10. The rooftop ceremony in the Misora Room was beautiful, the reception in the Kilawat Room was spacious and tastefully decorated. Our guests were just as impressed with the Hotel as we were. The fantastic service, the beautiful, modern suites, the food at the lounge, restaurant and reception, the pool area, the location, all so wonderful. Highly, highly recommended! It was the perfect destination wedding location for us.
---
Just getting started
Reviewed on

1/22/2015
Michelle G
Just book our wedding with the Platinum Hotel and are great so far!
---
Don't hesitate...book your wedding/reception at Platinum
Reviewed on

11/10/2014
Natalie S
A huge thank you to Sandra Cambray and Platinum Hotel for making our wedding day so awesome!! The "Hart's" HIGHLY RECOMMEND PLATINUM HOTEL for a perfect LAS VEGAS WEDDING! Everyone had a blast ! Check out our Platinum Hotel wedding video here: http://www.youtube.com/watch?v=PYCW2FrzMFI We highly recommend the Misora rooftop for the ceremony and reception! Amazing views! But wouldn't go over 65 guests. We had 63 and it was perfect!
---
Our Platinum Wedding was Perfect
Reviewed on

5/16/2014
Leanna H
Where do I begin?! There are no words to explain how great the Platinum Hotel was. We got married there at the Kil@wat Restaurant & Pool Deck location on Friday, May 9th, 2014. The coordinators were great to work with, always answered any question I thought up, and were just incredibly helpful and accommodating. Our dinner was absolutely amazing. All of the servers and bartender were extraordinary, so polite, courteous and professional. They made a plate for my husband and I so we didn't have to serve ourselves, and also put a small plate at our table with all 3 hors d'oeuvres, 2 of each so both of us could try one, we thought that was very thoughtful of them because we didn't get a chance to try any during cocktail hour. Everyone raved that the food was delicious. One of my guests said he requested a liquor they did not have in the bar, but the bartender left and shortly returned with it in hand – not sure how he got it, but he did! All of their rooms are suites, which includes kitchenette, separate living room space, washer/dryer, bathrooms with double sinks, standing showers & whirlpool tubs, etc. Also there are no resort fees, and they have free Wi-Fi, which is hard to find in Vegas! Their front desk service was wonderful, very polite and courteous, any time you saw staff around the building – in the elevator, going around to us hotel guests laying by the pool, etc, they were always so nice and friendly. I better stop now because I could rave about this place for hours and hours! If you decide to have a Platinum wedding, trust me, you will NOT be disappointed! They completely exceeded our expectations, the view of the Strip is spectacular, all of our guests keep telling us what a wonderful time they had, everything was absolutely perfect. This was the best decision we ever made. We had the perfect wedding.
---
Have your wedding here if you want it to be PERFECT!
Reviewed on

4/30/2014
P3Mallory V
We had our wedding at the Platinum Hotel Sept 5, 2013 in the misora ballroom. We had 60 guests and everything was absolutely PERFECT! I will go into detail about everything. We went with the all-inclusive package but chose not to use the minister they chose. We received a credit for this no problem. Actual venue – It is a bit off the strip and in a bit of a weird neighbourhood but don't let that bother you. The views that you get from the misora roof top patio and ballroom are AMAZING. The backdrop for the ceremony was absolutely perfect. The hotel room was also perfect as we chose to do our family photos before the ceremony so the suite was the perfect size to fit everyone. We had our Ceremony on the Misora Patio overlooking the strip just before sunset. It was perfect. I'm glad that I chose not to do it at sunset because it would have been way too dark. We also had the dancing out there and even though it was insanely hot it was awesome! Reception Space was perfect for our size but had we had anymore guests it would have been a bit squishy. Food: Was great! We didn't do a tasting so Romie (Also AMAZING) gave us a list of the "best" selections and we went with that for our buffet. We chose not to do a wedding cake and the dessert supplied was perfect. No one even noticed we didn't do a cake cutting! Music – The DJ was awesome. They really had the best music and were able to play to the crowd and keep everyone going. Event Coordinator: I dealt with Jamie to begin with until the contract was signed and then met with Romie on rehearsal night. Both of these girls were AMAZING. Jamie responded to any and all question I had very promptly and made sure the contract was perfect before we had to sign or put any money down. As for Romie; my wedding just would not of went so well without her. Even though I had only e-mailed a few times when we showed up for rehearsal she felt like a great friend! Romie handled EVERYTHING I mean everything, I brought most of our décor from home and just gave it to her during our rehearsal and she set it all up! She even came down before the wedding and helped the guys put on their boutonnières. All in all I just couldn't have imagined being married anywhere else. Staff, Venue, Food, Price everything was just perfect. If you are even thinking about using Platinum for your wedding I suggest you do it! You will not be disappointed.
---
Absolutely amazing from start to finsh!
Reviewed on

4/08/2014
Rejeana D
When my MOH and I started looking for vendors in Vegas we had to base it all on reviews and pictures since we didn't live in Vegas and we couldn't see anything in person. We worked with Jamie and Romie over email for a year and they never missed a beat. Jamie was who we dealt with in the beginning and there are not enough words to describe how great our experience was with her. She was easy to talk too, quick to respond, and ALWAYS willing to help. She even worked with our budget!! Once we decided that the Platinum was the place, we started working with Romie, the wedding coordinator. Romie was not as responsive to our emails, BUT the day of the wedding she was INCREDIBLE. Everything went perfectly. She coordinated our wedding so well and everything went according to plan. It was a perfect day and I have Romie to thank for that. The Platinum was a great find, I have my MOH to thank for that. The prices were great and the customer service was even better. Our guests still can't stop talking about how great our wedding was... If you're getting married in Vegas, definitely do it at the Platinum!
---
Great service, beautiful facility, quick responses
Reviewed on

11/02/2013
Margaret N
We never did a scouting trip so we were a bit nervous, especially when we drove past and realized that it's tucked between a gas station and a Super 8. But then we went inside & met with Romie, the wedding coordinator, and all our fears were put aside. Planning/staff: Romie was incredibly professional and had all her ducks in a row. She made the entire event run smoothly, from the moment that friends showed up to help with set-up until the last song. (A friend on the set-up team even heard her correct the staff to make sure that every single place setting was perfect.) Every person on the Platinum team was nothing but wonderful. Venue: We were on the pool deck & Kil@Wat lounge and got tons of compliments from guests about what a great set-up it was. We got married on the deck, moved inside for dinner, then spent the entire night outside dancing. The ceremony was at sunset, so people loved that the lights on the Strip came on behind us as we said our vows. Food: INCREDIBLE. SO MUCH FOOD. SO DELICIOUS. I have an aunt who is critical about almost everything, and she RAVED about the food. Loved every bite. Bar: 4 hours of open bar, and the bartender was very generous with his pours. Everybody was really happy with the "Silver" level bar. Overall: Could not be happier with our choice to go with the Platinum.
---
Mrs. Ardito
Reviewed on

8/16/2013
Kayla H
The Platinum turned out to be an amazing venue for our destination wedding! Lubna was our wedding planner and she was fabulous. Her attention to detail and her customer service were flawless. This woman is meant to be a wedding planner! My husband and I felt completely at ease knowing she was in control. We truly owe her the credit for our amazing day. The Platinum was beautiful and close to the strip, where most of our 60 guests stayed. Our wedding ceremony and reception were held on the pool deck. We had a beautiful view of the strip and the weather was perfect for August. The only negative comment I have was the minister was very unprepared and spoke very quietly. She was with Elegant Weddings. Good thing my husband and I have positive attitudes and are genuinely happy people, because she was horrible. We addressed our concerns with The Platinum and were reimbursed a small amount of money. They also informed us that they would no longer be using that minister. That's really all I wanted out of it. No other bride and groom should have to go through that the day of their wedding. At the end of our special day all we really cared about was that we were finally married and we were surrounded by our friends and family. I truly would recommend the Platinum and some day we hope to renew our vows there...as long as we have a different minister!!
---
Maybe Go Elsewhere...
Reviewed on

6/22/2013
Valerie O
My husband and I both loved how the ceremony and the reception turned out. The view from the Misora room was breathtaking, the food was incredible, and everything came together perfectly (ie: tables, chairs, lighting, centerpieces, etc). We thought that the wedding coordinator did an amazing job on the day of the wedding and we were also really impressed with the photographer and the minister. So why give the hotel only 2 stars? My husband and I felt like the hotel made the before and after process extremely stressful. On our wedding day, my family gave us a beautiful set of personalized champagne flutes as a wedding gift, which my husband and I used for the first time on our wedding night. Once the wedding ended, I tried to grab the flutes, but the staff members had already cleared the tables. When I asked the staff about the champagne flutes, they said that they had already boxed up all of our personal items (anything we brought, like votives, frames, etc) and everything would be brought up to our room. The next day, I went through the all of the boxes and the flutes were nowhere to be found. I informed our coordinator right away, and a few days later, she said that the staff could only find ONE of the flutes. So in order to replace the one they lost, the sales manager told us that she would order another personalized champagne flute and mail them back to us (we don't live in Nevada). We thought that this was a nice gesture, but in our eyes, the flutes were irreplaceable because we used them on our wedding night. It's been about 4 weeks since our wedding, and we still have NOT received our flutes. Unfortunately, this was not the only issue we had with the hotel. Before the wedding, I had a difficult time communicating with the wedding coordinator. Although she was very nice in-person, she usually took 2-3 days to respond to my emails and she often pushed for a "one size fits all wedding" versus trying to tailor the wedding to us. I'm not sure why the hotel automatically charges you an extra 20% for gratuity because it seemed like they had a set way of doing things (right down to how they set the tables) and they didn't want to want to go outside their normal routine. For example, when I asked to have the plates & napkins set a certain way, the coordinator gave me a hard time about it. Or when I asked if she could put the tables away from the windows, she came back with an excuse as to why it wouldn't work. I had purchased up-lighting for the curtains and I just didn't want lights glaring in people's faces. Ultimately, I was able to get things the way that I pictured, but I had to argue with her along the way. If she had just said "ok" in the beginning, I would have been a much happier customer. I also thought that the package was misleading in regards to the flowers. The package says that you get 8 custom centerpieces for the large tables and then 4 small ones for the high tables, but in all-actuality, you get a $600 floral credit towards your flowers. If you want the centerpieces to work within the $600 budget, you have to choose from a list of fairly small centerpieces. In order to get larger centerpieces (tall one's w/ about 60 stems), I had to spend more money and I had to decrease the number down to 5 centerpieces. They turned out gorgeous, and since I only had 5 tables, things worked out-- but I think that the hotel should advertise the floral credit.
---
Venue
Reviewed on

8/08/2012
Samantha S
The roof top venue was amazing. The view was unreal and we captured it in all of our wedding photos. The staff was exceptional. I would go back and do it all over again in a heartbeat
---
Grabavac Hardy Wedding
Reviewed on

5/15/2012
Avery G
The staff at the Platinum hotel were absolutly fantastic. They are there to help you ever step of the way. I still can't believe we were able to have our dream "rooftop" wedding at such a beautiful location and for such a reasonable price. If anyone if looking for a fantastic location, beautiful hotel (with balconies) and view of the strip look no where else.
---
Fantastic People - Fantastic Wedding
Reviewed on

4/16/2012
JULIETTE S
I could probably write 10 pages on how good the Platinum and every single employee there was so good to me and my friends and family during our entire wedding experience -- from booking the hotel block and the ceremony/reception space to checking out. I am so thankful that they made my wedding day and my entire vacation as close to perfect as it could get. It took me almost 6 months to find a venue once I'd decided to have a destination wedding in Las Vegas for 50-70 people (we ended up at 65). I knew the criteria I was looking for -- something that was well priced for both myself and my husband as well as my guests who would feel an obligation to stay where the wedding was being held. I also did not want to get married in a chapel down the hall from a Taco Bell (yes there is a place like that). But most importantly, I wanted it to be cool and reflect Vegas - no point in dragging people across the country to get married in a place that I could copy/paste from my hometown. The Platinum is the perfect union of all three criteria. However, as we all know, something that looks perfect on paper isn't always....but this really is! From my first points of contact with Nathan and Nicole who were so knowledgeable and helpful and responsive!!!! to getting into the nitty gritty details with Marie (the planner), Gita (the concierge extrordinaire), and Steve (reservations manager) everyone was in lock-step. I planned all of this from a distance, so details could have easily gotten lost in translation, but they didn't. Everyone was such a professional and just so good at they're jobs that my friends and family thought I'd been to the venue several times (nope, all from my living room). So right about now, you're thinking - something must have gone wrong. Well, about 2 weeks before the wedding, Marie (the planner) left the hotel and Miya stepped in. While this could have been a disaster, it wasn't. Miya picked up right where Marie left off as if I'd been working with her the whole time. And in the days leading up to the wedding and on the wedding day itself she was so amazing and helpful from all the stuff I shipped to the hotel ahead of the wedding (decor mostly) to leaving us some food and drinks in the room for when we got back from the reception (cause you never get to eat at your own wedding). The reception venue itself (we used the Misora rooftop) is pretty amazing. Our pictures are of us and the entire strip behind us...and the pics they use on their website are very true to life, which I found not to be the case at other places in Vegas. The food was delicious -- and my husband is a chef so he was sure to at least taste all of it. But other than that we got so many compliments that the food wasn't standard wedding fare, which made us feel really good. The bartender was also excellent and had a lot of people's drinks in his head by the middle of the event :) Alejandra is the manager in this area and did the most wonderful job making sure I was taken care of and that I got some food and drink (not that I was able to get a lot -- pulled in so many directions). The rooms are to die for!!! ~900 sq feet is the smallest one!!! That's twice the size of my first apartment :) All of the rooms have jacuzzi tubs, which is such a treat after a long day -- even not your wedding day. Our room had a view of the strip which is gorgeous, but some of my other friends/family staying there had views of the mountains or of the pool. Ever
---
Stunning views and amazing service!
Reviewed on

3/07/2012
shannel d
I recently held my wedding ceremony and reception on their rooftop terrace and it was AMAZING! The back drop of the Strip is so beautiful but the service is what really counted for me! The banquest staff was really on top of it and made everything successful. Alejandra our banquet captain for the evening took care of every little detail as if were her party and she made sure we felt comfortable and made sure everything was perfect. Oscar our bartender was on top of it.... let's just say we never stopped drinking and he managed the flow perfectly! Miya, Josh & Nicole were also excellent in executing the details before we arrived. The food was also very good and the staff helped ensure we stayed full! Thank you Platinum for an awesome wedding!
---
Fabulous rooftop reception
Reviewed on

11/07/2011
Ann C
We stayed at the Platinum during our week in Las Vegas and also booked their Misora rooftop venue for our wedding reception. It was unbelievable, we couldn't have asked for a better venue. There was only 28 of us but it didn't feel as if the venue was too large but I think it would still be fine with twice that number of people. The food and service were amazing. Marie Quinby, the planner from the hotel was on hand to keep everything running smoothly. The views from the terrace were absolutely stunning, sunset over the strip whilst eating dinner. The perfect backdrop for dancing the night away. I would recommend this location to anyone. I also recommend the hotel, fabulous suites, 10 minutes walk from the madness of the strip but a haven of sanity away from the madness!
---
Great Value!
Reviewed on

6/26/2011
Amber C
We held our ceremony and reception in Misora at the Platinum. Misora is a room on the 17th floor of the hotel that looks out onto a terrace that faces the strip. Although I had to hire all my vendors separately, it was very easy because the banquet managers took care of it all. I just told them who I wanted to hire and paid directly through Platinum. I could not imagine having my wedding at any other venue in Vegas! It was by far the best value and the service was great!
---
Fabulous View & Food
Reviewed on

5/05/2011
Lindsay L
We had our reception in the Misora room and rooftop terrace. It was a really nice and intimate setting with a great view of Las Vegas. The food and service at the reception was great too. The rooms include a lot of ammenities, which is nice for out of town families. The only "not as positive" comments: Our sales rep at the venue was really nice but didn't seem to know some key wedding things that she should have. For there barely being anyone in line, the valet was an extremely long wait.
---
reception
Reviewed on

11/01/2010
Sara P
We had our reception on the roof top venue.. Everything was amazing! The view was stunning, Wonderful food and service. Our coodinator was great, everything was taken care of and perfectly. We also stayed in this hotel which was really great. I have nothing bad to say about the Platinum, They made our evening run so smooth. My Husband and i were thrilled and all our guest were so happy!
---
Unique reception Spot in Vegas
Reviewed on

10/31/2010
Christine P
I am from Las Vegas and was looking for something a little different. No banquet hall, no country club. We used the 5th floor Kilawat Restaurant and pool deck for our event. We had an amazing night of dancing outside under the stars with fire pits, great couches, and a great view of the strip. We had a nice indoor reception that started it all. Nicole the sales director was so great with our event. Most of our guests also stayed at the hotel. Their staff and rooms are amazing. Everyone was so friendly from the front desk to the Valet to the maintenence, ect. All of our guests couldn't believe how great the hotel was. Also, it is a non-gaming and no smoking hotel which is what we were looking for. This hidden little gem is amazing! They also have a smaller room on the rooftop upstairs for smaller party's. We had a 72 guest count and it was perfect. My parents who paid for the wedding can't stop talking about what a great venue we found. Thanks Platinum!
---
Send Message