Home

Pontarelli Chicago Limo Service
About this Vendor
Chicago's most trusted wedding limousine company!
At Pontarelli Companies, Chicago's most trusted limousine service, we take pride in our excellence, since 1977. We can provide you with the same quality ground transportation for that special occasion. With our highly-maintained limos, Pontarelli Chicago car service can help create your perfect wedding experience no matter how big or small the wedding. With over 40 years of excellence in service, we pride ourselves on providing the perfect wedding experience for our brides and grooms. No wedding is the same and we know this. Pontarelli provides a fully customized wedding experience and will work with you on every single detail from start to finish and beyond. Experience the best Chicago has to offer when it comes to your special day. Established 1977
Details
Rehearsals + Parties, Wedding
Destination Wedding Packages, Destination Weddings, Valet Parking, Service Staff, Classic + Exotic Cars, Horse and Carriage, Limousine + Sedan, Shuttle Service, Transportation

Contact Info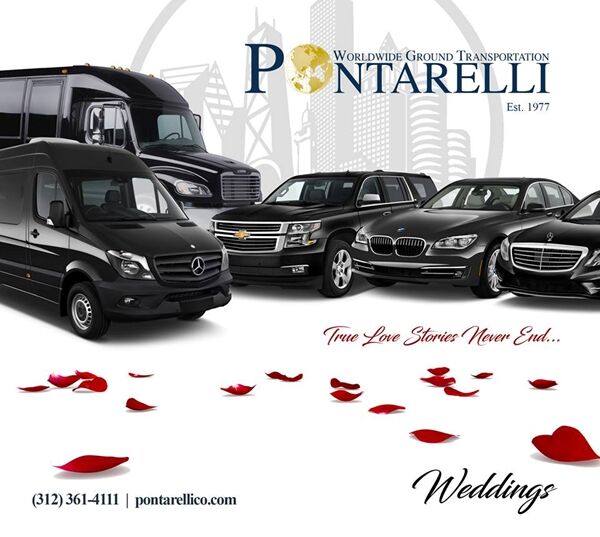 Great affordable wedding day transportation!
Reviewed on

6/04/2015
Anne-Laure A
I called Pontarelli based on a friend's recommendation who used them for their wedding day transportation in Chicago and I'm so glad I did! Not only were they the best price of the few vendors I called, but they also responded right away, sent me a clear order as soon as we... Read More confirmed dates/time, and allowed me to go over/under time and only be charged for the time used. The vehicle came on time, was as described and clean, and when I got the bill it turned out to be less than originally quoted because we used the vehicle for a bit less time than originally budgeted, which was a very pleasant surprise. Thank you Pontarelli for your on time, reliable, quality, and affordable transportation services!
---
Reviewed on

4/02/2018
Brittany J
I worked with Pauline to go over all of the details of our wedding. She is extremely thorough, and responsive. This company takes full service to the next level, great use of technology to keep up with the changing world of transportation. Our event is in October 2018 and I am... Read More very happy I can check this step off our to-do list!
---
Reviewed on

1/08/2018
Oriane S
My mother and I worked with Pauline to coordinate transport for the day of my wedding. I can vouch that Pontarelli was absolutely fabulous! The bus, which carried our wedding party from the hotel to the wedding venue, was immaculate, the driver courteous and professional, and... Read More above all- half the price of many other Chicago Transportation options. It was nice to work with a company that wasn't trying to milk you for everything you have because it was your wedding day! I would 100% recommend Pontarelli to any bride or groom!
---
Reviewed on

12/28/2017
Kerry D
We had a few hiccups on our wedding day including the driver going to the wrong pick up location and the stereo not working in the van, but Pontarelli's excellent service made up for it. They generously gave us a discount to make up for the inconveniences. Our driver Ray was... Read More awesome. My mom worked with Pauline to set up the reservation, and had a great experience. Despite the above mentioned issues, I would recommend Pontarelli's because their vans are clean and well maintained and all of their staff provide excellent service.
---
Reviewed on

11/08/2017
G B
Thanks for the good service, Pauline.
---
Reviewed on

9/20/2017
Colleen O
Very impressed with Pontarelli's wedding transportation packages. Prices are very reasonable for the luxury accommodations they offer. Pauline, the wedding coordinator, has been very helpful with coordination of all the charter buses we need. It is so nice to know I won't have... Read More anything to worry about nor will our guests the day of our wedding! Thanks Pauline!
---
Reviewed on

9/12/2017
Francesca D
The service at Pontarelli is amazing - Pauline, the wedding coordinator was extremely helpful and informative while booking my transportation for my wedding day!! She made sure I received a great price and not to mention Pontarelli has the most beautiful buses! Thank you... Read More Pauline, I know my special day will be seamless because of you and your team!
---
Reviewed on

8/17/2017
Celina G
Pauline was so great to work with, great service. They definitely made our big day feel like a fairytale.
---
Reviewed on

8/01/2017
Julie C
We used Pontarelli to transport our out of town guests to and from the ceremony. Everything ran very smoothly, and they did a fantastic job! I absolutely loved working with Pauline! She was extremely personable, reliable, and detail oriented. They played a photo montage for... Read More our wedding guests during the trip, which our guests loved! I knew everything would be taken care of on the day of the wedding, and it was so nice that I didn't have to worry about the transportation at all! I would highly recommend Pontarelli!!
---
Reviewed on

7/31/2017
Amanda L
We had a wedding that required transporting guests across state lines within a day so we were concerned about transportation. However, we had a great experience with Pontarelli. They helped us arrange everything in advance, worked with partner companies to give us the best... Read More price, and confirmed everything with us a few days before the wedding. The transportation was on time and in good condition and the service was friendly. They even provided sparkling grape juice in our wedding limo when we requested it instead of champagne. They definitely help make our day go smoothly.
---
Reviewed on

7/31/2017
Justin F
Pontarelli was perfect for our wedding day! Pauline was my main contact and her expertise and attention to detail was a huge asset to help me plan the day! Everything was wonderful from the shuttle being on time, clean with a friendly driver! I would recommend Pontarelli!
---
Reviewed on

7/29/2017
Sheila M
Wonderful company, great service! Our driver Ray was fabulous! We had to deal with street closures in Chicago (filming a movie) the weekend of our wedding, and Ray was fantastic at getting us around quickly and safely. The bus was clean and very comfortable. The special VIP... Read More touch for the bride and groom to enjoy champagne was an added bonus, and something we really enjoyed on a hot summer day. We would highly recommend this company and service to friends and family. Thank you for helping make our wedding day special!
---
Reviewed on

7/22/2017
Irish S
Despite having a detailed plan, we were all still a few minutes behind schedule so I was expecting a mad dash to the church. However, our driver was very calm and very reassuring (I'm sure it's not their first time dealing with a panicking bride and mother-of-the-bride). It was... Read More so lovely to walk out of our hotel to see the driver holding up a chalkboard sign with our names. Small details definitely make a great difference! Glad we went with Pontarelli.
---
Reviewed on

7/10/2017
Shawn E
A very detail-oriented service with very responsive customer service to support their luxury transportation options. Our driver was so friendly and didn't let the crazy frenze of the day get in the way; this helped us (bride, groom, and bridal party) stay calm and just worry... Read More about our special day. Overall, beautiful vehicles and would recommend this service to anyone who wants one less thing to worry about on their wedding day. The coolest part about using their service is that the bride and groom got a free ride to the airport in their 2017 BMW 7-series.
---
Reviewed on

7/10/2017
Christopher M
Pauline was terrific to work with and made the whole process easy and painless. From initial contact to follow through, she was very detailed in the information we received and thought of everything so I didn't have to. All of the vehicles look amazing and I have no doubts... Read More that everything will be flawless. Their website has the ability to track the vehicles, so there is no doubt on when they will arrive. From start to finish I have been nothing but impressed with the company, with the products, and most importantly with Pauline. I couldn't recommend them with any more sincerity or enthusiasm if I tried. Use this vendor, you will not be disappointed!
---
Reviewed on

6/13/2017
Katrina S
A very professional outfit with prompt responses. We dealt with Pauline and she was very easy to work with, straight forward, and helpful. I would definitely recommend them!
---
excellent service
Reviewed on

11/18/2010
Michele B
I looked into so many limos and limo buses for our wedding and it was so hard to choose. Pontarelli's had the best rates for a limobus and we were so happy with their service. They were early for pick up, took us wherever we wanted to go, and the bus was clean and comfortable.
---
Review for Pontarelli's Chicago
Reviewed on

11/07/2008
Jessica S
Wonderful company with many offerings. We went with a bus so that we could transport all of our guests to the ceremony and reception. I have worked with them before and they are always top notch. Great customer service clean transportation affordable locally owned. Need I say... Read More more?
---
Meet The Coordinator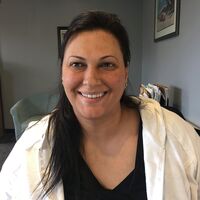 Pauline
Pauline is at our brides and grooms service at all times. She is the one and only point person you will deal with through the entirety of the process. Pauline is main job is to make sure that all of our brides and grooms are completely satisfied and taken care of throughout the entirety of the booking process with Pontarelli.