Home

Pop-Up Studio Premium Photo Booth Co.
About this Vendor
Don't get boxed in by a booth.
INCLUDED: -A pro photographer using top-of-the-line camera equipment and fashion lighting. -A 27-inch LCD screen for instant viewing of the photos. -An extensive assortment of classy props. -Choice of one of our fourteen 9-ft wide backdrops. -An online gallery with free downloads for all. -Action shots, huge group shots, and candids that you can't get with a traditional photo booth. Optional 4x6 on-site print packages are available for an extra fee.
Details
Digital Files, Online Proofing, Photo, On-Site Printing, Photo Props, Photo Booths



My Favorite Part of the Reception!!
Reviewed on

10/30/2014
Ellen K
I am so happy that I found Pop-up Studio! The owner, Dave, is a dream to work with. He is professional, flexible, and has such a personal touch, from making the arrangements down to the actual main event! I felt that his pricing was fair and competitive. My new husband and I... Read More just loved the idea that we could have a Photo Booth without having the small little box. Our guests absolutely loved it and had so much fun being silly and taking hilarious group photos! I absolutely love that all of the photos were available to download for free for our guest the very next day! When we arrived home from our honeymoon, we were so excited to have a beautiful hand written note from Dave (a lovely note!) and a dvd of our digital images! I would absolutely recommend Pop-Up Studio for any event. What a great way to get a group of people to be interactive and silly! SO MUCH FUN!!
---
Reviewed on

10/07/2015
Samantha S
We used Pop-Up Studio for our wedding in August. We were looking for a something a little bit different than the typical photo booth that was still priced reasonably. We're so glad we found Dave & Pop-Up Studio! They were absolutely amazing and one of the highlights of our... Read More reception. Dave was incredibly fun and great to work with. The quality of our pictures were perfect, we had different options to choose for a background, and they brought tons and tons of props. Everyone had so much fun and Dave captured so many amazing and hilarious photos! After the wedding, the pictures were available to download and save on the website within 2 days. Dave even sent us a CD full of all of our pictures with a nice card for my husband and I! Overall, 5 stars! We love Pop-Up Studio! :)
---
Pop-Up Studio is the BEST!!
Reviewed on

10/06/2015
Katie W
Exceptional! That is the word that comes to mind when I think of Pop-Up Studio. Dave was such a pleasure to work with! He was very responsive and wanted to make the night as perfect as possible for us. I can't even begin to describe what a HUGE hit Pop-Up Studio was at our... Read More wedding! I, for one, LOVE photo booths at weddings and this far-and-away blew any other "photo booth" out of the water!! I LOVE POP-UP STUDIO…and so did all of our friends and family!! My mom even said "Everyone should have that at their wedding!" Not only that, but the quality, clarify of photos, 4x6 printouts, equipment and props were beyond my expectations. Thanks, again, for adding such fun and entertainment to our special day! 9/19/15. Love, Katie & Bob.
---
Reviewed on

1/21/2017
Dave was great to work with. The pop-up studio was a hit with everyone. Would definitely recommend him to anyone looking for a fun way to help guests get involved and have a blast. The quality of the photos was excellent, super convenient, a must for every party.
---
Reviewed on

10/31/2016
Kelly G
This was so mucher nicer than any photo booth. I didn't quite understand the concept of what this was until the night of my daughters wedding but the photos were so fun and amazing quality. He actually took candids of people too sometimes when others were getting set up and some... Read More of those were my favorites . - funniest group shots and you could have like 20 people in them if you want. Dave was so great and easy going. Once he arrived at hall he took care of everything and we never had to stop to check in on things he handled everything. It might cost slightly more than a traditional photo booth but it's 1000 times better - it made the wedding!
---
Reviewed on

10/31/2016
Shannon I
So much more fun than a regular photo booth! The picture quality was amazing, and you could fit so many more people into the pictures if you wanted.
---
Reviewed on

10/31/2016
Geri W
Pop up studios did an incredible job! The owner is very kind and easy to work with and does a great job! His assistant is pretty awesome too! Both of them made sure we had great time as well as our guests! Everyone absolutely LOVED our unique "photo booth." They have more props... Read More than any other I've seen and the quality of the photos are excellent! The group shots are like no other, I don't have a single complaint! Thanks guys!
---
Reviewed on

10/31/2016
Don G
Best photobooth around. They do a great job and I can't say a bad thing about them
---
Reviewed on

10/31/2016
Lindsey K
I was a bridesmaid at a recent wedding where Pop Up studio was the photo booth vendor and have attended several other weddings where couples have selected Pop Up studio as well. I have nothing but great things to say about the concept and the professionalism of the owner. I... Read More love the large photo area which makes large group pictures possible (as opposed to tiny photo booths) and I love reliving the pictures the week after the event by using the link! I always recommend Pop Up studio to friends and family!
---
Reviewed on

10/31/2016
Tracy S
Dave's pop-up booth was a blast. I still die laughing at the photos that surfaced from that memorable night. He was fun and kept the vibe going. I would highly recommend!
---
Reviewed on

10/29/2016
Tim G
Loved it created a lot of fun family fun photos!! Made Brian&Heidi's wedding day memories.
---
Reviewed on

10/29/2016
Maureen R
I attended a wedding over the summer that had hire pop up studio. We had such a great time during the reception taking photos with the props! It was an awesome part of the whole day and so much fun!
---
Reviewed on

10/28/2016
Deb S
A MUST for every wedding! My son and daughter in law had Dave's Pop-Up Studio at their wedding and it was such a hit with all ages! He and Tricia made it sooo fun! Pictures were fast to get and great. Definitely some photos to go down in history🤗 Best "photo booth" around!!
---
Reviewed on

10/28/2016
Krystal B
Pop-Up Studio is a must have at your wedding. The pictures came out great quality and our guests had an absolute blast with Dave and Tricia. The open formate allowed us to fit our large bridal party in all at once. The glitter back drop was stunning. The best vendor at our... Read More wedding!
---
Reviewed on

10/27/2016
Victoria W
We have absolutely loved every wedding we've been to with Pop-Up Studio. Having a professional photographer instead of the count down camera is amazing for multiple reasons. The quality of the pictures is incredible (we even have a framed picture at our house from a wedding a... Read More couple years ago), we can take pictures as a couple or in a big group with our family and friends, and we have the direction of a skilled professional to make sure we are in the shot and looking our best. Plus- Dave and Trish are super fun and really easy going! We can't wait to have them at our wedding in Fall 2017!
---
Reviewed on

10/27/2016
David A
We loved the Pop-Up Studio at our friend's wedding so we are going to hire them for our wedding in 2017! It's the best photo booth and Dave is incredibly easy to work with!
---
Reviewed on

10/27/2016
David A
We loved the Pop-Up Studio at our friend's wedding so we are going to hire them for our wedding in 2017! It's the best photo booth and Dave is incredibly easy to work with!
---
Reviewed on

10/11/2016
Heidi S
Our pop-up photo booth was definitely a hit at our wedding. It was so fun for all the guests and even more hilarious to see the pictures afterwards! Our background and props were awesome and our pics were ready for viewing super fast!
---
Reviewed on

10/07/2016
Courtney A
We used Pop-Up Studio for our wedding and I couldn't be more pleased. Our guests of all ages had a blast! We had so many wonderful comments about how great the pictures turned out! The photographers were fun and very patient! The props were great and everyone looked fabulous! I... Read More am so glad we went with Pop-Up Studio. We will have these wonderful photos to cherish always!
---
Reviewed on

10/31/2015
Danielle B
BEST part of my wedding. Sometimes you are so caught up in making the day perfect for you, you forget all the great memories shared with family and friends. Pop-up studio captures the memories for you!!! And this is not your typical "booth". Got the girls, got the props, and... Read More Dave captured the fun. Oh and Dave (the owner and Photo Genius) is beyond great! So, accommodating and really knows how to get into the action and capture a moment. Recommend him to all my family and friends!
---
Reviewed on

10/31/2015
Christina S
Pop Up Studio is always a hit! I have been to several weddings with Pop Up Studio and every time it has been a blast! The photos are great and far better than your typical "photo booth." You can get a huge group of people in one photo, choose your own back drop, and the props... Read More are fabulous! If you are considering a photo booth, you've got to choose Pop Up Studio. You won't be disappointed!!
---
Had a Great time
Reviewed on

10/30/2015
The vendor was extremely professional and it was a pleasant experience.
---
The most utilized add-on at any wedding
Reviewed on

10/29/2015
I've attended at least 3 weddings with a Pop-Up Studio Booth. The booth proves useful and fun for everybody throughout the night - for example, you can get photos of each guest/couple as they enter the venue. As the guests loosen up, they'll keep having fun with the booth... Read More throughout the night. Then, you can give everybody a souvenir photo of themselves leaving your event. The booth has a huge monitor which faces guests in the booth. This is the most fun feature, because people can see the result of their photo as soon as it's snapped. I always catch people having a ton of fun with this feature. In general, people love Pop-Up Studio because it's open, it's interactive, and it's a great distraction from wedding monotony (dance, talk to relatives, drink, repeat).
---
Wonderful experience with PopUp Studio!
Reviewed on

10/28/2015
I was a guest at a wedding that hired PopUp Studio and it was a blast! It added so much more fun to an already fun wedding! The owner, Dave, brought tons of costumes and props to take pictures with. He was enthusiastic and took great pictures that will be everlasting memories. I... Read More am planning on hiring PopUp Studio for my wedding!
---
Best Photo Booth Experience!
Reviewed on

10/26/2015
I have attended many weddings with photo booths and Pop-Up Studio is by far the best photo booth experience! The photographer and his team are very professional and fun! The best part is the monitor that immediately displays the photos for you to view. There were also so many... Read More creative and fun props. I think I ended up spending more time at the photo booth with Pop-Up Studio than on the dance floor! I would recommend Pop-Up Studio for your reception or other event. There is no doubt some of your favorite photos from the night will be from Pop-Up Studio!
---
Meet The Owner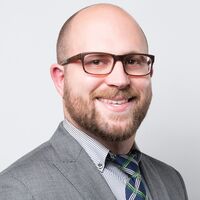 Dave Christiansen
I am a professional photographer and former Art Director living in Detroit. I am also a licensed Realtor® working for Johnstone & Johnstone Realtors in Grosse Pointe, MI. I love hearing people say that Pop-Up Studio is the best photo booth they've ever seen, and seeing the joy on their faces when their photos pop up on the screen. Adding an extra element of happiness to an already joyous occasion feels good, as does providing something fresh & unique to large groups of people. This company is a reflection of myself, that's why I take great pride in providing the highest quality possible.