Home

Premier Entertainment Services, LLC
About this Vendor
Premier Entertainment Services, LLC
CHECK AVAILABILITY NOW -> www.StLouisDJ.com/The-Knot UNIQUE & MEMORABLE WEDDING ENTERTAINMENT FOR FUN-LOVING EASY-GOING COUPLES IN ST. LOUIS Premier Entertainment in St. Louis will keep the party going all night. We do our best to ensure you and your guests are having the most fun possible!
Details
Classical, Country, Dance, Disco, Folk, Hip-Hop, Jazz, Pop, R&B, Rock, Arabic, Indian, Klezmer, Latin, Persian, World Music
Ceremony, Reception, Wedding
MC Services, Recorded Music, Sound Equipment, Music
Contact Info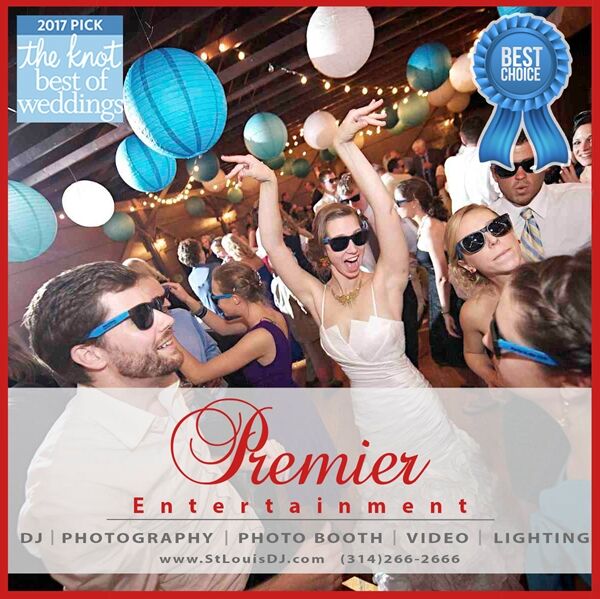 Reviewed on

5/12/2016
Ryan J
We had Chris from Premiere as our DJ and he exceeded all expectations. We planned our wedding from about 5 hours away. Due to Chris, his website and software, and his constantly open channel of communication, planning was simple. There are times I worried that I wasn't giving... Read More him enough information to work with because of how far away we were, but he made everything work! The guy knows his stuff. I can't speak enough about his professionalism. He was so organized, professional, and easy to work with, I was actually at first wondering how he was going to flip the switch from professional businessman to charismatic DJ! That said, it was not a problem in the slightest! Chris did a great job of getting the guests going, he was funny, he was friendly, it was great all around. Chris did a great job with both the ceremony and reception despite some challenges thrown his way. He was extraordinarily flexible and handled everything with grace. Our ceremony was outdoors, and with a threat of a massive thunderstorm coming through we were of course worried about the DJ equipment. But he held out, the storm blew over, and got everything set up in going in less time than he had planned for, it was great! All cues throughout the ceremony were met, and we had some interesting (and very specific) song requests for him that he certainly wouldn't have had in his playlist. He managed to find the exact versions we requested, told us the entire time it was no trouble at all! As I said, during the reception he definitely had flipped the switch from businessman to charismatic DJ. Wonderful job all around, the guests loved him, and everybody had a blast. I don't think the dance floor was empty at any time! He even found a special song for us (a very, very fast swing dancing song) dedicated it to us, and let us have our fun with that. The entire day was perfect, and Chris played a huge part in that. I couldn't possibly praise him enough.
---
Reviewed on

6/28/2017
Robin L
Our wedding was a dream come true thanks to Premier Entertainment. Chris was energetic, attentive, and helpful during our meetings to create the perfect outline of our wedding night. Everything was perfect from the music, the lighting and photo booth. We were in awe how the... Read More dance floor was packed all night with an amazing mix of music. Our wedding was a month ago and we continue to get compliments about how amazing the Dj was and how perfect the night went. Thank you Chris and Premier Entertainment for the best night with amazing memories created at our wedding. We recommend Premier Entertainment to everyone who wants individual attention and help to create the perfect wedding night.
---
Reviewed on

3/28/2017
Lauren S
Great experience. They had a planning tool that made it super easy to organize what songs you wanted during the reception. Honestly even better than that was our DJ the day of the wedding. Chris was so nice that my husband even mentioned how nice and respectful he is. At one... Read More point I thought why don't we start dances now but Chris gave me some advice to give people more time to eat and then start the dances. He listened to me but also gave his professional opinion which I appreciated. He played songs that kept everyone on the dance floor and people mentioned there was never a lull on the dance floor. This is exactly what I told him we wanted.
---
Reviewed on

9/04/2017
Kaycee C
Chris Abell was so great during our reception! He was great with music choices and we were so happy he could be a part of our special day!
---
Reviewed on

8/01/2017
Cailee F
We had Chris and he was wonderful! Really read the crowd and was professional and pleasant.
---
Reviewed on

5/25/2017
Sydney P
Premier always responded quickly and went above and beyond what I expected. I would recommend them to any couple! I had Aaron as our DJ and I was very satisfied with our experience.
---
Reviewed on

5/17/2017
Rebecca R
We loved working with Chris. He was very professional and great to work with. He is a great DJ and got our dance floor going immediately. Family members and family friends I have never seen dance were out on our dance floor! He has a website where we were able to submit all the... Read More songs we wanted to hear (as well as "Do not play songs"). He spoke with us the week before the wedding to go over all the logistics and did a great job of coordinating with our wedding toasts and first dances. He also provided a mic and speakers for our ceremony so that everyone could hear. Since the wedding, I have gotten the most comments from friends and family about how great our DJ was. I would highly recommend Chris at Premier Entertainment Services!
---
Reviewed on

5/08/2017
Rachel M
The dj did a great job...open to requests kept the dance floor packed! I did package with photobooth only had red background and hardly any props so if you go with that I would bring your own.
---
Reviewed on

4/30/2017
Kathryn I
We had Aaron as our DJ and he did a great job. The only thing that went wrong was we took a long time to add songs that we would like played on their website form and it happened to not get uploaded and played at the reception. But he did a good job, nonetheless. I would have... Read More liked to have had a final consult more than two days before the wedding for my nerves, though.
---
Reviewed on

4/25/2017
Jessica K
Anthony was our DJ and he did an amazing job! from the time we booked, chris was always super helpful and very quick to respond when we had questions. Anthony made sure he went through the events and songs and name pronounciations before the wedding day. He made sure to play... Read More everything we wanted and even got approval from us if something was requested that was questionable. He was very fun and easy going. We were beyond pleased with how everything went! We will definitely be suggesting premier entertainment to our friends!
---
Reviewed on

4/10/2017
Ashley A
They played exactly what we asked and went above and beyond with customer service!
---
Reviewed on

2/15/2017
Emma B
Chris was a great communicator before the wedding. He knew exactly what we wanted in terms of music and the reception order. He also helped us think through our decisions as we went. He ran the reception smoothly and kept people out on the dance floor!
---
Reviewed on

11/13/2016
Erika H
Chris was an excellent DJ! Highly recommend he and Premier Entertainment. We had such a blast at our wedding, and our guests are still talking about the great music and dancing that was provided. He kept everyone on the dance floor until the end of the night. My husband and I... Read More could not ask for a better DJ! He was so personable, the online navigator was so easy and a modern way to complete our requests and outline for the ceremony and the reception. HIGHLY recommend Chris! He called me the week before, and we went through each of the details and he was spot on throughout the entire day. He was excellent! Thank you, Chris for making our day exactly what we had hoped!
---
Reviewed on

11/06/2016
Julia R
Another was a great DJ. I love how the service is super organized and helpful in letting you express what you are wanting the night to look like. In our meeting, Anthony made great suggestions for things that I wouldn't have thought of otherwise. Very professional and engaged... Read More our crowd. Would highly recommend.
---
Reviewed on

11/01/2016
Erin G
Chris was a good DJ and overall I was happy with my choice. He did a great job on set up and our uplighting was fantastic. I didn't even need to tell him colors, he used his best judgement and it looked great. We did have a fun/young group, and all of our young guests were... Read More happy and dancing. I wish I would have specified more 60's/70's music to start off the dancing. All in all, good vendor. Chris did pay a lot of attention to us through the night, and was quick to respond if we had any problems. He was also very tasteful on the mic, and didn't over m/c.
---
Reviewed on

11/01/2016
Katie H
Chris was our DJ. He had everything running smoothly and on time. He went above and beyond. He listened to all our concerns and wants. He even sent us a picture of us from me and my husbands first dance. :) So sweet! This is the DJ you want!
---
Reviewed on

10/28/2016
Ali P
Premier Entertainment and our DJ Chris were awesome! We had a HUGE wedding party and he was so efficient and professional announcing everyone and getting us organized, best DJ experience ever!
---
Reviewed on

10/27/2016
Julia R
Premier was great! We used them for the ceremony and everything went smoothly. They did a great job for our wedding reception, the only reason I didn't give a 5 is that we wanted our guests to be getting their food before we came into the reception. That did not happen. I... Read More don't know if our guests didn't listen to the dj or if they didn't tell our guests to start eating. Other than that, Chris did a great job and I would highly recommend him and the company!
---
Reviewed on

10/27/2016
Rebecca G
We loved working with Chris! He kept the party moving, and was quick to respond to our last minute changes. Highly recommended!
---
Reviewed on

10/26/2016
Jennifer Z
Premier Entertainment provided amazing DJ services for our wedding! Chris was wonderful to work with before the wedding, and responded to all our emails and questions. DJ Jason was AMAZING! He kept the dance floor full all night long and everyone had a great time! He listened to... Read More all of our requests and was very accommodating. I would highly recommend their services to anyone needing a DJ!
---
Reviewed on

10/22/2016
Angie S
If your looking for someone to keep your dance floor packed, this is your place! Anthony was AMAZING! Our guests loved him, and we had several people ask for their information for their upcoming weddings. He was professional and personable and everything went off without a... Read More hitch. I cannot say enough good things about these guys! Chris was our contact for booking and he made everything super easy and always responded quickly to my questions!
---
Reviewed on

10/09/2016
Ada B
Working with Chris was such a pleasure. He made sure everything was perfect and the wedding went seamlessly. He was patient and went above and beyond the call of duty. He even sent us a handwritten thank you note with pictures he took of our wedding!!! You'd be crazy not to book... Read More with him!!! A++++ vendor!!!!!
---
Reviewed on

9/09/2016
Vanessa P
Premier was great to work with! We had Chris as our DJ and had a photobooth with Premier as well. -The music was perfect the entire night -Chris provided great recommendations for music -The planner on the website was very easy to use -The photobooth was a ton of fun, and we... Read More enjoyed the photos as a keepsake
---
Reviewed on

8/09/2016
Brianna R
Chris was our dj for our wedding this past weekend. He was amazing! He was very patient and profesdional. His website made planning incredibly easy and fun! We also used the photo booth, best idea ever!! I have so many pictures that I will cherish forever:) Chris made the... Read More night run smoothly, and kept everyone on track! We had a blast. I will most definitely recommend Chris and his company to anyone who needs a dj. Thank you so much for a wonderful night!
---
Reviewed on

6/20/2016
Stephanie M
So easy to work with and our dance floor was filled the ENTIRE reception. Thanks so much Chris!
---
Meet The Owner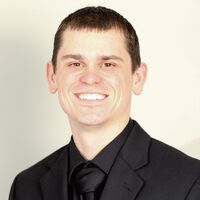 Christopher Abell
Passionate is one word I would use to describe myself when it comes to my work. I don't know that I can even call it work because I truly enjoy what I do so much. I love weddings and the idea of marriage, which makes it possible for me to put my heart and soul into every event I handle