Home

Queen City Party Charters
About this Vendor
Charlotte's Choice for Wedding Transportation
We are known for providing upscale wedding transportation from start to finish. No matter what your needs are. Here at Queen City Party Charters we make all weddings one to remember. We offer guest shuttles, party buses, limousines, getaway cars. We have custom wedding packages for all sizes. Due to every wedding being different we ask that you give us a call for pricing. We do not give price quotes via email because we understand how important this day is and want to insure you are getting the best package possible.
Details
Rehearsals + Parties, Wedding
Classic + Exotic Cars, Limousine + Sedan, Shuttle Service, Transportation

Contact Info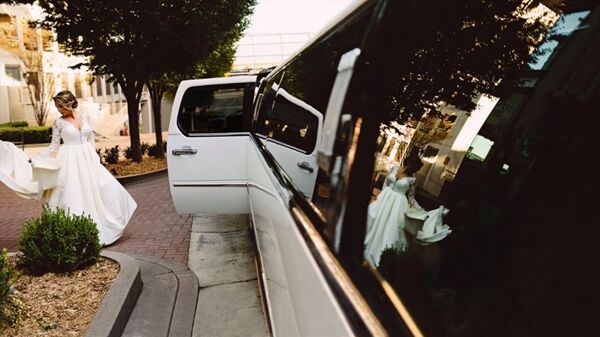 Reviewed on

10/27/2016
Cassie M
I wish I could express my gratitude fully over text for this company. I have nothing but the best things to say - from beginning to end, so great to work with. Alex, who drove our beautiful, vintage Bentley at our wedding, turned into my second wedding coordinator and was a... Read More complete life savor. Every time i turned around - Alex was there with something I needed before even realizing I needed it. What a dream. Plus - the car....to die for. I think our guests are still talking about how fabulous it was. The perfect touch and detail to add to our perfect day. Thank you for everything!!
---
Reviewed on

1/22/2018
Kaila T
WOW I cannot say enough good things about Alex and his team at Queen City Party Charters. Everyone knows how stressful wedding planning can be. So when your after-party location falls through 3 days before your wedding.... you need help... and FAST!!! I reached out to Alex and... Read More told him my story. Not only was he extremely professional, he also knew how to handle a bride who was days away from walking down the isle :) He worked it all out for us and made sure he had not one, but two, party buses available for us to get our wedding guest downtown for some after hours fun! I will forever be thankful for their efforts in turning what was once a tragedy into the most amazing evening for all! Our friends still talk about it to this day. If you want an amazing company with exceptional service, look no further!!!
---
Reviewed on

10/31/2017
By far the best wedding I've ever been in! Alex and Matthew made the wedding feel smooth and coordinated! We didn't have to worry about parking, arriving late or finding a designated driver from venue to venue! The wedding party, bride and groom were able to party right after... Read More the reception and arrive to the after party in style and at the same time!
---
Reviewed on

10/31/2017
Queen City Party Charters made my day unforgettable! They made the whole wedding party feel as special as I did with the amount of customer service, professionalism and friendliness they displayed the whole day! The guests were blown away with the beautiful vintage Bentley we... Read More drove away in! Thank you Alex and crew for all the support and honesty you provided me and my HUSBAND<3
---
Reviewed on

10/31/2017
Annalisa B
My whole experience with Queen City Party Charters was phenomenal. They know how to go above and beyond, with all the information they were able to provide then the level of customer service, you just can't find that these days. It was my wedding day, a very stressful time might... Read More I add, and Alex (the owner) made everything seemlessly smooth. He was early, made sure we stayed plenty hydrated with providing waters and even a bottle of champagne, and most importantly was very personable...making my friends and family feel comfortable in preparation for the beautiful night that we were able to have, worry free of our transportation. Thank you Alex and the whole team at Queen City Party Charters..you have my business any time I need transportation in the future and I will certainly be referring you to friends. Have a blessed day!
---
Reviewed on

10/31/2017
Alex was amazing from start to finish. Very responsive and knowledgeable. Being a mother of the bride and being the first wedding it was hard but Alex made everything so easy.
---
Reviewed on

10/31/2017
Jessica F
Used this company for our entire wedding. Alex and his crew went above and beyond to make sure everything went smoothly. I worked with Alex the whole time and he made it extremely easy with his years of knowledge in this industry. Thank you Alex for making my wedding day... Read More special
---
Reviewed on

10/31/2017
James M
Queen City Party Charters has been awesome! Their staff is friendly and knowledgeable. And there vehicles are very unique. Our entire experience was so much fun.
---
Reviewed on

10/31/2017
Everything was wonderful. The Bentley was one of a kind and made our wedding awesome!
---
Reviewed on

7/15/2017
Steven L
We booked Queen City Party Charters for our wedding and we were so impressed with the service we received. Not only were the vehicles great but the drivers were extremely nice yet maintained a professional image. We rented multiple busses for our guest transportation and a... Read More beautiful vintage Bentley as our getaway car. QCPC handled our entire event exceptionally. I would recommend them to everyone and I will be using them again for an upcoming birthday.
---
Reviewed on

7/13/2017
Monique L
Queen City Party Charters was the icing on my bridal cake! I am so glad I chose this service for my special day. Alex, the owner, promised me superior service and delivered!!
---
Reviewed on

7/10/2017
Brad L
Awesome service! Communication with Alex and his team was awesome. The vehicles arrived early, drivers were all dressed nice and very helpful through the wedding. I recommend the ultimate wedding package. It made everything so easy. The Bentley was my favorite. That was a... Read More surprise for my now wife and it is an incredible car. Thank you guys for the amazing service.
---
Reviewed on

7/09/2017
Sarah B
Being from a small town and my husband being from the city, we had a hard time planning our wedding that accommodated to both of our likings. He liked the classy, uptown feel and I loved the rustic, home town feeling. Queen City Party Charters helping making us both feel like we... Read More were getting exactly what we were looking for when it came to transportation. We used basically the entire fleet because we couldn't just choose one vehicle to make our special day complete. We used the bigger bus to help shuttle our guest to and from the wedding and reception and I heard nothing but wonderful things about the bus and the driver from our wedding guests. We used the smaller bus for the bridal party transportation and also the stunning 1954 Bentley that they offer as a get away car at the end. It definitely exceeded all expectations! Alex and his staff of drivers are the absolute best! The drivers are highly trained and were very professional when it came to any sort of problem. Alex was hands down the best vendor I have ever personally worked with. He was prompt and professional. You truly can't beat their service.
---
Reviewed on

3/14/2017
Colby B
We used Queen City Part Charters for our wedding transportation. We used the Bentley to transport us to and from our ceremony. The car itself was absolutely beautiful not to mention the backseat was really comfortable! Our driver, Matthew, was just absolutely the best. He made... Read More us feel very comfortable and was such a gentlemen. He even helped some of our guests into the ceremony due to the rain. He really went above and beyond. We also had a great experience with them when we rented a party bus for our bachelorette party. Queen City Party Charters will forever be our go to transportation service!
---
Reviewed on

9/21/2016
Tim H
Absolutely impressed with Queen City Party Charters. My son's wedding was a complete success with the beautiful clean cars. friendly drivers, cold water offered to us by QCPC, right on time with this heat. They arrived early to assure everything went as planned. The Bentley... Read More arrived, tremendously gorgeous! The drivers dressed for the occasion, people let me say this...if you are planning a wedding and have not called Queen City Party Charters, What are you waiting on?? They are the Best! Many thanks to you, Queen City Party Charters. We will cherish this day always....the beautiful bride and groom looked amazing in their wedding pictures beside the Bentley....✔
---
Reviewed on

9/20/2016
Janet H
As Mother of the groom my son's wedding was a very special day for me as it was for him. We had to make sure the day was perfect. Folks I can't express to you enough how Queen City Party Charters made the wedding day a dream come true! The cars were so clean, cold water... Read More offered to all. The drivers were dressed to impress with such polite manners, eager to help with your every need. We rented the Bentley for the bride and groom. I must say WOW impressive, our gift to our son and our new daughter in love. They both were so happy and she was so beautiful standing next to that tremendously gorgeous Bentley. Our photographer took pictures to cherish for a lifetime. Thank you so much Queen City Party Charters, You are the Best!! Most Definitely Recommend....
---
Meet The Owner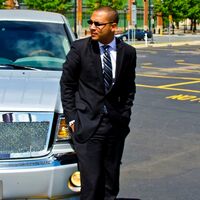 Alex Hunter
I started in the transportation business when i was just 14 years old. I washed limousines part time while in school. I am making my dreams come true helping people everyday with their transportation needs. I make sure that my company offers top notch service to ensure my clients have the best experience possible. We are not just drivers we are your personal concierge. We make sure you are treated with the highest level of service possible for an experience you will never forget. I thank you for taking the time to read about us and we look forward to working with you.