Home

Quinn's Goldsmith
Details
Fashion, Engagement Rings, Wedding Rings, Rings
Contact Info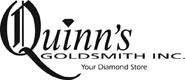 Great!
Reviewed on

4/22/2015
Amber M
I've been shopping here awhile. They are great and truly try and find what you want. Our rings are amazing.
---
Great Customer Service
Reviewed on

11/19/2013
Erin F
My husband had my grandmother's diamonds reset to be used in my engagement ring and they did a great job. We also bought both of our wedding bands there. After ordering the rings months before the big day, we were able to easily exchange the groom's ring for the correct size... Read More with no hassle at all.
---
Great place for all jewelry!
Reviewed on

10/17/2013
Heidi F
My fiancé's family has been going to Quinn's for years! The staff is very helpful and accommodating and the prices are reasonable! Every time I went in to get my ring sized or cleaned they were very nice and asked questions about the wedding and me personally which I think is... Read More always a nice touch. Plus, they give you chocolate :) Great place!!
---
Stay away from this jeweler!!!
Reviewed on

9/04/2011
Jennifer S
When I was visiting my parents from out-of-town, I decided to take my engagement ring and wedding band set to Quinn's for resizing because of their word-of-mouth reputation for great jewelry experiences. I could not have been more disappointed by their service and lack of... Read More compassion. Their goldsmith ruined my ring set. My fiance and I are now to the point where the rings are beyond repair and have to purchase a new mounting. My rings were sized down from a 7 to a 5 1/2 - the finished size was fine. My rings were yellow and white gold - the majority of the band was white gold with a yellow gold portion sautered onto either side of the diamonds for both the engagement ring and wedding band. Well, after the rings were resized, the goldsmith (per his words) gave the rings to someone else at the jewelry store to dip into rhodium. From what I understand this is a common practice to make the white gold shiny again. I would not have had a problem with this except they covered the yellow gold portions of my ring, turning them silver colored. When I picked up my rings from resizing, I immediately had to go to the airport for a flight back to FL, my home. It was a hectic week and I did not notice until I returned to FL what had happened to the yellow gold portion of the rings. Quinn's offered to have me ship them back to VA to be fixed; I was happy to hear their responsiveness. The woman I spoke to on the phone stated that she could even see in the pictures they took of my ring in their computer system that the rings were two-toned. Once the rings were back at their shop, I received a call from the goldsmith. He claimed my rings were gold-plated and if he took the rhodium off, they would still be all white gold and not two-toned anymore. I looked at the certificate for my rings - they were not gold-plated. My fiance called the jewelry store where we purchased the rings and they stated they do NOT sell gold-plated jewelry. I scanned the certificate and sent it to Quinn's; we told the goldsmith what the jewelers said and he still argued with us. I suspected he was simply going to place gold plating over the portions of the rings that were yellow gold and not even take the rhodium off (it can be buffed off). He assured me that he wasn't going to do this. However, once the rings made their way back to FL (btw, Quinn's shipped them back to me uninsured, even though I sent them insured), it was quite obvious that he put gold plating over the rhodium. The rings looked cheap and horrible. There are also portions of rhodium built up among the small diamonds around the solitaire. We took the ring to a jeweler here in FL and found out that the rings are now beyond repair and our only alternatives are to either purchase a new mounting or rings set altogether. Quinns has since refunded the money we paid for the resizing, but ultimately have ruined something that was supposed to be with me for my lifetime. So much for "master goldsmiths".
---
Beautiful custom band
Reviewed on

7/14/2011
Sarah C
We went into Quinn's asking for a custom band to match my engagement ring. They truly delivered a beautiful piece at a reasonable price. I have received many compliments and am very happy with it.
---
Amazing Jeweler!!!
Reviewed on

6/17/2011
jessica p
They were awesome!!! We went in the first time and we sat down and had a trial with different size diamonds and shapes, it was fun!! They stayed within our budget and I have a beautiful ring from this vendor! They are family owned and remember you each time you walk into their... Read More store and give you free cleanings for your jewelry!
---
Use our messaging tool to connect with vendors anytime, anywhere. Stay organized, all in one place.