Home

Raquel at Beauty Mark
About this Vendor
Raquel at Beauty Mark
Raquel is a licensed esthetician and makeup artist who specializes in everything from the soft and natural to the bold and dramatic. From bridal makeup, Minkys lash extensions, to the perfect facial, Raquel at Beauty Mark Skincare is a trusted expert in the industry
Details
Beauty Group Bookings, Hair + Makeup Trials Available, Eyelash Extensions, Makeup, Makeup Artists, On-Site Hair + Makeup, Facials, Waxing, Beauty
Contact Info

Love her!
Reviewed on

10/21/2014
Caitlin F
Raquel made my bridal party look stunning, and made me feel very confident on the day of our wedding. By the end of our day getting ready with her, we all wanted to hang out regularly... and have her do our eye makeup before going out on the weekends:) Listened to special... Read More requests and used the best products too!
---
Reviewed on

1/27/2017
Mallory S
I have NEVER received as many compliments as I did on my wedding day about the makeup that Raquel did. She was so professional and made me feel like such a beautiful bride! I would highly recommend her to anyone for any important occasion!
---
Reviewed on

11/05/2016
Michelle M
Raquel did a fabulous job on my bridal makeup even my male photographer was commenting! She was easy to correspond with, i didn't have any concerns. Pricey but worth it to feel absolutely beautiful on your special day!
---
Reviewed on

10/20/2016
Tonya W
I can't say enough good things about Raquel and the amazing job that she did! She was prompt on getting to my venue to start, she made ALL of my bridesmaids look so beautiful, and I have never felt more beautiful than I did on my wedding day because of Raquel's amazing talent!... Read More I've had numerous people ask me since the wedding who did my makeup because it was absolutely flawless, and I will always send future brides her way - I couldn't imagine having a better experience from the 1st phone call to my wedding day!
---
Reviewed on

10/14/2016
Lindy H
Raquel is absolutely AMAZING. As a bride, I wanted to look and feel my best on my wedding day. I can honestly say that I have never felt so beautiful, thanks to Raquel's amazing talent and artistry. As a wedding photographer, I refer her to all of my brides. There is simply no... Read More other makeup artist that can help brides achieve that flawless, glowing look quite like Raquel. If you are searching for an incredibly talented makeup artist, look no further. I can not say enough wonderful things about her!
---
Reviewed on

9/15/2016
Reena C
Raquel did my makeup on the day of my wedding (bride) as well as for several of my bridesmaids, my mother, and mother-in-law. Everyone looked fantastic! Raquel did a nice job of using a natural look so that the makeup didn't seem over-the-top, but was an elevated look to... Read More everyone's appearance. I would call Raquel again for any of my skin care needs!
---
Reviewed on

9/06/2016
Melissa C
Raquel was amazing! She was very flexible and went early in the morning to the venue just to get me ready. The makeup was natural and beautiful, and looked fantastic in the wedding pictures. Easy to work with and responsible. Thank you so much!!!
---
Reviewed on

9/05/2016
NIKI B
Gorgeous gorgeous makeup! My wedding was one of many times that I have worked with Raquel and once again she did not disappoint. She is not only an incredibly talented artist, but is absolutely lovely to work with.
---
Reviewed on

9/05/2016
Erin P
A makeup artist is one vendor that can make a chaotic day a relaxing, enjoyable one! Having Raquel do makeup at my wedding was one of the first (and best!) decisions I made while wedding planning. Makeup was one thing I knew I didn't want to worry about on the day of the... Read More wedding, and it came out wonderfully for my bridal party, mother and mother-in-law. Raquel is a true professional, and has a passion for her work. Not only would I recommend Raquel for makeup, but I'd also highly recommend her for skincare!
---
Reviewed on

9/02/2016
Tara H
Raquel and her assistant did such an incredible job! She made us all look so beautiful and it was fun and comfortable having them there during the whole process. Looking back at my photos, I can't get over how she made me look and more importantly, how I felt.
---
Reviewed on

8/23/2016
Abby L
Raquel is amazing. She was originally going to do 11 girls and of course after the reluctant members of the bridal party saw her (and her assistants) gorgeous work; they all wanted their own transformation. She is amazingly laid back, and nails the look you ask for but takes it... Read More to the next level of beautiful. My mom had run into a door two days before the wedding and had a black eye and it was completely hidden and her makeup was still glows and natural looking. She is the one to book of you can -- so happy to have her. My wedding party said multiple times it was the best makeup thy had ever had (and these girls have experienced a lot!). Thank you thank you Raquel; you're wonderful (and so is the rest of her team!)
---
Reviewed on

7/13/2016
Kelcy P
Raquel and her assistant were absolutely amazing! They were originally supposed to do 7 girls and they ended up doing about 15 and everyone's makeup looked flawless. Several of my girls asked if they could have her around every day to do their makeup! They also commented that... Read More they were extremely friendly and made the morning very fun! Plus, my makeup looked amazing through out the entire evening! Thank you Raquel for making our day so special!!!!
---
Reviewed on

6/18/2016
Misty M
Raquel did an amazing job with make up for myself and the wedding party. She was on time, professional, made the entire experience so much fun and the BEST part, everyone looked stunning!!
---
Does a great job & super easy to work with
Reviewed on

11/16/2015
Meghan V
Raquel did my makeup for my wedding along with both my mom and mother-in-law. Everybody loved how their make up turned out! My mom doesn't typically wear a lot of make up and still loved how natural Raquel made her makeup look. My makeup lasted all day long and still looked... Read More great in my photos. The day before my wedding Raquel recommended an oxygen facial that definitely made my skin glow even when I did my own make up for my rehearsal dinner. She was super easy to work with and fit right in with my friends while we were all getting ready together. I wouldn't hesitate to recommend her for your big day!
---
Reviewed on

10/31/2015
Raquel H
Raquel is a true professional! She will put any of your worries to ease. I am so thankful I found her for my big day!
---
Raquel is outstanding!
Reviewed on

10/31/2015
Gina R
I was a part of a bridal party recently and was lucky to have Raquel do my make-up. She did an absolutely fantastic job...I can not say enough good things about her quality of work! My face looked classy, natural and flawless and stayed that way through the whole day and evening... Read More (dancing included!) She took her time and really went the extra mile to make sure our make up was perfect for the special day. She also was such a joy to be around...very calm, relaxed and kind (the exact type of person you want to be around on a wedding day!) I strongly recommend Raquel's services and talents for any brides, bridesmaids, MOB, etc. You won't be disappointed!
---
The best!
Reviewed on

10/31/2015
Diane T
Raquel did make up for my daughter's wedding party and every girl looked absolutely stunning. I highly recommend her. She is talented and professional. Don't think twice, she's your girl!!!
---
Makeup
Reviewed on

10/31/2015
jessica t
I was lucky enough to have Raquel do my makeup on the most important day of my life and I could not have been more pleased. Raquel's professionalism and expertise is of the highest regard. Not only did she make me feel completely comfortable she made me stunning on my big day! I... Read More highly recommend her services!
---
Worth Every Penny!
Reviewed on

10/31/2015
Rachel A
I am a Wedding Coordinator in the industry and regularly refer Raquel. She is such a wonderful addition to our industry as she's professional, friendly and fun to have on the day of the wedding. Not only does Raquel provide a level of service that is unmatched but she is such... Read More a wonderful person to have the day of because she is always prompt and I've never run late on timing because Raquel is always ahead of the game. I absolutely love working with her and wholeheartedly recommend her!
---
Mother of the bride
Reviewed on

10/31/2015
Susan H
I can't say enough wonderful things about our experience with Raquel. My daughter looked stunning on my wedding day. I don't wear a lot of makeup and I was nervous about getting it done but Raquel made me feel beautiful. I'm so grateful for Raquel's kind demeanor and... Read More understanding my concerns. She is extraordinary at what she does.
---
Makeup
Reviewed on

10/30/2015
Brittany D
Raquel was amazing and I had a great day and i loved my makeup. My makeup was just perfect and I would recommend her to anyone.
---
Amazing services
Reviewed on

10/30/2015
Raquel was extremely professional but was also personal and made the wedding party feel at ease. She did an amazing job with our makeup. She catered to each girls look and didn't do just a one size fits all look but also was consistent to what the bride wanted us girls to look... Read More like. Everyone looked amazing and not only that, all of the make up was beautiful in the photographs. I would highly recommend her! I loved the experience with her so much that I went back and visited her for eyelash extension as well as a facial (which I would highly recommend if you're looking for those services) Love her work!
---
Raquel at Beauty Mark is amazing
Reviewed on

10/30/2015
Bridget G
Raquel at Beauty Mark is not only an extremely talented makeup artist but very down to earth and easy to work with. At my trial I wasn't even sure what I wanted but I knew what I didn't want and she hit the nail on the head...it was perfect! I knew right away that I wanted all... Read More my bridesmaids and my mom to get their makeup done by her as well. She listened to everyone's input while still knowing what I did and didn't want and everyone looked gorgeous. The entire experience with her was great and I would gladly recommend her to all my friends and family!
---
Reviewed on

10/30/2015
We have seen many pictures of the amazing work done by Raquel and we cannot wait for the time to use her for our special event. Raquel has so much passion for her profession and it shows through her creativity in making everyone so very beautiful for there special day. We are... Read More blessed to have found her.
---
My Special Day
Reviewed on

10/30/2015
On my wedding day Raquel Turner made me look like a million bucks. She made my special day even more special. I got a lot of compliments on all my make up. I would highly recommend her to anyone. Thank you Raquel Turner
---
Meet The Owner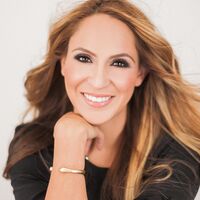 Raquel Turner
Raquel has worked with prestigious cosmetics line such as NARS and MAC Cosmetics. Being an award-winning artist, Raquel's knowledge and skill grows through intensive, ongoing training. From photo-shoots, brides and special events Raquel specializes in everything from the soft and natural to the bold and dramatic.