Home

Raymond Williams Entertainment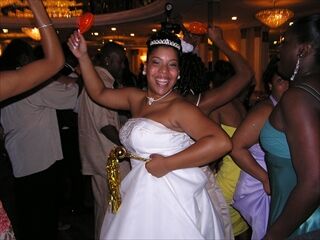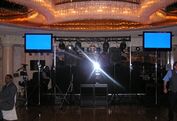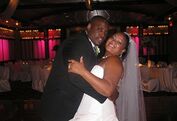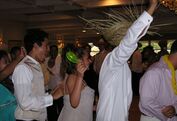 About this Vendor
It's Not What We Do, It's How We Do It
We create the memory you dreamed of your entire life. Celebrate and dance to your favorite songs while we rock-out with your guests. From simple to extravagant, Bringing People and Parties Together is what we do best. All great parties start and end with great music. Consistency is not a coincedence
Details
Classical, Country, Disco, Hip-Hop, Jazz, Pop, R&B, Rock, Latin, World Music
Ceremony, Reception, Wedding
MC Services, Recorded Music, Sound Equipment, Music
Contact Info

West Bartlett Road, Middle Island, NY
Ebony Connections is awesome!!!
Reviewed on

9/28/2013
Melanie W
Ray was recommended by my aunt who had recently been to a wedding where he was the DJ. He came to see us to go over everything and was very personable, smiling and organized. He even had a timeline for the reception. He left nothing out in his paperwork. He suggested songs for... Read More first dance, father daughter dance, music to play during, list of everyone entering reception, etc. We signed up right away! We love him! He made sure to get information from us before the wedding by sending email reminders. He even made the suggestion a week before to get gift cards for our guest for who traveled the farthest, or first to RSVP, etc.The day was spectacular and he made it even better. He had everyone saying how great a DJ he was, including our photographer and videographers. We loved the flow of music througout. It was an amazing day! My husband and I are so GLAD we listened to my aunt!!!!!
---
THE ABSOLUTE BEST
Reviewed on

9/19/2013
LaToya P
These people turned my wedding into a nightclub. The MC Brad was great kept everybody on the dance floor and was in the middle of it all not just on the sidelines shouting out things here and there. Raymond - the DJ - AMAZING, he's the one I met with we spoke he worked with me... Read More 100% of the time, he was patient and responded to all my crazy request in no time, he told me to make a must play list, I did, and he did in turn played everything I wanted to hear. My family is from Trinidad so it was very important to have calypso/soca played and the last hour of the wedding that is all that was played. Like my cousin had said I've never seen a wedding turn into a soca party. They are the best! I loved them I just recently got back my zap shots and video and I loved it, if I could post it with this review I would. Raymond I love you, brad I love you! If you choose them, and you should, ask for brad as your MC. A-MAZ-ING!
---
Everything I expected and more!
Reviewed on

11/02/2014
I've attended 2 weddings that Ebony connections has provided the music and entertainment and I always said if I ever got married I had to have Ebony Connections and I was NOT disappointed at all. Our guests had such a great time! I would definitely recommend them!
---
Made the reception
Reviewed on

10/30/2014
Alicia R
All I wanted for my reception was for everyone to have fun and interact with each other. Ebony Connections made that happen. They had something for all ages and didn't just play music they entertained. People from other receptions were asking us what was going on it was the best... Read More wedding reception in the building. In addition many people who attended asked for their information and or said they did an excellent job. They are professional and can read the crowd. It was worth the money that is one thing about my wedding I would not change.
---
Wedding of the Century
Reviewed on

10/30/2014
Denise D
Ebony Connections accommodated all of our requests for our wedding. They definitely provided quality service. They incorporated all the music we requested with smooth and seamless transitions. The dance floor stayed packed the whole night. Comments we received from our... Read More guests included: "Wow this was the wedding of the century." "I don't get out much but I had such a great time at your wedding." "The one thing I remembered about your wedding was the great music. Weddings are usually boring and kind of dead, but your wedding was the best."
---
Best Day Ever
Reviewed on

10/26/2014
Crystal G
I was recently married on 10/5/14 and the company I chose for entertainment is Ebony Connections. We chose them because we went to a wedding that they did and had a blast. Entertaining our guest was very important to us and we were not disappointed. Every person we have spoken... Read More to that came to our wedding raved how good of a time they had. This company is very professional and affordable and gets the job done. When my in-laws renew their vows in two years, we already know where to come for entertainment. Ebony Connections. Thano you for making my wedding day a day to remember.
---
Amazing!!!!
Reviewed on

7/23/2014
brianna g
My guests cannot stop talking about how much fun my wedding was and how great the dj was. My guests and I were entertained from the moment we walked into the reception the music was amazing. The dance floor was packed all night! Ray was very professional and organized with all... Read More music details of the wedding! He showed up on time and was truly a pleasure to work with!! I would recommend him to every single bride out there!!!!!!!!!
---
High Energy
Reviewed on

10/03/2013
Carlene B
EC was outstanding! They kept the dancefloor packed and our guest entertained from beginning to end. They created nice transitions. The MC had High Energy and I enjoyed how EC incorporate some guest participation. WONDERFUL!!
---
Ebony Connections did a great job!!!!
Reviewed on

5/23/2013
alexis h
Ebony Connections Inc. was EXCELLENT!!! I couldn't ask for anything better. They came and did their things. They played everything we wanted and more!!! They had all my guest on the floor dancing all night!!! The service was great. They are VERY professional. For you wedding you... Read More need to use them. You wont be disappointed. You would be very happy with the great job they do. Raymond the owner of the company is a great guy. I got married in March and till this day we still keep in contact. We built a great friendship. Make sure you use Ebony Connections for you wedding!!! Ahmed Ellis
---
I wish I could give more Stars***********
Reviewed on

12/05/2012
Christine M
Let me just say this, if you are thinking about using another entertainment company, your SHOULD NOT!!!! Ebony Connections (EC) was the first entertainment company we interviewed. No one else we interviewed after could compare, professionally or in price. We got an AMAZING... Read More value. Ray was extremely professional at all times, and went out of his way to accommodate us. He made house calls/visits and kept us informed throughout our entire planning process. My husband and I are both Jamaican and wanted a DJ that could satisfy both our family, friends, and coworkers. At our first meeting he showed us a video from a reception that blew our minds. It looked like carnival in Trinidad, people dancing, waving napkins, and just having a good ol' time. We knew then that EC was going to be our entertainment company. The only reason we didn't book them after our first meeting, is because we promised we would interview at least 3 vendors, from each category of vendors that we needed for our wedding. I only made phone calls to 2 other entertainment companys sand didn't even bother meeting them because the could not compare to what EC was giving us. Flashing forward to our wedding reception, which was a few days after Hurricane Sandy (the biggest storm to affect the tristate area). Ray's professionalism never wavered. Ray and his staff showed up to our reception promptly, suited and booted, all without power in his house and during a gas crisis. We could not thank him enough. He even agreed , 2 days before our wedding to play during our cocktail hour, when the band we booked could not make. Yes 2 days before!!!! At our reception, before all of our guest entered the main dining room, he asked if we were prepared for what was about to go down. Honestly we had no idea. EC ROCKED our reception. It was beyond our wildest imaginations. Everyone was on their feet all night, From young, 4 years old, to my husband's 80 year aunts. The fun was non-stop. Everyone kept asking us where we found our entertainment company. My friend came up to me, during the reception, and said I have to use EC for my wedding next year. Our parents received phone calls for weeks about how our wedding was the BEST wedding they have EVER been to, and I know it is all thanks to EC. Don't get it confused, not only was the music on POINT, but our video montage was spectacular (not a dry eye in the room), our gobo matched exactly with our favors, everyone loved seeing themselves on the screens with the zap shots, which were ALL prepared and provided by EC. The list goes on and on and I could write for days, but I will leave anyone looking for an entertainment company with this, you would be doing your wedding day a disservice if you don't book EC. I can't wait for our 1 year anniversary, because we will be using EC again!!!!!
---
Ebony Connections did their thang!!!! (Wedding 8/12)
Reviewed on

12/04/2012
Sandra L
Ebony Connections is organized and professional. The value of service was definitely more than expected. I couldn't ask for a more understanding and patience DJ. I was a little skeptical at first because I am a perfectionist and this was my first time using Ebony Connections... Read More but I must say, they really did their thing!!!! Since there were different cultures there, Raymond satisfied both and my guests are still talking about my wedding until this day. From their words, it was one of the best weddings they have ever attended. Raymond and Brad even got the older folks on to the dance floor now that is saying something! Thanks again Raymond for making my day that much special because I feel that the MUSIC makes the party and you made it into a wedding partayyyyy to remember! I only have good praise and fond memories of my special day. I highly recommend.
---
Outstand Presentation
Reviewed on

4/13/2012
Takisha B
Ebony Connections provided the music and entertainment for my wedding (March 31, 2012) they did an outstanding job. They played games, provided props - they definitely keep the crowd entertained. The music selection & coordination was outstanding. There was certain parts... Read More during my ceremony that I left the music selection up to the DJ and I was extremely pleased with the DJ selections. Since my wedding, I have received numerous calls from guest stating that the DJ and host was excellent, Ebony Connections did an outstanding job! I would definitely seek their help again....If you are looking for an upbeat host and a knowledgeable DJ - look no further Ebony Connection is your company.
---
THE ABSOLUTE BEST!!
Reviewed on

11/09/2011
michelle d
Ebony Connections was referred to us by our banquet manager. They were the first DJ company we met with and knew we were going to book with them. They offered all the services we wanted and at a great price. The day of our wedding they didn't disappoint. Our families are very... Read More religious and conservative and the way they moved the crowd caused everyone to be up on their feet. My family is still talking about our wedding as the best they've ever gone to. They were very attentive, timely and professional throughout the entire process. They're absolutely awesome!!
---
A "Must Have" at your wedding
Reviewed on

11/09/2011
Joan C
I heard this company at another wedding and decided that we would have them perform at our wedding. They were professional from start to finish and you could not beat the price. I have since used them at my baby shower.
---
We danced the night away
Reviewed on

11/08/2011
wendy g
I first met ebony connections at my daughter,s wedding and they did a wonderful job ,the guest could not stop talking.When I decided to get married two years later I knew who my Dj was and they had the guest partying the night away . When ever there is a function for my... Read More friends or relatives we will be calling ebony connections.
---
Ebony Connections you Rock
Reviewed on

11/08/2011
Francis W
I must say the Raymond & Brad (R&B) of Ebony Connections made Natalie and Francis' wedding a true expierence to remember. I have been to many weddings but from start to finish Ebony Connections were professional and added that personal touch which one looks for in there... Read More entertainment needs. Uncle Ray as he is affectionately called among family members ( same Last name ) no relations. was on time with the music that kept the party rocking from start to finish and his main man Brad provided the professionalism that you would expect from a MC ( he did get emotional ) sorry Brad! had to tell it. In closing I will say that if you are looking for an affair to remember R&B of Ebony Connections are the Dream Team to call they will work with you from start to finish and cater to all needs and request, So truly forget the rest and go with the Best Ebony Connections truly the Right Choice.
---
Ebony Connections made our day a day to remember!
Reviewed on

11/08/2011
JOHNNY L
First off I would like to say that booking Ebony Connections for 9/10/11 was the best decision My wife and I ever made! Our DJ Raymond really went above and beyond to make sure our wedding was a hit. Raymond played the right music at the right times. Just an example of how much... Read More he paid attention to detail, he showed up wearing our colors for our wedding from the same tuxedo shop where the groom and groomsmen rented our tux's. Raymond pretty much felt like a family member attending our wedding. The mc whose name I can not remember at this time, was like a non stop party on 2 legs!But at the same time he was very professional. He got everyone involved! He had ppl stopping in from other rooms, that were at the same establishment attending a different wedding looking in to our room to see the party that was going on! The price was very affordable, they sent us paperwork in a timely manner, kept appointments, and stayed in contact with us daily all the way to the big day. Out of all the things that were might have been worried about going wrong, Ebony connections really kept our minds at ease, knowing that they really came prepared with their A game! Thanks Ebony Connections for making our special day a lovely and fun filled occasion!
---
Execution at its Best!!!
Reviewed on

11/08/2011
Syndie Y. J
I loved having Ebony Connections as my DJ because they were: Professional, Classy, followed directions and improvised where applicable, and really exceeded my expectations! Awesome, awesome team of people! You will not regret!
---
THE BEST WEDDING DJ
Reviewed on

5/15/2011
Keri R
I LOVE EBONY CONNECTIONS! My cousin used EC for her wedding and referred them to me. I met with Raymond and booked the same day. Raymond is very professional and awesome to work with. He worked with me on some of my crazy ideas and gave great recommendations, since I had no clue... Read More about what can or cannot be done as far as music for the wedding. The day of the wedding, I must say that I WAS NOT expecting such a packed dance floor! The music was great! Everyone was dancing, old, young and people who I thought weren't going to dance were "getting down" on the dance floor! I have guest calling me constantly telling me what a wonderful wedding we had and that they danced all night and loved every minute of it! I cannot thank Raymond enough for doing such an outstanding job! He is truly talented and made my reception the "wedding/party" of the year, according to my guest! Thank you very much Raymond, from the bottom of our hearts!
---
Music Rocked and I got the party that I wanted.
Reviewed on

11/24/2010
C N
Raymond and Brad made my event fun and fabulous. It was an amazingly great time and loved every minute of it. If you want to enjoy your event, these are the guys for it!
---
My DJ
Reviewed on

9/11/2010
Robin S
Absolutely fabulous! With an added bonus of him recording all the songs played at your wedding.... What more can you ask for.
---
Review for Ebony Entertainment
Reviewed on

5/10/2010
Denise J
they were excellent;listen before you book
---
Rating for Ebony Connections
Reviewed on

5/10/2010
crystal w
---
Review for Ebony Connections
Reviewed on

5/10/2010
Monique P
The DJ & MC were a great combo;I booked a steel pan player since I am from Trinidad, I thought it would be a nice touch and he never showed up. They are going to credit my credit card and provide additional compensation
---
Review for Ebony Connections
Reviewed on

5/10/2010
April V
The Mcee kept everyone moving, talked and joked with the crowd, played a game to give away the centerpieces and generally felt the crowd. The music selections were perfect.;The office is ran by one person. A little difficult to get her to do things outside of her usual schedule.
---
Send Message