Home

Red Carpet Ready by Sarah
About this Vendor
Traveling miles to bring you styles
Sarah continually keeps her finger on the pulse of modern/cutting edge trends as well as with sophisticated timeless styles. She is always in tune with her clients wishes and preferences, striving to create your dream vision for that special day. Servicing the New England Area On-site
Details
Beauty Group Bookings, Hair Stylists, On-Site Hair + Makeup, Beauty
Contact Info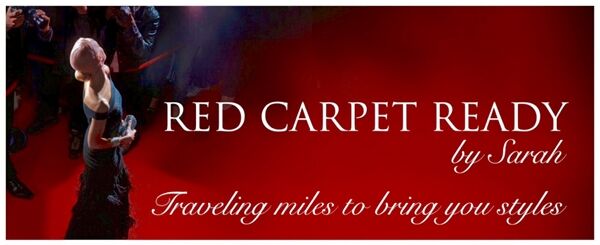 I'm older, but still felt like a blushing bride!
Reviewed on

5/12/2014
Missy B
Being a second marriage for both my fiance and myself, we wanted to have a nice yet simple ceremony. Sarah had done my hair when my youngest daughter got married. Everyone's hair that day look so beautiful, even mine in spite of it being 99% silver (sounds nicer than grey,... Read More lol). I felt as glamorous as the bride and her attendants. She once again "out did herself" for my wedding day. As I did at my daughters ceremony I felt glamorous, stylish, and could not have been happier to have such a sweetheart of a young woman make me feel as special as the first time I wed. She is warm, understanding and a true professional and an expert at what she obviously loves to do....make women feel confident and attractive. I am sure I will use Sarah's services again for any occasion that I want to look my best at!!! 5 star rating for Red Carpet Ready By Sarah!!!
---
Should be "Red Carpet Ready by SWEET Sarah"
Reviewed on

5/09/2014
Alda R
I am a very nervous person and been told a very critical individual. Dealing with me for some seems to prove a bit of a challenge. I guess I am what I am. Having state that, one thing I am is totally convinced that you will never be disappointed with Sarah. You will first... Read More notice her warmth and charm and then soon recognize her amazing talents with hairstyling. She was a calming influence for me and all around us as we all hectically rushed around the hotel suite prior to the ceremony. We all looked and felt like fashion models and our looks remained throughout the ceremony and reception. Thanks Sarah for putting up with my stress and adding such style and glamor to my wedding day!!
---
Talented, Talented, Talented
Reviewed on

5/09/2014
Blair T
Title says it all!!! Met Sarah at a bridal show where she was the hairstylist for all of the models in the bridal gown runway show. Having sat in the audience and admired each models hairstyles I approached one and asked who had done her hair. I was told that Sarah from Red... Read More Carpet Ready by Sarah had done all 15 of the models and I knew immediately that she was going to be my wedding hairstylist. I found Sarah backstage, got her card and set up a date for a trial at her house in Watertown. My mother accompanied me to the trial and we both left smiling and excited to have found such a likeable and extremely talented stylist. Sarah really came through for me and my bridal party and I would not hesitate to recommend her to everyone. Her talents far exceed her very reasonable and competitive rates.
---
Reviewed on

6/20/2017
Haley S
Sarah is quite honestly the most talented hair stylist I have ever met or seen work. She like a genie with her curling irons and bobby pins. I had all sorts of questions of Sarah and she was always quick to respond and honest in her opinions! During my hair trial, she was... Read More totally open to my asking for changes and adjustments – in fact, she encouraged them! I could tell immediately that she was capable of doing anything with hair. Having a picture to show her exactly what I wanted definitely helped though! She was able to know exactly what I was thinking and ask clarifying details. She gave her own suggestions but by no means was pushy that I should do what she wanted. I didn't think it was possible, but I actually loved my wedding day hair even MORE than my trial. It was actually PERFECT! Sarah is so friendly and fun – all my bridesmaids loved having her. People were literally oohing and awing as she was completing my hair. She would continue to work on someone's head until they were fully satisfied with how it looked. I would highly recommend Sarah to anyone who needs a hair stylists for absolutely anything! I will absolutely use her again if I ever need another hair stylist – no question. LOVE HER!
---
Reviewed on

5/09/2017
Kayley W
I'm sure she does awesome work, I wouldn't know because we never got that far. My advice with this vendor is to clearly and quickly ASK how to send the $155 deposit to secure her services (she won't ask you for the money, you have to ask her how to pay), otherwise you may be... Read More 15+ emails into exploring styles and setting up a trial and be hit with an email informing you that your date has been booked by another bride. Good luck!
---
Reviewed on

1/17/2017
Brieanna G
Sarah is one of a kind; you meet her and feel like you guys have been friends forever. She is so easy going and a pleasure to work with She is incredible at what she does. I am so glad I booked her early! Our trial went great, we did two styles of what I was thinking I liked... Read More off pinterest, and we both agreed on which one was better on me. We trialed my veil and on the day of it was perfect. She and her assistant came to my hotel room and did all of my bridal party's hair and they looked amazing. They were all so happy too!
---
Reviewed on

11/30/2016
Angela B
Sarah is amazing at what she does!!! I have fine, pin straight hair so at my trial I was nervous about anything with curls. She did two hairstyles (at the trial) but I was still unsure. She recommended getting extensions, which was so worth it! I ended up going with a 3rd style... Read More on the day of the wedding. My hair was curly and it stayed through dancing!!! Talk about miracle worker!? My 4 bridesmaids showed her pictures the day of and she replicated all 4 hairstyles like it was nothing. Do yourself a favor and book her!
---
Reviewed on

11/27/2016
Marlene W
Sarah was great. She showed up on time and stayed to make sure my veil was in place and my bridesmaids knew how to take it out. Her personality is great and so easy going. I would recommend Sarah.
---
Reviewed on

11/27/2016
Kristi D
Sarah was a pleasure to work with and the made the process so easy! She did an amazing job on my hair and my bridesmaids were beyond happy as well. She can really do anything!
---
Reviewed on

11/27/2016
Kristi D
Sarah was a pleasure to work with and the made the process so easy! She did an amazing job on my hair and my bridesmaids were beyond happy as well. She can really do anything!
---
Reviewed on

10/25/2016
Margaret F
Working at a modeling agency I come in contact with many very attractive women. Starting about 14 months ago, upon my engagement, I started to ask various clients of the agency about who I should be investigating for a caterer, limo service, venue, and of course hair and... Read More makeup. The only name for hairstylist that I heard repeated was Red Carpet Ready by Sarah. I enjoyed my "trial" with Sarah at her home in Watertown, and truly appreciated her suggestions and craftsmanship. She did exactly what I had hoped, then made it even better with the addition of a jeweled hair piece that really set it off. On my wedding day she arrived preciously on time, set to work on me and my 4 bridesmaids, and we all loved how we looked. She seemed to have been just "one of the girls" throughout and we all appreciated her efforts on each of our behalf. Love & Kisses from us all.
---
Reviewed on

10/25/2016
Shelley L
Its easy to see why Sarah has been chosen "Best of Hairstylists" by The Knot for the last 6 years. She does amazing work. She did my hair in a gorgeous up-do and even after the ceremony, pictures and a 5 hour reception, it looked as good as it did prior to the service. My... Read More sincerest thanks and recommendation to you Sarah.
---
Reviewed on

10/24/2016
Maureen H
Sarah is wonderful! She did hair for 10 ladies on my wedding day and all were thrilled. I loved my hair and she even came to my ceremony for a last minute touch up due to the wind. Sarah has a great personality and was such a wonderful presence on my wedding day.!
---
Reviewed on

10/23/2016
Barbara T
From the moment of your engagement to the day of your wedding, there are only about 1 million decisions to be made. One of them is very easy….who should do your hair? Sarah.
---
Reviewed on

10/23/2016
Hazel F
One of the nicest gifts I received for my wedding was given to me by my "then-to-be-mother-in-law". She had used Sarah for a number of business related "social events" where she wanted to look her very best. Sarah definitely made my hair (plus my bridesmaids) look the very... Read More best. Thanks so very much Sarah and my "now mother-in-law). Love you both.
---
Reviewed on

10/23/2016
Antoinette C
I truly hope every bride in the world feels as special as I did on my wedding day thanks to my friends, relatives, and in no small part, Sarah. OXOXOX!
---
Reviewed on

10/22/2016
Martha R
Sara is a master of her trade. Her experience shows and coupled with her bright sunny disposition, patience and talent you would be smart to hire her ASAP.
---
Reviewed on

10/22/2016
Camille T
Can't do any better of a job reviewing Red Carpet Ready by Sarah than all of the other great reviews she has received and deserved. So I will say that I totally and wholeheartedly agree with what each of the other reviews state.
---
Reviewed on

10/20/2016
Brenda B
Rather than being overly verbose I simply say Usually my hair is a fright, but with Sara it was surely a delight!
---
Reviewed on

10/20/2016
Trudy L
When I was in the process of finding a stylist of my wedding I read each and every one of those written for Red Carpet Ready on The Knot as well as many of her competitors. What struck me was that all seemed satisfied with their outcomes but only Sarah was repeatedly praised of... Read More her warmth and caring as well as her abilities. Having been in six of my friends wedding parties I realized how stressful the hours before the ceremony can be. I wanted a professional, but also hoped for as little stress as possible in what as I have said can be a tense time. Sarah provided both. She is a gem of a hairstylist and even more so of a person.
---
Reviewed on

10/19/2016
Rena G
Loved her upbeat yet calm personality while turning a group of 8 high-strung girls into beautifully coiffured young women. Recommend her from here to Hollywood!
---
Reviewed on

10/19/2016
Kay F
No question about that I will be using Red Carpet Ready by Sarah whenever I have a need or desire to look my ultimate best.
---
Reviewed on

10/19/2016
Tina B
Sara did a super deluxe job. There were six "attendants" and myself, each of us with very different lengths and "types" of hair. Sara "breezed" through each of us with all of us extremely pleased with the results. It was a wonderful experience for all.
---
Reviewed on

10/19/2016
Phelan C
Skillful, seemingly always happy, and definitely always professional. I have no hesitation in wholeheartedly recommending her most highly.
---
Reviewed on

10/18/2016
Reese B
Probably the quickest review ever posted by a bride!! Sarah did my hair as well as my wedding party just two days ago. Due to a transportation "glitch" me and hubby (he hates that phrase so I use it constantly) have an extended delay before traveling on to Cancun. Being the... Read More type A person people say I am, I figured I would put the extra time at airport to good use and review my various "vendors". Head and shoulders (pun intended) above all others was Red Carpet Ready by Sarah. She was efficient, timely, adorable and truly made me feel confident and beautiful. What more could any bride ask for?
---