Home

RED LETTER DJS DJs, Photography, & Flipbook Studios
About this Vendor
Uniquely Personalized DJ Service
Your wedding deserves to be Red Letter- noteworthy, memorable! Professional DJs with Elegance & Value- the most you'll spend is $250/hr which includes dance lighting, uplights, and name in lights! We want to make your day perfect! Take $100 off at our website. Check out our Flipbook Studios!
Details
Classical, Country, Disco, Folk, Hip-Hop, Jazz, Pop, R&B, Rock, Arabic, Indian, Latin
MC Services, Recorded Music, Sound Equipment, Music
Contact Info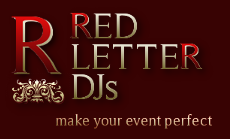 Naperville, IL
Chicagoland
AMAZING DJ
Reviewed on

10/15/2014
My husband and I are sooo happy that we chose to go with Red Letter DJ's. Our DJ, Dan V. was an absolute delight to work with. He was amazing and had a hard crowd to work with but everyone at the wedding was very pleased with his work. I thank you Jeremy for putting Dan V. to work with us. We were very pleased with his work. I highly recommend him for anybody's wedding...
---
Amazing DJ service! We loved Sam!
Reviewed on

10/26/2014
Kylee C
We met Red Letter DJ's at a wedding expo last winter. Most DJ's I had looked into seemed very expensive, and even when I picked a large package, it did not include everything we wanted. However, Red Letter had a great all-inclusive package! Email communication was quick and easy the whole time and the online planner was easy to use! We had not even met our DJ Sam, but as soon as we got to the reception we knew he had everything covered for us! He was so professional, yet still fun, energetic, and an all around nice person. At every point during the night, he seemed to be doing anything possible to make sure things were going smoothly and running the way we wanted. He was interactive and kept people dancing the entire night!! I HIGHLY recommend Red Letter DJ's, specifically Sam for all your wedding needs!
---
Happy customer
Reviewed on

10/03/2014
Elyse N
We had a wonderful experience with red letter djs as our wedding music provider. To start, their website was so easy to use and everything that we requested that was not already in their data base, they were able to add in our play list. Ben was our dj for the night and he was fantastic to work with. He was on top of our schedule, played everything perfectly on cue and was very personable. Red letter djs made our day that much more special and our guests after getting on the dance floor rarely left it. I would recommend them to anyone. Thanks again guys!!!
---
Jeremy was AWESOME!!!!
Reviewed on

8/04/2015
Barbara P
We have had several of our wedding guests compliment us on the DJ services provided by Red Letter DJ's. Even a few friends who will be getting married in the near future have asked for his information to use in their wedding. Jeremy was our DJ. He was there every step of the planning process, up through the morning of our wedding with the final details. He made sure the music that was played people were dancing, or he would change the song. He kept the vibe up the entire reception where some guests never left the dance floor. Overall great quality and good price for a wedding DJ. We will be using them again for future events.
---
Best DJ and Flipbook Studio Provider
Reviewed on

7/24/2015
Melissa M
I just cannot thank Red Letter DJ's, Jeremy Mancini, and Ben Kirkland enough for their phenomenal customer service, professionalism,and services. From the moment I contacted them and up to the weeks following our wedding they went above and beyond what I expected. For example, I was looking all over for a friend or family member that could help get my seating and processional music on a CD for the church. After many failed attempts to make it happen and it was 4 days before the wedding and,like any bride, I was panicking trying to figure out what I was going to do and as a last resort I called Jeremy (the owner) at Red Letter Dj's to get a price on what it would cost to have someone come to the church to provide the music. And before I knew it Jeremy was on it and my DJ Ben was made aware of my situation and Ben immediately called me to find out what I wanted and the next day he hand delivered to me to my house 2 CD's, at no extra charge, to my house and a sense of relief instantly came over me. Red Letter DJ's did so much for me that there are not enough words to describe all that they did. I highly recommend their services if you want complete and total customer service from the beginning until beyond the end of your event.
---
Reviewed on

6/29/2015
Jean W
I'm writing this review for my mom and my new step dad, thank you for making their wedding day (5/24) so special! I was doing most of the research for vendors for them. Which us through the night. Very friendly, organized and got the party started! So thank you guys for helping make such a memorable day for my family!!
---
THE way to go
Reviewed on

4/26/2015
I'm picky when it comes to music. Picky may be the wrong word…difficult. Yeah that's it. I'm difficult. I hate going to weddings and hearing the same 20 songs over and over over. It makes me angry, and then I want to leave. Seriously there are millions of songs and it's always the same freaking 20. So when it came time to select the dj for our wedding my bride to be let me make the selection (probably to save herself a headache I would create and who can blame her). We went to an expo and met Jeremy with Red Letter. He owns the company and you can tell by how much pride he puts into it and his work. We spoke at the expo and it was the next day when he gave me a phone call to see if we were interested in meeting. We set up a date and spent an hour with him going over music taste, what we wanted and just chatting. He's extremely nice and friendly while still being very professional. The value you will get is incredible. For the price of what most will charge you just for the music we got uplighting, ceremony set up, dance floor lighting and could have gotten more if we'd so desired. When we asked him why he offers SO MUCH at such a reasonable price his response was "Hey I've got all this stuff why wouldn't I want to use it?". Between that and the fact that he's not just a guy who's using this as a way to make extra cash we were sold. I didn't make it easy on him. Our song selections were stuff he had to pull off of the internet, we had to send a cut of our first dance to him since we personally cut it and I created a "Do Not Play" list that could have seriously hamstrung someone who was going through the motions. Even with all that Jeremy's response was always without fail "That's not a problem at all!", and it never was. The reception went without a hitch on his end, we got what we paid for and more, and were very very happy with everything. I'd highly suggest (and may myself again) use Red Letter for any and all dj needs.
---
BEST DJ EVER!!!
Reviewed on

3/09/2015
If you are looking for an amazing DJ, look no further!!! We recently had Jeremy and Stacy at Red Letter DJs DJ our wedding reception and everyone is talking about the party they threw! They are so amazing!!! Jeremy kept the dance floor packed all night, gathered the guests for all those special moments, and his energy is like no other...he never stopped smiling and checking in with me and my husband!!! You can't get any better than Red Letter DJs so just book them!!!!! Thank you for making our reception a night we will never forget!
---
One of the best decisions I made!
Reviewed on

1/27/2015
Sarah S
After having a very popular wedding date, we had several DJ's book up. We were lucky that Red Letter was coming to Champaign, IL. Jeremy was the most professional DJ we met with. From the initial meeting to all the details, I was confident that we were in excellent hands and that our guests were going to have an amazing time. Don't be silly and book with anyone else. From service to value, Red Letter is worth every penny.
---
AWESOME DJ!!
Reviewed on

1/25/2015
What can I say about Jeremy other than he is AWESOME! Jeremy DJ my wedding and aside from being a great DJ he was a terrific entertainer. We had no set agenda or idea of how events in the wedding were going to take place but Jeremy took care of it all. He was great at letting guest know what was going on and what was coming up next. Not once did I (the bride!!) feel stress or worried. The music was great and everyone loved Jeremy. The online profile Jeremy offers is brilliant. It allowed us to submit music before the big day and invite friends to submit their own request. I must also add Jeremy dressed to impress. He wore a suit and a tie matching our wedding colors :) Jeremy, Thank you for making our special day so much more special!
---
GREAT D.J.!!!!
Reviewed on

12/13/2014
Kim F
We had the pleasure of hiring Jeremy from Red Letter D.J. I say it was a pleasure because he was hands down our most favorite vendor to deal with. Not only did he offer the best pricing for everything he included; but he responded to our e-mails and phone calls promptly. He actually came to our home to review his services and worked around our availability to do so. He answered all of our questions and was not "pushy" in the least. During our wedding reception Jeremy was fantastic! He had the energy and enthusiasm to beat the band! His introductions were perfect and the mix of music could not have been better. We had guests complimenting us on his work. Our guests danced for 4 hours straight! We would recommend Red Letter DJ in a heartbeat. ...and if we need a DJ again, this is out "go to" man. Kim and Brian
---
AMAZING DJ
Reviewed on

11/27/2014
Shannon R
Jeremy was absolutely fantastic from start to finish!! He even went out of his way trying to get our slideshow to work and trying to find the cable we needed. Polite, professional, kept the flow going and super fun! He was conscientious about the type of music we didn't want played and kept it fun! I couldn't say enough good things about him and his service! He connected on a personal level and was super easy to approach. It was honestly like having a friend run the show. Book him, you won't regret it!!!
---
Ben is the best!
Reviewed on

11/18/2014
Laura Z
Red Letter DJ was great to work with. The package we got was a great deal, they were easy to communicate with and their website is so convenient and easy to use it made the whole process a breeze. Ben was our DJ for our wedding and he did an absolutely fantastic job. He was very professional yet fun and did everything he could to make the night go smoothly - and it did! The ceremony music was right on cue and the reception was amazing! He kept the dance floor full all night. The venue said they had never seen so many people dancing there before. Everyone was having such a great time dancing we actually ended up extending our reception! I HIGHLY recommend Ben!
---
Red Letter DJ
Reviewed on

10/31/2014
Amanda D
I was beyond pleased with the services that were provided by Red Letter DJ. They were professional from the very beginning, and very pleasant to work with. Everyone had a great time at our reception, and all the credit goes to our DJ Ben. The dance floor was packed the entire night! I highly recommend Red Letter DJ and the services they offer.
---
Danced the night away!
Reviewed on

10/30/2014
Megan M
Our DJ, Sam, was ready with our personalized music for all those special moments throughout our reception. We all danced the night away and our guests are still telling us what a great time they had out on the dance floor!
---
Best DJ I've Worked With!
Reviewed on

10/29/2014
Megan K
Sam from Red Letter DJs did a phenomenal job at our wedding! He was so much fun and was very engaging with our guests of all ages! He was very easy to work with and gave us ideas and advice when we needed it. The planning website they set up for us was very convenient and easy to use. The owner of Red Letter DJs, Jeremy, was in immediate contact with me when I first emailed him and was very helpful along the way as well. I will definitely be recommending Red Letter DJs, Sam especially, to any friends or family of mine needing a DJ in the future! Thanks for helping us make memories that will last a lifetime!
---
Wonderful Dj!
Reviewed on

10/26/2014
We used Red Letter Djs and it was wonderful. Jeremy was very professional, fun and most of all considerate to all my needs as a stressed out bride! He did a great job at the reception, and we had many compliments on how well he did! I would highly recommend him to anyone.
---
Non-stop fun!
Reviewed on

10/24/2014
Claire M
Red Letter DJ's and Jeremy were the best! My fiance and I were terrible and gave him very little direction on how we wanted things to go and gave him songs literally a few days before and he made everything great! We also opted to have the flip book photo booth at our reception which was literally so much fun and all the guests loved it! I would definitely recommend Jeremy and Red Letter DJ's!
---
Awesome DJ
Reviewed on

10/24/2014
Jeremy and Red Letter DJ's provided my wife and I with a great wedding reception experience. They charged us $1200 for unlimited playing time, as well as a flip book booth which was a hit with all the guests. If you're looking for an awesome DJ at a great price with a great personality and staff then he's your guy.
---
Best dj out there hands down
Reviewed on

10/24/2014
We hired red letter Dj's for our wedding it was the best thing we ever did. They are great!!! I would recommend them to anybody having a wedding.
---
Best DJ Ever!
Reviewed on

10/24/2014
We used Red Letter DJ after meeting with at least half a dozen other DJs and could not be happier! Jeremy was awesome and very accommodating! He has an interactive website which made planning super easy! He kept people on the dance floor until we were kicked out of the reception hall and did a great job emceeing! We highly, highly recommend Red Letter!
---
Best. DJs. Ever.
Reviewed on

10/23/2014
Alison B
My husband and I can't say enough great things about Red Letter DJs!!!! I wish I could give them a rating higher than 5 stars because they definitely deserve it. I met them first at a bridal expo in January and was enthused by their professionalism and outgoing personalities. They were super easy to work with through the entire process and answered/returned phone calls very quickly. They were very accommodating and easy to work with. The website is easy to understand and use. I'm not the most tech savvy person but I was able to negotiate it with perfect ease. My guests also loved that they could request music directly at the website and if you're a Facebook addict like me, they have a link you can post directly to Facebook. And even when your guests do make requests, you still have complete control over the music. I didn't meet Charles until my reception started and immediately we were impressed by his sense of humor and professionalism. All I can I say is the dance floor wasn't empty AT ALL the whole night. Everyone was moving and dancing to every song he played. He took requests, played our requests and it was SO MUCH FUN! He clearly enjoyed his job and probably jammed out harder to the music than the rest of us. Actually, he doesn't just enjoy his job, I wish I be as passionate about my job as Charles and the rest of the DJs at Red Letter DJs. We had family members who normally don't dance on the dance floor the WHOLE NIGHT! We had multiple guests say he was one of the best DJs they've ever experienced. I had people saying it was the best wedding they'd ever been too! I will NEVER regret hiring them because it was one of the best decisions I'd ever made. I hired them without consulting my husband, who can be a little picky. Not only did he say I did an amazing job, he almost bowed down to me. Red Letter DJ's made me look great but really, all the credit goes to them. Everyone loved Charles, myself included, and it was the very least I could do to write them an AMAZING review. They are worth EVERY SINGLE PENNY and probably many more! If you are getting married in Illinois, hire these guys. They know what they're doing, they will work with you and are clearly at the top of their field. I could go on for days... THEY ARE AMAZING!!!!!
---
BEN IS THE BEST!
Reviewed on

10/17/2014
Great company to work with and Ben is a great dj. Extremely affordable and great price for the services rendered. Had no problem keeping a room of 150 people entertained and happy. I would use them again in a heart beat and would recommend them to anyone. Thanks again Jeremy and Ben!!
---
October Wedding
Reviewed on

10/16/2014
Jacqueline J
Jeremy was awesome! I couldn't have asked for a better DJ! He was very flexible and did an awesome job accommodating all my needs! I had 10 different couples to announce at the reception and unlike other DJs he let each couple pick out the song they wanted to come out to! He did such a great job switching songs ten times so quickly and announcing them all! He was also very outgoing and super nice! I would recommend him to everyone!
---
Amazing and very professional!
Reviewed on

9/18/2014
DJ Jeremy (as we call him) is very talented. We met Jeremy at my brothers wedding and decided to hire him for our own. He is very organized, prepared and full of suggestions! Planning a wedding is stressful enough but I can honestly say I had no worries when it came down to the flow of the ceremony and the reception. He kept the dance floor packed until 1am. Red letter DJs are very reasonably priced. On top of being the most reasonably priced DJs in the area they don't have those annoying silver, gold and platinum deals. You pay for their time and they bring all of there brand new equipment, they don't leave anything out. After seeing Red Letter DJs at my brothers wedding and then my own wedding, my cousin decided to hire him for hers. I highly recommend Red Letter DJs.
---
Send Message