Home

Rentaland Tents and Events
About this Vendor
Tent and Event Rentals
Your Wedding! Your Way! Your Budget! Let us help you make your wedding a memorable experience while staying in your budget. From a magical outdoor Tent set-up to a transformed banquet room, we have all you need. Come and visit our Design Studio. Book your appointment today!
Details
Lighting, Dance Floor, Dinnerware, Flatware, Linens, Rentals + Equipment
Contact Info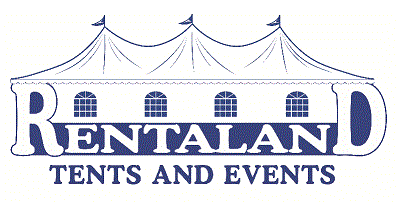 11829 S Orange Blossom Trail, Orlando, FL
Couldn't have pulled it off without them...
Reviewed on

8/24/2010
Cheryl S
My husband and I had decided to hold our Wedding on my parents property in their backyard. I found Rentaland online and as soon as I talked with them knew that they were going to be our rentals vendor. They were friendly and very helpful. The owner came out to my parents property and measured and came up with such a unique layout for our Wedding reception tents. He even came up with an open-air dance floor with twinkly lights strung above to feel like we were dancing under the stars. The prices were extremely reasonable and the staff that came out to set up were very friendly and courteous. We were able to rent everything from the tents and dance floor to linens, tables, chairs and even outdoor heaters. Without Rentaland our Wedding just wouldn't have been as spectacular as it was. All of our guests wanted to know who we had used that had set up such a beautiful Reception.
---
The best of the best
Reviewed on

11/15/2011
Marina M
When I came in on Saturday Heather took a really good care of us she took the time to help us to decide colors as we werent sure of what color to choose for our table cake and head table Rentaland is a place where you can come and feel the help and confort of the people ask for HEATHER.
---
good quality great value very proffessional
Reviewed on

4/02/2011
Graciela P
Amazing place very accomodating
---
Items looked great
Reviewed on

10/30/2013
mindy c
I have to say that the items from Rentaland were in wonderful condition. The service however was a little off. The delivered the items 4 days early which was fine but I was suppose to be told when they were going to be at my house and never got that call. They called my once they were in my back yard. Secondly when they arrived to pick my items up I was also suppose to be called and never received a call. Other than that, the set up and take down was great.
---
Cheap chairs at a not so cheap price
Reviewed on

7/16/2013
Kathleen B
We had to rent chairs for the ceremony. I thought they were over priced charging overtime for their delivery and set up costs. We rented one if their most basic chairs to save some money. I wasn't impressed but I had not choice who I could rent through based of the venues rules
---
Reviewed on

5/05/2011
Christina K
They like to do things their own way, regardless of whether it would work for you. The set up was lovely and they eventually did do what you would want, but it was a chore. They seemed a bit unorganized.
---
Service was Iffy
Reviewed on

11/30/2010
Danielle S
I got a really great deal with Rentaland and decided to get my flowers from them as well. Service there was not very professional. The sales person we were working with was also the florist. She had responded to emails using "ya" and not having anywhere near proper grammer. The rental items were great, everything was in good condition and was exactly what we wanted. I did have a huge problem with my flowers though. I used Cala Lillies for all my bouquets and picked them up the day before my wedding. Within an hour and a half of transport in the exact same packaging that they came in, 4 of the lillies in my bridal bouquet were brown and falling over. I tried to give them the benefit of the doubt and assumed they might have been bad flowers. We were able to re-organize my bouquet with the extra flowers we had and it turned out fine. When we returned the rental items, I spoke with the florist who pretty much told us that we did something to the flowers and that there was no way that any of them were bad. I was not very happy about this. We went on our honeymoon for a week and came home to where we had one of the extra bouquets in the fridge, it was in PERFECT condition. There weren't even any brown spots on it along with the remaining flowers from my bouquet. I would definitely use Rentaland again but I wouldn't use their florist or let her be our salesperson either
---
Great
Reviewed on

9/21/2010
denice c
great prices loved them, on time
---
Send Message