Home

Reverend Tanya K. Young
Details
Civil Union, Commitment Ceremony, Interfaith Ceremony, Non-Religious Ceremony, Religious Ceremony, Same Sex Ceremony
Buddhist, Catholic, Christian, Hindu, Interfaith, Jewish, Muslim
Contact Info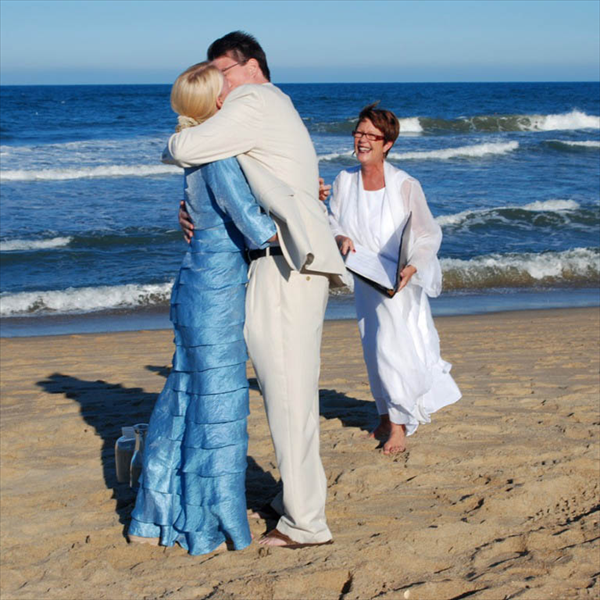 Reviewed on

7/25/2015
My auntie summed up Reverend Young's ceremony better than I ever could, "All those witnessing the beautiful ceremony where S and C made their vows to each other with love and conviction, were affected and stirred by the beauty of the words and the emotion of the occasion.... Read More Afterwards at the reception and later during the days of celebration, people often remarked on the words chosen, the vows made, and on Mark Twain's love letter. From this day forward, in the presence of witnesses, by mutual consent, Scott and Charly have vowed to have and to hold each other, as husband and wife. Of course, so many have done so before this day, and so many will do so in the future. But this moment was unique. This ceremony was unique, and all present will cherish the memory of a beautiful occasion with beautiful people involved." Thanks to Reverend Young, we had the most memorable and spectacular wedding ceremony possible. I wouldn't change a thing about it if I could. Thank you!
---
Reviewed on

6/28/2015
Reverend Young was a wonderful nondenominational officiant!! She was more than willing to help my partner and I plan our destination wedding. It is difficult at best to know if the services you find online are worth paying for, but Reverend Young helped us plan the perfect... Read More day. She helped us put together a beautiful ceremony, did everything we asked, and was kind and supportive of us and our family.
---
Reviewed on

6/19/2015
Reverend Young's daughter, Rev. Barkley-Graham, performed our marriage on May 17, 2015 in a beautiful beach ceremony that took place in Corolla, NC. Rev. Barkley-Graham did such an amazing service that no one in our audience even knew that she was performing her first-ever,... Read More same-sex marriage ceremony. Absolutely everyone remarked that she was personal, genuine, and spoke eloquently and it was though she has been performing marriages such as ours for years. From the planning, to the performance, to the completion of our marriage license; we could not have been more satisfied or honored to work with such an exquisite team. Rev. Young and Rev. Barkley-Graham are, by far, the best officiants we could have asked or hoped for. We would thoroughly recommend both of them to be a part of your wedding day if you truly want it to be a spectacular and breath-taking event that is memorable for all who witness it. The Blessing of the Shell and the Wine ceremonies were added into our traditional ceremony and Rev. Barkley-Graham flowed beautifully through all aspects of our wedding in a way that kept everyone engaged and feeling blessed.
---
Reviewed on

6/03/2015
Jessica S
My husband and I were married May 24 2015 by Rev. Barkley-Graham on the beaches of OBX. The whole process was very simple. We could not have asked for anyone better. Our ceremony was perfect with the help and experience from Rev. Tanya Young.
---
Wonderful Ceremony with Rev. Young
Reviewed on

11/21/2014
Katherine M
Reverend Young was wonderful to work with as our officiant! Being new to NC and unfamiliar with the Outer Banks (and the whole it's an incredibly meaningful life event thing), it was really important to us that we find someone we felt comfortable with. Reverend Young was very... Read More easy to get in touch with and communicate with for the entire process - definitely important when you're planning a destination wedding like we were. Granted we had a small wedding, but consistent communication is still appreciated. I always felt totally comfortable and reassured by Reverend Young - my husband and I aren't religious but we were certainly hoping to have a ceremony reading that 'just felt right' to us, one that perfectly expressed how we felt about our love and commitment. She offered a wide variety of readings to help get us started and assured us we could make adjustments. She was entirely respectful and supportive of our beliefs and relationship, and worked with us to make sure the ceremony reflected both. Our wedding was fairly small (8 guests, all family) and straightforward but I'm really glad Rev. Young wanted to ensure everyone knew where to be and helped get them situated. Her reading was wonderful - she spoke very calmly and thoughtfully, helping us really focus on each other. Nothing kills the mood of a ceremony like an insincere or rushed officiant - Reverend Young is definitely neither of those things! She's very knowledgeable about the area and really seems to know and love her community - so if you're unfamiliar with the area like we were, she's a great person to ask about other vendors, places to see, visit, etc. I would highly recommend Rev. Young to any couples thinking about getting married at the Outer Banks!
---
Beautiful Ceremony
Reviewed on

8/28/2014
I found Rev. Young online. We live in Richmond, VA and were not familiar with OBX wedding services. I had emailed a few other officiants before finding her and nobody returned my emails. Rev. Young returned my email right away. I liked her website because she does... Read More non-traditional weddings. My (now) husband and I are not very religious and don't belong to any church, but we wanted something nice and meaningful. I was very impressed with Rev. Young's professionalism. She immediately returned my emails and answered all my questions right away. She sent me LOTS of ceremonies (readings, etc) to choose from and we could have written our own stuff if we had wanted to. We found some great readings that really felt like they applied to our lives/relationship. We were able to meet with Rev. Young about 2 weeks before the wedding. She is extremely warm and personable and put us both at ease about how everything would be handled. We were getting married at Bodie Island lighthouse and 2 weeks prior to the wedding we still had not received the permit from the Park Service, she was able to alleviate any of our concerns about that by making suggestions how we could handle that if the permit did not come in time. She was very reassuring and obviously experienced in handling all kinds of these situations. She also recommended a great photographer and helped us find beautiful flowers. She seems to know most everyone in the wedding industry there so was a great resourse for our other needs too. The ceremony itself was beautiful!!! Even though we only met her once and she barely knew us, it seemed like she knew us for years as an old friend. Many of our family and friends came up to her after the ceremony to say what a beautiful ceremony it was and how she made everything so warm and wonderful. Everyone was truly impressed with her. I was 10 minutes late for my wedding because the matron of honor and I got stuck in traffic. So I arrived in a panic, but Rev. Young had already lined up the families and gotten the wedding party organized and showed the flower girls, etc. what to do. She took charge of all the details and kept all the guests (and nervous groom) calm and happy. When I got there she put me at ease and made sure everything went smoothly. I was also very happy that Rev. Young did everything we talked about for the ceremony, like honoring our fathers memories (both our fathers were deceased) and other little touches we had discussed. She did everything exactly how we asked and made it very personal even though we had chosen pre-written readings from her collection. She made it seem it was all written just for us. After the wedding, she filed all the paperwork immediately and arranged for us to get certified copies of our license in the mail. By the time we got home from the honeymoon, the copies had already arrived at our home. We would highly recommend Rev. Young!! It's too bad we live out of state and don't have other occassions for her services, but would not hesitate to recommend her to friends or family members in need of an officiant at OBX, we are so grateful we found her!!!
---