Home

Rhylan Lang
About this Vendor
A Beautifully Edited Collection of Designer Gowns
Known for our designer collections and one-on-one attention, you will love shopping with our experienced team of bridal consultants! Brides love our private bridal suites, perfectly edited designer collections and honest, friendly staff. We strive to make the experience as perfect as the dress!
Details
Wedding Dresses, Dresses, Alterations, Bridal Stylists, Private Appointments Available, Fashion Services, Fashion
Contact Info
Reviewed on

2/06/2017
Char S
Rhylan Lang is amazing. I couldn't have imagined a better place to say yes to the dress to at. I visited a few weeks prior to my family coming to town to pick THE dress and Tracey was so friendly and helpful, since it was my first time trying on dresses. They are all so nice... Read More and make the process even better. We were given champagne when I said "yes"! I would definitely recommend Rhylan Lang to anyone, just make an appointment. :)
---
Reviewed on

1/31/2017
Kate S
I went in thinking that all dresses were going to be over my budget, but I heard so many great things about Rhylan lang that I had to check it out for myself! They were very nice about showing me dresses within my budget and went out of their way to find me the perfect dress. I... Read More am beyond excited to be getting my dress from there. I recommend them to everyone. I also went with something else that I never imagined myself in because of a helpful suggestion from the owner! If you want an overall great experience, I suggest this place and this place only!
---
Reviewed on

1/23/2017
I sincerely appreciate everyone I've met at Rhylan Lang! They have all been instrumental in making my experience amazing. Brittney especially has been wonderful to work with - friendly, patient, considerate, and thoughtful. She is everything I would have hoped for in a... Read More consultant to help find the perfect dress for me. And the selection of dressed they have is fantastic! I would highly recommend everything about Rhylan Lang!
---
Reviewed on

7/19/2017
Wade W
Rhylan Lang helped me find my dream dress, the experience was everything I could of asked for! The stunning gown was truly one of a kind! Their customer service was top notch with every appointment.
---
Reviewed on

7/18/2017
Olivia L
The ladies at Rhylan Lang are phenomenal! The first time I went to try on wedding dresses, they made me feel extremely special and allowed my mom and mother-in-law to help pick out dresses. I felt like they just knew me without even meeting them before! They helped me pick the... Read More dress I wore for my wedding this July and I was obsessed with it! They were so friendly and every time I came back for a fitting or to pick it up, I always felt so special being there! Their customer service is amazing and they are able to work with a variety of budgets! I would highly recommend them!
---
Reviewed on

6/29/2017
Natalie M
I had an amazing experience at Rhylan Lang, no other bridal shop I went to (which was three others) even compared to how amazing the staff were. Having your own private room was amazing and I felt very special there. My consultant, Deena, was absolutely the best! She made me... Read More feel very comfortable and after seeing some of the dresses I was picking and what I liked and didn't like about them, she picked a dress from the back that she felt fit what I was leaning toward. The dress was absolutely stunning and was perfect! Her attentiveness, patience, and personality made me feel very comfortable. I can't wait until I get to go back and put my dress on again during my first fitting!
---
Reviewed on

6/01/2017
Rita F
The best experience in the Omaha/Council Bluffs area, trust me I went to every single bridal shop! This was hands down the best experience and the best selection. Everyone on staff makes you feel like the only bride there, they met my budget needs and tight timeline without... Read More sacrificing quality and desire to help me find and create the wedding look I wanted. No other way to put it other than, go here first, visit another place and it'll help you validate going to Rhylan Lang! Pleasant and enjoyable experience that made me feel "bridal".
---
Reviewed on

4/20/2017
Valerie F
Rhylan Lang has a beautiful storefront, amazing dresses, and helpful staff. What more could you ask for? I found my top three dresses here after a couple of appointments elsewhere and it was a tough choice. Tracy and the two of her consultants that I worked with were... Read More awesome--they stayed in my price range, helped my friends pull the right dresses, and brought out champagne when I said yes. I highly recommend shopping with them, you won't be disappointed!
---
Reviewed on

4/14/2017
Elizabeth E
Getting my dress here seemed meant to be. We ended up at the store after a last minute cancellation and I am so glad. My experience with the staff was amazing and the dresses were exactly what I had been picturing. They were welcoming of my group of 6 and helped me find my... Read More perfect dress. Can't wait to wear it on my special day!!
---
Reviewed on

4/05/2017
Tia N
Rhylan Lang is one of the classiest bridal shops I've been to, and I have been to many in search of my bridal gown. I am beyond happy I chose to stop in this place. It is the perfect size, and not overwhelming with gowns. Speaking of gowns, they were all different and unique.... Read More They also have sizes that are fitable for more curvy women(it's very hard and frustrating to find that). I was never once pressured into saying YES to the DRESS. The women there were just amazing. The focus was on me and they tended to my needs. I loved that they were personable and wanted to help any way they could. The atmosphere here is welcoming and the focus was on me when I walked in. I definitely recommend everyone come here to get your bridal gown. The experience is totally worth it. You won't find another place like Rhylan Lang! I am so excited I chose this place to get my Gown.
---
Reviewed on

3/02/2017
Kelsey A
When I first walked into Rhylan Lang, I wasn't sure they were going to fit my style. The consultant right away eased my mind and pulled dresses from the back that were more what I was wanting! I ended up finding my dress, and I couldn't be happier with the experience I had!
---
Reviewed on

1/19/2017
Lauren A
I do not have one bad thing to say! Absolutely best experience ever! I couldn't have asked for better service, they made it fun, enjoyable and stress free! I would recommend Rhylan Lang to anyone! They made my dress shopping dream a reality! Other stores just wanted you to buy... Read More their dress, Rhylan Lang wanted you to absolutely love your dress and cared for what you actually wanted rather than just trying too hard to sell a dress to you. Everyone was so nice, helpful, and cheerful! I found my dress here but it was also the best store I went to! They care about you there, unlike some other stores! 10/10!!
---
Reviewed on

1/19/2017
Madison H
I found the dress of my dreams at Rhylan Lang. Mary was so helpful in styling and making the afternoon special. I would definitely recommend!
---
Reviewed on

1/08/2017
Angie H
I had a great experience here. Even with a shorter appointment (only 1 hr), I was able to try on a bunch of unique dresses and the consultant paid close attention to what I was looking for, how I described my wedding, and even the subtleties of my reaction to each dress. I found... Read More an incredibly unique dress and loved the champagne to celebrate. I'd highly recommend their service and selection to anyone.
---
Reviewed on

1/05/2017
Hannah H
The greatest. Not only is the selection amazing and unique, but it intimate and personable making the experience not overwhelming but simply enjoyable! I had my 4 year old daughter in tow at both appointments. They let her play and even fed her snacks so I could find the perfect... Read More dress. Can't speak highly enough about this store!
---
Reviewed on

1/05/2017
Ashley P
The staff here is so laid back and patient! They truly make it a stress free and no pressure experience! They are very professional yet down to earth. You can tell they love what they do! I would definitely recommend to anyone.
---
Reviewed on

11/30/2016
Lexi G
I had the best experience here, and found the perfect dress! The experience is so unique and their collection is outstanding. I thought the staff was very personable and made sure the make the appointment all about you. I would recommend to anyone!
---
Reviewed on

11/10/2016
melissa B
Beautiful boutique! Very professional and organized staff. Great selection of dresses. Thank you so much for helping me find THE dress!
---
Reviewed on

11/07/2016
Kylie S
I had the best experience at Rhylan Lang! After my sister got her dress there, I knew that's where I wanted to go. The amazing staff was so fun to work with and truly made it a memorable day!
---
Reviewed on

10/27/2016
Chaeli F
I had such a wonderful experience buying my wedding dress at Rhylan Lang! The staff, especially Brittney, was so attentive and kind. They helped me find the most beautiful dress, and even helped me customize it to make it my absolute dream gown. They also have an incredible... Read More tailor on site who is not only very skilled, but also very reasonable in price. I highly recommend Rhylan Lang for any bridal needs!
---
Reviewed on

10/14/2016
Jacqueline R
I had the BEST time working with the Rhylan Lang staff! I truly wouldn't change a thing about the experience. Their dresses are absolutely stunning and every one of their staff were helpful and made the process fun and easy. I wish I didn't live so far away so that I could do my... Read More alterations with them, they were so great to work with!
---
Reviewed on

10/07/2016
Maggie M
Tracy is the stylist that dreams are made of... Hands down, the best dress shopping experience ever. Tracy and her team were very receptive to my ideas but also gave some amazing suggestions to try on. She was so patient and completely professional when we working together.... Read More We tried on about 25 dresses and when we settled on two, Tracy was so helpful in selecting which one was best for me. She even let us stay longer than our one hour appointment so that we could try on the final two dresses a couple more times. In the end Tracy truly helped me narrow it down by offering a suggestion that I would have never guessed, which is the perfect dress for me. Sometimes we have to step outside of the box and truly let the professionals work. The store is gorgeous with amazing designers and I love the variety and feel of all the dresses. The place is spacious and it gives each bride and her team a semi private area to enjoy the experience. All of the dresses are well priced and they have a good range for all different budgets. Tracy and the entire team have been so great even after we bought the dress. They've been really communicative about the status of my dress and have even helped to provide suggestions on accessories that can be purchased at the store.
---
Reviewed on

9/21/2016
Jessica N
Rhylan Lang was the first place I looked for my dress and it was also the last! I found the perfect dress for me! Everyone was so helpful and made my experience very memorable! I recommend that any bride goes to Rhylan Lang to find their dream wedding dress!
---
Reviewed on

9/21/2016
Ally B
Loved my dress, loved the staff, and loved the experience. Everything I needed all in one place! My mom, friends, and I all had a blast. It only took one visit to choose a dress with them.
---
Reviewed on

9/20/2016
Allison C
Where do I start with Rhylan Lang! They were the kindest and most amazing group of women! I felt so comfortable with them and I got my dream dress. They were enthusiastic and you can tell they love what they do! Thank you for making me look beautiful for my wedding!
---
Meet The Owner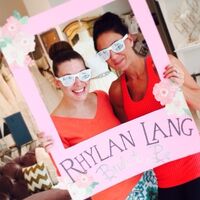 Tracy Ponec
Hi Ladies! I am so flattered you want to know more about me. I opened Rhylan Lang in 2012 after a decade of helping brides as both a seamstress and consultant. I moved home from KC, and was surprised to find the Omaha bridal market didn't have the same selection of designer gowns or personal experience I would have expected. I wanted to bring all that I loved about bridal to my hometown! Queue gorgeous designer gowns, knowledgeable consultants and private bridal suites! I can't imagine doing anything besides this. I am grateful everyday that Midwest brides have supported my business.