Home

Rochelle Myers Catering
About this Vendor
Local, sustainable, and handcrafted from scratch
Your wedding deserves attention from a professional caterer who is going to be involved every step of the way. From the initial contact to the day of the event itself, Rochelle will personally supervise all of the details. Not a faceless corporation but the individual attention you deserve.
Details
American, Eastern European, French, Italian, Middle Eastern, Fusion, Seafood, Specialty
Dairy Free, Gluten Free, Nut Free, Organic, Sugar Free, Vegan, Vegetarian
Buffet, Catering Clean Up, Catering Delivery + Setup, Chef Stations, Family Style, Menu Tastings, Passed Appetizers, Seated Meal, Servers, Food + Catering, Service Staff
Contact Info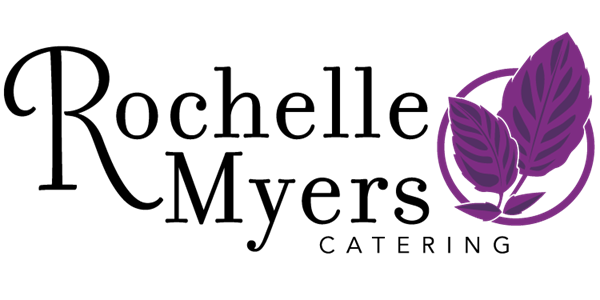 Small Garden Wedding in VA.
Reviewed on

9/17/2015
Orissa S
Rochelle was the first vendor that we spoke to for catering our wedding. We had one phone consultation where we explained our very basic ideas. Rochelle quickly came up with menu ideas based on where we are from. We attended a tasting session and we were completely impressed... Read More with all the food we tasted. We had a hard time narrowing down selections. Her experience was evident and definitely inspired confidence! It is important to mention that Rochelle is much more than a caterer/ chef. She provided guidance and recommendations on additional vendors and glass, utensil, and china selections. She also provided rentals for tables, chairs, and tents. She built in servers, a bartender and dishwasher for the duration of the wedding. Rochelle also did a site visit where she explained where everything would go, and she helped with planning the schedule for the duration of the event. Rochelle was always available on email and phone to answer any questions that we had and was prompt with her arrival to the venue. On the day of our wedding: her set up matched our vision perfectly! Our guests raved about the food, servers, bartender and overall presentation. We will definitely use her for our future catering needs.
---
Rochelle is good
Reviewed on

7/19/2015
Mary M
Rochelle did a great job with the food at my wedding. The food was fabulous and she even added a salad for free! She was a little pushy towards the end and not as friendly as she was in the beginning, but overall, did a great job.She was also really expensive, but all catering... Read More companies are. Overall, definitely recommend Rochelle Myers catering. All of my guests had nothing but good things to say about the food and appetizers!
---
Amazing, Customizable, Delicious
Reviewed on

6/16/2015
Elizabeth W
I found Rochelle when looking through the Knot's list of caterers and I didn't know what to expect. I had talked with/visited a number of caterers already and wasn't impressed by anything. Then I had a phone call with Rochelle and I was blown away. She didn't just hand me a... Read More list of items to choose from, but asked me about my family, my husband's family, things about our relationship and the kind of wedding we were having. At the end of the conversation, I immediately called my husband in a fit of joy because it was just a wonderful first impression. Needless to say, when she sent us the first quote we were blown away. She had incorporated things that we had talked about, from the waffles (my mother is Belgian) to the crabcakes (our love of Maryland) to the ham and biscuits (my husband's Southern family). Then came the tasting. She and another of her staff drove to my house (over an hour drive for her!) and had us try all the things she had put on our menu. It was all delicious. I really liked working with Rochelle because she kept telling me she is a chef first and foremost. She had no problem with me finding tablecloths or tables or things like that myself to save a little money. She was thorough, attentive to all the details, and incredibly patient with my constant changes and menu suggestions. One thing that stood out on our wedding day (other than everybody raving over the crab cake sliders) was one of her serving staff kept coming up to me and asking if there was anything else I needed. Even when I wasn't thinking about or looking for food, she would pop up at my elbow and make sure that I was okay. She was so sweet and helpful. 100% would recommend to anyone.
---
Reviewed on

10/12/2016
Kate S
Just had my daughter's wedding served by Rochelle and her skilled team. Dinner was truly exceptional, hors d'oeurves gorgeously displayed and tasty, her service crew skilled and on point, and Rochelle's attention to all the details complete. She saved our special day after a... Read More difficult disappointment with our original caterer. Thank you so much, Rochelle!
---
Reviewed on

10/12/2016
Kate S
Just had my daughter's wedding served by Rochelle and her skilled team. Dinner was truly exceptional, hors d'oeurves gorgeously displayed and tasty, her service crew skilled and on point, and Rochelle's attention to all the details complete. She saved our special day after a... Read More difficult disappointment with our original caterer. Thank you so much, Rochelle!
---
Reviewed on

10/03/2016
Jocelyn V
Words cannot express how grateful I am For Rochelle and her team. I liked Rochelle immediately as she was the most responsive caterer.. I Called 10 caterers and she was on top of it and I could not appreciate that more. I changed my event three times as my father passed away... Read More when planning for my wedding. Not only was she kind and thoughtful she was understanding in a time where I needed support from anyone. Her team showed up And we're flexible and kind during the wedding. Everyone loved them. The food was excellent and the service was incredible.. I cannot express how great the Wedding was and I credit a lot of that to her and her team!
---
Reviewed on

8/30/2016
Rochelle Myer's Catering helped us with our 30th wedding anniversary. They were excellent! They were easy to work with, and had great suggestions. She was very reassuring. The staff was friendly. I highly recommend using them. It was a great experience.
---
Reviewed on

6/27/2016
Rochelle Myers did the catering for our rehearsal dinner at the airbnb home we were renting since we were coming from Texas. From the moment we spoke on the phone I knew that I wanted her to cater for us. She is personable, flexible, and very very professional. The meal was... Read More FABULOUS and we are still receiving compliments on the food: pulled pork , barbecue chicken, asparagus, orzo salad, bread, and salad....and to top it off the pies were fabulous. We've never had a better pecan pie, and we specialize in those. The food was abundant and arrived on time. Thank you!
---
Reviewed on

5/31/2016
Rochelle Myers Catering did an absolutely incredible job with our wedding! Several of our guests afterwards told us that it was the best wedding food they'd ever had! Rochelle was very flexible and willing to work with us to get local, ethically raised meat for our reception,... Read More which was very important for us - she even personally knew the farmer who provided us with the meat! We also had an absolutely fantastic pesto pasta dish with sun-dried tomatoes and pine nuts for our vegetarian guests, and it was so good that all the meat eaters wanted it, too! Rochelle was incredibly professional: even when our venue told us last minute that they weren't providing a full set-up crew, she was able to organize a full set-up crew for us and just took everything in her stride. Her staff were courteous and professional at every moment. Everything went smoothly and beautifully during the whole reception and we just got so many compliments from our guests! I would highly recommend Rochelle Myers Catering to anyone planning a wedding!
---
Reviewed on

5/08/2016
Megan K
We used Rochelle for our rehearsal dinner. Most of our guests were coming from out of town so we wanted to have an open rehearsal dinner for all of our guests to enjoy. The goal was to have a laid-back-casual-yet-yummy experience for all of our guests. Rochelle totally got... Read More the vibe we were going for and absolutely delivered! All of our guests loved it (make sure you get the candied bacon as my guests were still talking about it the next day). The tasting was also one of my favorite experiences. She gave us so many options to try that we were totally confident in our choices and had no FOMO about what we were missing. Thanks!
---
Reviewed on

4/20/2016
Lisa P
Rochelle catered our wedding last weekend and we could not have asked for more. The food was outstanding and the service was impeccable! She made everything easy for us and handled every detail. Without a doubt we will hire her for any event we will use a caterer for.
---
The BEST!!!!!!!
Reviewed on

2/02/2015
The first two times we used this caterer was for birthday parties. The third time we had them cater a party for us was our wedding. Same-sex marriage had just become legal in VA and they were the first people we thought about (after each other of course!). Rochelle and the... Read More others were very excited for us and even donated the cake as a present! They are absolutely wonderful and I highly recommend them. The food is excellent and I heard many guests compliment them. Rochelle will make changes for you in the menu and they clean up afterwards, which is a blessing in itself. They are very professional and fun. A nice mix.
---
Great Food, Great Service
Reviewed on

10/29/2014
Nicole R
I would highly recommend Rochelle Myers Catering. As a bride who planned my wedding without much help from anyone else, it was a tough balancing act as it got close. Rochelle was one of the easiest vendors to work with especially considering that the food is one of the most... Read More important parts of a wedding. She was always the one to communicate with me from my first inquiry, to the tasting, site visit, and the wedding day itself. She was always quick to reply to my emails. The tasting was a lot of fun, and the food at the tasting and reception was really great. Everyone loved it. Rochelle also helped me a lot with my planning by bringing some potential snags up in my plans for the reception that she recognized through all of her experience. I was very pleased with the way the buffet tables and bar were set up. They brought their own decor that tied in perfectly with the vibe we were going for. I would highly recommend!
---
AWESOME!!
Reviewed on

5/19/2014
Caitlin B
I am thrilled that I decided to go with Rochelle. She is SO organized and responsive and was simply wonderful to work with throughout the whole wedding planning process. She is also incredibly accommodating and flexible. Rochelle clearly communicated where costs came from, and... Read More told us concrete deadlines for all of our decisions.Rochelle was not actually present at my wedding, but her staff did an absolutely amazing job setting up and making sure the event went smoothly. All staff members were friendly, positive and well organized. Oh, and the food was also delicious!!! Best crab dip I've ever had :-)
---
Sustainability at its best!
Reviewed on

12/20/2013
Stacey G
We contacted Rochelle to cater our wedding, local, sustable, and female owned are very important to us. Within a week of contacting her she came to our home to provide a tasting for us. We were in love. Throughout the 11 months of planning Rochelle was very hands on and... Read More available to us with any questions/concerns about dietary needs of our guests. She was always professional and wanted us happy. When we had a few hiccups she was quick to make it right, to find out what we needed and how to ensure we were the happiest brides. Our wedding day was magic, Rochelle and her team made sure our head table was served and never in need of anything. I am more than happy to say our caterer was exceptional. I would recommend her anyone looking for a customer oriented, local and or sustainable business. Worth very penny.
---
Wouldn't change a thing!
Reviewed on

6/28/2013
Jen S
Rochelle Myers catered our wedding on June 8th, and I couldn't be happier with the results!! The food was absolutely amazing and Rochelle did a great job of incorporating some of our favorite foods into the menu in a unique and delicious way. She was very organized and I was... Read More really impressed with her attention to detail along the way – any bride would appreciate the small reminders and little suggestions that come from someone with her experience. In many ways, I think Rochelle went above and beyond what I expected from a caterer. When looking around for a caterer, I was afraid that I would end up paying an arm and a leg for your "typical" wedding food - beef, fish, or chicken...predictable and definitely not memorable. I knew from the second that Rochelle sent me a sample menu that her food was anything but typical. She even came to our house for a tasting! How convenient! Aside from the food, her staff is extremely friendly and professional – the kind of people that you are happy to have around on your wedding day. Rochelle is simply a pleasure to work with and I wouldn't change a thing about my experience!
---
Wonderful Caterer
Reviewed on

10/31/2011
Daniya T
We could not be happier with Rochelle's catering (www.myersfood.com). The food was VERY delicious--we received (and are still receiving) many compliments on it from our guests (unprompted and not just to make conversation--people came up to us to specifically rave about the... Read More food, or wrote about it to us), and nearly everything was gone by the end of the night. Rochelle was a pleasure to work with: she was very flexible and accommodating. We wanted our vegetarian, vegan, and gluten-free friends to enjoy the food--and she came up with great options for them so they did not feel like an afterthought and had a great feast. We wanted the ingredients to be local and sustainable--and they were. Everything was fresh, comforting, delicious, and at the same time elegant--exactly how we wanted it. Rochelle's website reads, "Individual attention. Local and sustainable ingredients. Fresh and handcrafted from scratch."--and that's exactly what you get. Highly, highly recommended! When I meet my friends (now over a month later), they STILL mention the food--it was one of THE highlights of a very enjoyable evening, for us and our guests. (PS We did a lot of research, and interviewed several posh catering companies--Rochelle was a winner in every respect: great food, great serviced, and a wonderful person underneath it all).
---
Meet The Owner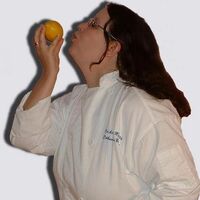 Rochelle
Rochelle is the owner and Executive Chef. Though she has a large staff, Rochelle supervises all of the preparations for each event, personally oversees all of the food, and makes sure that every meal gets her attention. She is also involved in some way in every contract and tasting, because that's the only way she can guarantee that she can provide exactly what you're looking for. Then she and her skilled event staff will carefully prepare and present the food according to your specifications.