Home

Rolling Meadows Ranch
Book Your Wedding with Rolling Meadows Ranch
---
A BARN IN LEBANON, OH
About Us
Rolling Meadows Ranch, situated in Lebanon, Ohio, offers a rustic and serene setting for weddings and receptions. The spacious property has everything that couples need for their big day, from separate well-appointed dressing rooms with everything the bride, groom and close friends need to prepare, to a versatile open floor plan to accommodate parties of all sizes. Couples who seek a picturesque setting for an outdoor ceremony have 40 acres of property to consider for ceremony and photography locations. However, most couples end up choosing to be married by the pond. Aside from providing a scenic backdrop, the pond is conveniently situated near the main venue and it has electricity.
What started out as a family dream in 2014 has become a reality. The property is renowned for its rolling green meadows, two ponds and spectacular rustic log cabin. The main facility features 7,700 square feet of space and it comes with a prep kitchen, wrap-around porch and two grand entrances. The building stands 36 feet tall and has an upscale yet charming interior. Available spaces on the property include:
Assembly Hall.
The Assembly Hall is 6,300 square feet and can comfortably seat up to 325 guests. The focal point is the 32-foot fireplace. The space includes room for everything from a DJ to a dance floor and tables. The hall is situated inside the main building.
Instead of a designated outdoor setting such as a patio or garden, couples can choose from anywhere among the property's 40 available acres. There are many first-look photograph opportunities to consider, including either pond or the venue's lush rolling hills.
What You Should Know
A gray interior tongue and groove finish are just a few of this venue's highlights. Four architects worked together to create a venue that stands out as much for its romantic elegance as it does for its charming, rustic appearance. The timber frame building welcomes intimate gatherings and larger ones with its warm and inviting atmosphere. Couples have full control over amenities such as chairs, tables, rolling bar and furnishings.
Extra Perks
Extra amenities at the Rolling Meadows Ranch include:
A lounge-style dressing room for men with a couch, TV and prep area
A women's dressing room with large mirrors, outlets and lots of countertop space
Window overlooking the pond in the women's dressing room
Large Bluetooth-compatible flat-screen TV over the fireplace
Fully functional propane fireplace
Finished hardwood floor throughout the facility for dancing
Rolling bar
Rustic furnishings such as whiskey barrels
From the Vendor
A Venue of Rustic Elegance...
We are proud to be Lebanon, Ohio's newest event venue. Pairing romantic elegance with rustic class, we bring you the ultimate wedding experience. With a seating capacity of 325, we are confident that you will enjoy the spacious, upscale barn we have to offer. Nestled on 40 gorgeous acres, your dream wedding awaits… Visit us at www.RollingMeadowsRanch.com to book your upcoming wedding!
Amenities + Details
Amenities
Bridal Suite

Handicap Accessible

On-Site Accommodations

Indoor

Outdoor - Not Covered

Reception Area

Wireless Internet
For more details about amenities, please message the Venue.
Farm + Ranch, Barn, Country Club
Planning, Rentals + Equipment, Service Staff, Transportation
Contact Info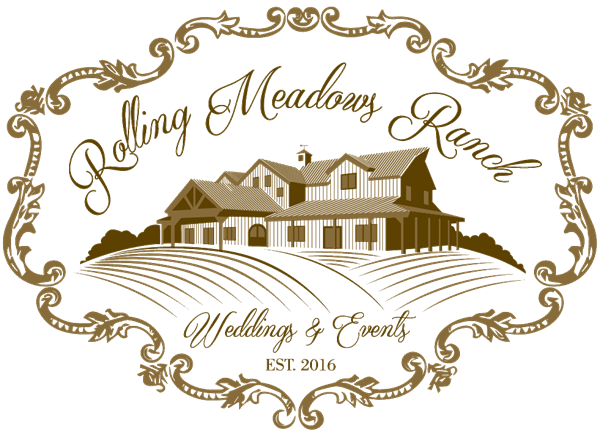 Reviewed on

4/26/2017
We recently had our wedding at rolling meadows ranch. WE HAD THE BEST TIME OF OUR LIVES. It is for sure a beautiful place and staff is extremely attentive. Everytime we needed something they were close and at the same time they gave us our space to enjoy our event. The staff was... Read More also very attentive with all of our vendors. I recommend this venue for any event but especially for weddings is beautiful and calm and guest will love that. They are also very clear in the contract about what it is provided and times. Since day one they were very easy to work with and provided all information needed. Thank you for having a beautiful place like rolling meadows ranch.
---
Reviewed on

2/07/2017
Kendra D
This beautiful venue was the perfect setting for our winter wedding! We wanted to have our ceremony outdoors initially; the temperature was 13 degrees, however, so we had to have the ceremony inside. Switching the plan at the last minute was no problem at all! Everything went... Read More smoothly, from our preliminary meeting with Jen all the way to getting our full deposit ($500) back within two weeks of the wedding! Their prices for renting the facility are a little steep, but it's definitely worth it if it's the look you're going for! We got a discount for having our wedding in the winter (January).
---
Reviewed on

7/26/2016
My wife and I were in attendance at a wedding, here, on July 2nd. We were amazed at the helpfulness of the staff lady, who spoke with us while she gave us a ride on the Golf Cart. She was so friendly to my wife and I..... As for the wedding and reception, it was stunning. The... Read More outdoor spot where the bride and groom wedded was absolutely breath taking. It was well groomed, yet very natural looking. The inside reception was very nice, as well. The restrooms were clean and the fixtures were very nice. The layout of the facility is well thought out, (as my mother has trouble getting around and uses a cane). Everything was nice and flat and easy for her to maneuver around. Also, the usage of the Golf Cart helped for the elderly, as well.... Overall, we really enjoyed the wedding we attended and are now looking into it for our daughter's wedding, in 2018. I highly recommend this location.
---
Reviewed on

10/17/2017
Alyson D
We just had our wedding at Rolling Meadows Ranch on Sept. 30th. I can't tell you how many amazing compliments we have received from our family and friends on how amazing this venue is. We had such a great time and all the staff that we worked with were amazing. Thank you for... Read More making my dreams come true.
---
Reviewed on

10/12/2017
Briana M
The venue was set up exactly how we had planned on our layout. The day of staff was amazing and having the golf cart run for pictures was very helpful. This venue is absolutely STUNNING!
---
Reviewed on

10/10/2017
Kimberly N
From start to finish, Rolling Meadows Ranch was wonderful! The day of my daughter's wedding was just amazing and it was everything she had dreamed it would be. The facility is beautiful and the grounds are just as pretty! The attendant was so helpful the day of the wedding and... Read More was there if we needed anything. We would highly recommend choosing this venue!
---
Reviewed on

10/09/2017
Briana R
Positives: *The venue is large and spacious. * The staff is kind and caring. Negatives: * The pricing is on the higher side. * You have to pay separate for outdoor chairs
---
Reviewed on

9/20/2017
Haley K
Was a guest here at a wedding last weekend and it was great! I was there in the morning to help set-up and the staff was there to help too, which was so nice! The ceremony was outside and absolutely beautiful! I will be recommending this venue to all of my engaged friends for... Read More sure!
---
Reviewed on

9/09/2017
Gracie H
My daughter recently got married at Rolling Meadows and I must say this is a wonderful venue. Kelly helped us the day of the wedding and she was wonderful. She was very helpful. The facility has changing rooms and ample kitchen room. We were able to do makeup and hair at the... Read More facility. My only complaint was on the rehearsal day. I did not find those employees to be very helpful. I misunderstood and thought they would tell us what to do for the outside ceremony. We were left on our own which I thought should be included Due to rental cost as it was when my son was married at a church. My daughter was very pleased with the location of her dream wedding. I would highly recommend
---
Reviewed on

8/23/2017
Lindsay M
Such a beautiful venue and property for pictures!! I really liked all of the details that they put into the venue. It really sells itself! We loved our visit here and the staff was helpful and nice! I would love to have my special day here with my future hubby!!!
---
Reviewed on

8/22/2017
Julia N
I attended my cousins wedding at Rolling Meadows on August 6th and I was so impressed. I arrived early to help set up and was blown away at the beautiful property. We had an employee (Kelly) greet us as soon as we arrived. The bride/groom have their own separate dressing rooms... Read More decorated beyond adorable! The facility was very clean when we arrived. We had chances of rain all day which was stressful considering the ceremony was to be outside but staff helped us to set up a plan B in the likelihood of rain. Luckily it held off for the ceremony and everything went off without a hitch. The ceremony site outside is beautiful right by the pond. After the ceremony the reception was everything we had hoped for. The facility is large and holds quite a bit of people. It's very accommodating you can tell they put a lot of time and effort into making it perfect. Staff also helped with the tv for a slideshow and lighting during the different parts of the reception. I doubt I'll ever get married but if I do I would be looking into this facility before any other in this area. Wonderful experience morning noon and night really can't say enough how pleased everyone was that day especially the bride and groom!
---
Reviewed on

8/22/2017
Ashley B
Beautiful venue! My wedding there was absolutely perfect! Very friendly and professional staff as well!
---
Reviewed on

7/30/2017
Elayna S
First of all, the venue is naturally BEAUTIFUL. The staff was incredibly helpful when we switched a few tables the morning of the reception. They are all hard-working and willing to lend a hand for every task.
---
Reviewed on

7/15/2017
Nina T
Absolutely stunning!!! A dream come true! Beautiful venue and wonderful staff!
---
Reviewed on

7/12/2017
Claire C
Rolling Meadows Ranch was the perfect venue for our wedding, we couldn't have been happier!!
---
Reviewed on

6/27/2017
Rachel K
This is a beautiful reception venue that can accommodate a large crowd. The pros: awesome bridal and groomsman rooms to get ready in! Brand new bathrooms and kitchen. Air conditioning and a covered wrap around porch. Plenty of room for tables, dance floor, bar, etc. The Cons:... Read More YOU HAVE TO DO EVERYTHING YOURSELF! Keep this in mind!! Literally everything...if you rent their ceremony chairs/arbor, you must set up and break down. Cafe lighting will be extra $ as well. The grounds have very patchy grass, dead tress and the pond is brown and a bit smelly. ( yes I could smell it as I walked down the isle) There were dead fish also that we found on rehearsal, which must be Thursday. Also, be ready for some left over flowers and things from the wedding before yours! All in all I had a great wedding and would do it again there. I just wish the grounds looked better, because you can TOTALLY tell how patchy it all is in my pictures!
---
Reviewed on

6/22/2017
Casey T
I wish I could give 10 stars! My sister got married, here, and we had the best day. Every little detail was taken care of. I am also engaged and am considering getting married at this venue, also! The whole wedding and reception went so smooth, the people working were so nice... Read More and took very good care of us and tended to the trash, exc. It was a beautiful and exciting day. Thank you!!!!!!!!!!!!!!!!!!!!!!!!!!!!
---
Reviewed on

5/22/2017
Carmen J
I was a maid of honor, at a wedding, here, over the weekend, and I am also recently engaged, so I took notice of every detail of this venue. I really love the look of the property and barn.. it was huge and felt comfortable for the amount of guests that were there. Also, I liked... Read More getting ready in the women's dressing room, where we did our hair and had mimosas. The bride and groom seemed very very happy with the place and their wedding. I am also very satisfied with the entire event and staff. Now, I just have to pray they have my date available for next year(;
---
Reviewed on

5/10/2017
Aimee R
Had so much fun, here, at my wedding, in April! Ladies in the office were excellent to work with, the person onsite, during the event, was also excellent to work with. The place was everything I expected it to be and our wedding went so well. All of my guests have been talking... Read More about the venue and how beautiful our wedding was and have raved about the place. I am really happy with how everything turned out and would recommend it to anyone and everyone.
---
Reviewed on

5/04/2017
The staff at Rolling Meadows Ranch were excellent and easy to work with. The ranch was beautiful and everything worked according to our plans. The stone fireplace was a picturesque feature in the ceremony photos. My daughter and new son in law had a memorable wedding day... Read More thanks in part to Rolling Meadows Ranch. I would recommend this venue to anyone.
---
Reviewed on

4/23/2017
Sarah M
Funny after one bad review a bunch of positives pop up the following days? I was a bridesmaid here recently and also getting married and next year but will not be looking into this facility. Gorgeous but no one to help come the day of your wedding!
---
Reviewed on

4/22/2017
Jenny R
Beautiful venue! Well done from top to bottom. This is a true "dream wedding" location. The staff has been more than helpful with planning our day!!
---
Reviewed on

4/22/2017
Anastasia J
Amazing Facility!
---
Reviewed on

4/22/2017
Jenna M
Thought I would drop a review, as I was a guest, here, at a wedding, last night. What a BLAST we had!!! It was so fun, the staff were so nice & helpful, and we had the best time. The place is gorgeous! Highly recommend!
---
Reviewed on

4/21/2017
Kaitlin L
I'll start off with saying the venue is beautiful and I received tons of compliments but I turned right around and told guests that I wouldn't recommend it to anyone. I booked it sight unseen when I was living across the country and it was being built. I was told I'd be one of... Read More the first invited to see it once it was built. I waited months and checked their facebook since they never gave any updates. To my surprise, there was an event posted inviting the public to view the venue. Ok, not a huge deal but a little disappointed I didn't know that it was completed and would have to go there with 100s of people and not get to ask 1-on-1 questions. So I just emailed my questions which were promptly answered, but got disappointing answers. I remember getting an email saying they would soon be offering the chance to rent items - including chairs and lights! Those aren't included?! What did I pay $5000 for? (And that was the pre-booking discount rate.) Once I got the pricing sheet I was appalled to see that I would be charged for bistro lighting. $250.. Yes, they take down the bistro lights if you don't pay. It would be easier to offer them to every bride there and just keep them up, but no, too greedy. OH but guess what? Since I booked first I get the bar included... excuse me? The bar wouldn't have been included? I asked about an outdoor ceremony and it was $350 to use 350 of their outdoor chairs when we only needed 100. You also were responsible for breakdown. So I opted for indoor to save money since I decided to "splurge" on the lights. I let them know how to set up for the indoor ceremony and was told I would have to hire my own crew to move the chairs after the ceremony, that they had one person on staff not responsible for that. I have to ask my friends and family to move tables and chairs? I ended up asking my catering staff to do it and had to pay a fee... Come Thursday's rehearsal (we could only do this day since they may have other events on Friday or Sunday) I asked if there was any events over the weekend and they said no. Actually, some other company they hired to open the doors told me this. When I asked if I was able to leave a few items we had in our cars to make it easier for us on Saturday since we lived far and had multiple trips to make I was told no. If I wanted to come back the following day and pay like $400 to have them open the doors from 10a-4pm then sure I could. Forget it. I thought vendors were supposed to make this an easy, happy, time in your life? This was the only vendor that made it stressful. The vendor that was paid the most. Saturday is probably what set me off most - wedding day. I had to call the office in order to get any staff and leave voicemails to talk to someone. I had to have my catering company help me figure out how to get decor on the mantel. I had to have my DJ call the ONE person working to ask how to turn off the fireplace which she did not come do, just told him over the phone. I had to fumble with the switches to figure out how to turn things on and off. Our first dance? The lights were on since no staff was present. Halfway through my mom figured it out. It got hot and no staff so I had to go around and open every window. At the end of the night there was no one around. We cleaned up, hoped everything was to their liking to get our deposit back and pray no strangers would come in and destroy the place since no one was there to close up. I did get my deposit back quickly.. there's that.
---