Home

RSVP Greensburg
About this Vendor
Need Invitations? Look no further than rsvp!!
RSVP Greensburg offers a wide variety of custom invitations. Some brands include Carlson Craft, Checkerboard, Crane, Birchcraft, Lilly Pulitzer, McPhersons, and William Arthur! Stop in and see our selection! You can also view some samples online or find us on Facebook!
Details
Contact Info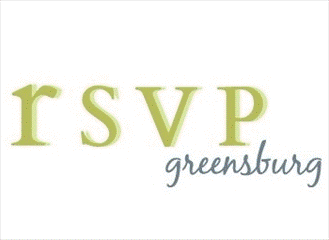 5024 route 30, greensburg, PA
Highly Recommended
Reviewed on

7/22/2013
Courtney M
Rachel and Liz who own RSVP are two of the nicest, most genuine people I have I ever met. Planning a wedding can be stressful, and simple minute details such as wedding invitations can become stressful. As we were planning, we contemplated just creating the invitations ourselves to save on some money. However, after a trip to RSVP, we quickly decided that with many other details that we needed to prepare for, that having professionals create our invitations was the way to go. I had two other girlfriends get married around the same time as me, and they both decided to create their own invitations. Not only did this become a very time consuming, major headache for them, but both of them turned out incorrectly and needed to be redone. In addition, the savings to DIY this project is not significant enough for the headache that comes along with making these. Our initial wedding was to be in September 2012, however my husband got sick a few weeks before our wedding and we were forced to postpone. Upon hearing this, Rachel and Liz called us and said as soon as we were back on our feet to let them know and they would be happy to incur the cost of the new invitations that needed to be sent. With all of the stress of Scott's illness, and replanning for another wedding date, this was a huge burden lifted off of us. Rachel and Liz are truly an example of a small business that works to ensure every customer has a pleasant experience. Their kind gesture has made us customer's for life. My mom and I have continued to shop in their store (you should check it out- they have so many unique one of a kind items!). As Scott was recovering, they were constantly asking how he was doing, and if there was anything they could do to help. If you are looking for an affordable, unique, and fun place to create custom wedding invitations, I HIGHLY recommend RSVP. Save the headache and let the professionals take care of this for you! You won't regret it. Happy wedding planning!!
---
Reviewed on

5/20/2015
Nicole N
We went to RSVP Greensburg after we talked with Rachel at the Greensburg bridal show. She was awesome to work with and spent so much time with us and showed us book after book of invitations and provided us with very helpful suggestions, and our invitations for the bridal shower and wedding are so beautiful! She and Liz are experts in their field and really work very hard to ensure you are absolutely satisfied with your order. Rachel and Liz are so patient and helpful and go the extra mile for all of your needs. The shop has many other items that you can choose from for your wedding needs! We highly recommend their services, you will not be disappointed.
---
Reviewed on

5/15/2015
We were originally going to order our invitations online, but after visiting/working with RSVP, I'm so glad we chose to look locally too. Rachel and Liz provide a customized experience at a very reasonable cost! Our invitations were just what I wanted, and Rachel worked with me until the wording, font size, every little detail was just right for my fiance and I. The shop itself also offers great, unique gifts that aren't easy to find. I tell everyone I know about our experience with them, and I would recommend them to everyone! I'll be going back for our ceremony programs, and any invitation needs in the future.
---
Perfect invitations
Reviewed on

4/28/2015
Mallory Z
I used RSVP greensburg recently and found exactly what I was looking for when it came to my wedding invitations! Rachel and all her staff were so helpful in helping me find what I wanted :) I HIGHLY suggest them to anyone in the market for invitations! :)
---
RSVP is the best!
Reviewed on

4/19/2015
Annette W
My fiance and I were unsure of where we would get our wedding invitations, but after spending an afternoon with the lovely ladies of RSVP, we knew we had to look no further. They were so patient with us; we went there with really no idea what we wanted. The first time there, we spent about 3 hours looking at invitation after invitation. They were so incredibly helpful and offered us numerous suggestions. Rachel was willing to make any changes that we wanted. I ended up changing my mind completely after the first time there, and they had me come in again and we started over. They had one thing in mind, and that was to help us so that our final product was exactly what we wanted, and in our budget. When we reached our final decision, we placed the order and Rachel and Liz were in constant communication with me when dealing with proofing. Our invitations turned out absolutely perfect, and we truly couldn't have asked for a better experience. I highly recommend RSVP, you will not be disappointed! Thanks again Rachel and Liz!!
---
Beautiful Invitations and Programs!
Reviewed on

4/19/2015
Eileen M
RSVP is a wonderful vendor. They were easy to work with and so helpful! Very knowledgeable of the business and helped every step of the way. The end products were beautiful! I ordered my wedding invitations and programs from them and could not have been happier. Thank you RSVP!!
---
THE BEST VENDOR IN MY ENTIRE WEDDING
Reviewed on

4/18/2015
Alexis F
Rachel and Liz were both amazing!! I worked mostly with Rachel and she was so quick with responses and kept me on track! Usually I would have to contact the vendor to set up meetings, ask questions, etc. but with Rachel, she was the one to keep me on track and I greatly appreciated it! With the stress of planning a wedding, this was easily the part I did not stress about. Rachel handled absolutely everything in a timely manner and made sure everything was PERFECT! The Save-The-Dates and the invitations were more beautiful than I could have ever imagined! Not only were they perfect, but Rachel took the extra time to stuff all of my invitations to save me time!! It was a great surprise to walk into the shop to find out she did all of the extra work for me!! I would recommend this pair to absolutely anyone!! I will DEFINITELY work with these two in the future!
---
great invites, great price
Reviewed on

4/13/2015
Julie
Our invitations came out perfectly. The staff was so patient and helpful with every question I had and little detail I wanted changed. The price was incredibly reasonable and it even included personalized thank you notes. They do a great job. :)
---
Outstanding Service and Quality!
Reviewed on

4/11/2015
Ashlee N
We absolutely LOVED our Save-the-Dates, Shower Invitations, and Wedding Invitations from RSVP! They have a HUGE selection of invitations to look at, and they went out of their way to make things just perfect for us! We LOVE working with Rachel and Liz, and would recommend them to anyone! :)
---
Wedding Invitations
Reviewed on

3/04/2015
Julie A
THESE WERE THE BEST INVITATIONS! I struggled for weeks trying to find the perfect invitations, but I was disappointed with everything I was finding online until I went to RSVP Greensburg. My fiancé and I recently ordered our invitations and could not be happier! The invitations came out gorgeous, and Rachel's customer service is top notch. She allowed me to proof the invitations many many times before ordering, and make minor changes as I saw fit. The price is great, and I absolutely love them! The selection was vast and their products had very high quality. My sister even went to RSVP Greensburg for the bridal shower invites and had great service as well! I definitely recommend this company if you are looking for quality wedding invitations on a budget! I will be going back to order my ceremony programs and place cards for the reception!
---
ABSOLUTELY THE BEST!!
Reviewed on

3/04/2015
Jaira T
I cannot say enough wonderful things about RSVP Greensburg. Rachel was AMAZING to work with. She is very down to earth which made the process of finding save the dates and invitations enjoyable as opposed to stressful. Rachel and her team made the magnet save the date I had envisioned come to life .. it was beyond perfect. The invitation process was just as stress free. I picked out the invite I thought I liked and she sent me the proofs. After some thought I decided I did not want to go with them. Without hesitation she helped set up a date and time for me to come in again to look through the many books of invitation samples. She had every style and option you could ever imagine. Needless to say my invitations came out perfectly and were reasonably priced. Also, in her shop they have really cute items to purchase. I've bought numerous items at her store between napkins for Christmas to picture frames for some future wedding pictures. I would definately recommend RSVP Greensburg to anyone and everyone.
---
Wonderful Quality & Personalized Service
Reviewed on

3/03/2015
Ali B
I went to RSVP Greensburg for my save-the-dates, invitations, and thank you notes. My sister and I have both gone to them for everything involving our weddings because they are incredibly attune to our needs and simply share their own experiences and expertise to guide our decisions. Rachel is very helpful and patient; she sets aside time and space for individual consults with the bride and follows up to finalize every detail- nothing will go unchecked. They have a great inventory, also, so you will have no problem finding what you want! It's the perfect blend of the individual attention and coziness of a small boutique with the selection of a large store. Definitely check it out!
---
Absolutely Love RSVP!
Reviewed on

1/22/2015
Jaclyn H
Rachel and her staff went above and beyond to help me find the perfect invitations for our wedding. They were patient and helpful through the entire process. I couldn't wait to send out our gorgeous invites. I received many compliments and wouldn't change a thing! Thanks RSVP!
---
Great Choice
Reviewed on

12/07/2014
Vanessa K
I used RSVP Greensburg for my Save the Dates and will be using them for my invitations in a few months-- and I'm so glad I did! Originally, I was like many other brides and was going to go online and design my own, thinking it would be easier or a better deal. However, one of my super in-the-know bridesmaids suggested RSVP Greensburg and had worked with Rachel, so I decided to give it a go. Rachel couldn't have been more helpful or easier to talk to-- my mom and I both had a great experience! Rachel is not only knowledgable, but was so easy to talk to about all aspects of our wedding. She was also incredibly patient, because I'm the least decisive person I know! I highly recommend RSVP-- it's such a great experience to work with someone in person, rather than ordering online. I plan on using them for my invites and seating arrangement too.
---
Perfect, professional, personal!
Reviewed on

11/17/2014
Ronna
Working with Rachel at RSVP Greensburg was so easy and fun! She knew exactly what I wanted and provided all that and more. We purchased an invitation suite (save the dates, thank yous, etc.) as well as brunch and rehearsal dinner invitations, and menus. Everything was so gorgeous, we are still getting compliments. RSVP took care of everything for us, including providing helpful tips for wording, addressing, calligraphy services, even stuffing/stamping/mailing. Definitely a great vendor if you're looking for an easy experience. Trust me, invitations are tough!! RSVP Greensburg helps you through everything and takes the stress out of buying and mailing invitations.
---
the best of the best
Reviewed on

11/17/2014
The owers, Rachel and Liz, handled my invitations with upclass perfection from start to finish. Half way through finishing my order,I was diagnosed with several diseases and just had to remain in bed. rachel just picked up the order and in no time,...Everything was perfect!! Invitations, napkins, cookies and Cookie bags!I was thrilled with the elegant reservation room thanks to Rachel and Liz and I would gladly reccommend them to anyone! Kathi Zaidan
---
Invitations
Reviewed on

11/15/2014
Lindsey P
Had invitations,programs, place setting thank yous and thank you post cards all done here!! Would not have went anywhere else! They made this the easiest thing of all of the wedding planning!!! Soo nice and efficient!
---
I Love Rachel and Liz
Reviewed on

11/14/2014
Heather R
RSVP is the best!! They are so helpful and they have an amazing selection. Rachel will work with you to make sure you get exactly what you want and help you stay within your budget. They also helped me with some complicated addressing situations! They are the only place to go for invitations, save the dates, thank you notes, etc. in the Pittsburgh area.
---
Beautiful Invitations, Amazing Customer Service
Reviewed on

11/12/2014
Kayla P
Rachel and her staff at RSVP Greensburg did such an amazing job helping me determine what type of invitation style I wanted. She knew exactly what to show me to help me eliminate things I didn't like and figure out exactly what I did like. The amount of invitation samples she had to show me seemed like it might be overwhelming, but actually didn't take that long and it was great to have so many different options. She also was very helpful in explaining the traditional wording on invitations vs. something more modern. She helped me figure out the best date the response cards were due back to me since my wedding is around the holiday season and a very busy time. After deciding on an invitation, the ordering and shipping process was so quick! I had my invitations way before they needed to be sent out! I highly recommend RSVP Greensburg for your invitation needs! They went above and beyond my expectations! Not to mention they have a super cute store filled with fun gifts and home items!
---
Beautiful invitations
Reviewed on

10/15/2014
Amanda
We loved our wedding invitations. Rachel was absolutely great to work with. She was fun and was more than willing to sit there and look through many, many books of invitations. She could understand what we wanted and offered suggestions when needed. I also loved the fact that if something was not necessary, she didn't force you or try to convince you to do it, just to make sale. She wanted to make sure you had a pleasant experience and that you left happy. Once we picked our invitations, we had unlimited edits and definitely used that to our advantage. We changed a few things on the invitation and the lay out and went back and forth about 5 times. Rachel was very quick to respond and made the adjustments we wanted. Our invitations were beautiful. Better than I ever had imagined. Some of our guests said it was the most beautiful, unique and elegant invitation they had ever seen and I owe that to RSVP Greensburg!
---
Great products, great customer service!
Reviewed on

9/11/2014
Melanie H
We received an unbelievable amount of compliments on our wedding invitations! Rachel and Liz were very easy to work with. There were tons of options to choose from, but I had an idea of what I wanted at our first meeting. I told Liz I wanted a pocket invitation, and she showed us a huge binder of different styles and designs. Liz helped us pick a beautiful design and customized our order for our budget. Before we had all of the information ready to order the invitations, I had second thoughts about the design. I emailed the shop, and Rachel met with me at a coffee shop closer to my home with a huge binder so I could pick out a different design. I was so grateful for their kindness and understanding during the stressful months of planning a wedding. I couldn't have been happier with the finished product! I would highly recommend this shop! Don't order something online, go to a shop and see the products in person! It will be worth it!
---
THE VERY BEST!!!!!!
Reviewed on

9/05/2014
Tarrah D
I wish I could give more stars to RSVP! Rachel and Liz were the VERY BEST to work with. They helped me to choose a beautiful design, quickly did my proofs, and the invites arrived before I knew it. AND they were completely assembled. All I had to do was address them! Working with RSVP was so nice and easy. Rachel responded to my emails quickly and made any changes necessary. I had a hard time choosing the design I wanted...but I had a vision. Rachel and Liz made that vision come true! Looking at invite samples on the internet (not to mention the DIY idea) was overwhelming to me. I met with Rachel, told her about our wedding and she helped me picked the perfect invite. It really was that simple. Their store is GREAT! They have some adorable bride things - including the little Emergency day kits that fit inside a clutch - LOVE THEM, I bought them for my bridesmaids! They have great Kate Spade items, and just about anything else you could need. I HIGHLY recommend stopping in, and definitely using RSVP for all your invitation needs!!! THANK YOU RSVP for helping to make my upcoming wedding easy...not always something you can say during wedding planning. I'll be back!
---
RSVP Greensburg is fantastic!
Reviewed on

9/04/2014
Nicole F
RSVP Greensburg is an adorable store with a wide variety of invitations and save the dates. But even better than the selection is the customer service provided by Liz and Rachel, from my first visit to the store, to the numerous emails and (custom) proofs, to the final presentation of our save the dates, they went above and beyond to make sure I was completely happy with my save the dates. I can't wait to order my wedding invitations from RSVP Greensburg and highly recommend using them to anyone planning a wedding or big party in the Greensburg or Pittsburgh area!
---
RSVP is THE BEST even if you live 2,000 miles away!!
Reviewed on

9/04/2014
Ashley H
Rachel & Liz were so helpful and I had the perfect invitations! I grew up in Greensburg so I knew of RSVP, I called and asked if we could order these via email. It was great they emailed me and I approved everything from 2,0000 miles away. They offered to send me samples of the shimmer invitations, but I left it up to them and I was not disappointed. They added the perfect amount of elegance to my invitations. It's so nice to trust a company when you are busy planning a wedding. I could not recommend a better business for anyone, anywhere!!
---
Angelina Norris
Reviewed on

8/20/2014
Angelina G
RSVP Greensburg was a wonderful shop to go to for invitations. Rachel was so sweet and so easy to work with. She went over proofs with us over and over again to make sure It was perfect. Everyone commented on how lovely and professional our invites were. Overall, great experience.
---
Send Message