Home

RSVP Monograms & More Greensburg
About this Vendor
Need Invitations? Look no further than rsvp!!
RSVP Monograms & More Greensburg offers a wide variety of custom invitations. Some brands include Carlson Craft, Checkerboard, Crane, Birchcraft, Lilly Pulitzer, McPhersons, and William Arthur! Stop in and see our selection! You can also view some samples online or find us on Facebook!
Details
Signs, Custom Invitations, Coasters, Escort + Place Cards, Guest Books, Menus, Programs, Seating Charts, Table Numbers, Thank You Cards, Paper Goods, Embossing, Engraving, Letterpress, Printing, Save-The-Dates, Shower + Party Invitations, Wedding Invitations, Invitations + Paper Goods
Contact Info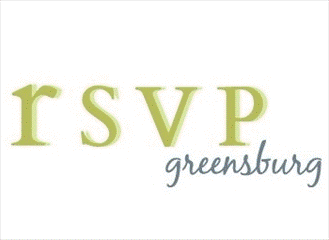 Highly Recommended
Reviewed on

7/22/2013
Courtney M
Rachel and Liz who own RSVP are two of the nicest, most genuine people I have I ever met. Planning a wedding can be stressful, and simple minute details such as wedding invitations can become stressful. As we were planning, we contemplated just creating the invitations ourselves... Read More to save on some money. However, after a trip to RSVP, we quickly decided that with many other details that we needed to prepare for, that having professionals create our invitations was the way to go. I had two other girlfriends get married around the same time as me, and they both decided to create their own invitations. Not only did this become a very time consuming, major headache for them, but both of them turned out incorrectly and needed to be redone. In addition, the savings to DIY this project is not significant enough for the headache that comes along with making these. Our initial wedding was to be in September 2012, however my husband got sick a few weeks before our wedding and we were forced to postpone. Upon hearing this, Rachel and Liz called us and said as soon as we were back on our feet to let them know and they would be happy to incur the cost of the new invitations that needed to be sent. With all of the stress of Scott's illness, and replanning for another wedding date, this was a huge burden lifted off of us. Rachel and Liz are truly an example of a small business that works to ensure every customer has a pleasant experience. Their kind gesture has made us customer's for life. My mom and I have continued to shop in their store (you should check it out- they have so many unique one of a kind items!). As Scott was recovering, they were constantly asking how he was doing, and if there was anything they could do to help. If you are looking for an affordable, unique, and fun place to create custom wedding invitations, I HIGHLY recommend RSVP. Save the headache and let the professionals take care of this for you! You won't regret it. Happy wedding planning!!
---
Reviewed on

8/31/2017
Chelsea B
I'm so happy I went to RSVP for my wedding invites! It was a great experience from beginning to end and I couldn't be happier with the finished product.
---
Reviewed on

8/02/2017
Renee K
Words cannot describe the amazing service I received at RSVP while choosing our invitations! From the moment I met everyone, I knew I came to the right place. Everyone is so honest and gives such amazing feedback, which is perfect for someone like me who had no idea what she was... Read More looking for. Everyone works so closely with you to ensure that you get the best product. They are extremely fast with getting everything to you as well. I was overjoyed with the final product and have gotten nothing but amazing compliments on how beautiful our invitations look. A huge Thank you to everyone at RSVP! I would do business with them any day. They are all amazing!
---
Reviewed on

5/07/2017
Cady H
Look no further for your invitation needs! I was really hoping I could support a local business for my invitations and I was so pleased with all of the help RSVP provided for us. All of the ladies at RSVP were an absolute pleasure to work with throughout the entire process.... Read More Initially, we went to RSVP for wedding invitations and we ended up using them for wedding invitations, rehearsal dinner invitations, shower invitations, escort cards AND a small registry! The selection of paper products they have is incredible, not to mention their lovely home decor items! You absolutely will not regret working with this wonderful group of women. Thank you, RSVP team!!!
---
Reviewed on

4/29/2017
Danielle S
RSVP was great! They patiently helped us find invitations we loved within our budget and we were thrilled with how they looked when we got them.
---
Reviewed on

4/07/2017
Abra M
RSVP was a great experience from beginning to end! They make sure your invitations are the best they can be, and help you with everything regarding the process. I highly recommend them! Stop in and see their shop too! That have all kinds of unique and beautiful gifts!!
---
Reviewed on

11/12/2016
Danielle S
RSVP was a great place to get my wedding invitations because I had no clue what I wanted. The girls sat with me and went through pages and pages of invitations until we found my style. They made everything so easy and the final product beautiful and classic!
---
Reviewed on

10/26/2016
Kimberly T
I highly recommend RSVP! We used RSVP in Greensburg, PA for our wedding invitations, place cards, programs, thank you cards and our welcome bag info sheets (all of our wedding stationary) and we could not be more pleased with the results. After doing a ton of research and... Read More getting quotes with other vendors, we decided RSVP offered the best combination of value, range and customization, and--most importantly--quality. RSVP also was highly recommended by our family and friends. We were not disappointed. Many family and friends of ours, whom are also checking out wedding stationery vendors -have remarked on the high quality of our wedding stationary (programs, welcome bag info sheets, and invitations). They are also amazed to hear the price which is inexpensive to most vendors, especially in the Washington, DC area where we live. The RSVP team is great to work with, they meet deadlines, take the time to work with you to customize your ideas to paper, and are committed to achieve the results you want. And, they are super nice :) Living in the Washington, DC area, they made our requests and transactions seamless. We give RSVP our highest recommendation and will be using them in the future for other stationary requests.
---
Reviewed on

10/17/2016
Kristen S
I do not think I can thank everyone at RSVP enough for everything they have done for me as I was planning our wedding. They are extremely friendly and were so attentive to my needs/wants. I purchased our invitations, programs, and place cards from them and I will be having... Read More them print our thank you's as well. They definitely kept me on track as to the timelines I had to meet and when I got behind as the wedding approached, they went above and beyond and had our programs overnighted! I truly appreciate all of their hard work! Every opinion or suggestion they made ended up adding that special attention to detail, and they always made my husband and I feel welcome when we stopped by! Thanks again team RSVP!!
---
Reviewed on

10/10/2016
Jacki M
If I could give them 100 starts i would! They were the absolutely the BEST vendor to work with. RSVP made our invites, our programs and some of our gifts for our bridal party. Rachel, Liz and all the ladies were AMAZING. Our invitations were Beautiful, could not have been any... Read More happier. I will never go anywhere else for invitations ever again!
---
Reviewed on

7/20/2016
Kristen L
I recently had my invitations made at RSVP after originally wanting to make them myself with an online website. I went in with a design I wanted to use and Rachel and Liz were able to replicate it and make it personal. They stuck within my budget and had creative ideas on ways... Read More to save a few dollars here and there. They were so knowledgeable and were able to give me exactly what I was looking for. Not only that but I don't live near by (about an hour away) and they met me half way to deliver my invites so I wouldn't have to drive all the way out there again. Talk about customer service! Any brides to be need to do look into this place, you won't be disappointed ;)
---
Reviewed on

6/15/2016
Casey P
Rachel and Liz were absolutely amazing! I went in not knowing anything I wanted for my invitations. They made me feel comfortable and made the invitations perfect. My family and friends are still telling me how amazing they are. Highly recommend them!
---
Reviewed on

5/02/2016
Jill G
I would for sure HIGHLY recommend RSVP Greensburg! Rachel and Liz are so helpful and super responsive!! In my wedding planning experience so far, I have not met many vendors that are both thorough and responsive, but these ladies hit it out of the park!! The whole process was... Read More extremely easy and crazy fast. The options were endless, but the prices were extremely reasonable. I also love that while they give you tons of options and add ons there is zero pressure to spend more. I could not have done it with one of those online services myself in the same time frame or price for that matter.
---
Reviewed on

4/28/2016
Amy G
Just received and sent our invitations for our June wedding and I couldn't be happier! They turned out beautifully and we have been received many compliments on them. RSVP was awesome to work with, they not only helped us achieve the look we wanted but also gave us great... Read More guidance on how to get what we wanted while staying on budget. Everyone at the store was super helpful in answering any questions I had and Rachel even offered to help us out with alternative venue suggestions when we thought there was an issue with ours. They definitely go the extra mile with customer service. Highly recommend!
---
Reviewed on

4/28/2016
BEST BANG FOR YOUR BUCK$$$ In all seriousness this is the best place to go for your invitations. I not only used them for my save the dates, invitations and thank you cards, but my maid of honor used them for my shower invitations. I have designed and created invitations for two... Read More of my friends weddings and found RSVP to be cheaper(and better quality) than doing everything myself! They also have a wonderful atmosphere and a quick turn around after you choose your design. Best in the business for sure!
---
Reviewed on

4/27/2016
Jena B
Rachel and Liz were super nice and helpful in helping me find the perfect wedding invitations! The proof and invitations came very quickly and were absolutely beautiful! I would def recommend going to RSVP for invitations! I had a great experience and got many compliments from... Read More my guests about the invitations!
---
Reviewed on

4/25/2016
Kelly D
Rachel & Liz are way better than the best!! They are so, so sweet! They also have great ideas and absolutely listen to what you want. We wanted a custom phrase on the back of our invitation and they came up with the perfect design for it! The invitations are perfect, so... Read More professional, perfect colors, and personalized just for our wedding! Not only are they so kind, but they are timely & welcoming! You don't feel pressured to buy anything from the store, but I so rarely walk out with empty hands! RSVP is the way to go!!! Thanks girls!!!
---
Reviewed on

4/25/2016
Jamie R
Rsvp was very helpful even though they were very busy. The girls are very friendly and eager to help. They got my profs back in record time and answer emails immediately. I love my wedding invitations! They came back perfectly. I would highly recommend them!
---
Reviewed on

4/21/2016
Jeannette G
Highly highly recommend. Rachel and her team were wonderful. Prompt, helpful, and attention to details! Rachel took time to discuss ideas with me and help with formatting our invites! I'm going to have them do my programs too! =)
---
Reviewed on

2/22/2016
Taylor R
Rachel and Liz were angels! They were so patient, so kind, and so helpful throughout our entire process! I would recommend RSVP Greensburg to any bride. They were fantastic in every way! They'll make you paper dreams come true!
---
Reviewed on

2/19/2016
Kat W
Absolutely the best experience! From start to finish it was seamless and worry-free. They went above and beyond to make sure I was happy- what more could a bride ask for?!
---
Reviewed on

1/20/2016
Leslie S
RSVP Greensburg is fantastic! I endlessly wanted to see different fonts, sizing, and spacing on my wedding invitations! Rachel was very responsive and sent me sample after sample of each change I wanted to see. She made great recommendations worked with me until it was EXACTLY... Read More what I had imagined. I had originally picked out a very expensive, out of my price range invitation. Liz and Rachel helped me find a similar design that was affordable. I highly recommend RSVP!
---
Reviewed on

1/19/2016
Leigh Ann E
Rachel and Liz are amazing to work with! I found a save the date I liked, sent them the info and they had it created within a day! I also changed my mind no less than 20 times, and each time they were very patient with me. I really didn't have to worry about anything. We will be... Read More working with them on the invites too! Class act!
---
Reviewed on

11/13/2015
Sarah S
Hands down the nicest people I have EVER met! We thought about making our own invites, however after one meeting with Rachel we knew we would buy there. She had a huge book of invitations for us to look through, and made sure everything was perfect for us. She emailed us several... Read More times to make sure the invitations were correct before she ordered them. I really appreciated it since we changed things multiple times. I will 100% use them in the future, and will recommend anyone to them.
---
Reviewed on

11/09/2015
Elizabeth L
RSVP Greensburg is the best around! They are so helpful and will go above and beyond to make your vision a reality. Rachel and Liz are amazing!!
---