Home

Sabrina Ann - Once Worn and Never Worn Bridal
About this Vendor
Once Worn and Never Worn Bridal
Selling and consigning couture wedding gowns from $300 to $3,000 along with an elegant selection of flower girl and mother-of-the-bride dresses, first communion and prom dresses, vintage jewelry, slips and many other accessories for special occasions. We also offer day of coordination services.
Details
Flower Girl Dresses, Mother of the Bride Dresses, Shower + Party Dresses, Wedding Dresses, Dresses, Alterations, Fashion
Contact Info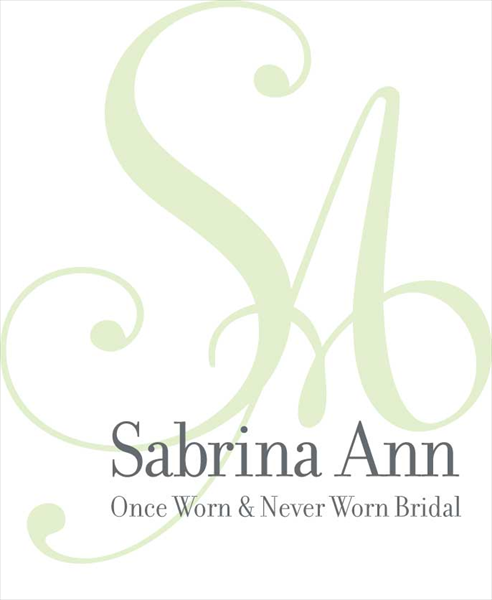 24 Ardmore Avenue, Ardmore, PA
What a great experience!
Reviewed on

10/26/2010
Jen R
When I googled "bridal consignment Philadelphia," I was thrilled to find Sabrina Ann. This finally looked like a down-to-earth wedding shop that was exactly what I was looking for. They have a large number of gowns, many of which have never been worn! The staff were wonderful, very accommodating and understanding - the woman who helped me was kind enough to tell a member of my party that one of the dresses she pulled was more than my stated budget (very thoughtful!). I never once felt pressured or rushed. I would HIGHLY recommend this to any bride who is looking for a pleasant, non-stressful wedding gown shopping experience.
---
BEST BRIDAL SHOP EVER!
Reviewed on

11/15/2012
Liz P
I must preface this by saying that I was planning on making my own wedding dress prior to visiting Sabrina Ann. I knew a woman who worked there and I asked her if I could come in and try on some dresses to get a feel for the styles, color and details that I liked. I tried on about 8 dresses, but I fell in love with the first dress I tried on. It had many of the elements that I had envisioned my dress having and even had a few elements (like a gorgeous train) that I hadn't planned on but loved. The dress had been a sample in a bridal salon, but fit me perfectly. It was about 50% off it's original retail price, so my mom and I decided to buy it on the spot. I even found a great fascinator hat that completed the look and brought out my personality. I loved my wedding day look and can't thank Mary Ann & the Sabrina Ann team enough!
---
Review for Sabrina Ann Once Worn & Never Worn Bridal
Reviewed on

5/10/2010
Consuella M
I loved that it had a small boutique feel, there were a lot of very unique designs. Since I had to travel a bit for work, the owner allowed me to call her from the road and place my deposit over the phone, so I didn't loose my dress.
---
Found my perfect wedding dress!
Reviewed on

5/31/2015
Chris L
I only to went one other big name store to look for dresses and one of my close friends recommended Sabrina Ann to me. I went with my sister and met my friend at the store. The dress that I bought was the second dress I had tried on. I just loved so many details about it. . .the ivory color, the satin material, the "bling", the ruching, etc. I felt like a bride and the dress gave me that "hour glass" shape. Although I had tried on about 5 more dresses and each of those dresses were beautiful as well, I kept coming back to the one I bought. My sister and friend absolutely loved the dress on me. My seamstress did the alterations and made a french bustle for me. On my wedding day, I felt so beautiful in that dress and was so thankful that I found my perfect wedding dress! My attendant at Sabrina Ann (I believe her name is either Rebecca or Rachel) was really sweet and so patient with me and she really took the time to help me get in and out of the dresses. I appreciated that a lot! Thank you, Sabrina Ann, for making my wedding day a really beautiful and special one!
---
Great place to get a wedding dress for less
Reviewed on

11/05/2014
Tessa B
I love a bargain and I was looking for a place to find my wedding dress that wouldn't cost a fortune. Sabrina Ann was the first and only place that I looked for dresses. I loved that I didn't need an appointment and I was able to look through the dresses myself. Also you can take the dress home with you the day you buy it and have the alterations done wherever you want. My wedding dress was a sample, Monique Lhuillier that I got for about half of the original price. The dress was in perfect condition. Highly recommend Sabrina Ann!
---
Great Shop
Reviewed on

10/15/2014
Melanie K
I have the pleasure of knowing Sabrina personally and was able to work with her from a different state for hair accessories. The shop is curated very well, and has great selections for current brides with trendy, classic and/or unique tastes. I only wish that I lived closer and was able to buy my dress there! However, I will be selling my dress through the shop and look forward to that experience.
---
Wedding Gown
Reviewed on

9/02/2014
Allison T
Loved the idea of a "once worn" store. They have a great selection of gowns within any budget. Absolutely loved my dress!
---
The Associates know what they are doing!
Reviewed on

4/28/2014
Caitlin M
I went into Sabrina Ann's on a whim. I heard to try this store from a few different people. Now, when most people hear "once worn" they cringe. I was not this way. I simply wanted to see what I was in for. It was my first wedding dress experience. WARNING: This store is TINY! Must call for appointments ahead of time!! I forget my associates name, but she was just so great. I came in with an idea of what dress I wanted (a picture of the dress I found online) and she pulled a few different dresses and my sister, my mom, and I pulled our own. I told them my price range and the associate stayed within my price range only going over ever so slightly. The first dress I tried on, was LITERALLY the picture I had brought in...the associate found it!!! However, it was entirely too big and HEAVY, so I decided it was not the dress for me. I tried on a dress that I did not believe I was going to like and it FIT me like a GLOVE and it was downright GORGEOUS! I was in love. And it was all because the associate knew what she was doing!! I didn't buy the dress right there. They allowed me to put the dress on hold at $50 a week until I was able to purchase it, AND after I went to another bridal store and had a terrible experience, I made the decision to purchase it. The associate who handled my phone calls to put another weeks hold on the dress was very pushy and a little mean/just not personable. She did not like that I was holding the dress and not making a decision on the dress. There were no payment plans, and the dress was a little more than I wanted to spend. I felt a little pressured to purchase the dress toward the end which is why they are not getting 5 stars.
---
great experience
Reviewed on

12/29/2013
Theresa M
I was the first appointment of the day, so we had freedom throughout the shop. Our consultant was so amazing, wouldn't even let us look at a dress out of our budget and made sure i felt comfortable. I bought the FIRST dress i put on and had an amazing experience. highly recommend.
---
GREAT PLACE
Reviewed on

12/04/2013
Aubrey W
Loved getting my dress here. The staff was awesome and they had a great selection. What a great way to get your wedding dress at a great cost!! I got a designer sample dress that was never even worn at half the retail price. I was so happy and the dress was gorgeous. They also have a great selection of flower girl dresses. I have recommended to several of my girlfriends.
---
LOVED my dress
Reviewed on

11/22/2013
Valerie B
So cheap! Never worn!
---
Beautiful Gowns
Reviewed on

10/11/2013
Lindsey B
I'm so happy that I went to Sabrina Ann's for my wedding gown. I had a hard time finding a cap sleeve gown that I really liked. I decided to check out what they had and bought the second one I tried own! It was so inexpensive I was able to afford to add cap sleeves to it to make it a one-of-kind. I received so many compliments the night of my wedding! I also bought my birdcage veil their too!
---
They are great!
Reviewed on

10/01/2013
Kelli
Awesome store! They have a pretty good selection and I got a sample dress at half off. They gave me a deal on a sash too! I recommend them to anyone who wants a deal on a sample or preworn dress!
---
Miraculous
Reviewed on

4/23/2013
Meg M
I was really dreading dress hunting, but Sabrina Ann was the perfect place to go. The dresses are top quality and provide a bride with the chance to wear something a bit more unique- instead of looking at the same style dresses over and over again bc that is what style is in season. Sabrina Ann was the first place I went, then I continued to look at other shops...before I knew it I was right back at Sabrina Ann's - they had MY DRESS...I knew it from the beginning I never should have gone anywhere else. Sabrina Ann's is a one stop shop! The service was amazing...it was truly a fun experience.
---
Beautiful gown, reasonable prices
Reviewed on

12/08/2012
Melissa H
My gown was affordable and lovely. The ladies at the store were quite helpful.
---
A great find at an even better price!
Reviewed on

11/12/2012
Shayna M
I got my Pronovias wedding dress at Sabrina Ann in Ardmore. I had gone to a number of other places and found so many dresses that could work, including one that I loved but that was just too expensive (about 1400+alterations). I couldn't believe it when I was trying on dresses at SA and my mom brought me the exact same dress (in my size) for about half the price. It had been a sample in a previous life, and had one or two tiny pulls in the thread (an easy fix), but was clean and like new and perfect! We got it after our first visit, had it altered a little bit (it was too long and ended up being a little too big when I lost some weight- oops?!) and it was just beautiful for the wedding. I'm a big fan of passing on a beautiful dress for a little bit less so that somebody else can wear it for their big day, and would definitely consider selling mine back to Sabrina Ann if they would take it (not sure if Sample AND Once Worn is still good for them?). I was so happy to find it there and and would highly recommend the shop to anyone looking for a good deal and a beautiful selection of well cared-for dresses, with help from a great staff.
---
Perfect wedding dress
Reviewed on

10/18/2012
Kori M
I found my perfect wedding dress at Sabrina Ann. They have a great selection, good prices and the employees are very helpful. I definitely recommend!
---
Sabrina Ann's is great!
Reviewed on

10/13/2012
Nicole T
I found my wedding dress at the first and only store I looked - Sabrina Ann's. I hadn't even done any magazine looking before I went to Sabrina Ann's, so I didn't have much of an idea of what I wanted. Maryann was a tremendous help - she offered good suggestions and was just so nice and helpful. My wedding gown is absolutely beautiful, and I paid about $800 for it. They even recommended a tailor. I went back to get my hair pieces and ended up with some beautiful pieces that were a good price. Great customer service and amazing gowns for great prices!
---
Designer dresses at great prices!
Reviewed on

10/02/2012
Amy M
At Sabrina Ann, you can get a great designer dress at half the original price or less. My dress was a beautifully embellished ivory and champagne Melissa Sweet dress for which I paid 1/4 the price. The boutique carries a wide range of selections, designers, sizes, and styles. I loved trying on dresses in my own size instead of floor samples that were many sizes too big. In fact, my dress fit me so perfectly that I didn't need to have it altered at all, which also helped with the costs. The service was great too. Employees were nice, helpful, and not at all pushy. Overall, it was a great experience. One word of caution, be prepared to buy a dress on the spot because if you fall in love with one it may not be available when you go back.
---
Great accessory selection!
Reviewed on

9/08/2012
Jaclyn F
After reading the many great Sabrina Ann reviews, I decided to give it a try. I already found my gown but I needed to find some accessories for the look - without paying full price. I was very impressed with the selection at Sabrina Ann's and ended up buying a great designer sash. If you are looking for accessories but don't want to pay the ridiculous price tag, give Sabrina Ann's a try! The staff was also very refreshing. They are not pushy and they let you look around and shop without being that annoying salesperson! Great staff, great store, great products!
---
Wedding dress
Reviewed on

9/01/2012
Jennifer B
I loved my dress. They didn't have a tremendous amount of dresses since it's a consignment shop for wedding dresses, but I had at least 8 I tried on in my size. As soon as I tried it on I knew I loved it. I do think the veil was a bit much since it had been someone else's, but overall I was quite happy with the money spent for the value of what we got.
---
My dress was perfect
Reviewed on

8/12/2012
Jacquelyn L
I wanted a gorgeous gown without the price tag. This was the perfect place for me. Sabrina worked very hard and I tried on about 10 dresses in an hour (although I fell in love with the second one that I tried on she wanted to make sure I was absolutely certain). She gave me an awesome recommendation for the seamstress and my dress looked like it was made for me. No one cold believe that I had gotten such a perfect dress at a consignment shop. I hope that more girls will take a peek into this shop before paying full price.
---
Great store!
Reviewed on

6/24/2012
Sarah W
A friend of mine got her wedding dress at Sabrina's and recommended it to me. It was the first place I went and I had a wonderful experience- the employees there were low-key, helpful, friendly and did not pressure you at all. I fell in love with a dress there, but felt silly buying a dress on my first day of shopping so put it on hold and went to a few other stores. Sure enough, I did find any dresses or shops I liked better and got my beautiful dress there! A few weeks later, I went with another recently engaged friend and she found her dress at Sabrinas as well! Amazing selection of high quality dresses at very affordable prices!
---
My Perfect Dress, at a Fraction of the Cost
Reviewed on

1/03/2012
Brittaney B
Sabrina Ann has wonderful designer dresses at a fraction of the cost. I was able to find the dress of my dreams for an affordable price with the friendly assistance of the Sabrina Ann consultants. If you want to be treated like a person, rather than a purse, go to Sabrina Ann.
---
Best kept secret, perfect for eco/thrifty brides!
Reviewed on

12/08/2011
Lisa H
Sabrina Ann sells once worn and never worn wedding dresses and bridal accessories. The staff there was incredibly helpful and knowledgeable about body types and what would work best for me. I found THE DRESS on my first trip here and paid peanuts for it compared to high end bridal shops, and it was a sample (aka never worn!). I'm going back to resell my dress back soon, and I can't wait to come back when my sister is ready to get married!
---
Send Message