Home

Sanctuary Cove
About this Vendor
An experience like no other, Sanctuary Cove
The Club at Sanctuary Cove, is located in Waverly, Ga. The Club House, which sits on the Golden Isles of Georgia is a beautiful venue with porches and golf course views for ceremonies or receptions!
Amenities + Details
Amenities
Indoor Ceremony Area

Kosher Available

Liability Insurance

Liquor License

On the Water

Onsite Catering

Onsite Overnight Accommodations

Onsite Parking

Onsite Wedding Consultant

Outdoor Ceremony Area

Outdoor Reception Area

Outside Caterers Allowed

Site Fee

Tented Area

Valet Parking

Wheelchair Accessible
For more details about amenities, please message the Venue.
Banquet/Reception Hall, Country Club, Inn/B&B, Mansion/Historic Site, Restaurant, Unusual/Alternative
Contact Info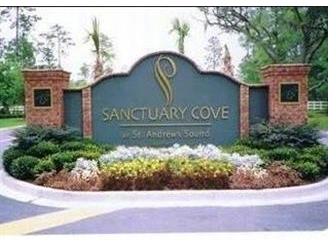 2050 Sanctuary Wynd, Waverly , GA
Simply Southern and Stunning
Reviewed on

10/31/2014
Brittany e
This is an amazing wedding venue with beautiful views and an amazing staff to make sure that your wedding goes smooth! Everything is beautiful and Danielle Tosky is one of the most professional, friendly and awesome people you could have to coordinate your big day! Everything was so gorgeous that the guests want to schedule another visit just to relax in all of the southern beauty!
---
Oldfield Weddings are INCREDIBLE
Reviewed on

10/30/2014
Rebekah D
This is our third wedding at Oldfield in the last three years! What's not to love? The setting is charming "Old South". Picture magnificent live oaks, dripping in Spanish Moss, all set upon the banks of the Okatie River. We started with an Oyster Roast Rehearsal Dinner on Friday night at the Outfitter's Center and our son's wedding was Saturday night at the River Club. All of our guests were amazed at how perfect everything was, from the setting itself to the fabulous food. You simply don't need to spend on extras with this setting, it's just the perfect backdrop for wedding photos beyond your dreams!!! Your guests can rent lovely little cottages and stay inside the Plantation where they can have access to all the amenities. The Event Coordinator, Danielle, will make certain every detail is attended to. All of the staff will go out of there way to make it all look easy and the food, oh my goodness, you will not find any better in the entire Hilton Head area than Chef Jason! Our guests came from all over the U.S. and were unanimous in how perfect this was for a wedding venue. We highly recommend.
---
Perfect Wedding thanks to Oldfield!
Reviewed on

6/19/2014
Abby M
We had our wedding in June at Oldfield Plantation. Despite the rain, we had an amazing wedding weekend. We continue to hear from guests how beautiful and fun the wedding was for them. From the seamless coordination to the late night dancing in the rain, the weekend was a huge success. Much of this success can be attributed to Oldfield and their incredible staff, especially Danielle the on staff wedding coordinator. Our wedding is definitely one for the books. Thank you Oldfield!
---
June 8, 2014 Wedding
Reviewed on

6/12/2014
Rosina P
Magical and blessed in every way! Oldfield River House on the Okatie River is breathtakingly beautiful and the wedding was perfect from the ceremony to the farewell! The Director of events did an outstanding job making certain that all had a joyous celebration!
---
Amazing :-)
Reviewed on

5/08/2014
Kristin W
Everyone was amazing :-)
---
Dream Wedding Come True
Reviewed on

1/14/2014
Stephanie O
Being from the area, I knew Oldfield had everything I wanted for my lowcountry wedding -- beautiful scenery, river and marsh views, the southern fare I grew up eating and loving and on-site accommodations for family and members of the wedding party. And it did not disappoint. Danielle (or Dani), is a dream to work with. One of the sweetest people I've ever met, she was always quick to respond to every question I had -- and there were a lot -- and incredibly accommodating, including last minute table set up changes due to some guests cancelling due to illness. I didn't hire a wedding planner, and my family and I did all the flowers and decor so I was incredibly nervous about how it would all come together on our wedding day, but Danielle truly made my vision come to life and all the decor, from the ceremony to the reception was absolutely stunning. I am still so grateful to her and her team for making our wedding so beautiful. Speaking of her team, we had a weekend-long wedding, with events Thursday and Friday nights as well as the wedding on Saturday and every single member of the staff felt like a part of our group of friends and family by the end of the weekend. They servers were incredible kind and helpful and I smile every time I see the photobooth pictures they took and what they signed in our guestbook: "Congratulations from your Oldfield family!" Dani also was a charm with all of our vendors, getting everyone set up and on time. We didn't miss a single cue the entire day and I know that couldn't have happened without her. And the food was fantastic. The chef was able to help us cater our menu to exactly what we wanted and was gracious enough to let us serve 100 mini pies and 3 cakes that my family made as dessert. I cannot say enough good things about our wedding experience at Oldfield. All our guests want to go back for another weekend and we know we'll be hosting another even there in the future!
---
Mrs. Lauren Young
Reviewed on

11/27/2013
Lauren T
The staff at Oldfield is amazing! Not only is the location absolutely gorgeous!! The staff goes above and beyond to make your special day even more special. Danielle was beyond wonderful and I could go on for days for all of the ways she bent over backwards to make my day the best day ever. The wait staff was also wonderful and the food was amazing!! My guests and husband are still talking about the BBQ Chicken!! I highly recommend Oldfield Club!! We could not have asked for a more perfect day.
---
A dream come true at Oldfield Club
Reviewed on

11/15/2013
Meghan K
My husband and I were married at the River House at Oldfield in October and from day one of planning until we waved goodbye to friends and family in our getaway car it was a dream. The property is absolutely gorgeous and so well manicured - we knew it would be the perfect spot as soon as we saw it. Meeting Danielle, event coordinator, is what really sealed the deal. Working with Danielle was so easy and fun. She made our vision come to life and had gorgeous personal taste, allowing her to offer suggestions that made everything even more perfect. She was always responsive and always available during all my nervous "bridal" moments. Thinking back to our day - there isn't one part I'd want to change. I highly recommend Oldfield Club and I'm confident all brides that marry there will be as happy as I am with their experience.
---
Springer/Kroupa wedding
Reviewed on

10/20/2013
I cannot describe how thorough and professional the staff at Oldfield Was regarding our wedding. The entire process was enjoyable and stress free. Let's not forget the food, bring only the people you love the most to the tasting, there will be nothing left to bring home. I have been in the wedding industry for many years and I felt that the people at Oldfield treated my wedding as their own. On a scale of 1 to 10 they finished at an 11! Thanks for everything!
---
A Perfect LowcountryWedding
Reviewed on

10/08/2013
Brandi A
My Wedding at Oldfield River Club (In Okatie, South Carolina) was truly a perfect fairy tale day. I know that every wedding is bound to have some hiccups, so I braced myself that morning. There was no need, however. I chose the venue because of its georgous scenery (Huge ancient oaks covered in spanish moss on a maticulousely manicured lawn. Flanked on one side by a river, and the other a stately 100 year old mansion). Their Food and beverage staff seemed perfectly rehearsed and I noticed thier managers (Charlie, Food and Beverage & Danny, Wedding Coordinator) were there early that morning and were still there, involved in every detail,until the party was over at midnight. I could not have dreamed of a more perfect day or a more dedicated and attentive staff. I very highly reccommend this venue.
---
My Wedding
Reviewed on

9/05/2013
Oldfield did an AMAZING job with my wedding in August. I knew with Danielle Tosky planning the event that I had nothing to worry about! The food, service, and overall atmosphere was perfect! I highly recommend Oldfield to anyone looking for a BEAUTIFUL venue and a STRESS FREE wedding!!
---
Beautiful Venue
Reviewed on

6/15/2013
Hannah D
Oldfield was a beautiful venue! The event staff was extremely flexible, responsive, and accommodating. They even negotiated a few price points with me which was incredibly helpful for our budget. They provide all of the catering services and alcohol. The food was delicious! The other great plus is that the rain plan for the ceremony is a lovely screened in veranda, so you still get the beautiful lowcountry water view even if it rains...which it did at our wedding. Price label includes catering costs.
---
Your dream wedding is possible at Oldfield!
Reviewed on

4/10/2013
Lauren P
I can't say enough wonderful things about our wedding experience at Oldfield. First of all, the location is unforgettable. We chose to have our rehearsal dinner at the Outfitters Club, the bridal luncheon in the golf clubhouse, and our wedding/reception at the River Club. All of these settings were charming and beautifully decorated. The staff are INCREDIBLE. Danielle Tosky is an experienced event planner that was a huge help every step along the way. She is friendly, knowledgable, patient, and was a wonderful support to me (the bride), my mother, and mother-in-law in our planning of this weekend. She is so awesome that we did not even need to hire an additional wedding planner. She really took the stress out of the whole weekend and we will be forever grateful to her! The lodging is incredible. We rented the golf cottages and the river cottages to have most of our family and wedding party stay on site. Everyone was blown away by how beautifully decorated the place was! Everyone is still raving about the food! Charlie and Barbara were on hand all weekend as well to help support the food & beverage staff to make sure everything went off without a hitch. I would not change a thing about my wedding weekend! I would advise any bride to seriously consider Oldfield as your wedding weekend getaway. Everything was perfect! We would not have changed a thing! :)
---
BEAUTIFUL
Reviewed on

1/18/2013
Natalie S
Any time I recommend a place to get married, it's Oldfield! Dani was absolutely amazing. Anything that had the potential to go wrong, she made sure it didn't! I got married while hurricane Sandy was sitting off the coast. The morning of my wedding, we had to make a decision to move my entire outside wedding indoors! She was there that morning working with me doing everything she could and everything went flawlessly! During the entire planning process she was there giving me suggestions when I needed. The place is absolutely gorgeous. The River Club has an amazing view and is set up gorgeously. The best part of it is the setting is so pretty that you hardly need any decorations. Overall, I couldn't have asked for a better experience or wedding!
---
Beyond pleased!
Reviewed on

12/19/2012
Megan U
First, our wedding coordinator, Dani, was FANTASTIC! She was wonderful to work with, easy to get in touch with, and extraordinarily helpful in our planning. Oldfield is supremely beautiful, specifically the River Club area. We were married right by the water, under the oak trees. The employees there were so sweet to us and couldn't be happier with them all. I would absolutely recommend Oldfield to any couple looking to get married in a quintessential southern setting.
---
Send Message