Home

Sarasota Brides
About this Vendor
STORE CLOSING - ENTIRE STOCK 50% OFF
The owners of the shop will be retiring at the end of August, and the shop will be closing.....come in NOW for great bargains! ENTIRE STOCK IS 50% OFF - with additional discounts on select items! Great selection of designer wedding gowns, mothers dresses, bridal accessories and more! Come in today!
Details
Bridesmaid Dresses, Mother of the Bride Dresses, Wedding Dresses, Dresses, Alterations, Custom Designs, Fashion
Contact Info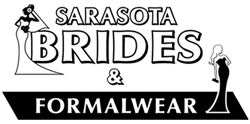 4051 Clark Rd, Sarasota, FL
Wedding Gown Success
Reviewed on

5/09/2014
Allyson S
I purchased my wedding gown, veil, and a few accessories from Sarasota Brides and had a great experience! They have a great selection for any type of gown you would want, and for a reasonable price. The only reason my gown was the price it was, is because I needed it custom fit to my size. I chose/bought my dress the first day I walked in. They spend as much time with you as needed, have great discounts, and walk you through the alteration process. Overall great service and very nice ladies! Loved my experience!
---
Great Experience
Reviewed on

1/24/2014
Allie S
Sarasota Brides and Formalwear was a wonderful place to shop for my wedding dress. My consultant was very knowledgeable about the inventory and how different alterations could be made to the dresses I tried on. I knew I would want to have time to think about my final decision I did not feel pressured at all to decide right away. When I came back the following day they had my top two dress choices ready for me and let me try them on as much as I wanted before I made the final decision. I would recommend this shop for anyone looking for a beautiful wedding dress.
---
Katherine Soja
Reviewed on

7/29/2013
Katherine S
They are awesome at Sarasota Brides!!! I purchased my dress there. Our wedding is in February of 2014 and I can't wait to go back for my veil and fittings. They are so helpful, Christine helped me with my dress. Highly recommend them for your wedding! 5 stars all the way!!!
---
great find!
Reviewed on

1/23/2015
Bethany P
My mom and I went in expecting a whirlwind of several days of gown shopping. (we had very limited time) This ended up being our first and last stop. They accommodated our shopping style- we picked out a bunch of gown to try on back to back rather than one at a time. They were also very patient as I repeated several dresses before deciding on the perfect one. They have two sections, one with new styles and the other with discounted samples to buy off the rack. You also get an additional discount for buying a gown within 24 hours of your first visit...helpful to have the extra motivation to make a decision ;-)
---
Found a gorgeous wedding dress
Reviewed on

1/22/2015
Betsy R
I loved this place. My consultant Madi was the best. She was patient and knew quickly what I was looking for. I bought my dress here and am so excited! It's unlike any other dresses I tried on at other stores.
---
Wonderful little boutique!
Reviewed on

1/22/2015
Christine D
I went shopping for my wedding dress the day after Christmas while I was down in Sarasota. I originally had an appointment for another bridal shop in Tampa the next afternoon but my grandmother insisted that I try Sarasota Brides first, and I'm so happy I did! From the moment I walked in the door I felt so comfortable and at ease with the ladies working that morning. Victoria was my attendant for the day and allowed me plenty of time to browse and pick out several dresses to try on. She never pressured me or rushed me, but gave me honest opinions when I asked for them. With her and my mother's help we were able to pick out my dream wedding dress! Overall, my experience with Sarasota Brides was very pleasant and I'm so happy I made the last-minute decision to go dress shopping there.
---
Great Wedding
Reviewed on

11/26/2014
Luna S
I just want to thank Carol for all of her help and the rest of the staff have been very helpful to make my dress fit to how I felt most comfortable! A lot of people were in love with it as I was too! I love the tiara and veil that came with it! It all just came together!
---
Selection of Dresses were amazing
Reviewed on

10/15/2014
Alexandria Y
When I first went to Sarasota Bridal I had a great experience, but since it was one of the first places I started to look I decided not to buy from them right away. About a month later I went back because I could not stop thinking about one specific dress, and the service was not that great. The girls were rude and stuck up but out of all the places I went prior Sarasota had the best selection of dresses. After purchasing my dress I have had great service and I am even purchasing my girls dresses with them and my grooms suites. I highly recommend!
---
Christine is great
Reviewed on

10/15/2014
I have Christine as my bridal consultant and she is wonderful! She is super helpful and made my appointment fun and relaxed. She encouraged me to try on different styles and she ended up picking my dress! On the rack I would have NEVER looked twice at that dress but once I had it on, I knew it was the one. Sarasota Brides is a great place to get formal wear!
---
bridal gown
Reviewed on

10/14/2014
Maddie was the person assigned to help me and she was fantastic. I am a plus size girl and I kept picking things that I thought should look good and it didn't. She pulled a dress out and made me try it and to my surprise was fantastic. It looked great and I felt beautiful. I owe her so much thanks and Sarasota Bridal for helping me find the perfect dress. I love them!!!!
---
Nicole's wedding prep
Reviewed on

10/14/2014
Nicole G
Maddie was great to work with and super helpful!
---
Wonderful place to find your special dress!
Reviewed on

10/14/2014
what a great experience! I found my perfect dress and it was on a sale rack, which helped me tremendously. The staff was very attentive and helpful. I can't wait to go back for my fitting!
---
Friendly staff & good selection
Reviewed on

9/16/2014
Anna B
I had a good experience at this bridal salon. It was my first time trying dresses on and my consultant was very nice and helpful. She was never pushy about purchasing a dress and seemed genuinely concerned about how I was feeling in each dress. The store had a great selection of dresses and had a lot of dresses on sale that were in my budget. I only had one complaint, that the bridesmaid dresses that my bridesmaids had picked out were much more expensive at the store than they would have been anywhere else. I wish I had told them to wait to purchase their dresses so I could have looked for a better price for them. They did receive a 10% discount since I bought my dress there, but it was still much more than I wanted them to pay for their dresses.
---
Great store!
Reviewed on

8/25/2014
Deborah S
I had a wonderful time picking out my dress at Sarasota Brides. Maddie was a great help in picking out my gown, and I got a great price for the type of dress I purchased! Overall, I was very happy with the experience and would highly recommend shopping at Sarasota Brides!
---
One Stop Wedding Wear Shop
Reviewed on

6/11/2014
Sara L
I cannot recommend Sarasota Brides & Formalwear highly enough. You cannot go wrong if you choose them for your dress or tuxedo needs. Back in January I made an appointment with Sarasota Brides & Formalwear. I was nervous going into my appointment that I would be one of those brides who could not find a gown, but I soon found those fears to be unjustified. My consultant allowed me to peruse the large collection of gowns in every style I could want to see for as long as I felt I needed. I ended up trying on three gowns and I was never rushed through the process by anyone. I was even allowed to put the gown I ended up purchasing back on one last time for photos. The dresses were all reasonably priced and the quality was great. Last weekend I went back with my fiancé to look at tuxedo rentals and again the service was fabulous! We had plenty of time to look through the book of options and Christine, who worked with us, was so thorough! After taking my fiancé's measurements she took the time to have him try on jackets in the store to ensure that the fit would be right. After my fiancé made his selection, I was allowed to try on the gown that I had purchased which had since arrived. As always, I was allowed all the time I wanted without anyone hurrying me along.
---
Stunning
Reviewed on

3/27/2014
Randi K
This was the first place I looked and the place that I ended up going back to and purchased my dress. There are so many to choose from. I bought my veil and garter there too. The women were so helpful and supportive. Thanks Christine and Nana.
---
Great selection
Reviewed on

2/22/2014
Sarah K
I recently purchased my wedding dress at Sarasota B&F. My dress was absolutely gorgeous. The woman that does the alterations does a beautiful job. They have a very large selection of wedding dresses. I had read on other reviews that this place will not let you try on more than six dresses. This is TRUE. I had read the reviews before going in and when the woman said to me "we only like brides to select a max of six dresses because then confusion starts to set in" I looked at my friend and smiled. We both couldn't believe that the review was true. I can also tell you that when you step on the pedestal to see the dress on in the mirrors, you are not allowed to take photos. They have this rule taped to the mirror. To me that is ridiculous. I get that rule for girls that go in there to just goof off but I can't tell you how many people asked to see pictures of my dress and I didn't have any. Luckily I had picked my dress rather quickly and did not need more than six. I can tell you though that the staff is very nice and the women are very patient. I would purchase my dress from this store all over again. I say don't let the "six dress rule" deter you or the photos rule. You may just go in here and find "the one."
---
Dress of a lifetime
Reviewed on

2/21/2014
Brittany B
The ladies at Sarasota Brides and Formalwear were wonderful!!!! They help with every step of the ordering process. Once I picked my dress, I had no idea what I wanted for my veil. They helped me pick a veil that matched my dress and jewelry perfect. When it came to my bridesmaids, I went back and forth between colors and they helped me with picking the right color and of course that worked out perfectly as well. Appointments are timely and to your convenience. They always call with reminders of deadlines, appointments and of course when your orders arrive.
---
LOVE THEM!! AMAZING, FRIENDLY, PERSONAL SERVICE!
Reviewed on

11/30/2013
Bonnie B
Sarasota Brides is THE BEST! They were WONDERFUL to work with! They always greeted me by name and gave EXCEPTIONAL service, each and every time I was in the store. Victoria, Jessica, and all the staff were extremly helpful ~ with an eye on every detail~ from my dress, to the veil, shoes, and accessories, everything was PERFECT! FYI~ Nana is the BEST in the area for alterations!! She made sure my dress was fitted to perfection! I HIGHLY recommend them for the best selection, service, and personal attetion that every bride seeks!
---
Wonderful place!
Reviewed on

10/18/2013
Jordan H
The perfect place to find your wedding dress. I definitely wasn't expecting to find mine at the first stop, but Sarasota Brides had a great selection and the staff helped me find my perfect whimsical dress. (And it was on the sale rack!) If you're in the area and don't know where to go, definitely look here!
---
The Diamond in the Sand
Reviewed on

10/08/2013
deborah h
A small budget and big dreams! I had been looking all week with disappointment and this day was no winner. My sister, mother and I where on our way back home when my sister pulled off the road and took out her smart phone and said we where not going home without a dress! Typing in wedding dresses, "Sarasota Brides" comes back and we were only a few blocks away so we gave it a try. Looking at the shop, it was elegant, I thought I could never afford a dress there but I went inside anyway. To my delight I found several dresses that I could afford, all equally beautiful. The staff was so friendly and kind you would have thought I was spending $10,000.00. It was my special day and they made sure I had the very best wedding dress experience possible. The service is exceptional and all your questions are answered. Well I found my dress and said YES to a sassy short knee length with a big skirt that twirls, it's perfect and just under $500.00. Thank you Victoria for all your care & kindness. You've made me feel like a princess from the very first time I entered the shop and every time I put my dress on. Brides To Be..... Sarasota Brides is definitely worth putting on your list. Best Wishes
---
Friendly and Professional
Reviewed on

10/07/2013
Dora R
Christine was wonderful and was super patient with my family. She was helpful and guided me to the perfect dress for my wedding. She was also great at pulling together the bridesmaids dresses as well. I highly recommend!
---
Great Service and Quality
Reviewed on

10/04/2013
wendy g
I bougth my wedding gown and my moher's dress in Sarasota Brides & Formalwear. Great Service, excellent quality. the best!
---
Great Service
Reviewed on

10/03/2013
Erica P
I walked in with no appointment to sneak a peak at my dream dress. I was able to be worked in their schedule & try on 4-5 dresses. I ended up buying the dress I originally came to see. Everyone was very helpful & sweet. They asked questions & gave their expertise! Their selection is awesome for everyone in your bridal party! And their accessories are absolutely gorgeous!!! So happy I came in!!
---
Best experience!!!
Reviewed on

8/25/2013
Aylee K
They are so nice here and I was not pressured to buy my dress that day. My consultant was so sweet and patient, it felt like I was dress shopping with a friend. I would recommend this dress shop to anyone who wants to be treated kindly and not pressured into a decision right away. When I told them of my small budget they did not treat me any different than if I had said I had an unlimited budget. It was so nice.
---
Send Message