Home

Say Cheese Photo Booths
About this Vendor
Rent the fun...Keep the Memories
Now PRINTING mobile phone pictures on demand at your wedding reception! Over 2,400 brides have trusted Say Cheese to entertain their guests with instant pictures. 4 photo booth styles to choose from.
Details
Digital Files, Photo, On-Site Printing, Photo Props, Photo Booths
Contact Info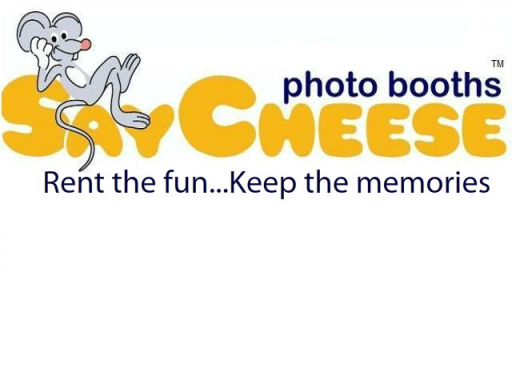 Reviewed on

8/23/2016
Kate L
Patrick was absolutely awesome to work with while booking the photo booth. He was very organized, was familiar with the venue space, and was very accommodating to our needs. We received digital copies of the photo book strips only 3 days after the wedding. And the photos are so... Read More great. I would definitely recommend Say Cheese!
---
Reviewed on

4/16/2018
Stephanie S
Patrick did a great job with the photo booth!! He was very attentive and helped all of our guests get the pics and frames they wanted!! He was also very responsive through email as we were planning the wedding. We are very happy with this company!! I'd gladly reccommend them to... Read More all my friends and family!!
---
Reviewed on

4/03/2018
Arlene O
Say Cheese did an AMAZING job at our wedding!!! The attendant was extremely attentive and was awesome to all of our guests. Several people commented about our photo booth after the wedding. It was so much fun to see the scrapbook they put together for us during the reception... Read More with the pictures and great notes from friends and family. They also sent us a dropbox with a copy of each of the pictures. They worked directly with our venue and communicated with a super fast response rate. We are SO happy that we selected them as a photobooth vendor and had a wonderful experience. I highly recommend them. :)
---
Reviewed on

10/19/2017
Rena F
This company is AMAZING! He was super easy to work with and everything went great. I will recommend him to everyone! Thank you again.
---
Reviewed on

7/16/2017
Molly G
Say cheese photo booth was a hit! Everyone loved it and enjoyed it sooo much! Thanks say cheese photo booth for a great night !
---
Reviewed on

6/17/2017
Susan H
We had our wedding day on 6-3-17 at Cooper Creek and we used Say Cheese as a preferred vendor. Patrick was very helpful in helping us coordinate everything and our attendant, Charlene was amazing helping people with props and running the day of operations. We received our... Read More digital photos within a week and everyone loved them. Would highly recommend.
---
Reviewed on

9/07/2016
Amanda T
Say cheese was great to work with. The photobooth was a hit at our wedding.
---
Reviewed on

2/17/2016
Adrian C
Patrick from Say Cheese was very easy to work with. They were affordable and professional. Our guests had a lot of fun and we getting a copy of all their pictures! I will use them for future events!
---
My one requirement
Reviewed on

7/18/2015
Amanda G
I kept joking throughout the wedding planning process that my one requirement was a Photo Booth. I am so glad that I got one. It was a lot of fun and the guests had a great time with it. I was given digital copies of all the photos and they all turned out great. The booth was a... Read More little small but the props were fun and the pictures turned out great and you could print multiple copies of everything so everyone could get a print.
---
Great!
Reviewed on

1/20/2015
Misty F
Arrived on time and did a great job! Best price for what you get!
---
So much fun!
Reviewed on

12/10/2014
Kellie M
Loved the photo booth. They were very easy to deal with and very nice. The photo booth was a hit, everyone loved it. I went with the everything package. 4 hours of service with attendant to assist guests. They got to take home a photo strip with magnet, I received the photo... Read More album with all the strips and my guests wrote messages, we had fun looking at it the next day. We are having a mosaic made as well, a replication of a wedding photo made with all of the pictures from the booth. Can't wait to see it, great memories.
---
Great Keepsake
Reviewed on

11/11/2014
Say Cheese photobooths did an amazing job for our wedding. The guests loved it and we received an awesome scrapbook to take him with us. We will also be getting a cd with all the pictures from that night on there and a mosaic which I cannot wait to see!
---
A Hit!
Reviewed on

10/31/2014
Alyssa L
We went the drop off option and it worked out great! It was the least expensive route, but was worth every penny; all of our guest were in the booth all night. Since the booth produced two set of photos, our guest and we ended up with beautiful pictures!
---
Awesome Last Minute Addition
Reviewed on

8/09/2014
Laura H
I added the photobooth two weeks before the wedding and I was so happy to get Say Cheese. They offer everything that other photobooths tack on costs for. We ended up getting the Big Cheese and our guests loved it. We were able to fit large groups in, and people were able to pull... Read More back curtains and 'photobomb' others which made for hilarious photos. The best part was the scrapbook we received at the end of the night to look at all our guests photos. The attendant was great to all of our guests and I would recommend Say Cheese to anyone!
---
Photo Booth was a HIT!
Reviewed on

7/24/2014
Crystal H
Say Cheese was one of the easiest venders and they did an awesome job at our wedding! On time, fun, polite.....the photo booth was definately a huge hit at our wedding and I would highly recommend it to anyone. It gives a wedding something extra for those that don't dance.... Read More Entertaining and Fun. Worth every cent that we paid.
---
Attendent No Show
Reviewed on

12/16/2013
Jenn
We will never recommend Say Cheese. A friend had them at their wedding and we loved it and were really excited to have them at ours - until that night. Photo Booth showed up, props and all, we even paid to have the scrapbook, and the magnets for the strips for the guests, and... Read More paid to have an attendant there the whole night to put everything together. No attendant. Strips were everywhere, the guests were left to figure out the booth, the scrapbook, and the magnets, and the reception hall had to put the scrapbook and extra strips together with our belongings - our scrapbook is ruined because our little nieces and nephews were playing with it, and the videos that you're able to leave are terrible - you can't hear anything. We saw someone come in about 30 minutes after the reception ended to pack everything up and they were in and out in 10 minutes and I wasn't able to get to whoever it was before they left. We were also told we would be receiving a flash drive with all of our photos but only received a link to a drop box file with everything loaded on. We will be in contact with the owner for breech of contract because we didn't get what we had paid for. VERY DISAPPOINTED. *Update* After reviewing the comment made by the vendor - there is much to be said: firstly, it took me contacting them myself and posting this review to be informed why we did not get an attendant - we should have been at least left a message within the first few days of the event apologizing. Secondly, we had vendors from all over the city, even our cake was delivered from Dayton, 40 miles away, in the snow. Everyone in the area knew this storm was coming, and made arrangements where needed to make it. The bridal party and family made it, and every other vendor, including photographers, DJ, florists, and baker. We understand the weather and roads were bad, but there's no excuse for not being informed until reaching out.
---
so fun!
Reviewed on

10/08/2013
Amanda D
all of my guests enjoyed the photo booth! great favor!
---
everyone loved it
Reviewed on

7/01/2013
Emily K
Everyone loved the photo booth. I feel like there should always be a test picture before the pictures start being taken. No one seemed to know where their head went. Also I have still yet to receive the CD/flash drive of all the pictures.
---
great guest book and favor
Reviewed on

2/25/2013
Lisa S
They helped us create a great guest book and the attendant helped people throughout the night.
---
Photo booth
Reviewed on

10/23/2012
Stephanie R
We were very pleased with the outcome of the photobooth. It made our guest book much better than anything I have seen.
---
So Fun
Reviewed on

10/14/2012
Brandi L
We used Say Cheese Photo Booth, which was provided to us through our package at Receptions. The lady who worked for Say Cheese was very helpful and kind. She put together a memory book for us and all of our guest were given the opportunity to write us a note.
---
photo booth
Reviewed on

10/11/2012
Carissa F
This is such a great party favor!!! Everyone had so much fun using it and it is beyond hilarious after the wedding to look at all of the pictures!
---
Fun!
Reviewed on

9/14/2012
Jasmine W
Guests had a great time! Got the larger photo booth. They put an album together for us and even sent a flash drive of ALL the pictures that were taken that night. Great!
---
Photobooth
Reviewed on

9/03/2012
Danielle F
Some guest didn't get magnets on back of photos like we paid for. Scrapbook was ok, but could have been more creative.
---
Say Cheese
Reviewed on

8/29/2012
Rich A
The booth was a huge hit at our wedding and we received our copies of the photos just a few days later. The only problem that I had with the event was that I found out later that the attendant spent some amount of time making out with one of our guests. I would rather that he... Read More spent his time doing what we paid for.
---