Home

Scarritt Building and Arcade
Book Your Wedding with Scarritt Building and Arcade
---
A BALLROOM IN KANSAS CITY, MO
About Us
At the Scarritt Building and Arcade in Kansas City, Missouri, you are surrounded in contemporary elegance as you celebrate your wedding day. With three distinctive indoor event venues, the Scarritt Building and Arcade is uniquely poised to help you create unforgettable wedding memories. Plan your entire celebration in this venue from ceremony to reception.
Grand Ballroom. Soaring ceilings, stained glass windows and period Chicago-style architectural elements create an impressive ambience inside the Grand Ballroom. A separate cocktail area in the Grand Ballroom features two plush sofas, three distinctive bistro tables and a portable bar. A built-in stage is present for your reception. This space accommodates up to 350 guests.
11th Floor Space. Slightly smaller but just as distinctive, the 11th Floor Space is ideal for more intimate gatherings. This space also has a built-in bar for your reception and it hosts up to 150 guests.
Scarritt Arcade. Located on the balcony of the Scarritt Building, the Arcade offers breathtaking views of the cityscape below. Intimate gatherings are right at home in this space and it accommodates up to 100 guests.
What You Should Know
Attentive assistance from the events staff at the Scarritt Building and Arcade is one of the perks of choosing this wedding venue. The personable and professional staff steps in to assist you with all of your wedding details, leaving you to relax and enjoy everything.
Every event at the Scarritt Building includes tables, linens and chairs to seat your guests. Rental of the Grand Ballroom and 11th Floor Space include event setup and teardown, use of the caterer's kitchen by your caterer and access to the bridal room and groom's room throughout your event. Rental of the Scarritt Arcade does not include these amenities and services.
You have the freedom to choose your own service provider for catering, beverages, entertainment, flowers and more. The coordinators have a list of preferred vendors for you to review and you are also welcome to choose your own independent vendors. On-site parking is available for up to 150 cars.
Extra Perks
Your wedding at the Scarritt Building and Arcade is a grand and stylish event that is an apt representation of your love and commitment. The events team also offers some additional services, available with extra fees.
Arrange to have the team transition your event space between your ceremony and reception
Bartenders and security staff are supplied by the venue
Explore the interior of this venue to find historic and unusual points of interest for first-look photos
From the Vendor
Historical Ballroom with Amazing Value
The Scarritt Building and Arcade was Kansas City's second built skyscraper. With it's abundance of natural light and hand carved ornaments throughout the interior, this example of Chicago School architecture it is a truly unique venue for your wedding and reception. We have several spaces that can accommodate grand parties to more intimate ceremonies, each with it's own kind of character. Our wedding packages are tailored with your big day in mind so we offer many no hassle perks so you and your future spouse can enjoy your special day stress free!
Amenities + Details
Amenities
Bridal Suite

Indoor

Reception Area
For more details about amenities, please message the Venue.
Contact Info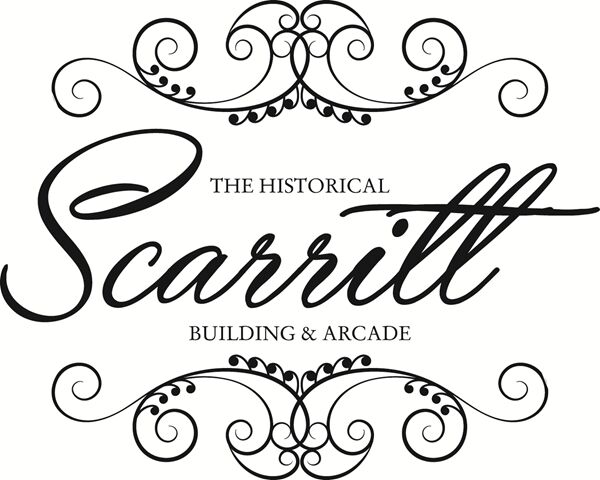 Reviewed on

8/16/2017
Elisa V
The Scarritt Building was the most perfect wedding venue I could have ever dreamed of. This beautiful space seriously looks like something out of a fairy tale and that is exactly what our wedding was. It lived up to every expectation I had and I can't imagine how the day would... Read More have gone without Sylvia and her team. We had both our ceremony and reception at the Scarritt Building and cocktail hour in the arcade area. Our guests really enjoyed being able to see different areas of this gorgeous space. My husband and I, like a few other couples, booked this venue when it was under different management. Like any new business this company definitely had its growing pains and there is no denying that. What I will say is that Sylvia did an INCREDIBLE job taking the ball and running with it. She was very confident and easy going. She honored every piece of our original contract and made sure we felt extremely reassured that our event was going to be perfect…and it was. Every time I called, texted, or emailed her she got back to me that same day (most times within the hour). On our wedding day she made sure everything was running on time and the vendors were where they needed to be. She answered all of the questions I didn't even know to ask and was extremely professional. I would just like to say THANK YOU THANK YOU THANK YOU x1000000 to the wonderful Scarritt staff who helped contribute to our BEST DAY EVER!
---
Reviewed on

5/23/2017
M
The Scarritt Building was the perfect venue for our wedding reception. The beautiful ballroom easily accommodated our family and guests. Everything came to together just as I had dreamed about. Sylvia did a great job coordinating all the vendors and insuring that everything... Read More was picture perfect before the first guest arrived. The bridal suite was a great bonus for our families to congregate in between the service and the reception. I am thrilled that we chose such a great venue and had the privilege of working with Sylvia, who was such a dedicated professional . She knew what we needed even before we could ask.
---
Reviewed on

5/21/2017
Anna J
We had our wedding at the Scarritt less than a month ago and had a wonderful time! We were blown away by the event venue first of all - the history surrounding the space was amazing, and we loved sharing it with our guests! It was beautiful and our guests were astounded by the... Read More space. Even though we ended up with about 150 guests, the grand ballroom did not feel like too spacious or too tight - it was absolutely perfect! The bride & groom's suites were an amazing space for our bridal party & close family to stay for the night before the wedding & the night of the wedding. We as the bride & groom felt like we truly got to enjoy the time with everyone! Additionally, our close family used the space to hang out between the ceremony (which was elsewhere in the city) and the reception. Finally, Sylvia truly made our day go amazingly well! From making sure we got to use the rooftop for sunset pictures, handling the random requests that come about throughout the day and the day before while setting up, answering my countless questions in the days and weeks leading up to the event, coordinating the times the vendors would arrive, lighting candles, tearing down the whole space so we just had to put the decor in vehicles and leave - we had an amazing day thanks to the help of everyone at the Scarritt!
---
Reviewed on

3/19/2018
Jackie N
This venue was really affordable at the time, but probably my only purchase that I regretted. The venue was gorgeous. They provided two suites that sleep up to 24 people. They also provided chairs, tables, bartenders,security, and basic black or white cloths. The huge downfall... Read More was that it was hard to contact them sometimes, and there were a lot of things that were miscommunicated to us like.... We got locked out in the cold for a few hours ( we had rented for an additional $450 the night before and were returning from the rehearsal) and were given the wrong key. Then the heating wasn't working in the suites the night before the wedding. We ended up having to turn the stove and oven for warmth. I even caved and had to go blankets, pillows, and bring in two space heaters. That weekend (2/10/18) Everyone knew about the cold front and had been preparing for snow and ice. Not enough pillows or blankets were provided. We were told suite could sleep.up to 12 people each. Only 3 blankets were provided in the brides room and two in the groom's after specifically saying that each room would be filled. There were originally 2-3 elevators working when we toured it last. Only 1 was working. Like the heating, no one told us about it. They had multitudes of time to tell us stuff. Nothing was told to us, not even the day before. Our cocktail hour layout wasn't even set up at all. It was supposed to be on the first floor, didn't happen, I figured out when I got there for the wedding reception, that everyone was in the reception area. The reception hall, we had the 11th floor, was pretty. Definitely hard to fit 150 guest. I would know. We had a hard time working it out. The catering area was supposed to be broken down to open up for the dance floor. Did not happen. I had sent an email specifically stating that we would have a photo booth and needed a 12x12 space. No response, I bought it up again during our 1 month meet up , and we though that the hallway would be good.We were going to have a photobooth. Well the area that we had talked about wasn't there and couldn't be made because of no working outlet. So no photobooth. Sylvia who was working with me, I will say, was very sweet. She was working through out the reception a lot and did a lot of set up of appetizers and the cake, but sometimes it was difficult to find her. But I fully understand that I could've felt that way because she was just busy when I needed her, totally understandable. After the wedding we found a lot of stuff missing and when trying to contact the scarrit building staff it took them a while to respond. I feel like a lot of my emails with the scarritt took a long time to respond before, during, and after the wedding. Although I felt like a lot of the things that were going wrong with the building at the time could have been better communicated or at least better prepared for in advanced. I did get this place for a steal of a price. Perhaps I should've spent a little more to have gotten a different venue.
---
Reviewed on

2/06/2018
Maranda J
The Scarritt Building and Arcade is a hidden gem in Kansas City. We had our ceremony in the Arcade followed by our reception in the Grand Ballroom and it couldn't have been more perfect. My fiancé and I knew as soon as we walked into the building that it was the one. Sylvia... Read More and her staff made our day beyond special. Leading up to the event she was always available to answer questions and help us work through any problems we were trying to solve. The day of she made sure things went off without a hitch! If you are looking for a unique venue with a ton of space and excellent staff I could not recommend The Scarritt more!
---
Reviewed on

1/12/2018
Mackaela C
My dream NYE wedding came to life at the Scarritt Building and Arcade. We had both our ceremony on the 11th floor of the Scarritt Building and our reception in the Ballroom. The Bridemaids and I got to the building at 10AM the day of the wedding to use the bridal suite to get... Read More ready. It was so spacious and so fun to spend getting ready for the day with my best friends. The Groomsmen and Groom also arrived early to their suite to hang out, watch the Chief's game on TV, and get ready. Our pictures prior to the wedding were taken throughout the gorgeous building. There are so many beautiful spots to take throughout the building, which was definitely a plus since it was about 5 degrees outside. I had over 200 guests that all fit in the ceremony room as well as the ballroom with plenty of room! Not only was the bulding beautiful and accommodating, Sylvia was a HUGE help to make the planning and day of go so smoothly. During the planning process she answered my ongoing questions immediately and met with me whenever I needed. On the day of she worked with all the vendors and made sure everything was just how I imagined while I was getting ready all day. I did not have to worry about a thing. During the reception she was a huge help and constantly checked in with me. As a bride, it was great having someone like Sylvia to always be there if I needed her. I couldn't be more happier with how our wedding day turned out and I would highly recommend the Scarritt Building for anyone looking for a unique, fun, and beautiful wedding day!
---
Reviewed on

11/28/2017
Kathleen L
Sylvia and her team did an amazing job from start to finish with our wedding! Our bridal party loved utilizing the Bride and Groom's lofts and the night flowed smoothly. I would suggest the Scarritt for anyone who is looking for a memorable wedding and reception!
---
Reviewed on

11/26/2017
Patrice L
We could not have been more pleased with the Scarritt as the venue for our daughter's wedding reception. From the planning to the big day, Sylvia was accommodating, professional, and pleasant. She was always available to answer questions and make suggestions. The reception was a... Read More huge hit due in large part to Sylvia's making sure all working parts worked! I give the Scarritt and Sylvia 5 shining gold stars and would recommend this venue if you are looking for a beautiful and historic setting.
---
Reviewed on

10/28/2017
Karen H
This building is quite beautiful with it's historic architecture...however, I would caution anyone who is planning to book an event there. We were very disappointed with the management and staff for our daughter's wedding. From the beginning finding out their A/C was not working... Read More in the ballroom, our suites and ceremony room. Then entering our suites to find dirty dishes and dirty mop head in sink...to no towels, no working TV and a ballroom floor not mopped. I personally had to clean and my husband had another expense to buy towels and supplies for both suites. Our decorator and her husband not only decorated but stayed on later to mop ballroom floor, move tables and chairs and coordinate with our other vendors....the job we paid Scarritt to do. Where were they?? While trying to address these items with management with phone conversations, emails and written letter....their written reply: They acknowledged the problem with their cleaning staff and A/C but felt they owe us nothing because we were mean to their staff!!! You bet we were angry that weekend!...we had 200 people coming to our daughter's wedding while they had been paid in full and we walk into this situation having the extra expense of supplies and paying our decorator extra for a job that was to be done by Scarritt. We have tried posting our experience on their FB page but they keep taking it down. Something to hide?? Our advice is use Extreme caution if planning an event at this venue!
---
Reviewed on

10/17/2017
Lindsey H
Our expectation levels were set very high during our multiple meetings with Sylvia onsite prior to wedding weekend. Promises were made in regards to coordinator availability, overall general cleanliness, and other accommodations that we left VERY short of satisfaction. Upon... Read More arrival to our suites , it appeared that no air conditioning had been turned on in both units. Multiple contacts were made to Kristen (a backup coordinator that was assigned to us at the 30-day mark), understandably she was at another job during the afternoon, but arrangements were not made until we returned from our rehearsal dinner at around 9:00pm. We were NEVER formally informed that the air conditioning was out in the building, and would ultimately result to having rental units placed in the ballroom. A Scarritt staff member had made a comment to our wedding coordinator about having prior knowledge about the air being out and how it was "good enough for the law offices" - as if to say we were making outlandish requests. We arrived to rooms that were clearly very quickly just 'wiped down'. Dirty mop heads were left in the kitchen sink, no working garbage disposal, additional cleaning supplies placed in corners of the room, no working tv, hair still in shower drains, NO additional toilet paper rolls, and only 2 bath towels to be found for guest rooms that were promised to sleep 8-12 guests a piece. This sent us out on additional errands to purchase these items for our stay, and my in-laws to run next door to the Hampton and purchase the last remaining room for the weekend. Uncomfortable would be an understatement! We also noticed during rehearsal that the room was set with the incorrect amount of chairs, and as discussed in our 30-day meeting, no guestbook/gift table, or memorial table had been set up for our additional decor. This resulted in our wedding party moving what chairs we could find until Kristen returned onsite Saturday, and also delayed some of our vendor set up for the ceremony space. Kristen told me she would be onsite Saturday at 10:00am to attend to unresolved matters, but when we came down to the ballroom she was meeting with another couple onsite, and left almost immediately after. She assured us she would return around 1:00pm to take care of anything, but as mentioned, this held up other vendors that were arriving for drop off/set up. It was very clear that Kristen was not informed of details put into place, or was not taking responsibility for these details, as various additional conversations and directions were needed throughout the day Saturday. This resulted in us having to pay our wedding coordinator to stay additional hours to make sure things were taken care of that were discussed in previous meetings. Though our day turned out beautiful, I can't say that it was in any regards to Scarritt staff (though Kristen and staff did take care of a lot of the 'end of the night' reception clean up as promised...). Had we known about some of these details prior - additional arrangements could have been made and saved our family, friends, and myself, tons of time, money, and STRESS! I completely understand the stress a venue coordinators job entails, having come from being one myself; however, these items above were very poorly handled. (I have since contacted the venue coordinator TWICE with the information above and have been given NO response.)
---
Reviewed on

9/07/2017
Roxanne N
I can not begin to tell you how much I loved the Scarritt building and most of all, Sylvia! She was amazing throughout the whole wedding planning and the actual day! It was so convenient to have the ceremony,cocktail hour and reception there. I loved it that all three events... Read More happened on 3 different floors so it was a neat and new experience for the guest. I highly highly recommend booking your wedding here! The building itself has so much architecture and details on the ceiling and walls that you barely need any decorations. We also had two bridal suites inside the building where we stayed the night before and we got all 16 people that were in the bridal party to stay there without feeling squished or tight. We loved our experience with the Scarritt building and Sylvia!
---
Reviewed on

7/06/2017
Caitlin S
Where do I begin?! I could not be happier with our decision to go with the Scarritt Building and Sylvia for our wedding day! When we booked the Scarritt in Aug of 2016, a different lady was the venue coordinator. We booked because we loved to space, it is a large venue with... Read More beautiful architecture that really requires little decorating. Also, the bride/groom suites are amazing!! When we booked, a different lady was the venue coordinator. We didn't interact with her much as it was early in our planning process, but in December we were notified by Sylvia that she would be taking over and wanted to meet us. After our meeting, my husband and I were so happy that Sylvia was taking over and couldn't have been more impressed with her organization, professionalism, and overall knowledge of wedding planning/coordinating. We left that meeting feeling very relieved. Since that time, Sylvia continued to be amazing! She was always (promptly!) available to answer my many questions/concerns with planning and was always available to let us into the venue for whatever the reason we had (Even during weekends and evenings!). The month of our wedding and our wedding day went so smoothly because of Sylvia. She was great about keeping our "flow" going and worked closely with all our vendors. She was available all day and night of our wedding day, making sure things continued to go great. The Scarritt bartenders and security staff were also great. I had multiple guest tell me how nice everyone at the venue was. Our wedding day was absolutely perfect. Also, post wedding, Sylvia continued to make my life easier. We misplaced our cake stand that was to be returned to our cake vendor the following week. My husband and I left for Mexico, 2 days after the wedding, prior to tracking it down. Without asking, Sylvia went above and beyond to track down our cake stand (that accidentally got picked up by another vendor) and then returned the stand to our cake vendor so we would not be charged a fee! Again, I am so thankful for Sylvia and so happy we chose The Scarritt for our big day. Highly recommended!!
---
Reviewed on

4/12/2017
Sara K
I am SO thankful that we chose the Scarritt building for our wedding ceremony and reception and heres just a few of the reasons why: 1. The space is simply STUNNING! Hand carved crown moulding, the original chandeliers from the early 1900's, beautiful tile floors in the... Read More ballroom - the space, in my opinion, is the most breathtaking historic building in Kansas City. 2. Affordability - It was important to us to find a space in which we could choose our own caterer. We had over 280 guests in attendance and we did not want to be forced into only being able to choose from one/on-site catering company with sub-par, over-priced food. We used Krokstrom Klubb & Market and Sylvia did a great job of coordinating with them and all of our guests raved about how great the food was! 3. Amenities - The Scarritt has several packages/options for just about every budget. I highly recommend staying in the bridal suite the night before your wedding (if it's available) and also staying the night of the wedding. This gives you access to the building the day before your wedding so that you can start setting up and vendors, if they choose, can start setting up as well. The day of the wedding was a breeze for us because almost all of our vendors had already set up the day before! For us, it was totally worth the extra expense. 4. Speaking of the bride and groom suites, these were a huge selling point for us. They are both newly completed, beautiful, spacious rooms for both the bride and groom to get ready. Getting ready the day of the wedding in the bridal suite lent for plenty of space for everyone and more. What bride wants to get ready in a cramped, hot, small room? I was easily able to fit all 9 bridesmaids, 3 flower girls, family members, two hair stylists, two makeup artists, two photographers, videographer, and obviously, myself with still room to spare! In the bridal suite there are two bedrooms, a full kitchen (with a brand new stove, oven, microwave, and refrigerator), and two full bathrooms for getting ready. 5. Lastly, we felt SO lucky to have Sylvia as our coordinator! I was blown away by how Sylvia went above and beyond to make sure our wedding went exactly as we planned. The day of the wedding, all I had to do was make eye contact with Sylvia and she was right there to ask if I needed anything. I sincerely believe our day would not have gone as smoothly as it did if it wasn't for her. The Scarritt is lucky to have her on board, I was an incredibly lucky bride to have her as my coordinator, and any past brides I know will agree with me when I say, she's the best! Thank you to the Scarritt Building and all of the Scarrit
---
Reviewed on

4/02/2017
Tsivia W
Everything about this place was crazy and off. They changed my wedding planner 3 times, the last time two weeks before the wedding. 1/2 of the things they promised didn't end up happening. We had to pay extra money to use the parking garage, they cashed our check, and then the... Read More day of the wedding the garage was closed because they had kept the money and not paid the company that owned the garage. We also had to give them a deposit for $500, in case we damaged anything. They cashed that check a month before we even had the wedding, said it was an accounting error, and 5 months later we still haven't been refunded. We didn't have bartenders at the wedding that we paid for, we didn't have security guards, and again, this was something we paid for. Save your self some money and stress and don't even consider these people. Oh, and our 'private suites' were broken into and things were stolen.
---
5 Star Reception Venue
Reviewed on

10/20/2012
Raimonda S
My wedding reception was at the Scarritt Grand Ballroom on September 15, 2012. Everything was perfect. Shilah is the best!!!! She's easy to work with & she made sure everything went the way I wanted it. I would recommend this venue to everyone. It's beautiful.
---
Hidden Gem of Kansas City
Reviewed on

11/29/2011
Tom R
I looked at dozens of venues in KC before presenting 3 to my bride. Of them Scarritt was head and shoulders above the rest, The interior is gorgeous with marble and glass chandlers. Shilah is the coordinator and she was wonderful to work with. We can't recommend the Scarritt... Read More enough.
---
Reception Venue
Reviewed on

3/30/2011
Mary O
Beautiful venue and great service!
---
Review for Scarritt Grand Ballroom
Reviewed on

5/10/2010
Rebekah A
Our reception site event manager, was amazing! She worked with my caterer very closely, to ensure the entire reception went off without a hitch. The site itself was very beautiful too! I don't think I could have changed anything to make it better than it was.;Everything... Read More went perfectly. No problems whatsoever.
---