Home

Sealed With A Kiss of Haddonfield, NJ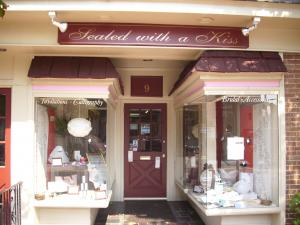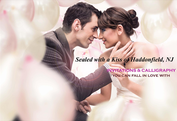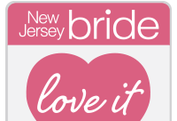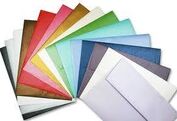 About this Vendor
Beautiful Calligraphy...on time & at great price!
Sealed with a Kiss of Haddonfield, NJ is the 1st Choice for Brides & Grooms to prepare their Wedding Invitation Envelope Calligraphy. Fast, Elegant, Top Quality Calligraphy at an amazing price! Bring us your envelopes for your next event and experience our Award Winning Calligraphy for yourself!
Details
Contact Info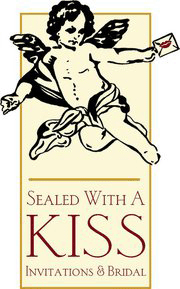 9 N. Haddon Ave., Haddonfield, NJ
highly recommended!
Reviewed on

6/28/2014
Alison G
i brought my envelopes here to be custom addressed. tom (the owner, I'm assuming) is super accommodating and quickly responded to all of my emails. he even rushed my order without any extra charge. i had my envelopes addressed within 3 days! the quality of the calligraphy is... Read More great and the envelopes look fantastic!
---
Beautiful Work
Reviewed on

8/05/2015
Bethany M
Sealed With A Kiss in Haddonfield NJ is top rated. Tom is was wonderful to work with from the first time I met him at a Bridal Show. Sealed With A Kiss stands by the work completed and the work is great. I got my invitations, fan program, seating chart, and thank cards from... Read More Sealed With A Kiss. Although a mistake was made on my seating chart, it had no major impact of my special day. In fact, after bringing it to Tom's attention, he felt horrible even after I told him it was no big deal. Because a great businessman knows how to conduct great business, Tom wanted to make things right by working with me for my order of thank you cards. There's no wonder why Sealed With A Kiss receieved awards from NJB, the Knot, and Wedding Wire. I definitely recommend Sealed With A Kiss. B. Hill (Massey)
---
Beautiful Job
Reviewed on

7/19/2015
Mary Elizabeth Z
Our calligraphy was beautiful and just what we wanted! Sealed with a kiss made the whole process so easy. We had special envelopes that were difficult to print on, but he never gave up. He tried until they were perfect and we really appreciate all of his hard work.
---
Seating Chart
Reviewed on

12/09/2014
Chrissy D
I needed a seating chart for my wedding and went with who my sister-in-law did and it was the best decision! The owner is so friendly and helpful when helping pick what kind of seating chart and what design to do. I found a few pictures to use and he helped me decide which would... Read More look best. I went with his advice and it came out amazing. The colors looked so good and it really stood out in out cocktail our.
---
Great product and value
Reviewed on

12/01/2014
Hannah G
I initially selected Sealed with a Kiss solely because they were the most affordable option nearby to get my invitation envelopes addressed. I honestly don't think any of the more expensive vendors could have done better. They turned out beautiful! Their level of service is... Read More also very high. The gentleman I interacted with over the phone and in person was very pleasant and helpful.
---
Perfect matching lettering & ink
Reviewed on

11/01/2014
Vienna M
Swak matched the lettering and ink color to my invitations. I loved it!
---
Great Job for us!
Reviewed on

10/31/2014
Diana B
We love their work. Highly recommended.
---
Great Calligraphy
Reviewed on

10/31/2014
Brianna R
A perfect compliment to all of our invitations!
---
They do it all!
Reviewed on

10/31/2014
Morgan C
Had a few smaller jobs done and looking forward to having more in the future! Looks beautiful!
---
Looks like by hand but better!
Reviewed on

10/31/2014
gabrielle l
Looks just like hand calligraphy but at 1/3 of the price :)
---
Great Style and price!
Reviewed on

10/31/2014
Danny P
Just what I was looking for!
---
Beautiful
Reviewed on

10/31/2014
Patty C
Very Happy
---
Invitations
Reviewed on

10/22/2014
Ashley P
Very professional and always on time!
---
Beautifully done Calligraphy!
Reviewed on

7/31/2014
Dina W
At first I had tossed and turned with the idea of having calligraphy done on our wedding invitations, but I couldn't be happier with making the decision to do it. Sealed with a Kiss matched the font and color of our invitations to the envelopes. We had many guests comment how... Read More pretty the invitations looked. Their service was prompt and turn around time was quick.
---
So easy to work with!
Reviewed on

1/10/2014
Morgan G
I planned my wedding from out of the area, and was able to do so much through email and phone calls. I went in person to pick my save the dates and invitations, picked colors and fonts, and any other necessary details, and was good to go. My save the dates and invitations were... Read More beautiful! Tom was so nice, and gave his honest opinion which was so appreciated. He rally seemed to want to see me happy. SWAK also did our table numbers, and seating chart. It was so nice to know that I was taken care of and didn't have to worry about anything. They even picked up the huge seating chart after the reception!
---
Printing of addresses for invitations
Reviewed on

10/21/2013
Allison R
Neither my husband nor I have the best handwriting, but we wanted our wedding invitations to look beautiful. We found the website of Sealed With a Kiss and decided to use them to print out the addresses for our wedding invitations. The price point was reasonable and they... Read More turned around the envelopes very quickly (we dropped them off on a Friday and they were ready on Monday). They had a wide selection of fonts and colors. Each envelope looked wonderful.
---
Beautiful invitations
Reviewed on

10/08/2013
Lynette P
I love Tom and his wife. I went in and picked out the most gorgeous, formal invitations ever. The cost was a bit pricey but they were just the statement for my formal wedding in Cape May. The quality was top notch. I also had my seating chart done and it was absolutely... Read More gorgeous! Everyone loved it.
---
my favorite new place
Reviewed on

10/06/2013
ashley d
Did a great job on my printing & calligraphy...will surely return soon!
---
Just fab
Reviewed on

10/06/2013
Barbara D
They're very pro at what they do!! The calligraphy looked amazing
---
Envelopes
Reviewed on

10/06/2013
Greta G
My envelopes looked awesome I super recommend them
---
Fancy Shmancy for less!
Reviewed on

10/06/2013
Kara W
They did a wonderful fab job! Great price too!
---
Fun and nice for the right price!
Reviewed on

10/06/2013
betsy b
Really impressive calligraphy here! Recommended highly!!
---
awesome
Reviewed on

10/06/2013
victoria w
Looks awesome for the shower...thank you swak
---
Pre wedding party invitation
Reviewed on

10/06/2013
Rena C
had a little soiree for my bridal party and tried swaks calligraphy on the envelopes. Loved it!
---
perfectly done!
Reviewed on

10/06/2013
Claudia R
had a small party for the wedding and they did a really nice job...can't wait for thee big day!!!!
---
Send Message