Home

Sealed With A Kiss of Haddonfield, NJ
About this Vendor
Beautiful Calligraphy...on time & a great price!
2016 BEST OF WEDDING WINNER! You don't have to spend a lot to get top quality. We help our couples to save time and money while also getting beautiful envelopes that will set the tone for their wedding . Our award winning service offers both traditional and digital calligraphy styles along with the ink color of your choice. There isn't a style or theme that we can't match! Feel free to read our glowing reviews and contact us to start designing your envelopes.
Details
Contact Info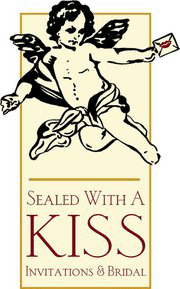 9 N. Haddon Ave., Haddonfield, NJ
highly recommended!
Reviewed on

6/28/2014
Alison G
i brought my envelopes here to be custom addressed. tom (the owner, I'm assuming) is super accommodating and quickly responded to all of my emails. he even rushed my order without any extra charge. i had my envelopes addressed within 3 days! the quality of the calligraphy is... Read More great and the envelopes look fantastic!
---
Reviewed on

10/31/2015
angie h
We waited till the last minute by swak prepared everything quickly and well priced. Very satisfied and went above our expectations. Highly recommeded
---
Reviewed on

10/31/2015
Barbara P
We purchased our engagement invitations with swak and then also had them do the calligraphy. Both came out perfectly and we will return for save the dates soon.
---
Reviewed on

10/31/2015
Pam D
Very excited to work with sealedwith a kiss for all our printed items and calligraphy. Located in Haddonfield, nj near where I bought my dress. Yeah!
---
Reviewed on

10/31/2015
Goergette g
We had our ceremony programs prepared and they were so elegant and priced well below other places we visitied. Tom was great to work with!
---
Reviewed on

10/31/2015
Diana B
Im a nursing student so my time is limited and Im so glad I found swak. I reserved their calligraphy from their website and even got 10 envelopes free. Can't wait to send our invitations.
---
Reviewed on

10/31/2015
Lara G
We went in to sealed with a kiss with our envelopes and they made great suggestions on the lettering and ink and it all coordinated so easily. We're very happy!
---
Reviewed on

10/31/2015
Alain N
Our menu cards were printed on a shimmer paper with our love park design and they looked great on our tables. We love swak.
---
Reviewed on

10/31/2015
Hailey M
SWAK prepared our Table NUmbers Cards when our venue had something we didn't love...so we went to swak and they made it easy. Great prices too!
---
Reviewed on

10/31/2015
Theresa R
We reserved a seating chart for our wedding and received a free upgrade with crystals on the chart. WOW......we loved it! Thank you!
---
Reviewed on

10/31/2015
Marie g
Tom prepared the calligraphy on short notice and we had our envelopes back in 2 days. Price was nice and quality was top notch!
---
Reviewed on

10/31/2015
Vero W
Our place cards were just what we wanted. They had a large selection and the calligraphy was a nice touch. Thank you swak!
---
Reviewed on

10/31/2015
Randi M
Our envelopes were amazing. Tom is a pleasure to deal with and we loved the look of the calligraphy!
---
Reviewed on

10/31/2015
Amber L
Our seating chart was the perfect way to seat our guests and we got to keep at as a keepsake. Looked very elegant and made seating guests easy!
---
Reviewed on

10/31/2015
Laura M
Sealed with a kiss prepared the calligraphy on our save the date magnets and they look hand done, turned out perfect!
---
Reviewed on

10/31/2015
Elysse D
Fantastic job on all of our printed items!
---
Reviewed on

10/31/2015
Betty R
Sealed with a kiss made my wedding day envelopes look so nice and I received so many compliments from my co-workers and guests. Thank you Swak!
---
Reviewed on

10/30/2015
Lisa G
First class Invitations and Calligraphy!
---
Reviewed on

10/30/2015
Toni A
Went in stressed and left feeling very relaxed. From the moment we started looking for invitations all the way to choosing our calligraphy styles, everything was stress free and im so excited about our choices. They are great!
---
Reviewed on

10/30/2015
Karen W
Ribbons and Lace on our wedding invitations made my dream invitation come true and they were much less than another invitation store that I had just visited. Plus the calligraphy they did on the envelopes was half the price of those I prices. I Love Swak!
---
Reviewed on

10/30/2015
Lauren D
We visited sealed with a Kiss based on all of the positive reviews and wound up falling in love all over again...menus, programs, envelop holders and all the things they have are pretty incredible. The prices are lower than you would think and they were on top of everything.... Read More The value of a great vendor is priceless.
---
Reviewed on

10/30/2015
Beth W
Everything in the town of Haddonfield, NJ....We did it all, our wedding invitations & calligraphy & guest seating & programs (SWAK) tuxedos (OZZYS)...dress (JAY WEST) and cake (SWEET T"S).....now it's time for the spa!
---
Reviewed on

10/30/2015
Kim H
Two of my girlfriends met Tom at SWAK and so I visited them for my new years eve wedding. I went with a Champagne color wedding invitation with gold embossed pearls and raised printing. They are both fun and elegant and really fit what we were looking for. The prices were... Read More really good too. They are doing everything for us from the calligraphy to the guest seating and menus and the guys went right next door and got their tuxedos. We accomplished so much right there and they are great to work with and I will now recommend them to my friends who are getting married.
---
Reviewed on

10/30/2015
Theresa C
Ordered our save the date cards with Tom and we actually customized them with crystals and made them into magnets, very cool and i just mailed them out and already receiving compliments. They also did the calligraphy for free as part of a great package and we'll also get out... Read More Tuxedos with them at Ozzys Tuxedos. Fantastic :)
---
Reviewed on

10/30/2015
Rena D
I'm so thankful to have found sealed with a kiss. After a bad experience with another vendor in collingswood where we live, we went in and found everything we needed in one place. Tom was awesome, I can't say enough good things!!
---