Home

Sealed With A Kiss of Haddonfield, NJ
About this Vendor
Beautiful Calligraphy...on time & a great price!
Welcome to Sealed with a Kiss of Haddonfield NJ! Visit us at your leisure as no appointment is needed. Do you need your Calligraphy prepared overnight? We can do it. Do you have plenty of time but want your envelopes addressed beautifully….Yes, we can do that too! Visit us in-store, call or email us and you'll immediately know that you've made the right choice. See our samples, ask us questions...we're here for you! We've made it easy….we can complete everything through email, providing you with expert guidance from start to finish! Read our reviews and see why we're the only Stationer & Calligrapher in the South Jersey theknot.com Hall of Fame. We look forward to seeing you soon!
Details






Contact Info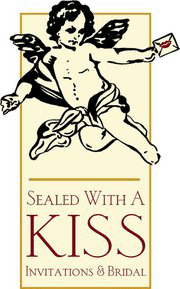 highly recommended!
Reviewed on

6/28/2014
Alison G
i brought my envelopes here to be custom addressed. tom (the owner, I'm assuming) is super accommodating and quickly responded to all of my emails. he even rushed my order without any extra charge. i had my envelopes addressed within 3 days! the quality of the calligraphy is... Read More great and the envelopes look fantastic!
---
Reviewed on

4/09/2018
Allison K
Tom was so nice to work with! My invitations were stunning I got so many compliments on them with people saying they were the prettiest invitations they ever saw ! They were reasonably priced and Tom was so helpful in creating a design that my now husband and I loved ! I also... Read More used sealed with a kiss for calligraphy and I would not have changed a thing !
---
Reviewed on

3/31/2018
Christine P
We just received our finished envelopes and they are beautiful! SWAK made the entire process simple and pain free with amazing and fast results. My fiance and I could not be any more happy with how they turned out. They are a wonderful complement to our invitations. The... Read More calligraphy is so elegant. SWAK has many options to choose from to help you really put a personal touch on your invitations. As I assemble my invitations I couldn't help but smile and admire how pretty the envelopes are! I would absolutely recommend SWAK and use their services again in the future.
---
Reviewed on

2/26/2018
Danielle P
So happy I found this place! My wedding invites were addresses beautifully. I would 10000% recommend this place!!
---
Reviewed on

3/19/2017
Andrea S
I got married last month and we used Sealed With A Kiss for both our invitations and our seating chart, and I am so happy we did! We got so many compliments on our invitations! Tom is so great to work with - he is very attentive and responsive - he makes you feel like you are... Read More the only bride he's working with! I sent him an email with a photo of the type of invites we were looking for, and he found exactly what we wanted!! The seating chart was so beautiful as well and it added the perfect touch to our reception! I highly recommend Sealed With A Kiss for all of the paper needs for your big day!!
---
Reviewed on

10/31/2016
Courtney G
My envelopes were on a shiny paper type and swak was only place that could prepare them. They came out beautifully!
---
Reviewed on

10/31/2016
Joanna M
Swak prepared the calligraphy on our invitation envelopes and the return address and response envelopes too....all looked great and coordinated with our wedding invitation.
---
Reviewed on

10/31/2016
Nancy A
Had our wedding invitation envelopes done in gold calligraphy and it really complimented out wedding invitations.
---
Reviewed on

10/31/2016
Becky O
OMG.....our envelopes looked beautiful and were ready in 3 days!
---
Reviewed on

10/31/2016
Sophie B
Very highly recommended for their calligraphy services.
---
Reviewed on

10/31/2016
Katie R
Had a seating chart prepared and it was awesome! It really was a big hit at our reception!
---
Reviewed on

10/31/2016
Gina Lynn G
Came here based on a friends recommendation and had a great experience.
---
Reviewed on

10/31/2016
Daria T
Loved the price and the finished product!
---
Reviewed on

10/31/2016
Rita M
We loved our envelopes!
---
Reviewed on

10/31/2016
Caterina J
loved the calligraphy!
---
Reviewed on

10/02/2016
Brit'tany G
My invitations were perfect!! I will highly recommended them to anyone!
---
Reviewed on

10/31/2015
angie h
We waited till the last minute by swak prepared everything quickly and well priced. Very satisfied and went above our expectations. Highly recommeded
---
Reviewed on

10/31/2015
Barbara P
We purchased our engagement invitations with swak and then also had them do the calligraphy. Both came out perfectly and we will return for save the dates soon.
---
Reviewed on

10/31/2015
Pam D
Very excited to work with sealedwith a kiss for all our printed items and calligraphy. Located in Haddonfield, nj near where I bought my dress. Yeah!
---
Reviewed on

10/31/2015
Goergette g
We had our ceremony programs prepared and they were so elegant and priced well below other places we visitied. Tom was great to work with!
---
Reviewed on

10/31/2015
Diana B
Im a nursing student so my time is limited and Im so glad I found swak. I reserved their calligraphy from their website and even got 10 envelopes free. Can't wait to send our invitations.
---
Reviewed on

10/31/2015
Lara G
We went in to sealed with a kiss with our envelopes and they made great suggestions on the lettering and ink and it all coordinated so easily. We're very happy!
---
Reviewed on

10/31/2015
Alain N
Our menu cards were printed on a shimmer paper with our love park design and they looked great on our tables. We love swak.
---
Reviewed on

10/31/2015
Hailey M
SWAK prepared our Table NUmbers Cards when our venue had something we didn't love...so we went to swak and they made it easy. Great prices too!
---
Reviewed on

10/31/2015
Theresa R
We reserved a seating chart for our wedding and received a free upgrade with crystals on the chart. WOW......we loved it! Thank you!
---