Home

Sensibly Chic Weddings
About this Vendor
Wedding Planning. Chic Floral.
Spend more time dating your honey and less time sweating the details! Our role is to stylishly obsess over the hundreds of vendor, décor, and timeline details to keep you feeling calm and worry-free during your engagement and absolutely glamorous on the day you say "I do!" The flowers we design express the emotions of your wedding day. Whether your look is lush, organic, classic or simple, you and your guests are sure to swoon! Connect with us on Instagram @SensiblyChicWeddings!
Details
Ceremony, Cocktail Hour, Reception, Rehearsal, Wedding
Day-Of Coordination, Planning
Reviewed on

2/02/2018
Maggie S
I can't say enough good things about Nicole with Sensibly Chic! She was polite, professional, organized and just an overall great person. As someone newer to the DFW area, she was such a help with finding vendors and her referrals were just AWESOME! My wedding day went soooo... Read More smoothely. I was able to sit back and relax and when I saw the finished product of her hard work, it was just amazing! My vendors were very complimentary of her organization and one told me it was the smoothest ran wedding she had been a part of. I highly recommend Sensibly Chic. You can thank me now. 😁
---
Reviewed on

7/02/2017
Becky B
CANNOT say enough good things about Nicole. My story was rocky and it took several years to get to now but Nicole was there from the beginning. When it was time to finally get married, Nicole was right there and was there every step! She was never more than a text message, a... Read More margarita or a coffee away. She is unbelievably organized and detail oriented, which was immensely appreciated! She never left any stone of the wedding planning process unturned! 12 days before my wedding, I all of a sudden was in desperate need of a new officiant and she had one lined up for me in less than 24 hours. I was a mess at certain parts of planning but Nicole was my calm, reassuring voice. My wedding day was flawless because of Nicole and her assistant was amazing! I was dying in my heels after my ceremony and her assistant ran and grabbed my flip flops before our first dance :] They're a well oiled machine and I would recommend Nicole 100 times over!
---
Reviewed on

1/22/2018
My mother celebrated her 76th birthday on Jan 17 and I did not want to use the traditional florist. Sensibly Chic Weddings was recommended. I contacted the owner on Saturday, Jan 13 to inquire of a floral arrangement within a certain dollar amount and to request delivery since... Read More I am out of state and would not be able to get them to her. Nicole listened to what I wanted for my mother. She communicated with me when she would be able to deliver the arrangement and was able to work with my budget. So I hired her. The arrangement was exactly what I envisioned. It was so very beautiful and elegant. She delivered the followed to my mom and mom was speechless. The Lillie's had not fully opened by then but mom sent me a text picture of them a couple days later and oh my goodness!!! They were BEAUTIFUL!!! Thank you Nicole for making my mom's day with that gorgeous floral arrangement. I am so happy that I did not use the traditional floral delivery places.
---
Reviewed on

8/22/2017
Agata G
Nicole and the team at Sensibly Chic did an outstanding job. She made us all feel so relaxed and made the venue look awesome. Highly recommend her!
---
Reviewed on

6/05/2017
Christina C
Nicole was amazing and so helpful! She made everything stress free! I loved working with her and would recommend her to anyone!
---
Reviewed on

5/30/2017
Dennis M
I would recommend them to any one planning a wedding . They do a wonderful job . It makes it more enjoyable when you have someone that knows what they are doing and has a great personality.
---
Reviewed on

5/20/2017
HARRY C
Excellent!!! Fantastic!!! Exquisite!!! Are not enough to say what a stress-free wedding feels like. Top notch with the planned itineraries. I'm sure everyone had the time of their lives. Thanking you is just not enough....
---
Reviewed on

10/24/2016
Evan G
Nicole is fantastic! Everything always goes on without a hitch, and she is highly knowledgeable. I would highly, highly recommend!
---
Reviewed on

10/18/2016
I have worked with Nicole numerous times over the past 3 years. Every wedding that I have worked with her has run smooth and flawlessly. She really pays attention to detail to make the wedding day a complete success. I would highly recommend her for your wedding day!
---
Reviewed on

10/01/2016
Jenna B
Nicole helped me with a space plan for my reception. I was on a super tight budget--she had great ideas and helped me tremendously. She gave me a great vision for the layout of everything. Nicole is a great person and very professional; I wouldn't hesitate to refer anyone to... Read More her. She's awesome!
---
Reviewed on

9/30/2016
Lindsey E
Too this day, my husband still tells everyone that Nicole was one of our best wedding purchases. Our day would not have ran as smoothly and flawlessly as it did without her there. Her organizing skills and attention to detail exceeded all expectations. It was so nice to know our... Read More day was in her hands and I didn't have to worry about a single thing-- all I had to do was sit back and soak it all in as the bride. I received many compliments about Nicole from guests and family members. Everybody enjoyed her interactions with them and her management of the day's schedule. As the bride, I appreciated even having her help before the wedding in designing the ceremony and reception venue decor. She also guided me through planning that I never would have thought of on my own! Really, we just can't say enough great things about her.
---
Reviewed on

7/13/2016
I was very impressed with her professionalism and strong work ethic. The entire event ran smooth without a hitch! Very appreciative of her time and energy. Thank you for helping to bring to life this beautiful event for my daughter.
---
Reviewed on

5/04/2016
Nicole is the best! I simply cannot describe how she impacted our lives in the last few months. When wedding planning started to feel overwhelming for my daughter and me -about 10 weeks before the event, I began looking for a coordinator on my own. I sure feel lucky that I found... Read More Sensible Chic Weddings! Nicole stepped in when everything was half-baked and provided reassurance and was the voice of reason and calm. She kept us sane-no kidding. I was surprised to find myself letting go and actually ENJOYING the wedding weekend. She took my mess and created an organized itinerary and vendor list. She communicated with the vendors to ensure we were all on the same page and the schedule was correct. Nicole made many suggestions which we implemented and the results were spectacular. We met several times in person and she was readily available via email and phone for questions/advice and her calming influence. She is organized, efficient and always on time. You will not be disappointed with Sensibly Chic Weddings!
---
Nicole is AMAZING
Reviewed on

11/05/2014
Jill W
From monthly reminders to day of planning Nicole is awesome! She is very organized, very polite and so efficient. She sent me a check list every month for items I should be completing based off my wedding date (i used the minimum planning package because I like to plan my own... Read More stuff too). She attended my other vendor meetings and had some great ideas. She also drove to meet me half way since we lived fairly far apart. Nicole had schedules out to all of my vendors for day of timing, where to be, and paid everyone that still needed to be taken care of. She was awesome and I would recommend her to everyone!
---
Nicole was GREAT!
Reviewed on

8/19/2014
Caroline W
Nicole with Sensibly Chic Weddings was fabulous!!! I thought her pricing was very reasonable. She was usually very quick to respond to texts/emails/phone calls. She was incredibly professional and was a HUGE help when attending my other vendor meetings. I would highly recommend... Read More that she attend your DJ/reception music meetings, as she had some very good ideas on how to make a reception run more smoothly with the help of the DJ/Emcee. She was very thorough when making my wedding "day of and day before" timeline and added lots of detail. The only thing I can think to "complain" about was that a few items that needed to be set out at the reception (my cocktail napkins and koozies) were not put in their proper places prior to guests arriving. It definitely isn't a huge deal and I had no idea about it until after the wedding, so overall, my wedding experience was still great. However, I did want those items placed out for guests to use. Overall, Nicole was GREAT and I definitely recommend her! She truly made my (and my mom's!) wedding experience better.
---
Highly Recommended - Dream Wedding!
Reviewed on

12/18/2013
Eva S
I would highly recommend Nicole to any future bride and groom. Her attention to detail and beautiful wedding ideas ensures that every bride can have their dream wedding. She plans and organizes a truly seamless and relaxing wedding you can enjoy. I absolutely love how she... Read More plans every detail tailored to your special day! Nicole's passion, patience and sweet spirit is definitely appreciated during the wedding process.
---
Absolutely Exceeded my Expectations!
Reviewed on

10/08/2013
Lenny F
Exceeding the expectations of a Bride is nearly impossible. Exceeding the expectations of an OCD Bride is an art! And Nicole did just that! She planned every moment down to the smallest detail which meant our wedding went smoothly and everyone was working in conjunction. I can... Read More honestly say our wedding day was absolutely perfect and that would not be possible without Nicole's hard work, dedication, patience, attention to detail and passion for the business. I can't thank her enough!!
---
Meet The Owner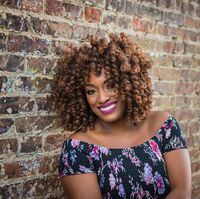 Nicole Elizabeth
Pisces. Dreamer. Loyal to Chihuahuas. Curator of Cupcakes. Your desire to have a beautiful, unique, and memorable wedding day is my inspiration. I LOVE love! Whether your love took months, years, or even decades to grow into a proposal, my mind and my heart are open to you, your relationship, and your wedding vision. Hugs and roses! Nicole Elizabeth