Home

Serafina Boston
Book Your Wedding with Serafina Boston
---
A RESTAURANT IN BOSTON, MA
About Us
If you believe that quality is more important than quantity and creative flair better than raw numbers, then Serafina Boston is right up your alley when it comes to designing a wedding celebration that absolutely rocks. Located in—you guessed it—Boston, Massachusetts, this ultra-chic spot takes a classical Italian vibe and transforms it into something even more beautiful and artistic.
Just the right size for a wedding that's more about family and romance than unnecessary pomp, Serafina Boston has six different venues that can be used for everything from relaxing rehearsal dinners to ceremonies and receptions that are a little bit different—in a good way. Each room has an ambience of elegance and style, with a huge focus on cool de´cor. That means wedding photos that blow you away, whether you decide to take classic white to the max or opt for a more eclectic feel.
The vault room stands out thanks to rustic unfinished-wood walls and mood lighting. It has a 24-person capacity for either seated meals or private ceremonies.
The Tuscan room is breathtaking. Get ready for sharp contours, touches of art and golden illumination everywhere. Its laid-back atmosphere makes it a favorite for sophisticated receptions with a slight twist. Count on inviting 80 people for a seated meal.
The private lounge is a good spot to sip drinks while mingling with your guests or to slow dance to your favorite song.
The main lounge is extremely elegant and provides you with a ton of creative freedom for your wedding celebration.
The High Street room has pristine wood floors throughout, wood tables with personality and an attention-grabbing chandelier in the center of the room. With space for 24, it's a great choice for rehearsal dinners or intimate receptions.
What You Should Know
Food is usually one of the things we remember the most about any event and weddings especially. Serafina Boston takes a huge amount of stress off your shoulders. Their cooks are professionals, serving up Italian comfort food served the way you want it. If you're in the mood for a reception that is extremely chic and romantic, try having everything served family style.
For a little extra, you can include passed hors d'oeuvres throughout the meal or reception, but make no mistake; with the abundant food, there's a good chance both you're going to be heading home after everything is said and done with tons of delicious leftovers. The waiting staff is incredibly professional—it's their job, after all—and attentive. The know exactly how much attention to give you and your guests to be as helpful as possible without being intrusive.
Serafina Boston is definitely a venue that's better suited to intimate weddings, but if you want to gain some extra space, think about reserving the entire restaurant for your wedding day. Everything is close, food is served on the spot and there are a ton of room options for a dance floor, an unforgettable ceremony and enough space for a mind-blowing reception. Plus, that way you have exclusive use of the whole place, meaning absolute artistic freedom. That way you get to just relax and enjoy yourself.
Extra Perks
While Serafina Boston is always known for going above and beyond the call of duty when it comes to providing outstanding service for weddings—the staff there love to take care of newlyweds; it is an Italian restaurant after all—the specific amenities included for your wedding day depends on factors like how big a space you need, whether you are using the whole restaurant and how much true love they see in your glinting eyes when you first meet with them. But, no matter what, you're always guaranteed some pretty incredible perks.
Dynamic director of private events
Free Wi-Fi
Professionally designed interior
From the Vendor
Serafina Boston
Serafina is a contemporary Italian restaurant where classic Italian food meets modern and elegant design. Perfect for intimate gatherings and special events including weddings, rehearsal dinners, engagement parties and much more. Located in the Financial District.
Amenities + Details
Amenities
Handicap Accessible

Liability Insurance

Indoor

Reception Area

Wireless Internet
For more details about amenities, please message the Venue.
Bar + Drinks, Food + Catering
Contact Info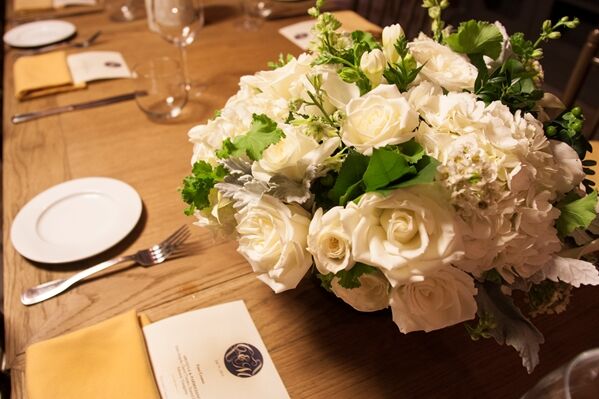 Reviewed on

8/10/2017
Kathy L
Cannot say enough about the exceptional staff, food and décor. Liz was wonderful to work with and was available through out the event to make the evening unforgettable. The cocktail hour with passed hors d'oeuvres was a great way to start. Try the Burrata Crostini and Lamb... Read More Lollipop!!! On to the first course! The presentation and flavor was on point. Highly recommend the Beef Carpaccio and Calamari just wonderful. Our main course we chose chicken breast with seasonal veggies and beef tenderloin. Both meats were cooked to perfection. Want to acknowledge how accommodating the staff was to our vegetarian's who where in attendance. They made a very special meal for them and everyone agreed it was delish!! I want to say the dessert course was over the top and the Italian pastries were to die for. I just wish I had packed a take away box for later in the evening. (sad face) Thanks Liz for a great evening. The guest made it clear that " it was the BEST rehearsal dinner venue and evening imaginable".
---
Reviewed on

6/07/2017
Danish S
My wife and I recently held our wedding reception during Memorial Day weekend at Serafina in Boston. The venue was exceptional and made for a great and memorable event. We highly recommend Serafina for the reasons outlined below: 1. The venue is elegant by design and features... Read More a white/cream color scheme with accents – thus the venue is appropriately suited for a wedding-related event. The décor complements the aesthetic and lends a modern, chic, and sophisticated air. 2. The restaurant is located in the heart of the City of Boston, thereby permitting our event to prominently feature the beauty of this city. For example, prior to the reception, our guests were transported through the city, by trolley, from our ceremony site located not too far away. And, after the ceremony, we were able to walk through the city for a late-night round of drinks (after 1am) with our friends at another favorite restaurant. 3. There are a number of great restaurants in Boston that we were considering; however, the professionalism and approachability of Elizabeth Flink (Liz), the private events coordinator at Serafina, allowed this restaurant to stand apart from the rest. My wife and I are exceptionally busy with work and it was important that we be able to host a great party that required minimal organization/planning on our behalf. From the outset, Liz gave us confidence that she could handle the planning/execution of the event and she delivered. Effort was minimal on our part as we only had to choose the menu we desired, provide a seating chart for our guests, and provide a rough schedule for the night (ie: cocktail hour, dinner, cake-cutting, dancing). She worked with our vendors (DJ, uplights, cake) to ensure the venue was ready for when we arrived. She also worked with our parents who made specific requests for the night. She gladly accommodated large portraits of my wife and myself to accent the venue during the event. And she ensured that the bar-staff could prepare and serve specialty cocktails, named after my wife and I, for our guests, in addition to the cocktail menu (which featured a quote chosen by us!) And importantly, through the planning process, she was extraordinarily responsive to emails/phone (with a remarkable response times). As my wife and I arrived at Serafina, with our friends and family, on the day of the event – we had the luxury of being able to enjoy our company as opposed to being worried about event planning and organization. For the reasons above, and perhaps others that we have forgotten to include here, Serafina proved to be an exceptional choice for our wedding reception and made for a spirited, energetic, and memorable event that was a ton of fun!
---
Reviewed on

5/30/2017
Liane L
My brother held his wedding reception at Serafina. Their staff is incredible, from their coordinator all the way to their front staff. Their coordinator was wonderful to work with; she was so thoughtful with every detail and so responsive with our questions. They were so helpful... Read More in our planning stages, as they gave us both some creative input and logistic details to make our vision happen. The Tuscan Room was a beautiful space to host our party of around 20. The guests loved the rustic feel of the room, and its ample space for both the lunch and cocktail hour. The food was delicious and we loved the variety in the private dining menu. Serafina was a beautiful backdrop to my brother and his bride's special day; I definitely recommend them to anyone looking into private dining!
---
Reviewed on

3/01/2017
I hosted my son and his fiancées wedding rehearsal dinner for 50 at Serafina and everything was perfect! The décor created an atmosphere of warmth and easy mingling of the guests. The food was delicious; I heard rave reviews by even the pickiest of eaters. The servers were true... Read More professionals...courteous, efficient, and with a real focus on customer service. And Liz was outstanding! Her attention to detail enabled me as the host and the guests of honor to just relax and fully enjoy the evening. I especially appreciated Liz's ability to read the crowd, stay in contact with me, and adjust the serving time based on the flow of the evening. I would highly recommend Serafina to anyone!
---
Reviewed on

9/22/2016
Erin I
My fiance and I held our engagement party at the upstairs lounge at Serafina and could not have been happier! We worked with Liz, the director of private events, & Roberto, the GM, who were both extremely professional and guided us through the whole process. They were... Read More responsive, organized and very helpful with suggestions for all aspects of the party. The lounge space held our 50 guests perfectly for a cocktail reception. We had passed appetizers, pizzas, mini desserts & a signature cocktail - a menu which Liz helped us customize & my guests are still raving about how excellent everything was. We would highly recommend Serafina to anyone looking for an event venue. Thank you for making our day so special!
---
Reviewed on

7/14/2016
We hosted our wedding reception at Serafina's Boston and my husband and I couldn't chose any place better. Starting with the professionalism of the people working there, with a huge thanks to Liz, without her anything wouldn't have been as smooth as it was. She took care of all... Read More the arrangements we needed, taking into account every little detail we asked for, responding to the tons of emails we sent her and giving us all the possible solutions to all the things needed. We were amazed of how great everything was, the atmosphere, the music, the arrangements, everything was exactly as planned…and it wouldn't have been possible without Liz and the rest of Serafina's staff. Of course, the food was great, they were all the time taking care of everyone's beverages and plates while at the same time they left space to our intimate conversations. All in all, the best choice we made. Thanks to Serafina and all the people involved we will remember this day as bright and happy as it was! I highly recommend the place, once there you totally will go back.
---
Reviewed on

6/06/2016
Alice N
We hosted a rehearsal dinner at Serafina Boston and it was fantastic. Liz was so professional and made the planning a breeze. Every detail was carefully executed and we were so pleased with all the staff and especially how smoothly Liz ran the evening. The food was delicious and... Read More the room looked great. A very memorable evening!
---
Reviewed on

5/19/2016
Katharine P
Our wedding was everything I wanted it to be – down to the very last detail – and I could not be happier! We held both our ceremony and reception at Serafina. It was the perfect place for my wedding, because I was looking for something outside of the normal hotel ballroom, or... Read More currently trendy rustic barn setting. Originally we were planning a backyard wedding, but I wanted something that would require less hands-on, DIY work. Serafina is a beautiful location – it's obvious that the owners hired an experienced interior designer / decorator and detailed fine craftsman. From the light fixtures, to the furniture, to the mix of raw and finished woods and metals, the vibe is effortlessly cool and unique. I got a lot of compliments from my guests about my wedding overall, and specifically about the location (and the food – more on that later). Serafina's gorgeous décor meant that I only needed to bring in a few florals. I added a couple of frames and some items from Home Goods, but it wasn't necessary. The real reason my wedding went so smoothly is Serafina's Director of Private Events, Liz Flink. I cannot speak more highly of Liz. From the beginning, Liz demonstrated her knowledge and innovative thinking – offering an array of options on setup, food, décor, and more. She went above and beyond – both before the event with flexibility on beverage options, meetings and site visits – and on the day-of, providing a room to be used as a bridal suite stocked with apps and bubbly, seeking out my mother to make sure she was well taken care of, even bringing in a full length mirror from her home for that last look before I walked down the aisle. She basically served as my wedding planner, providing recommendations on a florist, acting as point person with my DJ and photographer, and cuing me when everyone was in their places and it was time for me to walk down the aisle (she even timed out the music beforehand so she would know when I should take my first steps). Liz even set up our décor for us – staying late the night before after another private event, and coming in early on the morning of my wedding day to make sure all of the details were ironed out. Another thing to note is that I had three friends who needed a "nursing mother's room" at my wedding, and Liz made sure they had a private space. She also took care of our vegetarian friend... I'm pretty sure she threw in a few extras for me along the way! And even if she didn't, she made me FEEL that I was getting the royal treatment - isn't that what every bride deserves? The staff was also wonderful, quick, efficient, unobtrusive, kind, and were not stingy on the pours at the bar! As we all know, food is highly important at a wedding. Plus I'm a bit of a foodie, so I was never going to be one of those brides who doesn't eat at her own wedding. Well, the food at Serafina was fabulous! The steak was cooked to perfection! And even the pickiest of eaters were satisfied. There was more than enough food, and they even let me take home leftovers! I wouldn't hesitate for a second to recommend holding your wedding, or any private event, at Serafina. You will not be disappointed.
---
Reviewed on

1/21/2016
Molly H
We had our engagement party in Serafina's private room and it was PERFECT. Liz made the entire experience from beginning to end seamless by proactively reaching out, suggesting different food, bev,decor ideas, and truly making us feel like we were her first priority. Our guests... Read More continue to rave about how perfect the venue was from decoration, to food, to service. I could not have picked a better location. I highly recommend Serafina for an engagement party, rehearsal dinner, or even a shower. You can't go wrong :-)
---
Reviewed on

1/21/2016
Amalie K
We held our Rehearsal Dinner at Serefina on 12/30. The service was beyond impeccable. Liz was WONDERFUL to work with. She accommodated EVERY request and was happy to get her hands dirty with any DIY project we had in store. People are still talking about how fantastic the... Read More food was. It was family style and perfect for 40+ people. The private room was perfect for our group. We had the right amount of privacy and space. The room decor is Restoration Hardware meets your best friend's cape cod beach house. We had our event in the winter - and were able to make it less beachy - and more cozy. I'd recommend to ANYONE!
---