Home

SetApart4Christ Photo Booths
About this Vendor
Styled Wedding Photo Booths
Choose between our Antique Camera or our Modern Kiosk booths, styled perfectly to fit in with your wedding. Our professional and highly trained staff remain on site to provide you, your family, and your friends with an unforgettable experience. We continue to innovate and expand our unique offerings to provide the absolute best experience possible.
Details
Online Proofing, Digital Files, On-Site Printing, Photo Props, Photo Booths, Social Media Sharing
Contact Info

Amazing service!
Reviewed on

10/21/2015
Bianca A
By far the best photobooth i've seen and used!! I began planning my wedding and was looking for a photobooth that was in my budget, provided props and instant prints. When I found setapart4christ they were very responsive and I was able to reserve my wedding date. They... Read More created a custom frame to match my wedding colors. The best part was that part of my deposit was donated to a non-profit! As if this isn't good enough, when I saw their setup at my venue I was surprised. They had signage a nice line formed, props hanging from a stand and beautiful background. They had two people manning the booth and provided excellent service. All my guest really enjoyed it and I received all of their pictures in just a few days after my wedding. I HIGHLY recommend this company for your next photobooth. I honestly think the value they provide exceeds the price you pay, and you don't find that too often.
---
Reviewed on

4/12/2016
Jenna Van Dun V
You should absolutely choose SetApart4Christ Photo Booth for your wedding! They are professional, prompt, affordable, and the have the most amazing props! Their hats, glasses, signs, etc. keep you coming back because there are so many to choose from. The print quality of the... Read More photos is optimal! Charles gives you so many photo strip templates to choose from and there is something for every wedding and theme! You can tell that they love what they do, and love being a part of weddings and events. Our family and friends could not say enough about how much they loved their photo booth, and it shows in our guest book photos! Thank you, Charles!!!
---
Booth Blast
Reviewed on

2/28/2015
Meggan K
We loved having SetApart4Christ photo booth at out wedding. They were very professional and were there before we got to the reception. They had lots of props and a large area for the booth. All of our guest loved it. They also enjoyed being able to email and upload the pictures... Read More right there. My husband and I enjoyed looking through all the pictures of our guests and will be using them in our thank you cards. Great company. I would use them again.
---
Reviewed on

6/26/2017
Jennifer P
You can stop looking for your photobooth vendor now. SetApart4Christ is hands down the way to go if you want a unique, fun, and smooth experience for your guests! My husband and I just got married 6.24.17 and I had to write a review immediately!!! Our guests LOVED the vintage... Read More photobooth, it was so different than your average photobooth and it left such a great impression with everyone! Our vendor constantly was following up with me and working with me to make sure I loved the layouts for the wedding! I also really recommend the 4x6 layouts, they look fantastic! So just do yourself a favor and just book them already! Happy celebrations 🎉
---
Reviewed on

6/13/2017
Brian C
Unbelievable service at a great price! Charles and the rest of the team went above and beyond to give us the perfect experience. I highly recommend using SetApart4Christ - they are a phenomenal company and you will be glad you used them!
---
Reviewed on

6/04/2017
Harry L
Charles was very professional, prompt to respond to any questions, and a pleasure to work with. Great value and such an amazing Photo Booth they offer. Thanks again!
---
Reviewed on

4/24/2017
John K
SetApart4Christ was amazing! Their services were exactly what we wanted for our wedding and their package deals were affordable and reasonable. We wanted to customize our photo strips and they gladly did that for us! We couldn't be happier with the service they provided. The... Read More attendants were helpful and friendly and we especially liked that they helped out the older folk who didn't know what to do. We thoroughly recommend them to any couple looking for an excellent photobooth company.
---
Reviewed on

10/27/2016
Melissa A
Charles and crew created a great photobooth experience at my wedding. They were affordable, fun, and responsive. They had a great (giant actually) selection of templates to choose from. I would use them again and have recommend their services to several of my friends for their... Read More own events.
---
Reviewed on

10/22/2016
Stephanie O
Set Apart4Christ Photo booth really impressed us with how professional they are. Their layouts are great and with so many to choose from no matter what your wedding or party theme is they will have what you need. The quality of the pictures are outstanding. Their prices bet the... Read More competitors for what you get, I would recommend them to anyone! My Guest had a great time with the photo booth, It was a big hit!
---
Reviewed on

7/25/2016
Kathlyn M
Choosing SetApart4Christ Photo Booth was one of the best decisions we made for our wedding! Charles and his staff were so nice and professional. They helped our guests with working the booth and with dispersing the photos. I heard nothing but great things regarding their photo... Read More booth, and in most cases our guests had said this was the best one they had ever used. The photo booth packages are also very affordable, especially in comparison to other vendors, and allow you to have copies of ALL of the photos that were taken during the event. I thought this was great considering my husband and I got to look at all of them and see what a great time all of our guests had. Everyone, including my husband and I, had such a wonderful time with the photo booth, especially since there were so many fun props to use! The part that I liked most was that we could fit so many people within the booth; one of my favorite pictures I took that night had 11 people in it! Overall, I would definitely recommend this vendor to anyone who is looking for a photo booth!
---
Reviewed on

6/30/2016
Tesa M
Charles was quick to respond and great to work with! My party loved the props, and the amount of photo strips everyone in their party received! Would highly recommend!
---
Reviewed on

3/13/2016
Tiffany E
This is a great company, courteous, prompt, accommodating and to top it all off they have an excellent product. I am very impressed with the services, even a few of our wedding guest said this was the best photo both they have ever used! Charles offers an affordable package that... Read More includes high resolution photos that can be emailed or sent to social media immediately. There was a plethora of props hats and all sorts of goodies to play with. The back ground and photo print outs were included in the package as well. He did not try to up sell us or buy other packages. The very next day I received a link that allowed me to download and save all of my guest photos. IF IN DOUPT BOOK HIM NOW! YOU WILL SAVE SO MUCH MONEY AND HAVE A BETTER PRODUCT THEN OTHER PHOTO BOOTHS!
---
Great Photo Booth company
Reviewed on

1/25/2016
Nicole S
Charles was fantastic to work with! They had a ton of props and the Photo Booth was open so you could squeeze a lot of friends in. After our wedding, we received a link with all the pictures from the night which was a blast to look through. I'd highly recommend using them for... Read More your wedding or event.
---
Couldn't live without!
Reviewed on

1/10/2016
Kathryn H
My wedding was on Sunday, January 3rd and from the first time I contacted Charles, he was nothing but helpful. He reserved the day of my wedding from his initial proposal for 30days, however, with the hectic-ness of wedding planning, he still worked with me after I had not been... Read More responding promptly. Charles was absolutely kind with each interaction and not to mention his EXTREMELY affordable prices. On the day of the wedding, he and his assistant were dresses very nice and the photo booth itself was big enough to accommodate large groups for funny pictures!! There were TONS and TONS of hysterical props! I highly recommend getting the guestbook with your package, it's now one of my favorite momentos of the wedding. I can not rave enough about my experience. When initially planning the wedding, I had a timeframe in my head, but when time came closer, Charles wrote a new contract with me to accommodate the changes. He made the wedding planning easy and provided my guest with an awesome experience! Thank you!!!
---
Amazing Amazing Amazing!
Reviewed on

10/16/2015
Amber H
Charles was awesome! Our guests not only loved that there were so many props to choose from but they also received their pictures right on the spot. Our original plan was to use this booth for our photo guest book, but instead used it for our guests to have something to do when... Read More they didn't want to dance. Highly recommend this company!!
---
Reviewed on

8/31/2015
Chelsey D
THE BEST DEAL YOU WILL EVER FIND IN SAN DIEGO!! The photo booth was a HIT at my wedding! Charles took time out of his day to meet with us before the wedding to discuss his setup, how the photo booth works, the prices, and his experience. He let us customize our own background... Read More layout for the prints. Also, we had booked SA4C from 7:30pm-10:30pm, but my coordinator requested he comes in before then to setup because it was not going to work if he had to setup during dinner. SA4C did not charge us for having to setup early and come back when the photo booth opened. They worked with us on every level and I couldn't have been happier to hire Charles and his crew at my wedding! You seriously will not find a more AFFORDABLE and amazing photo booth company. Thank you for being the highlight of my wedding!!! AMAZING!!!
---
Awesome so fun
Reviewed on

6/09/2015
Joanna l
They were amazing, on time and set up. They have a great personalities and helped up us have a great time with it.
---
LOVED everything!!
Reviewed on

2/26/2015
Gabrielle S
I loved the design he made for our wedding guests photos! Matched beautifully to our color scheme!! It's fun, and it was easy to understand how it works! The service was great!!! You tell them where to set up and they will leave you be to finish your running around!
---
Meet The Owner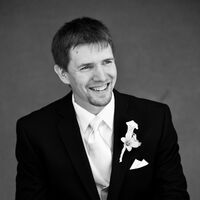 Charles
I have been photographing wildlife and landscapes since 2004. Moving into portraiture photography in 2012 while volunteering with the Leukemia & Lymphoma Societies, Team In Training. After helping with a number of church events I looked into software that would automate the process. I built my first photo booth in 2013 and officially opened SetApart4Christ Photography & Photo Booth in August 2014.