Home

Shindig
About this Vendor
Not Just Invitations!
All of Shindig's invitations and related products are custom made with love. We brainstorm, design and produce all details to fit each client's needs precisely. Once the invitations go out we offer a vast array of accompanying "day of" products, signage and on-site assembly services.
Details
Escort + Place Cards, Menus, Programs, Seating Charts, Invitations + Paper Goods
Contact Info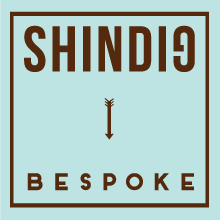 Outstanding Design!
Reviewed on

9/07/2013
Robert J
We used Jill to design our wedding invitations last fall. Can't say enough about her creativity. And what makes it better is how much she cares about every detail being right. Unique, professional, creative. We'd recommend her to anyone. Robert Jones and Graham Reed
---
Beautiful and thoughtful wedding invites
Reviewed on

7/22/2013
Rachel S
Jill did an amazing job designing and printing our wedding invitations. She listened to all our ideas and preferences, and then came up with a design that was perfect for our wedding style and personalities. She even took the time to incorporate a Cambodian traditional graphic in honor of my heritage (this was an idea she had on her own). Jill will go out of her way to create some unique that matches your tastes and I highly recommend working with her. We got a ton of compliments on the invites. The only additional advice I have is to make sure you figure out and agree upon a timeline well in advance. We tried to accelerate the process and Jill was very busy, so make sure you know well in advance when you want things finished.
---
Creativity at it's best!
Reviewed on

7/15/2013
Chris S
We used Jill for our wedding invitations. Her creativity is unmatched! We ended up using elements from both design proposals because we loved them both. Jill's design process is simple. The timeline and pricing information were available from the start. We were informed about each step of the process and she was always available for questions.
---
Great Experience!
Reviewed on

1/18/2015
Stephanie S
We had a great experience working with Jill and would recommend her without hesitation. She designed unique and beautiful invitations for us and helped create a design theme for our wedding, including a personalized logo. We received so many compliments from our guests. She helped with our place cards and other "day of" materials so that everything, including our invitations, worked together and reflected our taste and personality. Jill was responsive, easy to work with, extremely creative and full of good ideas. We were so happy that we decided to work with her!
---
Great design and collaboration!
Reviewed on

1/14/2015
I never thought working on the save the date or the invitation would be so much fun! Working with Shindig was great - she very quickly got a sense of our vibe, what we're about and was able to design the perfect save the date and a wonderful invitation to compliment it. Through the save the date, the epitome of cool, we set the exact tone for our event that we wanted and the invitation followed up with the exact level of sophistication and modern design that we wanted. Shindig was open to feedback and an open dialogue about the design and deadlines and I hope to have an opportunity to work with them again!
---
Beyond Thrilled
Reviewed on

12/30/2014
Bobby W
Jill was an absolute pleasure to work with! She listened to all my ideas/ramblings/visions and was able to tie them together into a cohesive beautiful product. She went above and beyond in everything we asked of her. At times, we presented her with quick deadlines and she got everything done beautifully and timely. I trusted her completely and knew I would get the best quality work. I plan to use her again in the future for any event/party and would highly recommend her to anyone.
---
Beautiful Custom Work!
Reviewed on

6/17/2014
Jordan A
Shindig was one of the best choices that I made when planning my wedding. Jill puts so much thought, creativity and care into her designs and turns out the most beautiful products. When meeting with Jill I tried to convey to her my vision of the wedding. Not only did Jill completely understand my vision, but her designs for our invitation suite ended up showing me things I hadn't even thought of that would perfectly tie our wedding together. Jill thinks of every detail and made our invitation suite, signage, programs and more, more beautiful than I could have ever imagined.
---
Fantastic additions to any event!
Reviewed on

10/06/2013
kate b
We used Shindig for our wedding and we could not have asked for better. Everything looked beautiful. Jill was professional and worked with us to personalize everything to our delight for our beach theme wedding. I highly recommend using Shindig for your next event!
---
Beautiful and Unique Custom Work
Reviewed on

10/06/2013
Catherine M
Jill from Shindig was an amazing vendor to work with. I absolutely love stationary and she put together an incredible package of custom design that not only fit our wedding theme, but really fit our personalities. We received so many compliments on the invites that we were asked by several friends if they could keep their RSVP and RSVP via email because they loved it so much. I would highly recommend Jill as she exceeded design expectations and kept us on schedule. The sign of a good wedding vendor is they reduce stress instead of adding to it, and Jill fulfilled that in spades.
---
thoughtful and gorgeous designs!
Reviewed on

10/03/2013
Jill is truly the best. She was such a pleasure to work with-- always two steps ahead. Her designs are beautiful and she incorporated everything we had talked about it (and more). I loved the invites and save the dates so much that we enlisted her for our menus and place cards as well. I can't say enough positive things.
---
Incredible!
Reviewed on

10/03/2013
Susan H
Jill is amazing. She is a true artist and it was a pleasure to work with her. She listened carefully to all voices and incorporated these perspectives in her work. We had guests tell us that they framed the invitation and save-the-dates for their own use!! Jill is readily available at all times and was quick to respond whenever we contacted her -- even when she was on vacation! We loved her work and we loved her! Fantastic experience and we will have the evidence framed forever. Thank you!
---
Beautiful & Unique Work
Reviewed on

10/02/2013
Cynthia H
Jill helped make my wedding the unique and special experience I always wanted! I reached out to her for ideas to add small touches to my wedding that would make it more personal, a little different. She blew us away. She made the place cards on beautiful tags, table #s that she hung perfectly on a wine bottle she placed on each table and even made us personalized coasters to put on the bar (and a stack to take home with us). Her creativity and artistry are so awesome. I can't tell you how grateful I was to find Jill! And now she's making my baby shower invitations! I'm sure she's used to that... happy clients coming back for more!
---
Shindig Sets the Standard!!
Reviewed on

10/02/2013
Kathryn S
We have not even reached our wedding date yet and I just have to say that Shindig has really set the bar for all our other vendors to meet! We are having our wedding on our farm and when we first met Jill, she immediately suggested meeting us out at the farm for inspiration and to get a clear sense of what we wanted. Wow! The resulting invitations were remarkably personal, creative, and beautiful. I can tell that Jill really cares about the finished product as much as we do, and obsesses over every last detail, even things I never would have considered. Our wedding is just 10 days away and guests have been raving about the invites for months. Thanks Jill, for helping us set the stage for our wedding in stunning fashion! Book Shindig, you will be so glad you did!!!
---
EXQUISITE product and PROFESSIONAL
Reviewed on

10/02/2013
Jeneca P
Jill is amazing. She is so talented and creative. Jill created the most stunning handkerchief invite wrapped in lace, and she provided a hand drawn map of the estate on the Weekend Wedding Itinerary card. Also, for our escort cards, Jill created tiny escort card pennants to wrap around the stems of flowers in a box of grass. We received so many compliments on our wedding invitations and stationary used for escort cards! I would recommend Shindig in a heartbeat. AMAZING design and customer service!!!! She's the best of the best, by far.
---
The very best in creativity and execution!
Reviewed on

7/09/2013
Evan W
As a former graphic designer and current advertising exec, I'm a pretty tough customer when it comes all things "design". My fiance and I had a very clear vison of what we wanted for our destination wedding invites and Jill @ Shindig delivered beyond our expectations. Working with Shindig is an absolute pleasure. Aside from being extremely talented, Jill was supremely thoughtful, collaborative, organized (always on-time) and transparent throughout every aspect of the design process. I thoroughly recommend Shindig for anyone who wants to do something that feels more premium than her expensive counterparts, will reflect the personality of both the couple and the event and wows every guest that lays eyes on the final product.
---
Jill is amazing!
Reviewed on

2/11/2013
Leah C
Working with Jill was absolutely one of the most fun parts of planning our wedding. We had a couple of initial meetings to discuss what I was looking for and to brainstorm ideas. She created all of the stationary/paper products for our wedding including the invitations, programs, menus, place cards, etc. Going the custom route is a little more pricey, but my husband and I felt strongly about the details of the wedding reflecting who we are as a couple and what we value - that was difficult to do with the "canned" options (which I had tried with the Save the Dates). My husband and I were both really pleased with the final products. They were high quality, fun, and creative. For our table names (images of some of our favorite foods with the name in Italian underneath), she even did some hand-drawing to make sure they looked just right and she coordinated with my florist (who was in Austin, TX) to plan for how they would stand on the table. Our programs were also bound with small twigs that she had gathered (our ceremony was held under a large live oak tree). So cool! I would wholeheartedly recommend Jill and her work. I'm already trying to figure out an excuse to work with her again!! :)
---
Shindig is amazing!!!
Reviewed on

12/14/2012
Selina W
We were so lucky to find Shindig for our wedding!! Jill is a pleasure to work with. She had such great ideas and quickly got to know us and our style. She did our invitations as well as Ketubah, place cards and table numbers and everything came out absolutely perfect!!!
---
Creativity at it's best!
Reviewed on

11/12/2012
Jennifer G
Working with Jill was awesome! I used her for our invites and her work was so amazing we ended up getting our welcome packets, menus, escort cards and programs through her as well. She really puts 110% into every project! We had told her we liked one of her past invites and to follow the design similarly. I was expecting the same invites with the wording, font and colors a bit different. What we got was amazing, she took the invite that we liked but also took our personality and description of our wedding ideas and created the most unique invitation I've ever seen! We got numerous comments on the invite the week they went out. The additional paper goods we got through Jill also didn't disappoint. Besides her creativity she is great to work with and get you everything you need in time :)
---
beautiful, intuitive, unique
Reviewed on

8/12/2012
Emma I
Jill at Shingdig did the save-the-dates and Invitations for our wedding. To begin with she is a lovely and open person who was able to put us immediately at ease. She was also incredibly prompt, always getting back to our questions immediately and she worked very hard to send a number of different proves as soon as possible. Her designs are incredibly intuitive to each couple. She very quickly understood what we like and the direction we wanted to go in without really having to be told. When we mentioned how much we love books and literature, particularly fro the 1920's she designed the most gorgeous book-themed invitations with 1920's motifs, even going to far as to source book fabric and lace bookmarks. I can't recommend her highly enough. We have had so many phone calls, emails and messages from people to tell us how beautiful they are. If you are looking for unique, individual and gorgeous designs, Shindig is absolutely wonderful.
---
Shindig set the tone for our whole wedding
Reviewed on

8/08/2012
Stacey B
From the first meeting until the day of our wedding, working with Jill (owner and head creative of Shindig) was one of the best parts of planning our wedding. Jill met with us and after our first meeting sent us 2 designs for our SAVE THE DATE that showed that she completely "got us". The SAVE THE DATE that we chose became the theme for the whole rest of our wedding from the invitaitons to the table names, placecards, programs, etc. Working with Jill is a dream. She listens, works WITH you, understands budget constraints if you have any and goes above and beyond to give you the absolute best quality EVERYTHING possible. Our guests were blown away by the Save The Date, The Invitation and all of the decor at our venue. All of our elements were elegant and classy and totally set the tone for our wedding party.
---
Exactly what we needed
Reviewed on

7/30/2012
Erica M
My husband and I had little time or creativity to design our wedding invitations (or even think of preliminary ideas), yet we still wanted our invitations to be unique and personal. After meeting with Shindig's creative director, we knew we were in good--great!--hands. After getting to know us, she provided several original proofs that showed she understood what we were looking for. She was not only pleasant to work with, but also patient with us as we came to a final decision on the design. We loved our invitations so much that we had Shindig design our escort cards, table signs, and menus, as well as help us with our wedding favors. We felt truly lucky to have found her on The Knot and can't imagine what we would have ended up with had we not used Shindig!
---
Custom invitations by a creative genius!
Reviewed on

10/25/2011
Jackie G
Working with Jill turned out to be one of the best parts of planning our wedding. We started out needing a rushed save the date and, true to form, Jill quickly polished off our wedding logo (which we LOVE) and gave us a practical idea to get our save the dates out asap. Then, the real work began on the invitation. We had wanted the wedding to have a rustic, casual, reunion-like feel while still being elegant. I had a lot of ideas in my head and my husband is fairly picky... Jill patiently worked with us until we were thrilled with the result. Jill captured what was in our heads perfectly and took it to the next level! We got SO many compliments on our unique invitation set and our guests totally "got" the feel for our wedding. We also worked with Jill for the menus, escort and place cards, and all the signage for the welcome dinner and wedding. She came up with awesome ideas that worked into our theme and created a cohesive feel throughout the weekend's events. We loved Jill's concept for our wedding and trusted so much in her judgement and ability to know what we wanted, that we arranged for her to be on-site during the wedding weekend. What a life-saver, especially since we didn't use a wedding planner! She arranged all of her work beautifully, solved last minute issues, and even helped to set up and organize things that were beyond her "role". I have so much admiration and respect for Jill, her creativity is remarkable but most impressive is her ability to grasp what you want and make it a reality. I feel so lucky we found her and I can't wait for another event to arise so I can work with her again! Finally, despite her friendly demeanor and all the fun I had working with her, Jill is super professional; she kept us on schedule and respected our budget. I couldn't have asked for more!
---
wonderful & talented designer!!!!!
Reviewed on

12/03/2010
jenny a
Hands down one of may favorite vendors I had the pleasure to work with! Jill made our save the dates, wedding invitations, our place seatings, menu cards, wedding programs and our thank you cards!! They were stunning!!! She went above and deyond! We had so many complements! Shes an amazing person to work with. A true perfectionist - She listened and heard all our ideas and then perfected them!!! I would 150% use her again and again!!!
---
Amazing invites
Reviewed on

12/02/2010
Jamie B
I had an amazing experience with Jill Ryder, the owner of shindig. She was professional, detail oriented and my save the dates, invites and place cards were beautiful. I received so many compliments from my guests on the design and originality of my invites. For truly original and beautiful invitations I would definitely recommend shindig.
---
" more than pleasantly surprised.."
Reviewed on

11/30/2010
Amanda T
With Jill at Shindig I was more than pleasantly surprised, in more than one way. When I first thought of invitation and paper products for my wedding, I went to a slightly overpriced, run-of-the-mill-place. I was completely unaware of all that I wanted, but I knew I wanted something elegant, timeless, and sophisticated. Jill did all of that for me and more. She helped me create a beautiful invitation set, with not one detail overlooked. I was extremely happy with all of her work. She made the first impression of my wedding stand out to the point where my guests were commenting on our RSVPs about how gorgeous they were. I am still so happy with my choice of Jill at Shindig, and I have already recommended her to my girlfriend getting married next year!
---
Send Message