Home

Shiraz
About this Vendor
Wedding Planning | Catering | Model Staffing
Shiraz is a full service boutique firm that can produce, design, style, staff and cater events and weddings large and small on a national level. Our industry expert, Jason Mitchell Kahn, provides a personalized experience to give each couple a one-of-a-kind event.
Details
American, Eastern European, French, Indian, Italian, Latin American, Middle Eastern, Fusion
Dairy Free, Gluten Free, Nut Free, Organic, Sugar Free, Vegan, Vegetarian
Buffet, Catering Clean Up, Catering Delivery + Setup, Chef Stations, Family Style, Food Trucks, Menu Tastings, Passed Appetizers, Seated Meal, Servers, Food + Catering, Service Staff
Contact Info

THE BEST
Reviewed on

7/26/2012
Vanessa P
Shiraz is the best in South Florida. They helped plan and organize my entire wedding (not just the catering) and it took so much pressure off of me and made my day even that much better. The entire team is so kind and understanding and accomodating and they always work with your... Read More needs and desires. They udnerstood we weren't doing a traditional sit down dinner and instead wanted something more casual and cocktail style and they put together a truly fantastic menu. People absolutely LOVED the food and commented about how great it was for a wedding. In addition, their servers and staff were so attentive and everything always looked clean and fresh. I do events for a living so I am aware of all these little things and Shiraz really pays attention to the details and the small stuff. They live up to their promises. I would highly recommend them for any wedding, event or occasion and I will deifntiely be using them again myself.
---
Reviewed on

3/30/2016
Brian P
Jason Mitchell Kahn was my Day Of Coordinator for my wedding and was an integral part in making my dream wedding come to life! Even though I didn't hire him as my wedding planner, he went above & beyond all expectations. He helped put together the menus & program cards, he gave... Read More great suggestions & planning tips, communication via email or calls were quick & easy, and he'd check in with me from time to time to make sure I wasn't too overwhelmed & to see if I needed any help. I'd also recommend getting his book "Getting Groomed" which I used quite often as a reference guide. I'm pretty skilled at throwing large scaled parties, but he even thought of things that didn't occur to me which were a tremendous help. He was even so thoughtful that after the ceremony, my husband and I wanted to get away from everyone for some quality alone time to let the event just sink in & Jason came into the room with 2 waiters with champagne, water, and food from the cocktail reception to make sure we had food & drink to enjoy while together. You only have 1 shot for the perfect evening, so having Jason by your side is hands down the way to go! I HIGHLY recommend him & can't thank him enough for making my dream wedding come true!!!
---
Jason from Shiraz was FANTASTIC
Reviewed on

11/02/2014
Sarah O
Jason Mitchell Kahn from Shiraz is a very talented wedding planner. We had the privilege to have him as our wedding planner at our wedding a couple weeks ago. He was extremely professional to work with, and was a lot of fun. His knowledge of weddings and his abilities to... Read More suggest ideas without ever being pushy at all made the whole planning process so enjoyable and easy. He helped run our rehearsal and rehearsal dinner, and was there throughout our wedding day. Every moment of our wedding weekend ran very smoothly, and we definitely have him to thank for that. His help and services removed so much stress from our wedding experience, and we will be forever grateful for his help. I would strongly recommend using Shiraz Events to help plan your wedding day!
---
Miami wedding
Reviewed on

10/26/2014
Shiraz catered my wedding in Miami. I was absolutely blown away by their creativity, attention to detail, professionalism, flexibility, aesthetic, and team members. For work, I've produced many events in Miami, and Shiraz is my favorite caterer I've ever had the pleasure of... Read More working with- which is why they were the only ones I would have considered to cater my wedding! They are true professionals with extremely high standards, but which such a creative mindset. In my experience, they come to the table with something completely unique for every single event- no matter how large or small. They take pride in what they do and it shows. The owners are extremely hands- on and involved. I adore Shiraz.
---
Amazing experience with Shiraz Events!
Reviewed on

10/22/2014
Kristen M
Shiraz came to our rescue after we unfortunately had to part ways with our original caterer. With 3 months until our 150 guest wedding, Shiraz literally needed to start from scratch. They made us feel extremely comfortable and took away all of the stress that comes along with... Read More planning a wedding. Every detail was taken care of - from the linens, tables, design, lighting, flowers, food, service, colors, etc., nothing was overlooked. Jason, our wedding planner, was super meticulous and extremely thorough. He definitely has an eye for design and completely understood our vision and was able to deliver well above all expectations. He always made himself available and we trusted him 100% to take the lead. Michael, our catering director, was able to translate our vision into something truly unforgettable. The food was exquisite and we are still receiving compliments to this day. On our wedding day, everything was perfection. The staff that accompanied Jason and Michael were kind, personable, energetic and very professional. We 100% recommend Shiraz Events to any couple looking to tie the knot or for anyone looking to host a party and or event.
---
A Complete Wedding Dream
Reviewed on

10/22/2014
No words to describe the whole experience I had for the last year while planning my wedding with Shiraz Events. Courtesy, attention to details and a full understanding on how to make a dream wedding come true makes this team stand out on every aspect of the market. Thanking is... Read More not enough to give them back all the joy and good vibes that this day brought to my life and to my guests. Outstanding food, excellent service and an eye candy production made this the most beautiful day of my life.
---
Shiraz is the FULL PACKAGE
Reviewed on

10/21/2014
Asaf R
I worked with Shiraz several times with corporate events, so I knew to expect the most professional staff. But when we were planning our wedding, we didn't know the amount of flexibility we will be asking from Shiraz! Our wedding was planned for the 30th week of our surrogate's... Read More pregnancy. She was carrying our twins, and around week 24 things got complicated. The whole period leading to our wedding day which should have been fun ended up being nerve-wracking, because at this point our surrogate was on bed-rest and we were worried that she was going to give birth prematurely any minute. So we kept on changing the event to accommodate for any event that may happen. On Friday before our Sunday event our surrogate was in the hospital and for a moment we thought we may need to cancel. We everyone held up (for a few more weeks!) and the the wedding and ceremony were beautiful and moving, and we were so happy to have so many friends and family there. The whole Shiraz team was everything you could ask for, from planning to execution: sensitive, creative, budget conscientiousness when you ask them to be, and you really felt like there were there when you needed, but in the background when you needed your privacy. We both know that this amazing event could have not been such a success without the Shiraz team!
---
Meet The Events Director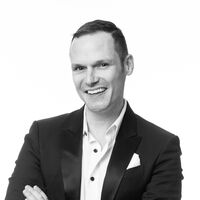 Jason Mitchell Kahn
Jason joins the Shiraz Events Wedding team as one of its official wedding experts after the 2014 launch of his new book "Getting Groomed: The Ultimate Wedding Planner for Gay Grooms", published by Chronicle Books. Known as an expert in the field, Jason posts to a regular blog and contributes pieces to various wedding websites. Prior to Shiraz Jason worked for several years at Soho House New York as the Event and Banquet Manager and quickly became known as the in-house wedding expert. There he worked with couples on planning their special day in addition to doing freelance wedding planning.