Home

ShutterBooth KC
About this Vendor
Relive Your Event - Frame by Frame
Give your guests an experience they'll never forget with ShutterBooth. Guests enjoy the spontaneity of posing for pictures and revealing their true personalities. Capture unforgettable moments and create lasting memories with photo strips, scrapbooks and photo DVDs from ShutterBooth.
Details
Digital Files, Online Proofing, Photo, On-Site Printing, Photo Props, Video Booths, Photo Booths, Social Media Sharing
Contact Info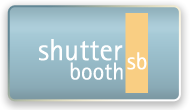 Great experience!
Reviewed on

11/03/2014
Jessi J
My guests had a great experience and a lot of fun at the photobooth. It was a great addition to our wonderful wedding. The attendants at the photobooth were also very nice and professional.It was fun to look at the album afterwards! The only thing I wish I would have done... Read More differently is announce to my guests that there was a photobooth at the reception. Alot of them said they didn't know it about it. So my advice to future couples, make sure your DJ announces it or make sure your guests know in some way!! Thanks for the great memories!
---
above and beyond
Reviewed on

12/19/2013
Elizabeth B
We did all our booking and communication online/through email, and everything went off so smoothly! Guests (and my husband and I, of course) really enjoyed putting on props and taking pictures during the reception, plus it made an instant souvenir/favor that they will probably... Read More actually keep to remind them of the fun time they had at our wedding. The company brought an album to the reception and 2 attendants stood by to glue in pictures and ask guests to write notes to us next to their photo strip. We didn't even know this was part of the package when we booked them, so it was a lovely surprise. They also sent us a CD with all the pictures from the night (we then put the pics up on facebook), and a framed copy of our picture from the booth, with a handwritten note of thanks. They really went above and beyond our expectations.
---
No Shutterbooth, No Wedding!
Reviewed on

6/19/2013
Pauline Y
We searched all over for a photo booth. We called 3 different vendors who claimed to have the best service, quality and prices. None of them returned our calls. It was last minute but Shutterbooth was the ONLY vendor that returned our call within the same day! They even gave us... Read More a price according to our budget & best of all tended to our schedule (our wedding was on a Saturday & they are usually closed on the weekends)! The photos were great quality. I expected less pictures because we got a custom logo but the strip was a great size. Staffing for the photo booth was wonderful also! With the crowd we had, we appreciate how patient they were. All in all, our wedding would not be complete without Shutterbooth. We love our guestbook & our guests loved their photo strips! It's money well spent. The best part of Shutterbooth is: A week later we received a personalized card from Jeff & Kylie along with a frame with our photo strip! Shutterbooth has left an amazing impression on us and our guests. Thank You Jeff, Kylie & Shutterbooth for an awesome experience!
---
Reviewed on

8/25/2016
Alyssa P
Some of our friends used Shutterbooth in another city for their wedding, and we knew we had to have them at ours. They were fantastic to work with, and we will cherish our album for years to come. They are the best photobooth (value, options, etc.) company, and we highly... Read More recommend them. Thank you!!
---
So So
Reviewed on

6/12/2015
Cayleigh G
I hired shutter booth because I met some amazing women at a bridal show! Signing the contract was great easy and quick. Then as it got closer to my wedding it was getting harder and harder to get in touch with shutterbooth. The guy who came and maintained our photo booth was not... Read More what I expected, I was told that the attendant would be helpful and encourage guests to sign the photo album... Well that was the case.. I had also purchased my own photo booth props and they did not even set them out for my guests to use. The best thing about shutterbooth was that they e-mailed me all the pics when I was on my honeymoon and we loved being able to see them and share them with friends!
---
Best Photo Booth
Reviewed on

11/24/2014
Samantha K
They were very prompt on responding to my emails and always answered my questions. They were able to incorporate my wedding invitation into my photo strips which was super cute! We got several compliments on how our photo strips were bigger and the pictures were more clear than... Read More other photo booths they have used.
---
Wonderful
Reviewed on

6/16/2014
Leann P
Our guest loved the photo booth we had at the wedding! Thanks again!
---
Not recommending
Reviewed on

6/04/2014
Kendra L
When looking for a photobooth for my wedding, I wanted a company that provided unlimited number of prints for everyone in the picture. At my wedding this was not the case. When I made my complaint I was informed that my guests should've asked for more copies, but how were they... Read More supposed to know when the attendant only handed a group of 6 people one copy without even bothering to offer to print more for the other people? By the time I realized I had missed out on some photobooth fun, my attendant had already shut down my booth without any kind of warning or ask if I would like to keep it open. I received numerous complaints from my guests about the attendant's overall attitude while working, and even when one of our guests offered to pay money to re-open the booth, her response was "You don't want to do that". The owner of the franchise here in Kansas City was extremely defensive when I called to complain and basically told me if my expectations were that everyone in the picture was to receive a copy then we "should've discussed this beforehand". I guess unlimited prints don't exactly mean unlimited prints, even though that's what they'll tell you.
---
Great time hd by all!
Reviewed on

7/24/2013
Kimberly B
Our guest loved the photo booth we had at the wedding my only complaint would be that my guest felt like some of their interaction with the young man running the booth was inconsistent and was not very pleasant.
---
Great Service. Great Value.
Reviewed on

5/14/2013
Shannon V
We used Shutter Booth KC for our wedding and thought they were great. The attendant was very personable. The booth looks very nice. Plus, it can be constructed quickly, which was convenient because we were able to have it placed on the second level of our venue. The guests... Read More all loved it. But my favorite part was that we got a copy of each photo strip as our guest book. It was so much fun to go through everyone's pictures and messages the next day. And finally, a week after we returned from our honeymoon we got a package from sb containing a cd of all the photos and the photo strip of me with my parents in a frame. So thoughtful. I definitely recommend.
---
Best money I spent on my wedding!
Reviewed on

5/12/2013
Kelly T
I have been in my share of photo booths and ShutterBooth by far produces the best quality photos. My guests loved the photo booth and the guest book turned out AMAZING! The pictures are all awesome and the attendant was great all night. I would highly recommend this company... Read More for their quality and service at an affordable price.
---
great!
Reviewed on

9/19/2012
Naomi B
these guys were so great! I really enjoyed having the photobooth at the wedding!
---
love it!
Reviewed on

7/25/2012
Tania H
The photo booth was a great and fun addition to the reception! The photos made a great guestbook as well as a great keep sake for our guests since they got to keep a copy of their strip too. We did this in place of our guestbook and favors. ShutterBooth was great with... Read More designing our book and the logo at the bottom of the photo strips so that it matched our event. There was some confusion of the photo booth being tied to the guestbook, but this was because of the way it was announced - nothing to do with ShutterBooth... just a FYI if you do something similar to make sure your guests understand :) They were friendly and professional and we just love our guestbook! We were super pleased with our experience with ShutterBooth! And then, to top it off, they surprised us with a framed version of our photo strip! Was a great thing to come home from the honeymoon too and is a great keepsake! Highly recommend for sure!
---
Great!
Reviewed on

5/29/2012
Andrea R
ShutterBooth was great!! The guests at my wedding had a great time. Everything was set up and ready when we got there and started promptly on time. The two hostesses were great and really helped move everything along. Everyone talked about the booth after... Read More the wedding. My mother in law told me she needs to have a photo booth at every party from now on.  I loved the photo album I got at the end of the night!  
---
Thank You ShutterBooth!!!
Reviewed on

3/11/2012
Kylie L
Great time Friday 10.7.11 you made the night full of memories!!! Thank you! -Brent and Ricki Kuhn
---
Awesome Memories
Reviewed on

10/27/2011
Guin M
My only complaint is that I was so busy that I didn't have a chance to get more pictures taken! It was so fun and lots of my guests really enjoyed themselves!
---
So much fun and love the pictures!!!
Reviewed on

9/28/2011
Katie G
Jeff and Kylie were so helpful throughout the entire process! Our guests had so much fun taking the pictures and I loved having them in the scrap book (aka our guest book) to look at after the celebrations were all over. I recommend the prop box - all loved using them! We... Read More also opted for the bookmark sleeves for people to take home pictures which doubled as favors. Awesome job!!!
---