Home

Simply Azure Events
Details
A la Carte Wedding Planning, Budgeting, Day-Of Coordination, Full Service Wedding Planning, Planning
Contact Info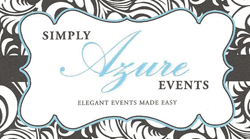 Address
1206 S Appletree Ln, Bartlett, IL
Northern/Northwest/Central regions of IL.
(708) 404-9965
WEBSITE
Reviewed on

6/17/2015
Christina O
I can't imagine my wedding day without Simply Azure Events! Farrah and her team took care of every detail so my family, husband-to-be and I could really just enjoy our special day. Farrah brings impressive experience and professionalism to every interaction. She was able to... Read More foresee potential issues that I never would have thought of and solve them well in advance. My wedding went off completely according to plan and it was clear the team cared about the details just as much as I did. My vendors loved Farrah and appreciated that she was really able to streamline the process for them. I really can't say enough great things about Simply Azure and I've recommended them to all my friends who have upcoming weddings.
---
Hiring Simply Azure Was the Best Decision of the Wedding!!
Reviewed on

1/06/2015
Lauri O
Hire Farrah!! You will not regret it for a moment! I went back and forth about if I needed her or not, as we kept reducing the size and formality of our wedding. She kept our date on her calendar for months, in spite of my indecision. We ended up finding all of our own vendors,... Read More and hired Farrah for "day of" service. Best decision ever. She came to our house to talk with us, asked tons of questions, and got a true sense of what we wanted our day to be like, and who all the different people are. She has a very calming effect and made both my groom and I feel like we had nothing to worry about! From texting us in the morning to remind us to make sure we eat something, to arriving early, to handling our very difficult venue, she and her assistant Elizabeth handled everything seamlessly so we could enjoy our day and our guests. She always had a smile on her face, and was completely in the background, yet making sure our every need was met. Our wedding party loved working with her, and she went above and beyond over and over! She thought of all of millions of things we would never have thought of, and she is SO good at what she does. Her own wedding was four days after ours, yet, she made us feel like we were the most important thing she had going on at that time!! She is simply wonderful to work with!!
---
Simply amazing!!!
Reviewed on

10/27/2013
My husband and I got married in Jamaica on 12-12-12 and wanted to hold a wedding reception back in the U.S. for family & friends who couldn't join us on our wedding day. I personally didn't realize how much work is involved in making sure a wedding party reception goes smoothly... Read More & how much time the day of goes into preparation and taking care of all the miscellaneous things that occur throughout the day of party. I was so glad that I decided to hire a wedding planner "Farrah" from Simply Azure. She really helped me in picking vendors/decor & approximate how much to budget since I've never gotten married before to have this experience. Farrah was with me every step of the planning process & she was a life saver the day of the party. I didn't realize how much prep time you need to set everything up, helping the caterers, & communication. I realized I would not have been able to pull off a party of 110 guests at our island theme reception with food, music, and dessert without her. She made the party flow nicely since I was continuously greeting guests & enjoying the party. Everyone had such a great time & the wedding reception looked beautiful & Farrah was an integral part in planning, decor, and the person behind the scene that ensures everything works out wonderfully. Simply Azure thank you for making my special day simply amazing!!!
---
Peace of Mind with Simply Azure!
Reviewed on

10/07/2013
Oana O
A wedding coordinator, or a day-of coordinator is a must for any bride. Your wedding day will pass by in a blink of an eye, it would be such a shame to waste precious moments dealing with various vendor issues or concerns. Let Simply Azure Events be there for you on your big... Read More day, I did and it was one of the best decisions I made! I can not say this enough, hiring Farrah, from Simply Azure Events, as my day-of wedding coordinator was one of the best decisions I made! At first, hiring a wedding coordinator was not in my budget, however, I re-shifted my budget and I am so happy I was able to add this service to my budget. Farrah was amazing to work with. Among many things, Farrah attended vendor meetings with me, coordinated discussion with my vendors, developed an amazing and very detailed wedding schedule, helped set up my flowers, my toasting flutes, my place cards, and was the go-to person on the day of the wedding. Because of Farrah I was able to enjoy my wedding! Farrah was the one ultimately responsible for running a 398 person wedding, which mixed European and American traditions. Farrah quickly adapted to any situation my quests threw at her, like mistakes in my seating chart, and she successfully handled all issues which came up, issues both from guests and vendors! Farrah was a joy to be around, she is so dedicated to what she does. At the end of the night, after a long 15 hour day, she was still smiling and helping my parents gather up our keepsakes and our gift box and loading them in the car. She goes over and above her call of duty and it was so comforting to know that she is there!
---
Wedding Day Life Savers!
Reviewed on

6/30/2013
Stephanie P
We used Simply Azure Events to help us get through the home stretch in the few weeks before our wedding in June 2013, and had them on site for the big day to pull everything together. We had all of the big stuff done when we decided to get a professional to help us, but I... Read More had no idea how much we hadn't even thought of until we met with Farrah a few weeks before the wedding. She went through every detail of the day with us, found all of the holes that needed to be filled in our plans, and came up with things we never considered. Farrah put together a comprehensive schedule for our vendors, family, and attendants and even helped sneak in a surprise for my parent's anniversary at our reception without letting anyone in on the secret. I honestly don't think that I could have gotten through our wedding without Farrah and her assistant Chelsea. They made the day so easy for us, and we really didn't have to worry about anything. She snuck in a gift from my husband to me into the bride's room, got gifts from me to our parents, and managed to make sure that my hubby didn't catch me on my way to the bathroom before he saw me walk down the aisle for the first time. She coordinated the flowers, the catering staff, the DJ, the food timing, and everything else without breaking a sweat on an 85 degree day at an outside wedding. Even when Mother Nature stepped in and we got a surprise thunderstorm immediately after the ceremony, Farrah and Chelsea kept everything in line. They moved from Plan A to Plan B seamlessly and my fears of a ruined wedding were completely unfounded, thanks primarily to them. Farrah and Chelsea made our day more special than we could possibly imagine. There are no words to describe how much we appreciated having them there. Simply Azure Events was a life saver, and I would urge any bride who thinks she has it all under control, to sit down and talk with them. Thank you Farrah and Chelsea!!!
---