Home

Simply Couture Weddings LLC.
About this Vendor
Wedding planning for the couture bride
Simply Couture Weddings is a boutique wedding + event planning company serving Palm Beach and beyond! We specialize in full, partial, day-of, and destination wedding design and planning. We work with the BEST vendor network in the industry and look forward to making your BIG day simply fabulous!
Details
A la Carte Wedding Planning, Day-Of Coordination, Full Service Wedding Planning
Contact Info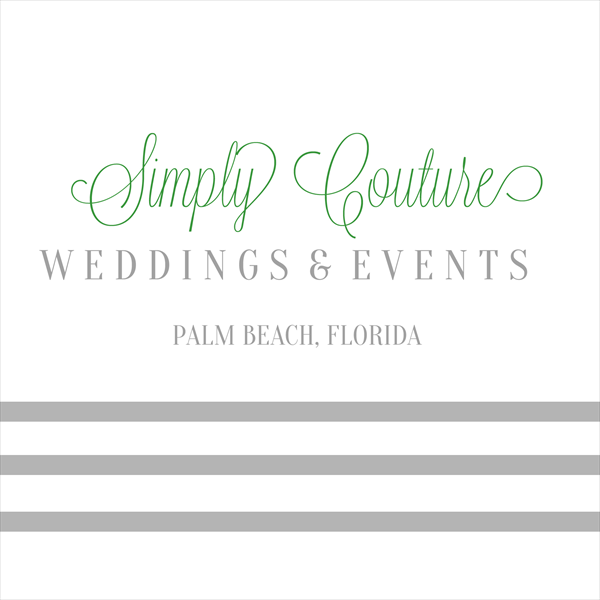 Made our Day!
Reviewed on

4/24/2014
Kelly H
Teresa was absolutely wonderful and our wedding would not have turned out as amazing as it did without her. I chose to have it at a local art warehouse/ gallery that has never hosted a wedding before and basically there was a whole lot to do to make it happen properly. From the very beginning Teresa went above and beyond. She lives a little ways from me and our first meeting was in the middle, and she spent well over an hour talking with us before we even signed a contract. She immediately sent us home with a timeline, a plan for the order of operations, what would go where in the venue, and approx costs. Her preferred vendors that we used were very professional and did excellent work. She is very easy going considering the line of work she is in, but still extremely organized and proficient, as well. Weddings are definitely very stressful, but she made ours as stress free as possible. The week before, I asked for 1 last meeting at the venue without giving much notice and she was happy to do so. The rehearsal and day of she had her assistant, Ashley with her, who was equally as wonderful. They gave us their expert opinions about a few things regarding set up without coming across as pushy even in the slightest. Teresa had a nice timeline for all the vendors and contacted everyone so I had one less thing to worry about. The two of them made our wedding run smoothly and all of the wedding party and anyone who had any contact with either Teresa or Ashley had nothing but nice things to say. We had such an amazing day! Thank you both so much and I would absolutely recommend Simply Couture Weddings to anyone planning a wedding, or any major event.
---
HIGHLY RECOMMENDED!
Reviewed on

1/07/2014
Shauntrelle D
Hiring Teresa and Simply Couture Weddings was one of the best decisions I made during the wedding planning process! I hired Teresa as a "day of" wedding coordinator; however we tweaked our contract/package and she also assisted with our rehearsal the evening before our wedding and the set-up of our brunch the morning after the wedding. Teresa's timely responses were so appreciated (especially when the wedding day was quickly approaching and she was helping me dot my "i's" and cross my "t's.") Whether it was texts, emails, or phone calls, Teresa was on the ball! Teresa also referred me to some great vendors and worked diligently with them to ensure the day went as flawless as possible. Her detailed agenda for our vendors and bridal party was a HUGE asset and she kept everyone on schedule! She was also very creative, professional, and sincere. I live in Central Florida, Teresa is in South Florida, and my wedding was in the Florida Keys so the venue was pretty much a "Destination Wedding" and I didn't meet Teresa until the rehearsal but I felt like I'd known her for years. She wasn't just a wedding planner by my side on the BIG day, she was more of a friend and was there for whatever I needed!
---
Teresa and Ashley are rockstars!
Reviewed on

1/06/2014
Niki D
I am SO happy to see that the ladies at Simply Couture won these awards, they could not be more deserving! I hired Teresa and Ashley to do my day-of wedding coordination, and they rocked it. I am a bit over the top with my need to create and control every detail of any event, so to hire someone else to take care of things was a stretch for me. But I could not have done it without them. These ladies went above and beyond their committed day-of coordination, and helped immensely by collecting items I needed to create my centerpieces. Ashley went out of her way to meet me to deliver the items, and spent hours with me talking through my vision. Their internal commitment to me as a client and their (insanely admirable!) attention to detail allowed Ashley & Teresa to perfectly execute on my vision for my magical day. And perhaps even more important than making sure everything was aesthetically what I wanted, Ashley stayed with us through the entire night (despite having to wake up before the sun rose the next morning to travel to another wedding!) and made sure everything was perfect and I always had a drink in my hand :) All in all - I cannot say enough wonderful things about Simply Couture and could not imagine my wedding without them!
---
One of South Florida's Best!
Reviewed on

7/31/2015
Jessica S
Teresa and Simply Couture Weddings were instrumental in making sure our big day went off without a hitch! From the beginning she was super helpful and easy to contact; making herself available by phone, email, text, or whatever at any time of the day. She offers both full and partial planning, and is willing to work with you to piece together what specific parts of the planning process you need help with. We had very busy schedules, and she understood our needs and helped us find the vendors we needed, assisted us in narrowing down venues, and offered tons of insight and creative opinions on all the little details that not only helped us overcome our indecisiveness, but made our wedding unique and special! Throughout the whole planning process she went above and beyond for us, even in ways we didn't expect. Although she was excellent throughout the planning stage, the day of the wedding is when she really SHINED! Her and her assistant both had a very calm, cool demeanor that put us at ease. They made sure that everything was going perfectly behind the scenes so that we could just enjoy our special day! They were very attentive to us and anything we needed or asked for they were on it immediately. We would not hesitate in recommending Simply Couture Weddings to anyone looking for a reliable, helpful, and confident wedding planner. We love you Simply Couture!
---
They were the best!!!!!
Reviewed on

7/24/2015
Loretta S
I had the most fairy tale wedding that anyone could ever dream off and Teresa and her team were the best I could have ever hired. Teresa is very professional, as well as personable and was a pleasure to deal with. She always responded right away no matter what time of the day and always followed up with what she said that she was going to do. She handled everything with the vendors in a timely manner and made sure that things happened as they should. Her team member Ashley also did a fabulous job. My wedding went off perfect and on time without one hitch. Everything was beautiful and my guest told me it was the most spectacular wedding they had ever attended. We also did a beach wedding that has a lot of different variables and they made sure that everything was perfect. I would highly recommend Simply Couture Weddings.
---
Simply Fabulous
Reviewed on

6/29/2015
Mindy B
We used Teresa and her assistant Ashley for day of wedding coordination, but it is really so much more than that. When it comes to picking a wedding planner, personality is everything. From our first meeting with Teresa, we knew we were in good hands. She came to our first client meeting with a detailed list of questions and information for us. She was very organized, professional and warm. When we were one month before the big day, Teresa reached out to all our vendors. She continually stayed in contact with them and coordinated all vendor timelines with ours. On the day of our big event, the girls showed up as planned. Teresa and everyone kept everyone moving and on point. We had a few minor technical issues on the day of having nothing to do with the ladies. Teresa and Ashley jumped right in and persisted until all items were adjusted and perfected. I was thoroughly pleased with my experience with Simply Couture!
---
Reviewed on

6/09/2015
Julia W
Absolutely fantastic job, ladies!! I couldn't have asked for a better pair of women to work with. Working with Teresa and Ashley was awesome. We used SCW as our "day of" coordinator and they handled everything with ease and professionalism. The day went perfectly and I'm so happy we were able to work with them. I highly recommend Simply Couture Weddings.
---
Made my life & day easy!
Reviewed on

4/24/2015
Lauren V
I would highly recommend Simply Couture Weddings to any friend or family member. During Planning: I don't know anyone in my personal or professional life that responds to email so quickly. She really cares - she really got into our wedding. Her vendor partners were amazing, we went with 3 out of the 5 we picked. She even stepped in to work down our vendor rates. During The Event: Teresa and Ashley were professional, proactive, they took care of things that I didn't even know went 'amiss' until the next day. We also went on our honeymoon the very next day so I was worried about the clean up, marriage license, etc, Teresa took care of everything. It's wonderful to come back and have everything (grandma's handkerchief, etc) waiting for you safe and sound at home.
---
Professional and Dedicated
Reviewed on

4/21/2015
Katie L
Teresa did an amazing job at making the wedding planning process enjoyable and easy. She was very professional and flexible. Any time we needed help or had a question, she was there to help us as quickly as possible. It was just nice knowing we had someone in our corner for the months leading up to the wedding. Teresa's services was well worth the price! If you're looking for a wedding planner who is knowledgeable, professional, and dedicated, then Teresa should be your wedding planner.
---
Wonderful Wedding by Simply Couture
Reviewed on

4/08/2015
Dana S
I would recommend Teresa (and Ashley) of Simply Couture Weddings to any bride who is looking to have a stress free day with all their details carefully taken care of. Teresa did an amazing job focusing on every detail of that day and coordinating with all my vendors and making sure everyone was where they needed to be at the right time. It was such a blessing to have Teresa, I did not have to think about any logistics that day. I was able to enjoy every second of my magical night because Teresa had taken the time to ask me many questions about how I wanted everything to go and kept meticulous notes so that on my wedding day all the big to the tiny decisions had been made and Teresa made sure they were carried out smoothly. She also did a great job recommending vendors since she has worked with so many great ones in the Broward and Palm Beach area. It can be very overwhelming choosing vendors and I can't say enough how helpful it was to be guided through it all. I am a pretty detailed person myself but there were many times when Teresa surprised me by taking care of things that I hadn't even thought of. Thank you again Teresa (and Ashley) for the most amazing wedding day experience!!
---
Simply Perfection
Reviewed on

2/14/2015
My wedding day was perfect!!!! I look back at the six months it took to plan and never in my wildest dreams did I know that it could have turned out so wonderfully fantastic. Actually, when I look back six months ago, I think about how I had all these ideas in my head and no clue how I was going to execute them. I knew that it didn't matter how type A I was, I needed help. And in comes Teresa and Simply Couture into my life. She is absolutely gifted at what she does. From the very first conversation, I knew I was in good hands. She asked me all the right questions, she started to break up the planning into manageable pieces, and she reassured me that all could be done in the time allotted. Once we agreed that she would provide full wedding planning services and signed a contract (within 48 hours might I add) Teresa was off to the races. She mapped out the steps that needed to be taken from venue, to DJ, floral, invitations, etc. Her contacts for vendors were reliable, professional and impressive as she was. If we hit a roadblock, her calm demeanor and considerable problem solving skills easily navigated around them. Her monthly checklist and email reminders kept us on task. And she was always, I mean always a text or a phone call away. Finally my wedding day, January 24, 2015 arrived, and I can honestly say I was not nervous or worried. I was just happy and contented. I had chosen an awesome planner, and every "t" was crossed and every "i" was dotted. The day went according to her meticulous timeline (really meticulous!!!!). I just sat back enjoyed my family, friends, and my new husband. Sincerely, if you are looking for someone to entrust one of the most important and memorable days of your life, I highly recommend Teresa and Simply Couture. She is a supremely organized, detail oriented, artistically minded, proficient planner. But above all, she is passionate about putting together a wedding you will never forget.
---
If it weren't for Teresa - my wedding would have sucked
Reviewed on

1/18/2015
Chalonize S
I started working with Teresa in March 2014 when I got engaged and immediately I knew I needed a wedding planner due to my high anxiety. I had my wedding on Saturday January 17th, 2015. After searching for wedding planners through the Knot website and emailing a few and getting vague responses (one even told me you can't afford me), i was blessed to find simply couture weddings and events! I knew Teresa was the one and I hired her without even seeing her! She is a joy to work with. First of all, she is organized, professional, knowledgeable and has a go-getter -we can do it attitude which a bride needs. I never was a control freak I was a very laid back bride partly because I knew Teresa had my back. Honestly I couldn't have trusted anyone else to have planned such a great event for me. I told her what my vision was which was a winter wonderland theme and everything else I left up to her :) I trusted her decisions, I trusted her insight even unseen, and I couldn't have been happier on my day. I was not nervous I was the calmest I've ever been even on my wedding day! This was because I knew she had everything under control which she did. Teresa, I cannot thank you enough for what you have done for me. You are the best wedding planner a girl can ask for! If you are in search of a wedding planner who will make sure your wedding is planned the way you want it to look out for you here it is :) my guests all were ranting and raving about how wonderful the wedding was!! :)
---
Magic in 2 weeks!
Reviewed on

12/10/2014
Our deepest gratitude to Teresa for helping to create the most magical night of our lives! We started with the notion of having a simple beach wedding with just a few friends and dinner at a restaurant, however incredibly generous friends offered their stunning intracoastal home for our wedding. I worked in the service industry all of my life and arranged many large functions and know what it takes to put together a fabulous event, however I could not fathom how I could possibly coordinate the actual day without a planner, not to mention the self imposed 2 week timeline, tight budget and it being the start of the holiday party season! I spoke with several planners who were charging for their complete packages including a years worth of services! By the time I spoke with Teresa (who was actually the first to respond to my online inquiry with a text message making a time to call later in the day) the first thing I said was "Before we go any further - can I afford you?" and she responded with "well, lets see what we can do" and within 24hrs she came back with a proposal that was right on budget including her catering floral rental and her planning services. Everything happened very quickly from there, she sent her proposal on the Friday, we sent the contract back on the Saturday, meet with the florist on the Sunday, had our first menu and rental proposal to review on the Monday! Her providers where excellent and reasonably priced. Teresa oversaw every detail on the day including our own friends & providers (photographer makeup artists DJs and house staff) On a personal note - it is Teresa's willingness see your vision, her advice, support, professional contacts, organizational skills and cool calm countenance that is exactly what every bride needs when planning her wedding! Our wedding was SPECTACULAR and the most fun I have ever had! We could not have done it without Teresa! Thank you from Kay & Peter.
---
WORTH IT!!
Reviewed on

11/20/2014
Lesleigh R
I was told by many people upon planning my wedding that hiring a "day of coordinator" was a must. I am completely a control freak and very organized and didn't think it was necessary. Boy was I wrong! Planning a wedding from out of town was difficult so I decided to give Teresa a try. We met our first time through a Skype session. I immediately felt at ease with Teresa as did my mother and fiancé. She could not have been more pleasant and gave us great recommendations for many vendors we ended up choosing to go with for our wedding. Although she was only hired as a day of coordinator she went above and beyond throughout the entire year of planning. Going over contracts, keeping every vendor in touch with our timeline as the wedding approached. She offers great advice, is very detail oriented, and gets back to you typically in less than an hour. On my wedding day, she took care of everything! She put my mind at ease so I could just focus on getting married and having the best day of my life despite the unforeseeable hiccups along the way. She even kept my fiancé and groomsmen on track. Teresa is nothing but pleasant & professional. She makes you feel as if you are her ONLY and most important client at all times and also your friend. Whenever anything went wrong she was immediately on top of it and most of the time I didn't even know because it was handled and fixed. I highly recommend Teresa to anyone planning their wedding!!!
---
Amazing Gals!
Reviewed on

10/24/2014
The Simply Couture Wedding Gals are AMAZING! They take care of all the details and are the true definition of perfection! Plus with their great personality and attention to details you can't ask for more!
---
Wedding Planner/ Therapist/ Friend/ Voice of Reason
Reviewed on

10/17/2014
tracie a
After a month long quest to find a wedding coordinator I found Teresa, had I not found her I would not have had a wedding planner. When we met we conversed like old friends. We shared our love of polka dots, black and white color schemes, love of antiques, and that was the first hour of our meeting. From then on we spoke/text daily…oh I forgot to say we hired her almost two years before our wedding so we have had plenty of bonding time. She was the voice of logic when my ideas went far above budget and reality. She helped us execute all our ideas to perfection. Teresa and Ashley were like superheroes when it came to dealing with vendors, they made sure we got the best bang for our buck and that every item was up to par. I can honestly say that I am happy that we met not only because we had an awesome wedding but, because I made a friend in the process.
---
SIMPLY THE BEST !!
Reviewed on

10/17/2014
Samia K
OMG !!! Teresa I thank God that I found you what can I say about PERFECTION !!! Teresa you are just simply the BEST with your patients and how you have organized every little detail for my daughter wedding day. you have made my daughter wedding day just Fabulous in every aspect everything went so smoothly I have to mention to you my husband was just so impressed with how detailed the timeline was. Teresa I don't know what I could have done without you . SIMPLY COUTURE IS THE BEST !!!! Teresa THANK YOU and Ashley so much . you guys are the BEST XOXOXO Samia Kamel MOB
---
Simply Couture weddings made my dayeven more awesome!!
Reviewed on

10/12/2014
Karen K
Teresa and Ashley took care of every detail and even when things didn't go exactly as planned they helped handle it and kept the day flowing and seamless!! We had nothing to worry about because Teresa was handling it! Even my dad who insisted that a wedding planner is not a necessity, was so impressed with Teresa and her team and how she set everything up so nicely and kept everything running smoothly. We were happy to have them as part of our day! I would definitely recommend them to any bride!!
---
Amazing!
Reviewed on

10/07/2014
Adam S
Hiring Teresa and Simply Couture Weddings was one of the best things my wife and I did while planning our wedding. Teresa was amazing in fielding calls/emails from my wife asking questions and throwing ideas back and forth about our day. One the day of the wedding she and her staff were nothing but exceptional. Our ceremony was supposed to be outdoors but moved inside due to rain. My wife started to stress out but Teresa was right there reassuring her that everything would be OK. She was right, it was an amazing ceremony and reception. Teresa and Simply Couture Weddings turned what could have been an extremely stressful day and evening in to one of the best days of our lives. Every detail was taken care of, including the ones we forgot about/didn't know. You can't go wrong in hiring her!
---
Wedding Planner
Reviewed on

9/19/2014
Maria M
Teresa was great, organized and answered ALL my question right away!! She keep me on track from beginning to end with her check lists and reminders. Ashley was an amazing as well would not of had the wedding of our dreams with out them. Especially if your fiancé isn't that "helpful" during the planning process.. Also great venors.. Everyone was professional and a pleasure to work with. Thank you Teresa and Ashely!
---
The Perfect Planner
Reviewed on

7/20/2014
Christina A
Teresa is amazing. She was the biggest reason why our wedding went off without a hitch, despite the rain. She understood what I wanted and was so patient with me. I emailed her so many times, and she was great about responding. I never had to worry with her. She recommended the best vendors and got us deals with them too. The vendors she recommended were all fabulous, we didn't have any issues with any of them. They were great to work with and were exactly what we needed for our wedding. On our wedding day, Teresa did EVERYTHING. I don't know about any of the behind the scenes stuff, I didn't have to worry about a thing. Our family truly appreciated her presence at the wedding. Everyone thought it was so much fun, and loved the decor. I truly believe our wedding was as great as it was because of Teresa. There is no way I could've planned this wedding without her. She did all the work for me. I live in Tallahassee, but I'm from Ft. Lauderdale. We had to move our wedding up because my dad was sick. At that point, I knew we needed help. After our first conversation, and talking to other planners, I knew she was the one for us. She was understanding and had a perfect grasp of our style and wants. She had great ideas, and would be there for me to vent about any aspect of the planning process. You can trust Teresa with the most important day of your life. She will never steer you wrong, and will do whatever she can to help you. She truly cares about her clients, and wants you to have the best day of your life. My parents loved her too. They have planned many parties, but were too sick to help plan our wedding. They are very picky about this stuff, and they thought she did an amazing job. It was wonderful to see my mom on the dance floor having fun and not worrying about the vendors, the food, etc. Thank you Teresa for making our day so amazing.
---
Don't do it alone! Hire Teresa
Reviewed on

6/30/2014
Angela C
Teresa was a God send and saved me many a headache the week of our main event. She came through like a champ by even printing our table cards when they had to be overnighted to her address the day before our wedding due to a vendor miscommunication. She always had my change of shoes on hand and really helped me remember all of the things a bride inevitably forgets day of. The day was a whirlwind and I don't think I would have enjoyed it as much without Teresa's help. She even sent photos following the event! Thank you, lovely!
---
THE BEST!!!!!!!
Reviewed on

9/05/2013
Sarah J
I hired Ashley and Teresa at Simply Couture Weddings and it was literally the best decision I made in my wedding planning process. I hired them for their full service package, "Haute Couture Package" and they made my life a breeze. I would have never be able to survive without these two ladies. They are so friendly, incredibly organized, and they saw exactly what I envisioned for my dream wedding and they made it a reality. They are so detail oriented, it's amazing...you'll know what I mean when you meet them. My new husband and I are overjoyed that Ashley and Teresa could be a part of such an incredible day in our lives. It would not have been nearly as perfect without them. As soon as I met them I felt like I had made two new best friends. They are truly passionate about what they do and they made me feel like the most special bride in the world. I would recommend both of these girls to anyone getting married! They truly made mine and Brad's day 'THE BEST DAY EVER'! Love, love, love these ladies so much! Every bride deserves to have Ashley and Teresa help plan their wedding!
---
Awesome!
Reviewed on

8/19/2013
Awesome! She was right there next to us girls making sure everything was being taken care of while we were sitting back an enjoying the day! Took a huge weight off the bride! Was nice to see her smiling with no day of stress!!
---
LOVE :)
Reviewed on

8/07/2013
Jaison C
Teresa and her assistants were simply amazing! They were always there when we needed them for everything. Before the wedding, Teresa was very organized and got in touch with all of the vendors prior to the event and if there were any concerns or updates she would let me know immediately. I was very impressed and thankful for all her help. The day of the wedding went wonderfully and smoothly because of their help and support. The whole SCU team was great and made our day extra special! Thank you all so much :)
---
Send Message