Home

Simply Delicious!
About this Vendor
Where Taste Meets Elegance
Details
Cake Tastings, Cakes + Desserts
Contact Info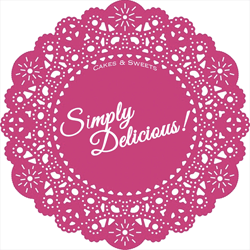 8640-8 Philips Highway, Jacksonville, FL
Reviewed on

8/01/2015
Heather L
I ordered our wedding cake from Theresa in July 2015. We chose a Strawberry Margarita cake with key lime cream cheese icing AND a Cappuccino Creme Bu-lee cake with milk chocolate icing. They were the BEST TASTING cakes I had ever eaten! All the guests wanted more! Not only was it delicious but the presentation was exactly what we discussed (so beautiful and the colors matched perfectly). I was very impressed with her and the cake!
---
Wonderful
Reviewed on

11/06/2013
Amy C
Just wish we had talked about plates, etc.... My bad to assume they'd be with the cake. Other than that... Beautiful. :)
---
Thankful
Reviewed on

11/05/2013
LaToyia J
After, interviewing many vendors to design my wedding cake I made the right decision with Simply Delicious. Theresa was very professional and displayed patience with answering all questions honestly. We received raved reviews about our cake and it was devoured in no time. My husband and I didn't even take home a slice, good thing we have our top tier (shakes head at guests). Theresa was even kind enough to allow my dad a taste test which he loved. Simply Delicious was the only vendor that gave more than one option for the cake flavor which I thought was pretty cool. The design was actually what we wanted simple but elegant. I would refer anyone to them not only for a wedding cake but any occasion.
---
AMAZING
Reviewed on

10/10/2013
Claresa B
I met Theresa at one of several wedding expos I attended. I'm usually a good judge of character/vibe. Right away I knew Theresa would be the one to create my long awaited wedding cake. Although I did make her go through the normal song and dance! LOL I brought in a picture of a cake my husband picked out with the hope that she could duplicate it. The counseling session was great. Theresa asked questions that I never thought of. She asked questions that none of the other cake vendors asked. For instance, she informed me that if we were serving alcohol at the wedding, especially if it were an open bar, that I should reduce the amount of my cake order as the more folks drank, the less cake they ate! Who knew??!! She was right! The only cake left was the topper!! Theresa provided a cake that not only met my expectations but also impressed my husband. Yes, he is hard to please. :) The cake was beautiful and delicious! I wish I could post a picture for you to see. I promise you will not go wrong if you select Simply Delicious as your cake vendor-no matter the occasion!
---
Simply Fabulous!!
Reviewed on

8/20/2013
Crystal A
I worked closely with Brittany and Theresa to create my perfectly unique and delicious wedding cake. The day of my tasting I took multiple pictures with me and we sat down and chose the details I loved from each cake and built my wedding cake from scratch. I shared my vision with the ladies and Brittany was able to give me feedback, provide advice, and share her own ideas with me; the end result was pure perfection. On to the taste….delicious! I couldn't choose a flavor, so we went with 5 different flavors (one for each layer). The cake was just as fresh and delicious on our wedding day as it was at the tasting. Our guests raved over the unique flavors and the beauty of the cake itself. Theresa and Brittany showed up on time, are very professional, and know what they are talking about. If you want the PERFECT wedding cake, Simply Delicious is the way to go!
---
AMAZING!!
Reviewed on

6/23/2013
Andrea M
Theresa and her team did a spectacular job on our cakes! Not only were the cakes moist and absolutely delicious, they looked perfect!! Our wedding cake was a mix of a bunch of cakes we liked that Theresa was able to execute perfectly together. I was a little worried not having a picture of the cake before it was made but Theresa did an outstanding job working with us and making our vision come to life. I also surprised my husband with a grooms cake that came out better than I ever dreamed! She was worth every penny and more and I will not hesitate to recommend her to anyone in the future! Absolutely amazing job all around!
---
Reliable, thorough and DELICIOUS!!!
Reviewed on

6/16/2013
Kelly D
My husband and I heard about Theresa (Simply Delicous!) from a friend and made an appointment to see her and have a cake tasting. She is VERY thorough and professional - Upon contacting her, she sent us a questionnaire with the standard contact info and wedding detail questions...In addition to that, she sent a listing of about 15 cake flavors and asked that we pick 4 for our tasting which was great and very efficient! She took her time with us at the tasting and went over everything in great detail. Fast forward to our wedding day - June 8, 2013. The cake was BEAUTIFUL and tasted terrific...We received so many compliments and several guests mentioned they would love to hire her to make cakes for future birthdays, etc. I highly recommend Simply Delicious for any occasion...Especially weddings!
---
Happy Bride
Reviewed on

6/04/2013
michelle d
We had an awesome consult and they really lived up to what they said! The cake was so moist on the inside and beautiful on the outside! I would deff recommend them to anyone!
---
Delicious cakes!
Reviewed on

5/28/2013
Heather B
Theresa and her staff did an amazing job on my wedding cake. Working with Simply Delicious was easy and a great experience. My wedding cake was beautiful and delicious!
---
Cake and tarts!
Reviewed on

5/09/2013
Jekeva S
We love, love, love Theresa at Simply Delicious. The cake was so good. As soon as we tried the first cake, we knew we were going with this company. We ended up doing a wedding cake, 3 flavors of tarts, cupcakes, and a grooms cake because EVERYTHING was great and we wanted all the flavors we tried. If you don't believe me book a tasting an see, you will fall in love.
---
Simply Perfect!
Reviewed on

11/20/2012
Ashleigh
Theresa was such a pleasure to work with. From day one, she was very detail-oriented and so eager to please. My husband and I are not big cake eaters but absolutely loved all of her cake flavors. We had trouble deciding but picked banana with cream cheese filling and buttercream frosting along with amaretto white chocolate with raspberry filling and buttercream frosting. We brought in a picture of what we wanted and she nailed it exactly! So happy with how it turned out. I couldn't have asked for a more perfect cake. Everyone loved the design and the taste of the cake... so moist!! We did not have any left after hiding our top tier. Would not usually hire a professional for birthdays or special occasions but will definitely keep Simply Delicious! in mind for future occasions. She is simply the best for the money and the quality and flavor. Thanks again, Theresa!
---
Wedding and Groomsman Cake
Reviewed on

11/15/2012
Mallorie M
Theresa made an amazing cake! She did both my wedding cake and the groom's cake. Both were delicious and looked exactly as I wanted them to. The groom's cake was a golf course that had a bride dragging the groom off the course (because my husband LOVES golf) and it looked great! The wedding cake was amazing! We had a plain white butter cream cake with dark purple fondant strips around the bottom of each layer with orchids going up one side. I was so worried that the butter cream would not be as smooth as fondant was BUT Theresa promised she could do it and boy did she deliver! It looked perfect!! And everyone raved about how great the cake was. We had 4 different types (strawberry margarita w/key-lime icing was the clear favorite, white chocolate almond w/key-lime icing, red velvet, and white chocolate almond w/plain butter cream) and they were all great! Theresa was so great to work with....even with the shop in the middle of construction! And even though I kept changing my mind on what I wanted she never complained and just changed her course with no problem! She was great!
---
the best tasting and beautiful wedding cake
Reviewed on

9/30/2012
Rebecca T
Theresa Fishburne made a beautiful wedding cake, everyone commented on how it was the best tasting cake they had ever had. Thank you!!!
---
Simply Delicious is right!
Reviewed on

7/26/2012
Tiffany M
Theresa did an amazing job on my wedding cake. It was exactly what I requested both in design and the taste was just as good as, actually better than the samples I tried. You get an outstanding value for your dollar with her. She is a pleasure to work with and is open and patient and has plenty of suggestions if guidance is needed pulling everything together. Her signature cake flavor is what we had for our grooms cake which we served at our rehearsal dinner. The cake design and flavor was a huge hit. Everyone also raved about the taste of our wedding cake too. I will use Theresa again in the future for birthdays and other events.
---
Best Wedding Cake Ever!!
Reviewed on

7/15/2012
Krystal G
I was originally told about Teresa from a client of mine that used her for their wedding. From the time I walked into the first tasting, until we brought the left over cake home, everything was amazing. We tried to do our wedding on a lower budget and she helped us try to stay in that budget. The cake was absolutely delicious. People couldn't get enough. Truthfully, we ordered extra servings just so we could have extra. I will definately be reccommending her for every bride I meet.
---
Let them eat CAKE!
Reviewed on

6/06/2012
Arnika F
Theresa started off as a venue and ended as family. She is a pleasure to work with and she works hard to make your vision come true. We had the strawberry margarita cake and the white chocolate amaretto they were so good we had to have both! We had no cake left at the end of the reception and had to hide our top layer! If you want a beautiful cake that as delicious as it looks this it the place to go. She will not let you down!
---
Outstanding service and the most delish cakes
Reviewed on

6/04/2012
Vicki F
Theresa was splendid to work with. She is very detailed oriented from even the 1st phone call. Her thoroughness ensures you get what you want as well as preventing any issues with food allergies. She is top notch. Her cakes were the best I'd had around. Even the detail in her coral accents on my cake were true to nature with the holes in them. They were prompt on the wedding day and delivered what I wanted. The coral was a bit bigger than I'd expected but it was still true to what coral looks like. Everyone down to the photographers raved on the cakes. I recommend her to all. She is afforable without too many minimum order items like some bakeries. She is a charm and very fun and lovely. I will be back for birthday cakes from Simply Delcious as the name says it all. Can you say YUM!!!
---
Best Tasting Cake Ever
Reviewed on

11/29/2011
Katy H
Theresa not only made the best tasting cake that I have ever had but it was simply gorgeous!!!! I could not have asked for anything more. Theresa is amazing to work with as well!!!
---
The most beautiful AND delicious cake I've seen!
Reviewed on

4/20/2011
Jenne V
Theresa at Simply Delicious! was one of the most amazing people I had the pleasure of working with in planning my wedding. She was so sweet and kind and more than willing to work with all of my odd design ideas, strange requests and special needs. What first drew me in was the taste of her cakes. I'd set up tastings at bakeries all over Jax, but no one's cake was as moist, sweet and flavorful as the cakes I sampled at Simply Delicious! She has so many flavors to choose from and they're all so decadent that I practically licked my sample plate clean. What made me decide to choose her was her passion for this art and her desire to make me the cake of my dreams. And she truly did. The guests at my wedding raved about the cake, saying that it was not only the coolest and most artistic looking cake they've ever seen at a wedding, but also that they've never had a wedding cake taste so good in their entire lives. I knew as soon as I saw her set up the cake in our reception room that I'd made the right decision, and the fact that I STILL have friends and family raving about the cake makes me know that Theresa was the best anyone in Jacksonville can get! She also made our "grooms cake" which actually was a 0g sugar, splenda cake that I'd specially ordered for my guests who are diabetic. They were so grateful to be able to share in the splendor of enjoying wedding cake and they all agreed that it was the best "sugar free" cake they'd ever tasted. I love the Splenda Cake so much I will be ordering it for my upcoming graduation party, my birthday and my dance recital celebration, because it is a cake that EVERYONE can enjoy because it is safe for diabetics but tastes as sweet and delicious as regular cake. Amazing! Honestly, I am so happy with Theresa and Simply Delicious that I will order every cake I will ever need from her. She has made more than a customer out of me. She has made a loyal friend.
---
Theresa Fishbourne is phenomenal!
Reviewed on

1/05/2011
Marlyn F
I was referred to Simply Delicious by Robert Capers of PRI and Theresa is the best! She is so friendly and accomodating and was considerably more affordable than other vendors that I had contacted prior to her. She was very honest in pricing and determining the right cake size based on the amount of guests. She was so wonderful in working with my original design and the fact that my cake came out exactly how I wanted it, without a picture to reference, was truly amazing! In addition to her designing ability, the cake truly was "simply delicious" and many of my guests even said how it was the best red velvet cake the ever had. One thing unique to SD that other vendors didn't offer was having up to two different flavors per layer at no additonal cost, which was great since my husband and I had two different flavors in mind: red velvet and hazelnut coffee cake w/ chocolate mousse & ganache...so so good! Thank you Theresa for such a beautiful job!
---
Awesome Experience
Reviewed on

11/07/2010
karen b
I used Simply Delicious for my wedding cake a few years ago and had such great reviews and comments from my guests about how delicious and beautiful the cake and grooms cake was that I have used Simply Delicious for all of my special events since including baby showers, birthdays, hoildays and a couple just because cakes! Theresa is always very easy to work with and the cakes are amazing everytime!
---
Be Aware of Simply Delicous! Wedding Cake services
Reviewed on

10/23/2010
Tiffany M
OMG! Do not use this Wedding Cake service! I could not believe it. The cake decoratoring was very amateurish! It looked like a kid's birthday cake instead of a wedding cake. The colors were off.The icing was a mess. The cake was soooo small. They said it could feed sixty people...well if you didn't save the top of the cake for your anniversary..maybe. The cake was leaning.You get charged for the use of the cake stand...and that was also defective and it looked it had seen better days. I seriously hope the Knot checks this place out before it offers any type of recommendation. The only saving grace about this fiasco was the cake was delicious. It was red velvet with butter cream icing. In my opinion, they really should stick to baking and get out of the wedding cake decorating business. Ladies don't get surprised on your wedding day! MOTB
---
Send Message