Home

SKW Floral and Decor, LLC
About this Vendor
Serving all of Southeastern Wisconsin
Personal Flowers (bouquets, boutonnieres & corsages); Ceremony (altar arrangements, pew decorations, aisle runners, chair covers and additional decor); Reception (centerpieces, head table and cake table decor, specialty linens, decorative fabric draping and swagging, chair covers & glassware rentals
Details
Aisle Decorations, Centerpieces, Vases, Wedding Arch, Decorations + Accents, Bouquets, Boutonnieres, Flower Alternatives, Flower Arrangements
Contact Info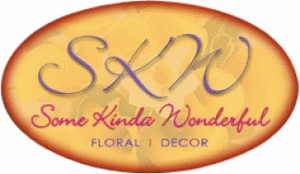 17700 West Capitol Drive, Brookfield, WI
Serving Southeastern WI
Our Florist
Reviewed on

10/21/2011
Christine K
Some Kinda Wonderful added a special touch to our special day. Monica really took the time to get to know us as a couple. We did not want anything over the top, but on the same token we wanted the flowers to stand out and represent us. We were extremely pleased with SKW. We had so many guests come up to us during and after our wedding telling us how beautiful and vibrant our flowers were. SKW actually handed the everyone their bouquets and pinned on all the corsages and boutonnières. They came after the reception and removed all the center pieces so we didn't have to worry about it. We definitely recommend them and would use them again. A truly wonderful experience.
---
One word – BEAUTIFUL!
Reviewed on

10/30/2014
Amalia P
Working with SKW was a breeze. Monica helped us narrow down the look and feel that we were going for and she nailed it day of! All of our flowers, from the bouquets, boutonnieres, to the ceremony flowers, turned out amazing. I wouldn't have changed a thing and they were just as I imagined them. Monica was extremely flexible to work with, on top of everything and 100% reliable. If you haven't already contacted SKW for your wedding, you NEED to! Thanks for everything, Monica!
---
speechless
Reviewed on

10/29/2014
Katelyn S
Working with SKW Floral was an amazing part of my wedding planning. Starting with meeting with the owner, Monica, she was nothing but understanding and helpful. There were so many questions on my end and she helped me choose the right path. The prices were perfect, and actually underpriced for all that I received. The day of Monica and her crew delivered the wedding floral (including the pinning) and then went to the reception where when I walked in was speechless. I could not believe how she took the ideas out of my mind and created a masterpiece! Later that night her crew and her picked up the wedding, and did not interrupt the continuos party. I recommend SKW to anyone! Thanks Monica!
---
SKW = Stunning work!
Reviewed on

10/24/2014
Laura K
When I met with Monica, I knew instantly that she would create something beautiful for my wedding day. She worked with my inspirations, style, and color palate, and truly made the day come alive! She arrived an hour early to the ceremony to pin boutonnieres, hand out bouquets, and decorate the church. Meanwhile, her crew at the reception hall put all of the pieces together. Her arrangements are fresh, natural, and beautifully constructed - I wish I could have kept my Bridal bouquet forever!
---
Flowers and Linen
Reviewed on

10/22/2014
Rachel L
SKW provided all of our flowers for the wedding but also did the linens. It was great working with Monica and we had several meetings before the big day to insure that we had everything in order. On the wedding day, SKW was very professional and I was blown away by how beautiful everything was!! Monica and her staff really took the time to pay attention to detail and brought my vision to life. I would definitely recommend SKW.
---
Took Our Breath Away
Reviewed on

10/19/2014
Sarah G
Monica did a wonderful job with our flowers! She listened to our requests to be simple and elegant and absolutely took our breath away. We could not have asked for a better experience and product. We highly recommend SKW floral! Thank you Monica for all of your hard work!
---
Awesome
Reviewed on

10/16/2014
Katie S
Monica and her staff from SKW floral did such an amazing job with the flower arrangements on my wedding. She had a vision and used what I liked to create it. It was everything I could have asked for and more. She was great to work with, easy to get ahold of, nice and had great prices. I got many compliments on my flowers and would refer anyone to them!
---
lovely flowers made for perfect, easy decor!
Reviewed on

10/16/2014
Jessica K
Monica at SKW flowers was absolutely wonderful to work with! I was in very good hands and she was able to suggest lots of lovely flowers that fit in perfectly with our color scheme. The flowers were so beautiful that we didn't need anything else decoration-wise. I think paying a little more for quality flowers and quality service is well worth it! You can't go wrong with SKW. Thanks to the SKW team!
---
Wonderful experience
Reviewed on

10/13/2014
Emily D
I'm not very informed with flowers and what looks good together, what's in season and when and so on. When I met with Monica she gave me the overall feeling that she would take care of any worries I had and that she would come up with similar ideas and a vision that I wanted on my wedding day. I never felt misinformed or worried about how the flower and décor would turn out, because Monica always made me feel confident and supported by her. She did an amazing job on the flowers at a reasonable cost. She also helped me pick out centerpieces that would work in my budget. I had many people tell me how great the flowers looked. Overall I was very happy and would recommend SKW Flowers to anyone no matter the budget!
---
amazing florist
Reviewed on

8/18/2014
Kayla N
A friend recommended skw to me and I cannot believe how beautiful my wedding turned out all because of the amazing work by skw!! I had everything done in flowers including the centerpieces and she is very reasonably priced!! She totally understood my vision and I trusted her to run with it, one of the best vendors I have worked with... So great she is going to be my sisters florist also for her wedding next year!! You wont regret going with skw!
---
Gorgeous!
Reviewed on

7/07/2014
Jaime G
I had a picture from Pinterest and Monica duplicated it perfectly and even substituted some flowers for cheaper ones to save us some money but I couldn't tell you what she subbed out because it looked just like the picture. They were gorgeous! Monica was great at communicating and everything went smoothly.
---
Fantastic Wedding Florist!!
Reviewed on

5/02/2014
Jordan
SKW is amazing!! Monica was absolutely fabulous to work with and she brought my ideas together perfectly! I got so many compliments on the flowers at our wedding. She and her team are extremely professional and do everything possible to make your day perfect. I highly recommend SKW!!!
---
beautiful flowers
Reviewed on

11/21/2013
brian m
The work with us through out our many changes. And the end results was great
---
Their Name Says It All!
Reviewed on

11/06/2013
Erik S
Working with Monica was an absolute pleasure! When my wife and I first met with her, we had some vague ideas of what we wanted, but weren't entirely sure. Monica listened to our ideas, looked at the pictures we ripped out from magazines and was able to visualize what we were looking for. She really is very talented and she knows her stuff! She had great ideas and was able to turn my ideas into a beautiful wedding experience. The bouquets, centerpieces, and all the other flowers throughout the ceremony and reception were just gorgeous. We got so many compliments! We would absolutely recommend SKW to anyone looking for beautiful flowers and a very talented florist!
---
SKW - Great Job!
Reviewed on

11/05/2013
Jessica L
My experience with SKW floral was in a few words ... some kind of wonderful! Monica was great to work with! My husband and I had a very unique vision of what we wanted, but couldn't express exactly what it was ... She worked with us to narrow down our look, and then executed that perfectly. The flowers and table arrangement's turned out even better than I expected. It was truly a seamless experience, and it was one major thing that I knew would be taken care of, and taken care of well. Since our reception site was a public place and had limited time for set up, she worked efficiently and eased my worries throughout the process! Everything turned out well, was done on time, and done with a lot of detail! I would recommend SKW for any bride-to-be!
---
We couldn't have asked for more!
Reviewed on

10/06/2013
Briana G
We were absolutely thrilled with everything Monica did for our wedding. The flowers were gorgeous, the decorations were beautiful, and our venue seemed magical, thanks to her. I had a vision and ideas, and Monica listened, created it exactly how I had imagined, and then some! The service was excellent- everyone was personally handed their flowers or had their flowers pinned on, and Monica was there at the end of the night to gather everything so that we didn't have to worry. She truly thought of everything and included it in her quote so that when it came time to compare, there really was no comparison. She is extremely knowledgeable about not only flowers but literally everything that goes into decorating a venue. Bottom line, she really understood me, my now husband, and our style and created a place that displayed it like no other. I highly recommend working with her and could not have asked for a better flower/decor experience. Simply amazing!
---
Incredible!
Reviewed on

10/03/2013
Amanda Z
We had an incredible experience working with Monica. I did not know a whole lot about flowers and she walked us through the entire process. She made choosing the flowers for everything fun and easy. Sometimes I felt that I did not know how to explain to her exactly what I wanted but everything from my bouquet, to the centerpieces was everything I wanted and more!! The flowers were beautiful and I received so many compliments! I would definitely recommend working with Monica!!
---
Great experience
Reviewed on

10/02/2013
Monica was so great to work with. I know nothing about flowers and her expertise helped make the details for our wedding beautiful. It was amazing how well her ideas went with our venue and theme. We can't thank her enough!
---
Beautiful Bouquet & Centerpieces!
Reviewed on

8/25/2013
Bridgett T
Our wedding was at a botanical garden, and SKW did a fantastic job of carrying the fresh-picked, garden-look into the bouquets and centerpieces. I absolutely loved my bride's bouquet. Monica got it right!!
---
Amazing Florist!!!
Reviewed on

8/22/2013
Sara C
When we were shopping around for a florist we got a few quotes from recommended vendors by our venue. SKW was the best offer and had the best design concept. We could not be happier with how the reception flowers and bouquets turned out! Exactly what I envisioned for our big day! Monica was great to work with and is great at what she does!
---
adding to a wonderful day
Reviewed on

8/20/2013
Sarah G
I am so happy with how the flowers turned out on my wedding day. I went to SKW with a small vision of what I wanted and Monica went beyond my expectations. The bridal party had such bright beautiful flowers and the arrangements that we had for the reception really made the space even more beautiful. I would not change a thing. I definitely will recommend SKW to all my friends and family when they are planning events!
---
Title should be All Kinds of Wonderful!
Reviewed on

8/14/2013
Megan B
After all that was said and done for the wedding, the one thing I keep getting compliments on was the decor. Our wedding has been referred as the "fairytale" wedding with all the bells and whistles! This could not be possible with out the linens, candles and center pieces. Monica really worked with in my budget and made it look beautiful with out costing an arm and a leg. When we walked in before our guests (we kept the doors closed until dinner time) we were in Awe of the beauty that was created. It was the exact vision I had in my head and Monica brought it to life. Then the doors opened, and you thought you were looking at fireworks the way people were commenting as they walked in. I can't thank Monica enough for all of the changes that we made, added, took away from our original plan and she did it with out saying a word, except - you bet. Anything you want. It was nice to have someone that would affirm your ideas. I have worked with others and they say " this is your wedding" or "that is up to you" - to work with someone that is honest and real was the best part. Flowers and decor are a huge part of the feeling of your wedding.. Monica hit the nail on the head. I hope to continue my relationship with SKW in the future and will always recommend Monica and SKW. You cannot go wrong with SKW. You would be missing out if you did!
---
Absolutely Stunning!
Reviewed on

8/06/2013
Kylie B
Some Kinda Wonderful did an awesome job, giving my wedding the final touches it needed. Monica really took the time to get to know my family and I, and what we envisioned for the big day. We had many of our guests come up and complimented on how beautiful and vibrant our flowers were. SKW was there from start to finish, handling the set up and break down so that we didn't have to worry about it. I would definitely recommend SKW flowers to anyone planning an event big or small and I would definitely use them again.
---
Perfection
Reviewed on

8/06/2013
Kayla M
We had Some Kinda Wonderful do our flowers as well as our linen and the end result was absolutely perfect. Monica knew exactly what I wanted even with my vague descriptions. She took my dream wedding and made it a reality. They came and set everything up and handed everyone their bouquet or boutonniere as well as pinned them on everyone. They even came when the night was over to take down everything so that we didn't have to worry about a thing. Monica treated us like people not just a paycheck, she was so professional. I would recommend them to everyone!
---
STUNNING FLOWERS!
Reviewed on

8/06/2013
Monica (owner of Some Kinda Wonderful) was extremely knowledgeable and helpful when it came deciding on our wedding flowers. She offered suggestions as to how we could get the biggest bang for our buck during a peak flower time (Mother's Day). As someone who doesn't know a lot about flowers, I needed direction and that is what I got. She spent hours going through our wants and needs and was really understanding. The day of the wedding, we were in awe of the quality and beauty of the flowers. Monica will add extra special touches (even if it wasn't in the contract), just to make sure everything is BEAUTIFUL! I have to say the flowers were the best part of the wedding decor! I would recommend Monica again in a heartbeat! Plus, she only does wedding and events so she is devoted to you and does not have to worry about running a floral shop on top of doing weddings. Thanks Monica!
---
Send Message