Home

Sound City Photography *Entertainment *Videography
About this Vendor
Award Winning Photography and Wedding Services!
You will love our creative styles of photo-journalistic and elegant photos, along with our fun, easy going personalities! We always look for perfect smiles, intimate moments, and we're never intrusive! We offer custom made albums and all of our photography packages include a printable disc of images!
Details
A Variety/Blend of Styles
Contact Info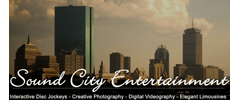 230 Main Street, Stoneham MA, Stoneham, All New England, MA
Absolutely amazing!
Reviewed on

8/24/2014
Keri K
I can't say enough about how professional and amazing Sound City Entertainment was at our wedding. Bill was a pleasure and down-to-earth person to work with from day one. As soon as we walked into his office to meet with him, we knew that he was going to do an exceptional job at our wedding. There was no pressure to sign any contracts on that first meeting, which for us sealed the deal. Bill was accommodating to our ideas and had fantastic ideas of his own. He kept our friends and family dancing the whole night, and I can't even express how many compliments we received about our DJ that night! Thank you so much for all of your hard work, and keeping our wedding fun and stress-free - how it's supposed to be! I can't recommend Sound City Entertainment enough! They also provided our photobooth that night, and the guy running that was smiling the whole night and extremely friendly. Thank you again!! Keri & Jim August 16, 2014
---
Amazing Photographer!
Reviewed on

3/06/2012
Andrea G
If you want timeless and amazingly beautiful photographs you must hire Dawn DiOrio of Sound City Entertainment. She captures every moment and you don't even know she is there. She makes you feel completely comfortable and beautiful on the most important day of your life. He eye for what makes a great photo is apparent when you see the finished product. I am extremely happy that I hired her as my photograph and plan to use her for any opportunity I can in the future. If you want your special moments capture on film Dawn DiOrio is the only choice.
---
A MUST!!!
Reviewed on

10/28/2014
Karen A
We used Sound City Entertainment for our DJ, Uplighting and Photography for our wedding held on 10/17/14. We chose them based on the reviews we read on the knot.com. Dawn & Siobhan were our photographers and they were outstanding!! Our wedding party LOVED them both and felt extremely comfortable with them. Dawn took the time to get to know us and our wedding party which made things so much easier. Dawn also kept my wife and I extremely calm. We seriously didn't have to worry about a THING!! We highly recommend Sound City, they take great pride in what they do!!
---
great photographer
Reviewed on

10/30/2014
Shaina N
We hired Dawn to take our wedding pictures and I couldn't be happier with the results. She so easy to work with and knew exactly what photos to capture. I would highly recommend dawn and sound city entertainment.
---
Amazing
Reviewed on

10/26/2014
Jessica T
Sound City did our wedding on October 18, 2014 in Sturbridge, MA. They were absolutely amazing! They did everything we asked and more. Our guests had an amazing time and kept telling us how great our DJs were. Even the venue told us how amazing they were. They also did the uplighting which made the entire venue look beautiful, when the dance floor opened the changing lights gave off such a great atmosphere. Again they were amazing, the drove all the way down to Sturbridge for us, which is quite far from their location.
---
Sound City Entertainment
Reviewed on

10/22/2014
Bill and Dawn are the husband and wife that own the company, Bills the magical MC behind the turntables and Dawn is the one behind the camera lense. Hands down the best wedding ever. Not just because it was mine but just because they worked the crowed into the moments so many times just so effortlessly.
---
Messed up some songs, but decent
Reviewed on

10/13/2014
Krista G
We used Sound City for our DJ, and their presentation and performance were very good! Unfortunately they messed up a bunch of songs that we requested. They messed up my bride's processional song, as well as my husband and I's recessional song. They also mixed up the parent entrance songs, and simply did not play a bunch of songs that we requested. The DJs were truly entertaining and the guests had a great time. However since we did pick out certain songs it was still disappointing to have that many mistakes.
---
Jen & Ken Layne
Reviewed on

8/06/2014
I chose Sound City Entertainment for my wedding photographers and they were amazing! I also chose to use their photo booth for our favors. Dawn and Shivhon did an amazing job! Dawn and Bill both sat down with me on a few occasions before the wedding to go over every little detail. Dawn emailed me back and forth quickly with all the questions I had. I loved that they called ME and checked in about a month before the wedding to finalize everything. Dawn went above and beyond to make my wedding party feel comfortable, even coming to my ceremony rehearsal to learn everyone's names and faces the night before the wedding. My husband is a little uncomfortable with getting his picture taken, but she had him laughing and joking that it felt like we have known her for years. She made my wedding party laugh the whole time which made our pictures come out very natural and unforced. My guests LOVED the photo booth and I love being able to look back at the pictures. Most importantly, the pictures came out amazing! I was told by several people that they had never seen such beautiful wedding pictures. If you want one less thing to stress about when planning a wedding, go with Sound City Entertainment and they will make it so easy!! Jen&Ken Layne
---
flexible and resourceful
Reviewed on

6/18/2014
c C
Bill the owner off the company was our dj for the wedding. Overall he did a good job of keeping people on the dance floor and being flexible to change things when our original plan was not working. Also in getting the music that was requested on short notice. We also used Bill for uplighting and car service. The lightingperfectly highlighted the spaces architectural attributes. It really made these reception a party atmosphere. Our car service all went smoothly. My one small complaint is that Bill was visibly frustrated with us for not being on schedule . This was different from his interactions with us in both meetings and in person.
---
Very Professional
Reviewed on

6/16/2014
Larry R
We had Clinton Angell as our DJ and he kept the place moving and grooving....he was very helpful keeping things on time , garter toss, cake cutting, first dance etc.etc. very personable and everyone loved the experience....thanks Clinton and sound city for a GREAT time
---
Wow, Amazing!
Reviewed on

6/16/2014
N R
I recently hired Sound City Entertainment for our wedding. I used their DJ, Photographer and Video Services. They came highly recommended by the venue where I had my wedding. This is a tough choice for any couple (bride) as you don't know for sure what you are getting until your big day and it's not something you can do a trial run for as is the case with hair and make-up for the bride. With that said, I can't even begin to express how much I enjoyed working with Bill, Dawn & Team. I am a very detailed person, with lists and schedules. Sound City was the perfect match for me. Giving up control does not come easy, however, I found myself telling everyone throughout my wedding day, do whatever Dawn says. They are that good! Sound City took every idea I had expressed and executed better than I had imagined it. I walked in to meet them a nervous bride and walked away feeling like my wedding was just handled by two very close friends. A million thank you's!!! Norma & Shaun May 25, 2014
---
Amazing!!!
Reviewed on

6/16/2014
Caitlin B
Where to even begin! Dawn and Bill and the rest of the staff are amazing! They made our wedding day the best day of our lives and one we will never forget. I am sure the pictures taken by Dawn will be absolutely stunning. Bill was an amazing Dj keeping the dancing going all night! All of our guests loved the photo booth and have told us that it was "the best wedding they have ever been to." Thank you Dawn and Bill for everything!! We would highly recommend Sound City to anyone looking to get married and in search of a Dj, photographer, videographer, photo booth, up lighting and limo. They do it all and with excellence! Caity & Kyle brownell
---
AMAZING!
Reviewed on

5/27/2014
My husband and I got married on March 22, 2014. My wedding was perfect due to Sound City Entertainment. From the lights, to the fog for the first dance, to the photo booth, to the videography to the photos; everything was absolutely amazing. Clinton, Bill and Dawn, thank you so much for making my dream wedding come true. I am having a very hard time cutting down my "favorite" pictures because they all came out good! One more thing I must add, the DJ was amazing!! He made sure everything was going smoothly and didn't play any outdated music- which was one of my biggest worries. I highly recommend Sound City Entertainment and I am already spreading the word as to how much I love their business!
---
Sound City Entertaiment DJ and videographer
Reviewed on

5/26/2014
Tarsha M
My husband and I got married on 4/26/14 and Clinton was our DJ from Sound City Entertainment. Clinton was amazing. He was dressed very professional for the wedding. Clinton listened to all our music request and played everything to our liking. We wanted Clinton to interact with our guest and keep them dancing all night long and he did an amazing job doing exactly that. Our guest were so impressed by how good Clinton is. Clinton checked on us the entire night making sure everything was going well. He informed us of what was about to happen so we knew exactly what to expect. Clinton is a very talented, energetic and a fun person to have as a wedding DJ. We first met with the owner Bill and felt so comfortable and reassured that we booked Sound City immediately. I have seen Bill at a friend's wedding and he is also very talented. We would definitely recommend Sound City to everyone looking for a DJ. We will be booking Sound City for all our family events. Thanks to Bill for an amazing experience and Clinton for making our wedding one to remember. We also booked the videographer through Sound City Entertainment and he was amazing. He captured all our special memories. He was always there capturing what was going on at the wedding but was never in the way and at times we forgot he was around because he did such an amazing job without interfering. My favorite part was when we looked at our Wedding photo booth pictures we saw a photo of him and could not stop laughing. It was so wonderful to see the videographer in the photo booth with his camera.
---
Sound City Entertainment was amazing!!
Reviewed on

3/21/2014
ANGELA L
I would highly recommend them. Bill was amazing from beginning to end! He has an amazing voice! If you want your guests up and on their feet having a great time dancing to the perfect mix then this is the DJ you want. I also used there lighting which changed the atmosphere and made the room coordinate with my color scheme for our wedding. They also did a great job coordinating with the function hall staff so that the day's events ran smoothly and on schedule. I also used them for my photography! They are creative, personable and you can trust them to capture more than you could hope for. I love all my photos and was amazed by the talent Dawn has as a photographer. I love all the Ideas that she came up with and captured every moment! They were the best vendor investment we made for the day and was so easy to do it all with them. Thank you both for making that day amazing and enjoyable! I will use them for any future photography or DJ session for sure!!
---
You won't be disappointed!
Reviewed on

2/03/2014
Caitlin K
Sound City Entertainment is an amazing company! They are so professional and very talented. We got married this weekend and we were so happy with the DJ service we got from Sound City. Bill Diorio was personable and easy to plan our wedding with, as well as very professional and obviously talented. During the wedding, we didn't need to worry about the schedule because Bill was very on top of it and would come over to us (the bride and groom) and fill us in minutes before something was about to happen (i.e. cutting the cake, parent dances, etc.). Before the wedding we went over the music and made sure it covered both of our styles, and they made it so easy- it wasn't like we had to pick out each individual song! They did an excellent job mixing the music the way we wanted and really getting the crowd going. You seriously won't be disappointed. Just meet with them one time and you'll know they're the best!
---
Great Wedding DJ
Reviewed on

9/29/2013
Hilary F
Clinton was the DJ from Sound City Entertainment at my wedding just recently. He was a fantastic DJ - played all of our requests, stuck to our do-not-play list, and really got the crowd up and dancing. He was also very helpful getting us set up for introductions at the reception. Really nice guy and played great music! I would highly recommend him and Sound City Entertainment.
---
AMAZING
Reviewed on

9/16/2013
Dawn D
ABSOLUTELY AWESOME!!!!!! Bill got everyone up and dancing and people danced the ENTIRE night. the dance floor was packed and everyone had a blast!!!! HIGHLY RECOMMENDED! and the photobooth was a HUGE hit. everyone loved it!!!!!
---
Great Experience
Reviewed on

7/04/2013
Sarah W
We had John from Sound City DJ our wedding and we were extremely happy with the experience. He really listened to what we wanted and gave our wedding the dance vibe that we were looking for. We got compliments on the great variety of songs he played and our guests seemed to really enjoy the music. Also, he used state of the art Bose equipment, which not only sounded amazing but looked really classy (compared to the big black box speakers). We highly recommend John as a DJ!
---
Great entertainment
Reviewed on

6/03/2013
TARA S
Great entertainment! Very Professional!
---
Photographer and Dj
Reviewed on

4/18/2013
Jessica F
Dj was fine but photographer did not take pics I was looking for. There was not one nice full length photo of just myself in my dress. She edited the photos and put some in black and white. She told me I could not get these pictures in color unless I paid more. Finally I went into the office and was able to get my pictures put into color without an additional fee. There was a lot of extra stress for something that I could easily do myself with a digital camera.
---
Happy Bride
Reviewed on

11/07/2012
Candice B
We used Sound City for our Photography and our DJ and we couldn't have been happier! They catered to every need and made sure to make our day one to remember! We had a photographer and an assistant that snapped every picture we asked for and were very polite and fun to work with! Thank you Trevor and Sue! Also, we had a DJ that kept everyone up and dancing the whole night and really kept the party vibe going! Thank you Clinton!! With everyone working so well together, our wedding turned out perfect and it is definitely one day I will never forget!!
---
Fabulous Photographer and DJ!
Reviewed on

11/04/2012
Kate M
My husband and I knew that the DJ and photographer were going to be the most important aspects of our wedding for level of fun and capturing important memories. We had researched Djs and photographer separately and were so fortunate to have found Sound City Entertainment. Bill, our DJ, made sure everyone got out on the dance floor all night long -- all ages, including my elderly aunt and 4-year-old nephew. Dawn, our photographer was amazing and her eye for artistry is breathtaking. I cannot recommend them enough, they exceeded my hopes and expectations in every way. And on top of that, they are fantastic people!
---
trevor rocks!!!
Reviewed on

10/29/2012
ana g
They are fantastic!!! Great quality and so easy and smooth. Photos are beautiful! Thanks to Dawn, Bill and Trevor!!
---
September 21, 2012 Wedding-AMAZING!!!
Reviewed on

10/02/2012
Mary Margaret M
I used Sound City for a couple of things. 1. Photography: Dawn was AMAZING!!! She was so organized and made sure that sure was very familiar with my venue before the big day. I was probably the most unorganized bride ever but she made it look like everything was so together. She even had an iteneray printed out for my fiance and I so we knew what to do when. It was little advice she gave that I know will make our pictures look awesome. LOVED HER! Uplighting and Photo Booth: Bill (poor Bill) I hate that he had to go through my family's crazy pictures in the photo booth! However, I had so many guest tell me that the uplighting and the photo booth made such a difference! Highly recommend both of them.
---
Send Message