Home

Sound Control DJ's
About this Vendor
Sound Control DJ's
Details
80s, 90s, Big Band/Swing, Classic Rock, Classical, Country, Disco, Folk, Hip-Hop, Indian, International, Jazz, Latin, R&B, Top 40/Pop, Variety
Ceremony DJ, Coordination Services, Karaoke, Lighting, MC Services
Contact Info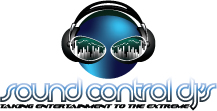 234 Hoags Corners Road, Nassau, NY
Bride
Reviewed on

2/28/2013
megan b
Todd surpassed EVERY expectation I had as a bride-to-be! From my initial meeting, I knew that music at my wedding was not going to be an issue. The kept in contact with me throughout the months leading up to my wedding, made it easy.I always left the meetings feeling more pumped and excited for our big day then when I went in! Their prices were extremely reasonable, and less than other "professionals" in the area. I could not have imagined a more perfect day, and Todd was on top of everything and really put me at ease. All of our guest complimented on how well of a Job he did. Worked well with other Vendors
---
Wedding DJ
Reviewed on

10/24/2012
Nicole K
Being an out of town bride I was nervous about hiring the right entertainment. I ended up hiring Todd after speaking to him on the phone and getting the sense that he would really execute what it was that I wanted. He has a great knowledge of all sects of music and is easy to work with. He got all my guests dancing, young and old!
---
Scott Hemming
Reviewed on

7/03/2012
Anna-Laurene V
Scott Hemming was the DJ at my wedding. He did a great job. His display was very professional and did not have cheesy signs advertising his business (a lot of DJ's do this - Be Careful!) He listened to us when it came to our do not play list and he played all of the songs we requested. He was a very nice man and easy to work with. He played a good mix of songs and kept the party going!
---
Ron Prior
Reviewed on

3/27/2012
Kelly G
We couldn't have asked for a more dynamic DJ! He didn't take over the party, he just knew exactly what to play and when to play it! I would not do another party without hiM!
---
good times
Reviewed on

12/01/2011
Lisa P
fun times, wished he played more off our list
---
Perfect Entertainment
Reviewed on

11/11/2011
Haylee J
We had Scott Hemming for our DJ and he was FANTASTIC! He was so professional and listened to our ideas. We had a couple of meetings with him regarding the music we wanted played at our cocktail reception, wedding reception and the music for all of the formalities. The dance floor wasn't empty for a second! Everyone was up dancing and having an incredible time. The pictures of our reception show our guests smiling, laughing, dancing, clapping - just having the time of their lives! My husband and I couldn't have imagined a more fun reception! He also timed our entrance into the reception with the chorus of Carrie Underwood's "Ever After" perfectly! Scott also brought in and set up pink up-lighting for the reception and it was GORGEOUS! It transformed our venue into an absolute fairytale. I highly reccommend Scott Hemming and Sound Control DJ's!
---
The house was rocking all night
Reviewed on

11/07/2011
adeline d
You want Patrick Bergernon. He was awesome. The dance floor was packed the whole night.
---
Kept the crowd on the dancefloor!
Reviewed on

10/25/2011
Cari G
Patrick from Sound Control was a fantastic DJ. We interviewed a few before deciding on Patrick and we were so happy with our decision. Their easy to use website allowed us to preview and pick songs from each decade and specify which song we wanted played during special events. Patrick kept the crowd dancing all night long and was flexible when we asked him to stay an extra hour.
---
The only choice
Reviewed on

10/07/2011
Sara C
I couldn't ask for better service. Scott was wonderful, before during and after our wedding and reception. He was fun, helpful, professional, friendly and I could go on. We will use Sound Control DJ for any future needs we have without a doubt and recommend them to everyone!
---
Still dancing
Reviewed on

6/23/2011
Carrie S
This company is great. You get an account online and you can start making your song list throughout your engagement, set up timelines, etc. Living in Wyoming and planning a wedding in upstate NY, having this online service was ideal. I felt very organized and prepared using their Client website. Patrick was our DJ and he was amazing. He DJed my cousin's wedding so we knew a little about him already. We had talked on the phone a couple times to get things finalized and get a feel of how we wanted the night to go. He nailed it. He was just so... aware of everything, one step ahead, knew what we needed done and did it. He was booked for 5 hours, we extended it to 6. We didn't want the party to end. Go with Patrick!
---
Half & Half
Reviewed on

3/27/2011
Carrie A
I have seen 4 of the 5 DJs in this company at various weddings throughout the past several years. Ironically, the owner (Todd Farley) is the worst one of all. Scott Hemming is excellent & the others are pretty good too.
---
Great!
Reviewed on

10/12/2010
Sue S
It was hard to get the crowd going, but these guys know how to do it! We had a great time.
---
Ron is Great
Reviewed on

10/11/2010
Christina Q
We used DJ Ron Prior who was out of this world! Our guests could not stopping talking about what a party we threw. He had the dancefloor pretty much full all night long!
---
The Best!
Reviewed on

5/26/2010
Lindsay K
They took the time with us to make sure they had exactly what we wanted. We could go online and add a playlist and meet with them to make sure it was all correct and when to play certain songs. They were very reasonably priced and were great at getting everyone on the dance floor! Highly recommended!
---
Review for Sound Control DJs
Reviewed on

2/14/2009
Elizabeth R
I LOVED LOVED LOVED Ernie! he was awesome easy to work with went above and beyond! He intereacted with the guests did everything we asked. I would recommend him to EVERYONE!!
---
Send Message