Home

Southern Protocol Bridal
About this Vendor
Traditional, Modern, Graceful With a Touch of Sass
At Southern Protocol Bridal, we welcome you as a friend and want you to leave as family. Each appointment is a party where we encourage you to relax, sip some bubbly, and enjoy your experience. Dream big, ask questions, be creative, and, most importantly, have fun! Even if your dress is not here, our joy is to have you to walk away energized, excited, and educated on how to find the one for you. We proudly carry ten gown designers- Ivy & Aster, Lea-Ann Belter, Matthew Christopher, Heidi Elnora, Carol Hannah, Romana Keveza, Nicole Miller, Kate McDonald's Little White Dress, Jesus Peiro and Rebecca Schoneveld. We carry accessories by Candy Shop Vintage, A Cultured Pearl, Haute Bride, Kate Spade, La Gartier, Moon & Lola and Taxidermy.
Details
Mother of the Bride Dresses, Shower + Party Dresses, Wedding Dresses, Dresses, Alterations, Bridal Stylists, Custom Designs, Dry Cleaning + Preservation, Plus Size Available, Private Appointments Available, Fashion Services, Fashion

Contact Info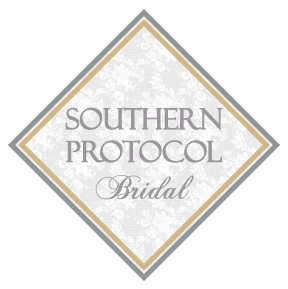 Reviewed on

7/23/2017
Carmelina S
Dress shopping at Southern Protocol Bridal with Michelle is what every bride imagines the event will be like! The store is beautiful and Michelle is incredibly attentive and dedicated. When I wanted to try on a specific gown that was not in stock, she ordered and had it shipped... Read More for me to try on that week! Michelle is knowledgeable about her gowns and the designers, very communicative by phone and email, and genuinely cares about her brides. I shopped at 7 different bridal salons and Southern Protocol Bridal was hands-down my best experience.
---
Reviewed on

6/04/2017
Mim S
This place is absolutely incredible. Southern Protocol was the first gown shop we went to and thank goodness for that! The gown selection there is beyond what I could have imagined. They have beautifully structured fitted gowns, romantic flowing gowns, elegant a-line gowns,... Read More and just about every style a bride could want. While the unique selection of gowns initially won me over, working with Michelle really set this boutique apart from other shops we visited. Michelle has extensive knowledge of the designers and each of their gowns. She made me feel so comfortable and cared for throughout the entire process. Her support and genuine desire to provide us with a fun and special experience during our appointment was incomparable to any other place. I'm so thankful I learned about her shop and would absolutely recommend other brides to at least make it one of their stops! You will be so happy you did.
---
Reviewed on

4/04/2017
Katelynn R
I'm a Charleston Wedding Planner but recently had my bride-moment when I got married here in February! By choosing to go to Southern Protocol, you are choosing to have the best experience of your entire planning process! As a bride, I loved my experience with Southern... Read More Protocol (and I had been to a couple other boutiques prior) and truly appreciated the level of service offered here! Working with Michelle was one of my favorite parts of being a bride (she is THE best!) and I'll tell you why... Buying the dress: From the first time I walked in the door (the cutest salon ever tugged on my Kate-Spade-loving heartstrings), my mom and I were treated like queens. We were able to have a mid-week private appointment the day I found my dress which was so special for us. We were allowed to browse and choose some things we liked and take as many photos as we wanted (makes a difference when trying on different styles!). I tried several dresses on and was allowed to walk in them, try different accessories with the ones I really loved, etc. Once I found "the one" Michelle walked us through the process + what we could do to customize the gown. After I placed my order that day, I realized I wanted to add buttons to the back - all I did was email Michelle, she contacted the designer, and it was done! Dress Arrived from Designer: When my dress arrived, Michelle contacted me to come in and try it on. It fit like a glove - testament to Michelle's abilities to properly take measurements (I've heard so many horror stories as a planner about dress measurements gone South!) Southern Protocol also kept my dress on-site, so I never had to worry about taking it home or storing it. Other Appointments: Michelle was always open to me coming in and trying on the dress again and again! She never turned this down + always encouraged it. I realized partway through my planning that I wanted an overskirt. I was able to consult with Michelle, she sourced a few great options, and I came in to try some amazing items! I also ended up finding a beautiful belt + veil from So Pro too! Alterations: Alterations are easy with Southern Protocol. They have someone "in-house" that works with their brides - which means, they are familiar with their dresses. I came in with all of my stuff, Michelle was there to oversee everything and it was easy breezy. I was unfortunately in the middle of a cross-country move, and scheduled my appointment to try on my altered dress just 4 days before my wedding in Charleston. I came in and the fit was absolutely perfect! After the Wedding: You're contacted by the boutique after the wedding to be featured as part of their "Our Belle" campaign. It spotlights real brides that they work with everyday! It was a fun way to recap the big day, share photos with them (they love gushing over pretty brides, who doesn't) and be featured as a bride! I know that was lengthy, but a true spotlight on the experience from start to finish. I will recommend Southern Protocol again and again + definitely go there for any future needs - formal parties, anniversaries, etc. Thank you for going above + beyond in style, service + sass! Y'all are amazing! xoxo
---
Reviewed on

4/17/2018
Jennifer S
Cute boutique & Michelle was great! She took the time to teach me about fabrics & encouraged me to try on different dresses in order to definitively rule them out.
---
Reviewed on

4/08/2018
Elise N
Love, love, love Southern Protocol Bridal. I especially love Michelle and her team there. If you are looking for the complete bride experience then select this cute shop in Charleston, SC to find your wedding dress. Michelle takes the time to really listen to your vision and... Read More bring it to life. The shop has a beautiful selection of gowns and designers. Michelle's experience enables you to make decisions you are unsure about and her taste is an added contribution to your dress shopping experience. An added bonus is their relationship with a talented and exceptional lady that does impressive alterations.
---
Reviewed on

1/19/2018
Jennifer L
Michelle is absolutely wonderful! She truly loves her job and is great at it. She was such a pleasure to work with. I live in Delaware, so a lot of our communication was done over the phone or email. She responds immediately and made sure everything was taken care of in time... Read More for my wedding day. Her style and taste are impeccable, which she uses to help make her brides' "look" come together perfectly.
---
Reviewed on

10/17/2017
Tara G
Gorgeous space! Incredible selection! Top notch service! You cannot go wrong here!
---
Reviewed on

10/13/2017
Maria E
Michelle and her staff go over the top to provide the best customer service. I highly recommend it!
---
Reviewed on

10/13/2017
Mary Beth H
My friend Brittney and I went to Southern Protocol Bridal a couple months ago following her engagement. She was a bride on a budget and convinced none of the local boutiques would give her the time of day with what she could afford. After some coaxing, I convinced her to go with... Read More me to see Michelle, and it was my greatest win as Maid of Honor. Michelle made the entire appointment a party for Brittney – celebrating her engagement, asking about her story, and making her feel like an absolute queen. She was also able to find an array of quality, gorgeous gowns well within her budget. Brittney came to the appointment dejected and discouraged, but left walking on air all thanks to Michelle's signature Southern Protocol Bridal experience!
---
Reviewed on

10/02/2017
Sheila O
From the moment you enter Southern Protocol Bridal, the experience feels special. The shop is an elegant and calm space. Michelle greets you warmly, offers refreshments and then sits down with you to understand the type of gown you have been dreaming about. Michelle really... Read More listens! The gown selection is extensive and Michelle quickly edits the choices to fit your desires, and shows you accessories and jewelry to complete your look. Michelle is knowledgeable, professional and a truly gifted stylist. You will not be disappointed at Southern Protocol Bridal.
---
Reviewed on

9/28/2017
Alicia W
Working with Michelle during special events such as Charleston Wedding Week, Revolution Wedding Tours, The Gage Hall Experience and Charleston Fashion Week has been such a wonderful experience. She is so creative and professional and truly loves the bridal and wedding world.... Read More Pinning models, dressing models in small spaces, loaning out gowns and day long photo shoots with designer dresses (especially at the beach or a muddy farm or in the rain) can be stressful, but you would never know it working with Michelle as she is always kind, considerate and approaches everything she does with passion and a smile.
---
Reviewed on

9/28/2017
Rebecca M
I cannot say enough about how amazing Michelle and the team at Southern Protocol are! Michelle helped me find the perfect dress, even after I was certain that style would not look good on me. She is the best!! I would recommend Southern Protocol Bridal to any bride or anyone... Read More looking for the perfect gown. The assecories are gorgeous as well! I purchased a pair of their beautiful handcrafted earrings. They look like they would be very heavy, but they were actually lighter than my everyday earrings! Love them!! The store is absolutely beautiful and Michelle makes sure you feel comfortable and as relaxed as possible while you are there. I thank Michelle and everyone at Southern Protocol Bridal from the bottom of my heart for making this bride feel like a princess on her wedding day!
---
Reviewed on

8/24/2017
Taylor S
I loved working with Michelle! She was so kind and thoughtful. She made my entire shopping experience effortless and so much fun. I loved my Kensington and so did everyone else! I would highly recommend southern protocol bridal to anyone looking for a beautiful dress and a... Read More fabulous experience.
---
Reviewed on

8/24/2017
Caroline R
I had such a great time at Southern Protocol, and Michelle could not be any sweeter or more accommodating. There was a trunk show happening when I went, and it was great to try on beautiful brand new gowns. Even though I had fallen in love with a dress I had tried on earlier,... Read Moreauyfcbefvrafaxtfuutwwtrufxwrzdburayxxw I had such a great experience that I went back to Southern Protocol for my veil. Their prices are also awesome! Highly recommend.
---
Reviewed on

8/06/2017
Emily B
All around amazing store and experience! Beautiful selection of gowns and accessories to accommodate a range of styles and price points. Michelle provides a seamless experience and was a complete joy to work with!
---
Reviewed on

6/07/2017
Kyle H
The shop is beautiful, the dresses are beyond amazing and I loved that I had it all to myself. Michelle was so sweet and helpful, I have the fondest memories of finding my dress now. She is very quick to respond to emails, and keeps me up to date on my dress as it's being... Read More made/shipped. I can't wait to go back for my fittings, well worth traveling to go see them! They won't disappoint!
---
Meet The Manager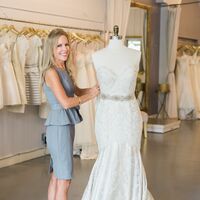 Michelle Miller
As a self-taught fashionista, Michelle is drawn to designers based on the quality of their work and attention to detail. She seeks artists who delve into fine pleats, thoughtful drapes, and craft construction. She loves to partner with designers who are comfortable with customization and open to executing unique visions. She loves that Southern Protocol Bridal provides all clients with the flexibility to be creative in French silk and couture lace at a comparable price while offering genuinely kind customer service.