Home

South's Specialty Clothiers
About this Vendor
Serving the High Country for 30 plus years.
Since 1985 Souths Specialty Clothiers has brought to you the latest fashion for Specialty clothing, Formal wear, Prom dresses and Top selling Bridal designers. Suits for purchase and Tuxedo rentals. South's would like to help make your wedding dreams come true. Our bridal consultants have expertise in helping choose the style that compliments you. They will work with each bride one on one to help her find the perfect wedding gown. Appointments are required but walk-ins are welcome.
Details
Bridesmaid Dresses, Flower Girl Dresses, Mother of the Bride Dresses, Dresses, Custom Designs, Fashion Services, Fashion
Contact Info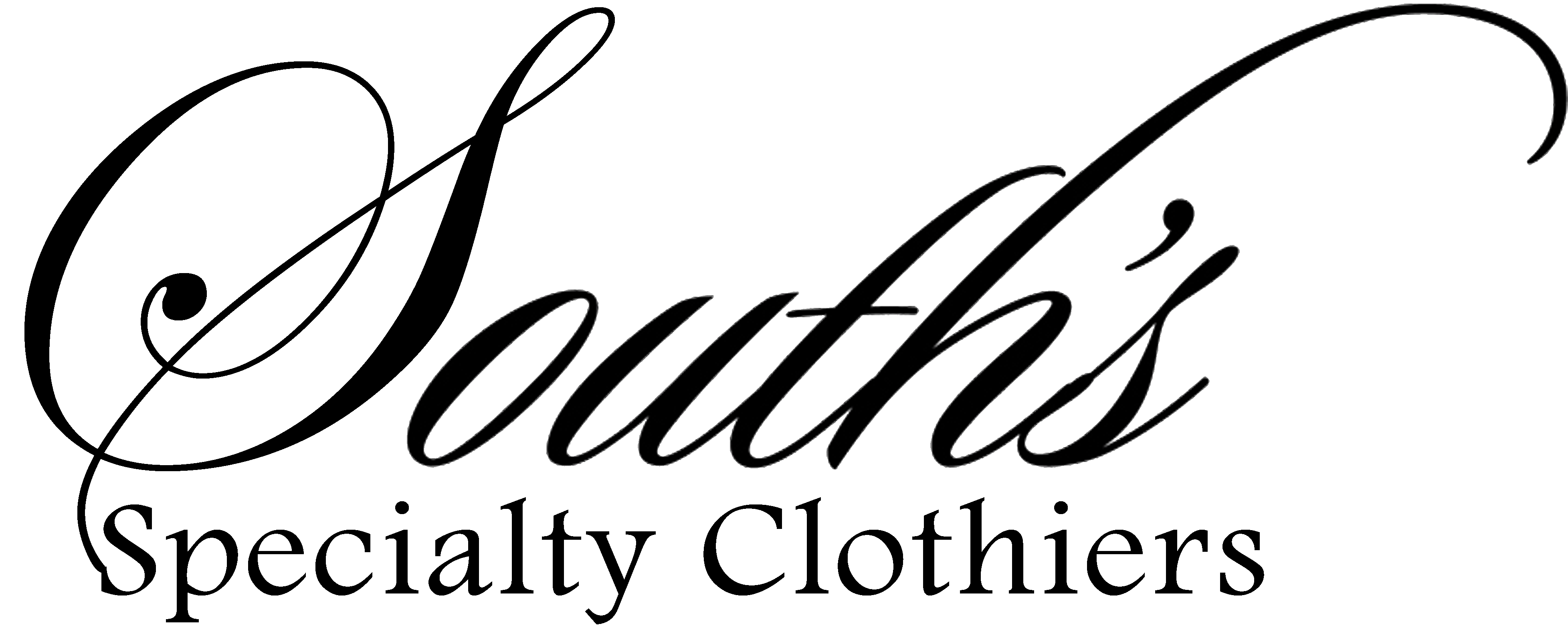 Reviewed on

11/15/2017
Brooke W
The service was amazing, the lady who helped me was very sweet and such a great help when choosing the dress she even picked out the dress that I tried on and said yes to the dress to. The store wa designed just as pretty as always and was clean. I couldn't have asked for better... Read More people to help me picked out my perfect dress and I can't wait to come back in May to get it altered. Thank you again I have no complaints.
---
Reviewed on

11/06/2017
Makayla F
The employees at South's are so wonderful to work with! They will help you with anything you need and make sure your day is special. I have made several purchases from them and I have been 100% happy!
---
Reviewed on

11/30/2016
Michelle L
I was so pleased with the excellent assistance that I received when selecting my wedding dress. They gave me undivided attention and advised me in my choices. Each visit for fittings was equally special, as they gave the same attention to my bridesmaids. We also ordered the... Read More tuxes for the groomsmen from South's. He was as happy with the great personal service as I was. We have recommended them to our friends and would use them again for formal wear.
---
Reviewed on

10/26/2017
Elizabeth A
South's had a great selection of dresses to choose from and an excellent, knowledgeable staff! The bridal salon may seem small, but I was blown away by how many dresses they actually have in-store. So many different styles and sizes. And they carry an equal variety of bridesmaid... Read More dresses! Compared to several other bridal salons I visited, South's kept their salon and dresses clean and neat. I can't express enough my gratitude for the great staff- so knowledgeable of the industry and all things bridal. Without a doubt some of the best people to work with! South's was the first store I went to when I began my search for the perfect dress and I ended up coming back and buying the very first dress I tried on. I absolutely LOVE my dress and I would recommend South's to anyone! <3
---
Reviewed on

10/26/2017
Meg B
South's is one of the best places I went to to try on wedding dresses. They make sure you're comfortable and put you first. I found my wedding dress at South's within an hour and I tried on a lot of dresses. They have such a good selection and tons of beautiful wedding dresses... Read More to choose from. And they give you discounts on everything! I will be ordering my bridesmaids dresses from South's because they can get in any dress you want and give you a discount on them. If you're thinking about going to South's, definitely go. You will not be disappointed.
---
Reviewed on

4/04/2017
Kim T
Horrible experience! We tried shopping local. They let a 15 year old child pay down 145 on a dress to hold it (a torn dress) but refused to give her anything but a store credit because they could have sold it. In 7 days... They give small local stores a bad reputation... sad to... Read More take advantage of our young people. Maybe a call to the local newspaper or television station would get the to simply do the "right" thing... sad people don't remember how to do that anymore.
---
Reviewed on

3/03/2016
Katelyn P
The groom/groomsmen got their suits from South's. Super disorganized, it would take 15 minutes to find our file every time we would go in to pay the remaining deposit because it was in almost always in a different file. We had to go back several times to pay the remaining... Read More deposit because even when they finally could find our file their ancient computer system wasn't working. Even though they told us they would call us when the suits were in, it took us giving them a call to find out they were in -- this is after I was told I would receive a call back and was hung up on. When the suits did come in the sizes were so inaccurate that the father of the bride and groom and to send them back and/or get another suit. The groomsmen received alterations elsewhere with a lady who used to do alterations for South's and she had one horror story after another about South's. All in all, save your energy, your time and your patience. Go anywhere else, and I'm sure the experience will be better. I am so glad I did not get my dress here.
---
Reviewed on

1/12/2016
Fabulous experience!
---
Reviewed on

1/12/2016
Jennifer H
Absolute BEST service in the high country! I went to other bridal stores before going to Souths, and it was a complete waste of my time! After leaving the other stores and going to South's I found my dress that day. I ordered it, they called me as soon as it walked in the door... Read More and have been excellent with helping the bridesmaids, trying the dress on, literately when ever I want to, and have gave me so much advice. They are truly the best bridal store in the high country, and are local people who have been around for many years. The staff are so organized, anytime I call about anything they know exactly how to help, in a timely manner. I looked through some of the other poor reviews, and I dont see how any of that is true! They are all great in the store. Brides, look no further, just go to Souths and save you and your bridal party a lot of time!
---
Reviewed on

10/27/2015
Steph S
I am a future bride and I loved how helpful the staff was. They answered all my questions and were so helpful. I can't wait to go back!!
---
Reviewed on

10/26/2015
Holly N
I shopped with South's and I had a great experience! The staff there are great and very helpful! They made my experience shopping there a breeze and I would definitely recommend them! Janet also does wonderful alterations! (Wouldn't trust anyone else to do them!) Definitely... Read More worth the trip to Boone!
---
Reviewed on

10/11/2015
Go someplace else! This place is full of rude women. I had got into an argument with the "manager" during this long process. I had paid for my dress to be altered($60 to take the arms up and the bottom and I "had" to use their alteration lady because I could have done it myself... Read More but they wouldn't let me) and the bride had picked it up for me when it was "finished" because I live hours away. So on the day of the wedding I put my dress on and relieze NOTHING has been altered on my dress and not enough time to fix it. So do not go here. They will take your money and treat you like crap.
---
Reviewed on

7/02/2015
Tracy J
This place is terrible! We ordered bridesmaid dresses for my best friends wedding and they were so rude on the phone. The worst part was I kept waiting to get a call about my dress and it was a week before my friends wedding, no call! She even called to check and they told her... Read More it wasn't there. Turns out it had come in a month before and no one had called me or her AND she had paid for the shipping already plus it was paid in full. Due to the extremely poor service, bad attitude, and obvious crappy management I had to have my dress rushed at an alterations place just days before my friends wedding. This was completely avoidable and the staff NEVER ONCE APOLOGIZED. The epitome of rude. STAY AWAY!!!!!
---
Reviewed on

7/02/2015
Brianna J
The first time I went in South's to ask questions they acted like I was burdening them. Their paperwork is all by hand and kept in an envelope under the counter. They always had a hard time finding my name. Every time I called about the bridesmaid dresses I got a different... Read More answer. First I was told 5 out of 8 dresses came in and I explained that 6 of them should be in because they were the same style. They finally found the 6th one in the back. Then I called about the other 2 dresses several times and they told me that they had already been sent out however my bridesmaids did not receive them so I called back and was accused of never calling. When prying deeper they told me that they received the dresses 2 weeks prior and had not sent them out and I had not received notification that they were even in. One of my bridesmaids was in the process of moving so since they had not sent them out yet I asked them to hold on to her dress so I could pick it up. When my husband went to get it the next day they could not find it. When they finally found it the dress still had a note saying that it needed to be sent out. Their filing system is very unorganized and the customer service is very poor. My mother, husband, and all 8 of my bridesmaids had a terrible experience. One of my bridesmaids called several times about her dress and they told her it was sent out. When she didn't receive the dress she called back a week later they said "I don't know why this wasn't sent out it has a note on it to send it." So 3 of my bridesmaids had to have their dresses altered the week of my wedding because they did not send the dresses out when they got them in their store. It was a big headache for me and my 8 bridesmaids. I was very glad that I did not order my wedding dress from them. And instead of apologizing they basically told us that we had not done what we say that we did. They made this happy and joyous time into a terrible experience. I would never recommend them to anyone!
---
Very Nice and Helpful
Reviewed on

3/12/2015
Abbey E
I went to a few boutiques to find my dress, but I would recommend South's because they made themselves very available to me. They let me spend as much time as I wanted looking and trying on gowns and I never felt rushed. I found my dream gown and it was under budget. They helped... Read More me with alterations and stored my dress until the big day.
---
Fabulous!
Reviewed on

9/28/2014
Kristen G
I was a little hesitant when I walked into the store as there are many items crammed into a relatively small space. However, I was plesantly surprised when I saw the wide selection of bridal gowns. Lori was wonderful and offered several helpful suggestions. I had a very... Read More difficult time trying to decide between two gorgeous gowns. The turn around time on the dress (from ordering to arrival at the store) was a little long, but worth the wait. The woman who does alterations offered to do them overnight so that I could have the dress ready that weekend. The value was exceptional (both my dress and veil were just under 2,000) and everyone was so freindly. I was also able to make custom changes to the dress and the veil. I would highly recommend this store. I got numerous complients on the gown, and felt spectacular in it!
---
So fun!
Reviewed on

7/03/2014
Mackenzie
Beautiful dresses, great prices and wonderful people to work with. We were very impressed with the alterations and the price of the alterations. They were much cheaper than we had anticipated. All in all, it was a great experience!
---
Meet The Owner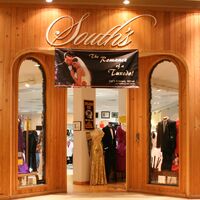 Souths Specialty Clothiers Boone Mall
Proud to be serving the High Country in beautiful Boone North Carolina for over 30 years! We offer Top 3 designers in Bridal gowns nationwide. One of which won the Debi' Award. South's is a full service bridal store. We are you one stop shop for bridal, bridesmaids and tuxedos. We now offer suits for sale or rent. Beautiful mothers formal and casual dresses.