Home

Sposa Mia Couture
About this Vendor
Welcome to the Beautiful World of Sposa Mia
We are a small team, passionate and friendly, with a unique collection of wedding gowns and accessories. We believe that choosing your wedding gown should be the most fabulous experience ever. Our bridal collections range from $1,000.00 and up. Appointments recommended.
Details
Wedding Dresses, Dresses, Fashion
Contact Info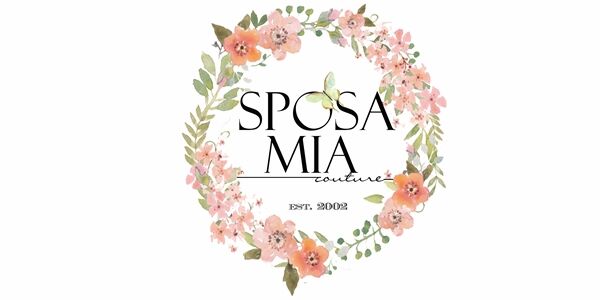 Reviewed on

4/29/2017
Argentina B
Verónica was the best!!! I loved sposa mia and their staff!
---
Reviewed on

4/12/2017
Shailey P
I went one day alone to just try different silhouettes and ended up purchasing my gown that very day! Even though I was all by myself the enthusiasm that Veronica shared with me made my day. She helped me FaceTime loved ones and took pictures for me to share to help with my... Read More decision. Surprisingly it was the very first dress I had tried on. I got a great deal and they were very understanding with me being indecisive on accessories and coming back multiple times.😋❤️ Really enjoyed this little boutique not to mention I met a designer in town from NYC sharing his line of Elinor. Thank you Sposa Mia 😘
---
Reviewed on

3/17/2017
Brittany A
The staff were super patient with my very picky self. love the variety of dresses and accessories they have. a beautiful place!
---
Reviewed on

11/07/2016
gabriela g
Muchas gracias a todo el equipo de Sposa Mia, en especial a Michelle, quedé enamorada de mi vestido, mi velo y mi tocado, me sentía como una princesa. Lo recomiendo 100% , tienen diseños hermosos y el servicio y la calidad es de primera. Yo soy de Monterrey y me dieron muchas... Read More facilidades para que las pruebas de mi vestido se acomodaran a mis tiempos. Muchisimas Gracias!!!
---
Reviewed on

10/25/2016
Joanna U
My experience with Sposa Mia Couture was amazing! They went above and beyond to help me find the dress of my dreams! The whole staff was very friendly. They also had an amazing beautiful selections of gowns. I want to give a special thanks to suzie for making it easy on me... Read More since i live out of town. Over all I give this place 5 stars and highly recommend it to brides to be! <3
---
Reviewed on

10/19/2016
Virginia H
Spose Mia provides the most wonderful bridal experience. The staff was amazing. They made my wedding dress shopping easy and memorable. Sposa Mia has class and elegence. I visited several shops on the strip and I wish I would have gone there first! Apart from great customer... Read More service they have a breath taking selection of wedding gowns. You can asure they have quality and up to date pieces. If I could do it all over again, I would not hesitate to revisit them. I loved everything about Sposa Mia.
---
Reviewed on

10/19/2016
Vanessa R
My experience at Sposa Mia was great. When I was shopping for my dress the attendant was very helpful and made me feel great about my choice. She really focused on me and what I wanted and I found the dress of my dreams!!! They have so many styles, hair pieces and beautiful... Read More veils.
---
Reviewed on

10/18/2016
Ana H
Loved the customer service! This is definitely the place to go to shop for a dress in McAllen. David's bridal is just awful and don't always have one-on-one service like Sposa Mia.
---
Reviewed on

10/18/2016
Mirian G
All the people in Sposa Mia were so helpful and understandable. They guide my while i was selecting my wedding dress, giving me the best advice and with their excellent job i was able to have my dress in two weeks. Specially Birza Cruz my bridal consultant she is a very special... Read More person. Thank you very much for everything.
---
Reviewed on

10/18/2016
Amanda B
I loved my experience here! They have amazing dresses and accessories, the personnel was kind and caring, and the place was clean and well kept.
---
Reviewed on

9/24/2016
Miranda P
hands down best service and staff ! I never thought it would be so easy to find my wedding dress but they made my dream come true ! Love it
---
Reviewed on

6/30/2016
Mariela C
Birza at Sposa Mia was so very helpful! Such a sweet girl who helped me find the PERFECT dress for my wedding day. I gave her an idea of what I wanted and it only took about 3 dresses before I found "the one" I had a great experience with them and I would definitely recommend... Read More that store to anyone searching for the perfect wedding dress.
---
Reviewed on

3/18/2016
Kristen T
I had such a great experience at Sposa Mia and I loved every moment! The consultant listened to all of my requests and opinions and I walked out with my dream dress! I definitely recommend this boutique!!!
---
Sposa Mia Curvy Couture
Reviewed on

11/13/2015
Zmelda G
My experience with Sposa Mia Curvy Couture is one that I will cherish forever. My dress just came in and I love it even more than the first time I put it on. Sarah my lovely consultant did everything she could to help me find my perfect dress and more. I cannot thank her enough... Read More for making my day special for my mother, my two grandmothers, and my sister.
---
Easy
Reviewed on

10/23/2015
Emelia S
My experience at Sposa Mia was exactly how I imagined it. The consultants were very tentative and so nice. My dress was beautifual and shaped me so well. I would recomend to everyone.
---
Amazing Experience and Found my dream dress
Reviewed on

10/21/2015
Desiree G
From the moment you walk in to Sposa Mia.... you feel so special.... the staff is so friendly and welcoming!! Michelle was my consultant and I love her (she's the best).... She made me feel so special and was so patient with me and my mom :) the best experience ever. Ofelia the... Read More seamstrees is Amazing and added little touches to my dress that made it fit just perfect.... love these ladies.
---
Mislead, but saved.
Reviewed on

10/21/2015
When I first reached out to Sposa Mia, I was excited to learn that they were carrying the Wtoo, and Watters collection. My heart was so set on trying on the "Olivia". But being in San Antonio, I had to make sure that I made a worth while trip. To make sure of this I e-mailed... Read More Sposa Mia, who assured me it was in stock, and that I could make my appointment to try it on. We were 7 months away from my wedding, and I was ecstatic to have finally found my dress! Fastfoward a week later and I'm hoping on a bus from San Antonio at 4 A.M. in the morning to make the 6 hour journey (via bus). It was an interesting one, but in my mind all worth it for my OLIVIA! I arrived at the store at 10 a.m. and was greeted warmly by the staff. However that didn't last long, as soon as I informed them of the dress I was there for, they started scrambling. My dress was not there. They didn't have in stock, and I was blatantly lied too. The disappoint was great, and my trust in Sposa Mia went straight out the door. The stylist was great in helping me find dresses to try on but it was obvious my heart was broken. Finally the last dress I tried on, made me light up instantly. I fell in love with it, and felt torn between ordering it or continue the search for Olivia. I took the dress, but my heart can't help wonder what if. Thank you for all your help and generosity trying to make up for your mistake. It was greatly appreciated!
---
My Dream Dress
Reviewed on

10/20/2015
Karina L
I Love my Dress ❤ The brand is Ines Di Santo, an excellent style and quality.
---
Best dress for my wedding dream
Reviewed on

10/20/2015
Melina V
I was looking for my wedding dress in many magazines, and then I found out that in Texas where the only place where I can find it, and it was! My dress the attention received everything was perfect!! I love Sposa Mia, they did my dream come true!
---
GO HERE FIRST!
Reviewed on

4/24/2015
Plus size women, this is the place for you! The sample sizes actually fit! The shop is beautifully adorned and the dresses are displayed for easy viewing. Don't be put off by the fancy look of the shop, the consultants are completely friendly and so helpful. I went in with an... Read More open mind and walked out with the dress that the consultant picked out for me...yes, they're true professionals! There happened to be a sale going on at the time so I got a discount on my dress AND got a package deal including my dress, veil, headpiece, and garter! I got the dress of my dreams! I only wish that I had more dresses to buy there so I could go through this awesome experience again :) Thank you!
---
Best Place Ever
Reviewed on

3/26/2015
Silvia D
I loved it. Their staff is super kind and attentive to all their brides. Alterations are available there and very well done.
---
Bride - Berniece Trevino
Reviewed on

12/31/2014
Berniece T
I was an indecisive bride when it came to choosing a dress; however, Sposa Mia helped me find the perfect dress. They were very patient. It was a great experience!
---
Excellent experience!
Reviewed on

11/29/2014
Elizabeth is simply the best! Felt so welcome here and found my perfect dress!
---
Amazing
Reviewed on

11/07/2014
crystal m
Sposa Mia was amazing and I am so glad that I pick them to help me find my perfect dress. The customer service was excellent! thank you S.M!
---
simply the best!
Reviewed on

11/04/2014
Esposa Mia is by far the best place to buy your wedding dress. As soon as you walk into the beautiful boutique, you are greeted by the best staff and feel right at home. They cater to your every need and truly want to make your day a memorable one. Anything I asked for was... Read More taken with the upmost importance. I really felt like a princess. My consultant Yvette was the kindest and warmest person. I walked into a great environment and walked out feeling completely happy, satisfied and blessed. Esposa Mia isnt just a bridal boutique; it is the bridal boutique. I loved my experience and highly recommend the boutique without reservation.
---