Home

St. Croix Cleaners | Treasured Garment Restoration
Details
Alterations, Custom Designs, Dry Cleaning + Preservation, Fashion Services, Fashion
Contact Info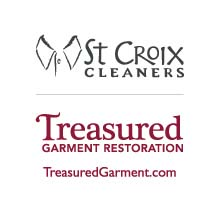 Terrible
Reviewed on

2/01/2016
Kelsey H
Well, where to start... I had a small ceremony/reception in Northern MN and a second larger reception in the Twin Cities. The events were two weeks apart. I had my dress cleaned the first time before my second reception and again after as some wine was spilled on my dress during... Read More the larger reception. The first time I went to pick up my dress I noticed the change in the quality of my dress material. It is a super soft silk jersey, one of the reasons I chose the dress in the first place. After cleaning the material felt starchy and stiff. I had no choice but to wear it as I didn't have a back up option. The material loosened a bit after steaming. They also originally lost my garment bag. They were able to track it down after I made them aware that it was missing so everything worked out in the end, and made me feel confident that I could use them again as a vendor. HOWEVER, the second time I went to pick up my dress and matching lace bolero they informed me that the bolero was missing. Rather than working towards finding that very important piece of my wedding attire, they just brushed it off and told me they would call several days later. I followed up a few days later only to be told "they were looking". I called AGAIN, a day later, and finally spoke to the manager who found my bolero 5 minutes into the call. She was completely unaware a customer was experiencing such awful service and apologized profusely. Here's the thing, St. Croix cleaners are expensive. The amount I paid I expect premium service. I was very disappointed when I didn't get that, especially with something as important and special as my wedding dress. I'll use them again, but insist on working with a manager.
---
Wedding Dress Restoration, Alterations, and Preservation
Reviewed on

1/20/2016
Kendall E
My wedding dress was both my grandmothers and my mothers. I had always wanted to wear that dress, and Treasured Garments, and the Darcy, their seamstress made that possible! The dress was in rough shape--it had been in my grandma's attic for 30 years and although it had been... Read More preserved after my mother wore it, it had gotten wet and had massive brown water damage spots and the lace trim was a dingy brown. The dress was generally kind of yellow and looked how you would expect a dress from 1951 to look in 2015! Treasured Garment Restoration got it completely clean through their restoration process. The water stains were totally gone, the lace and the fabric in general was brought back to its original ivory color. I worked with Darcy at the Loring Park location to have the dress altered to fit me. She was amazing. She did an excellent job with the alterations, made really helpful suggestions, and was really pleasant to to work with. She also did alterations on my MOH's bridesmaid dress and she did last minute alterations on a second bridesmaid dress just a few days before the wedding. She was so accommodating and her craftsmanship on the sewing itself was also excellent. I would highly recommend her to other brides and bridesmaids!
---
Reviewed on

10/27/2015
Christina U
Superb staff! They are absolutely the best around. They can get the toughest of stains out. They were able to work on a tight schedule and make sure my dress look like new.
---
Reviewed on

10/27/2015
Kat T
I could not be more pleased with how my dress came out from Treasured Garment Restoration. My wedding was outdoors and the hem of my dress was completely covered in soil. They were able to get it out and make it look like a brand new dress! I am so happy that I will get to have... Read More my dress for many years to come!
---
Very nice and flexible
Reviewed on

11/11/2010
Daisy T
Lifetime warranty preservation good price
---